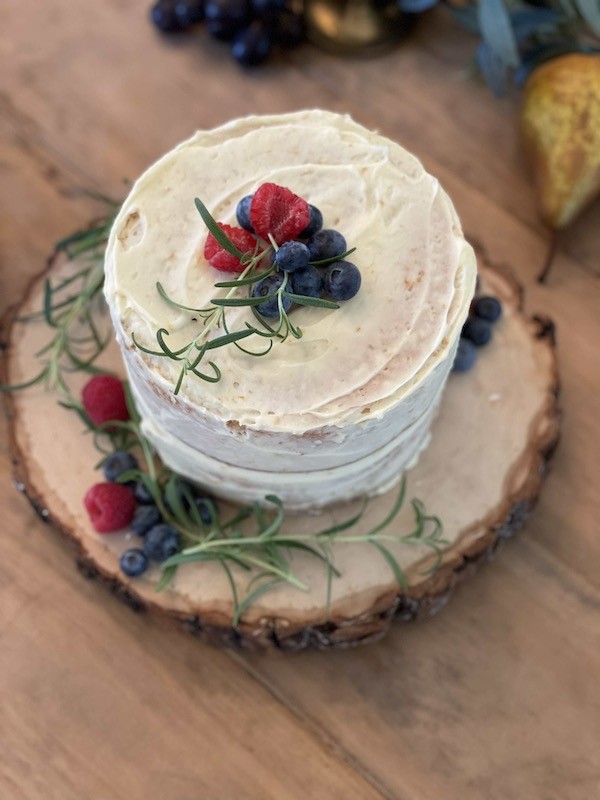 You are going to love this simple Easy Naked Valentine cake recipe.
This darling easy naked valentine cake is really delish! It is very moist and has a buttercream frosting. I have added orange zest to both the cake mix and the frosting to give it a little zing.
Sometimes it's the little things that can make dessert memorable. You will find it to be the perfect ending to a delicious meal especially for Valentines Day.
Easy to make naked cake mix
You will start with a yellow Betty Crocker cake mix without pudding in it. But…..we are going to kick it up a notch.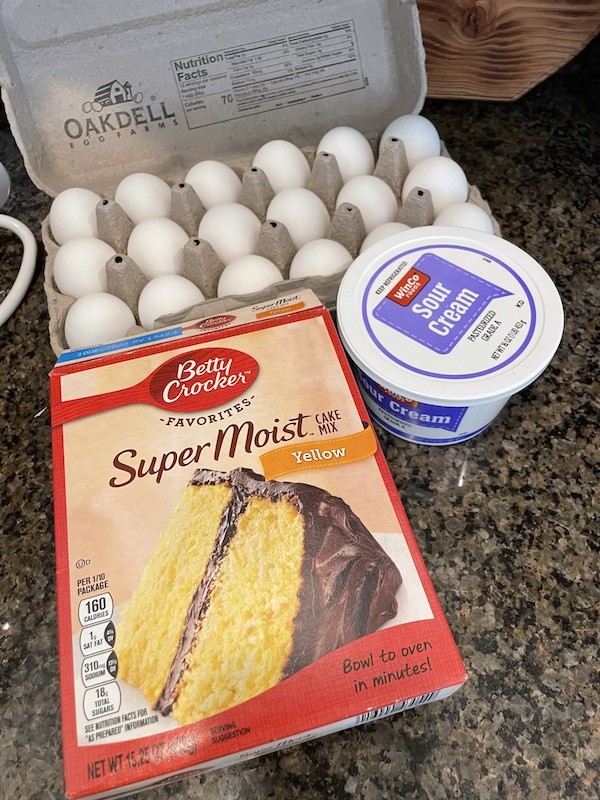 Put cake mix into mixing bowl and add 2 eggs, 1 cup full sour cream, 1 tsp vanilla, 1/2 C whole milk and 1/3 cup canola oil.
The sour cream and milk bring a rich moistness to the cake.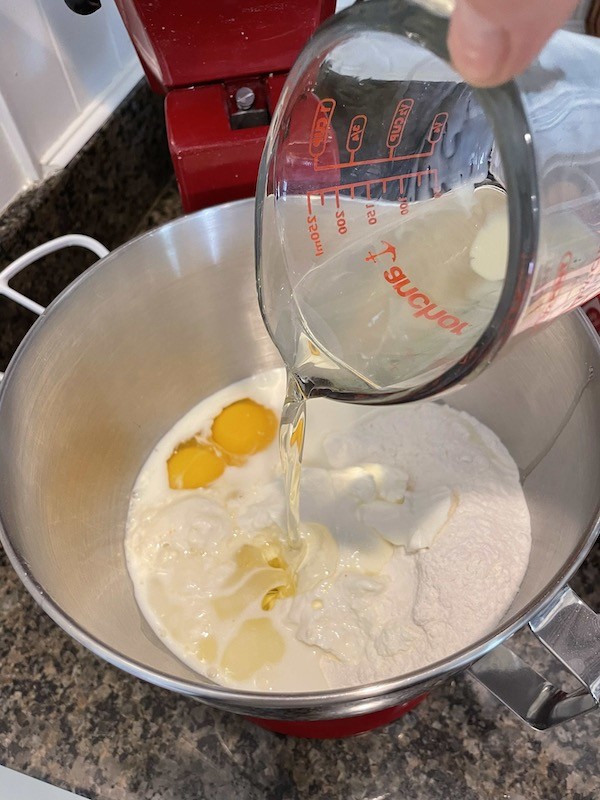 Then my secret addition is orange zest. It just brings in a brightness to the flavor of the yellow cake mix.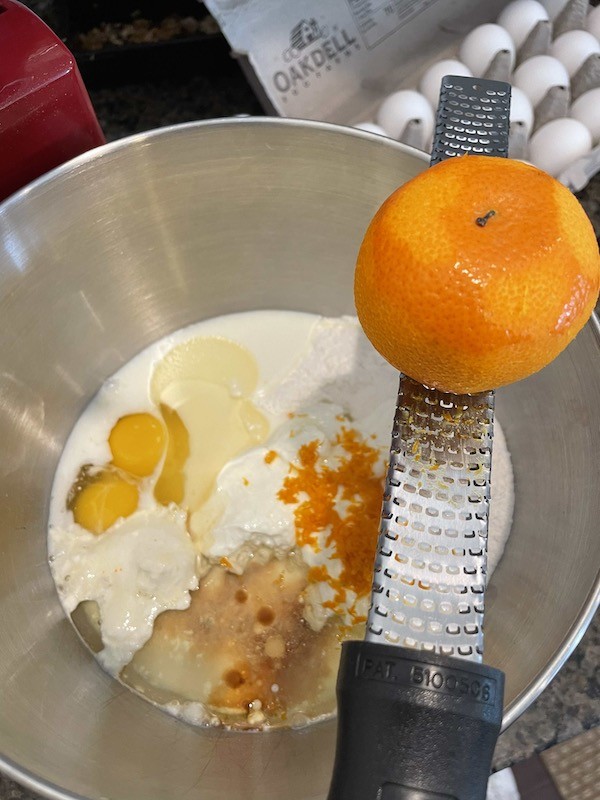 Mix it up and pour evenly into oiled 6" cake pans.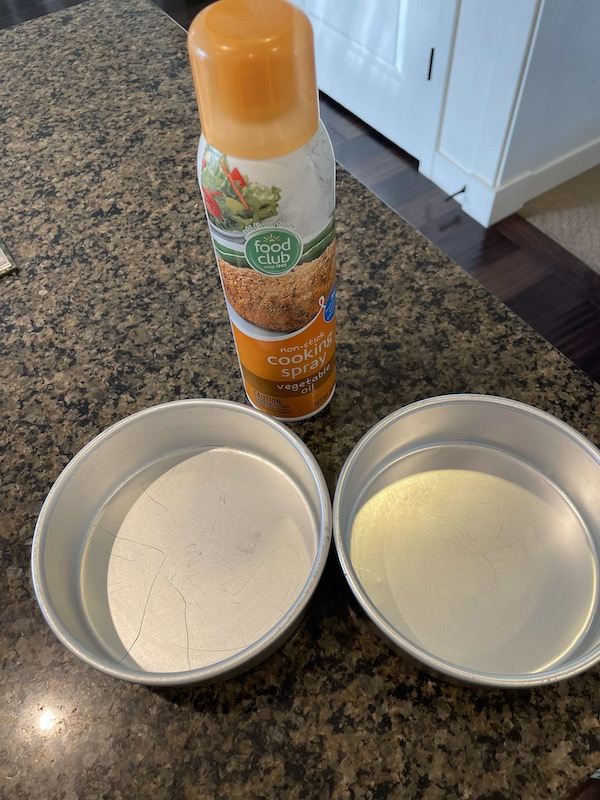 Bake at 325 degrees for 30-35 minutes. Or until a toothpick comes out clean.
Let cool about 10 minutes and remove the cakes from the pans.
Tip- To protect the wooden slab from getting oil marks. Cut a piece of parchment paper or waxed paper the same size as the first layer of the cake. Place that on the wooden slab under the cake.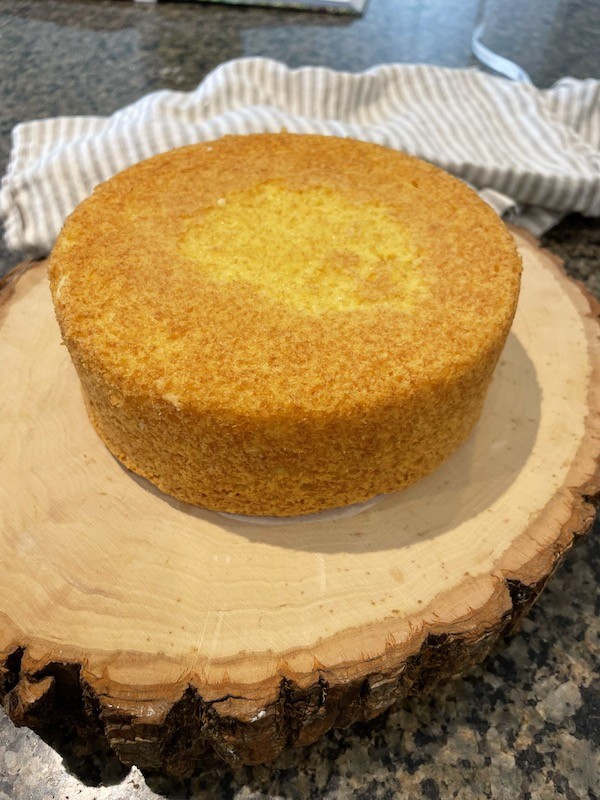 Prepare the butter cream frosting.
Butter cream frosting seems to be the best frosting to get the naked cake look. It spreads easily and tastes scrumptious.
Ingredients for the frosting are 3C powdered sugar, 1 stick butter, 1 tsp. vanilla, 1-2 Tbsp whipping cream and orange zest from 1 cutie orange.
Cream the room temperature butter with powdered sugar.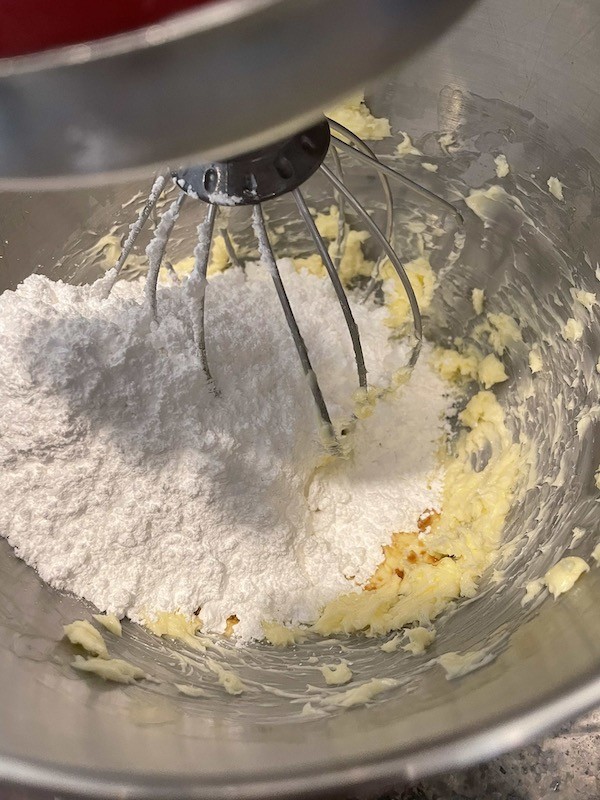 Add in the vanilla, orange zest and whipping cream. You can add more cream or more powdered sugar until desired consistency.
Frosting the little naked Valentine cake
The trick to making the naked cake frosting work is to put quite a bit on the first layer. Make sure to get a good amount towards the edges.
This allows it to kind of squish out and fill in the gap between the two layers.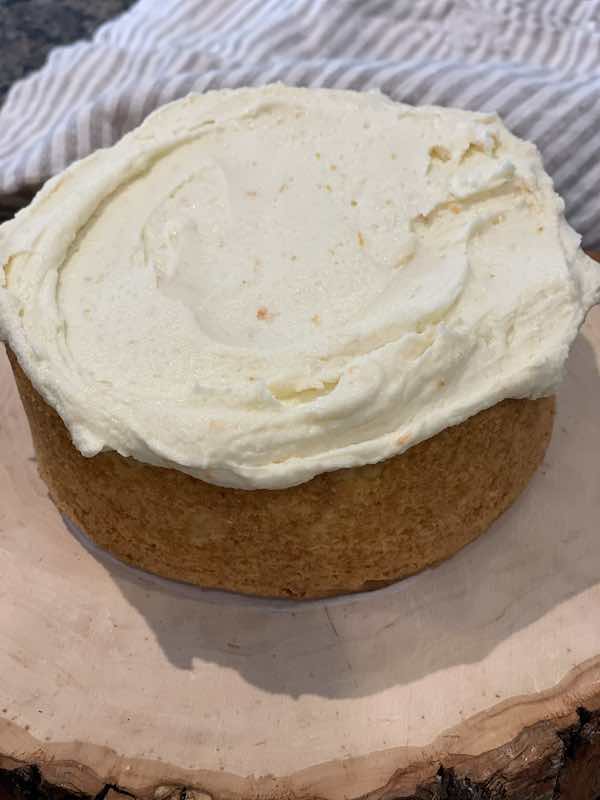 Tip- Place pieces of aluminum foil underneath the cake to protect the wood slab or whatever you use to serve your cake on.
Using your frosting knife smooth the frosting around where the cakes come together.
Then add more frosting on the sides of the cake lightly. You want some of the cake to show through.
Add frosting to the top of the cake. You can make this a little thicker with frosting.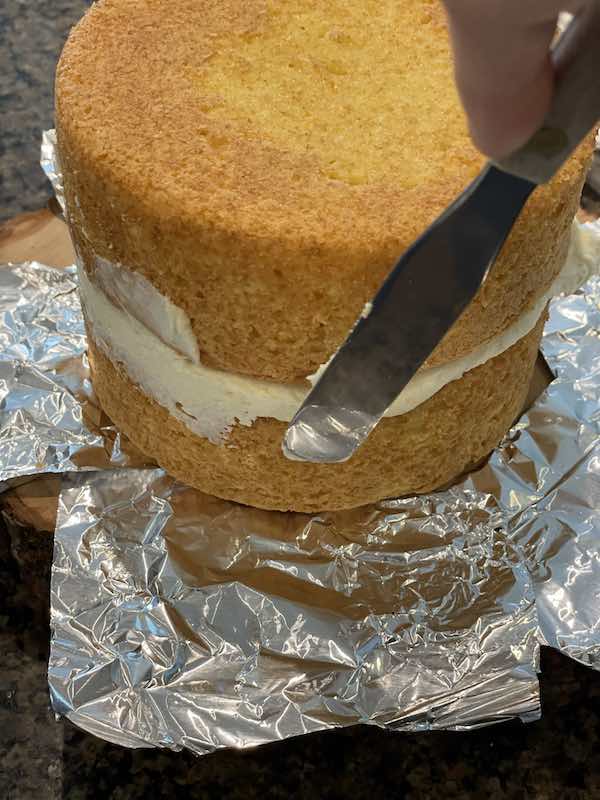 Top with fresh blueberries raspberries and rosemary sprigs around the base. Plus a few berries and sprigs on the top of the cake.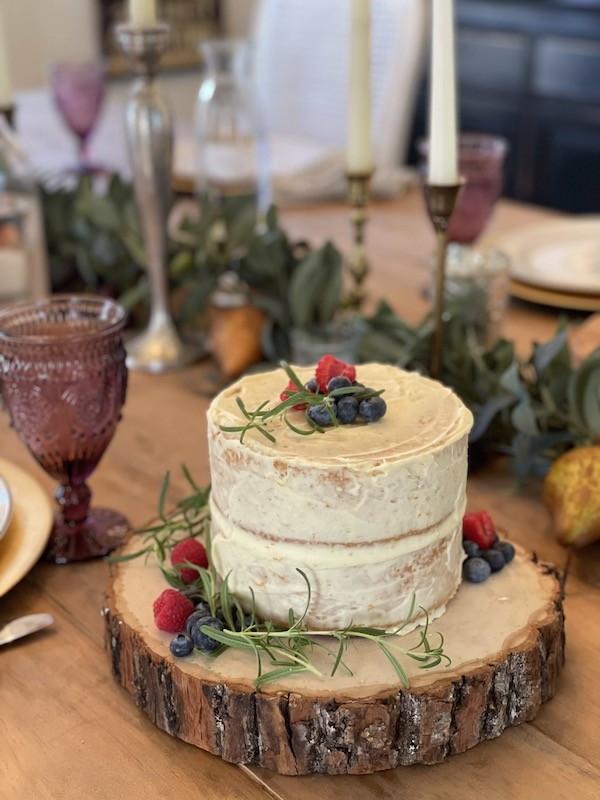 Serve little naked cake on wood slab
A really fun way to serve your little naked Valentine cake is on a wooden slab. I love using rustic serveware on an elegant table to give the table some depth.
A mix of gold glimmer, candles flickering and natural or rustic elements make for a pretty table. I will be sharing this Valentine tablescape and all my tips soon!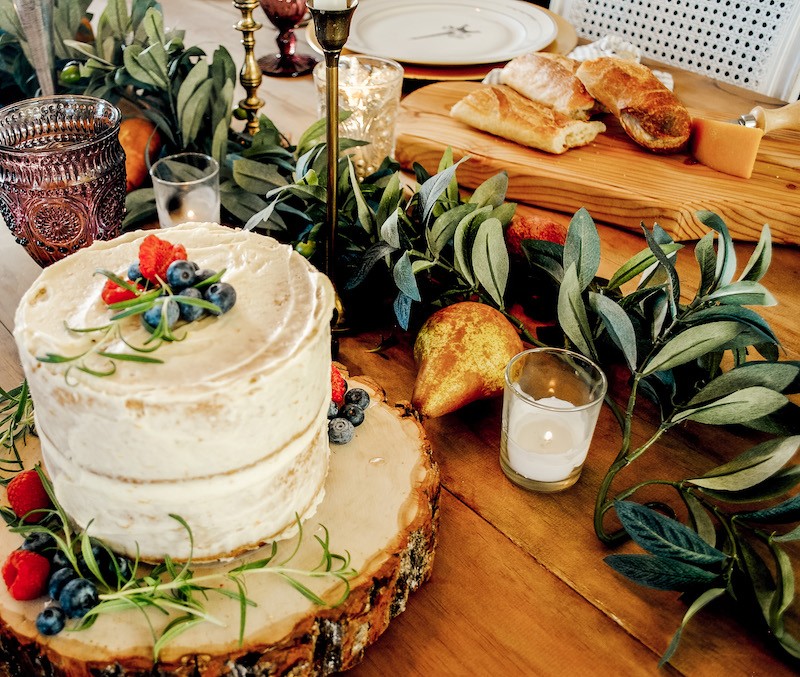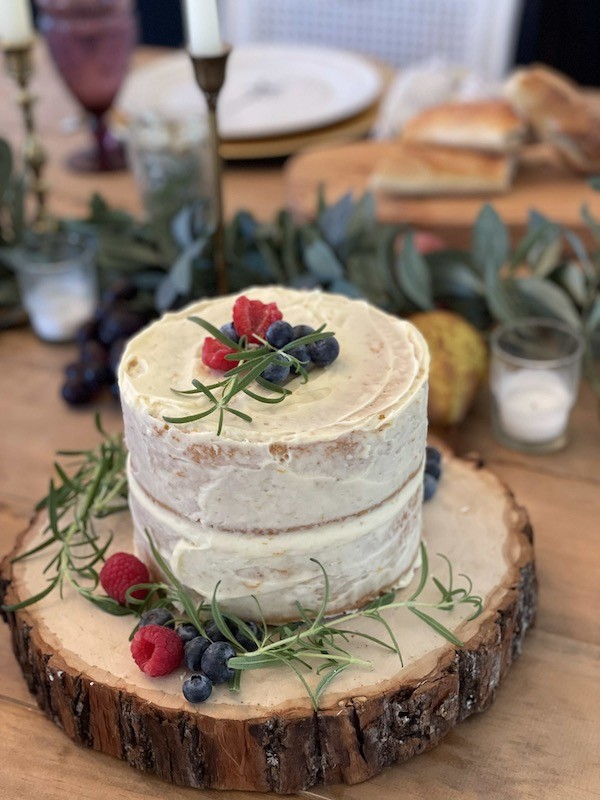 I hope you enjoyed this naked cake recipe and that you will try making it for Valentine's Day or any special celebration!
Here is another yummy cake recipe you will love! Layered lemon raspberry naked cake! (recipe is at the bottom of the post)
If you like bananas you will freak out over my naked banana cake with fresh flowers on the top!
Pin to your Pinterest board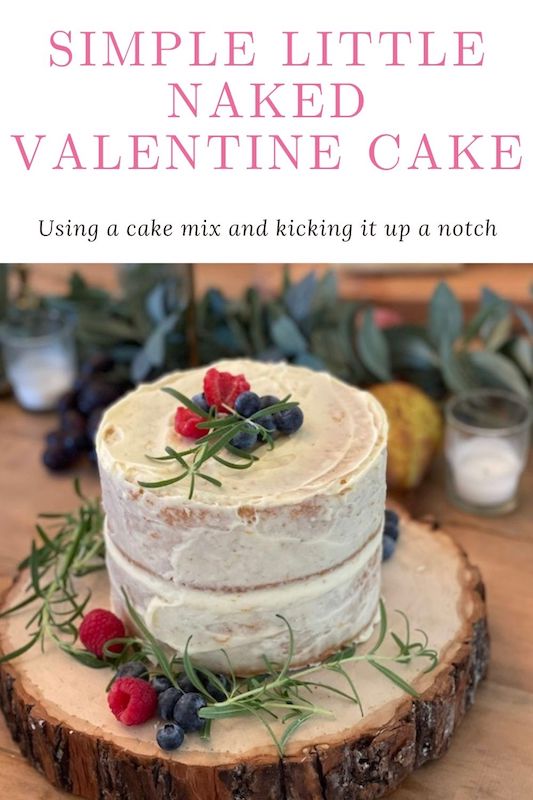 Shop Valentine Decor