With the holiday season just around the corner, it's the perfect time to add a touch of homemade charm to to your gift giving. A holiday decoupage shell trinket dish is the perfect Christmas gift idea. If you're on the lookout for a unique and personalized Christmas gift idea, you're in for a treat! Today, we're diving into the world of decoupage and seashells to create stunning Holiday Decoupage Shell Trinket Dishes, Christmas-themed wonders that make for delightful Ring Dishes, Jewelry Dishes, and fun Holiday Gifts.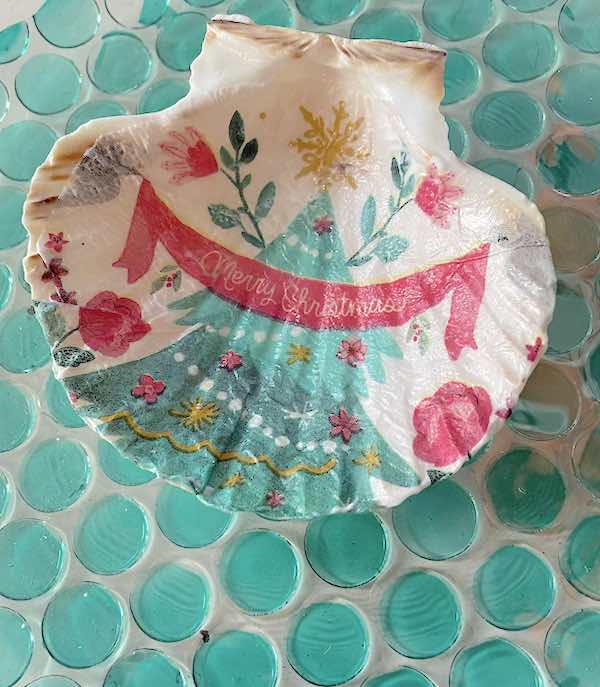 Deck the Shells: Choosing the Perfect Holiday Napkin
Ah, the holiday season – a time of joy, warmth, and endless creativity! To embark on our festive crafting journey, the first step is choosing the ideal holiday paper napkin. Snowflakes, Christmas trees, reindeer, Santas – the options are endless! I found a cute all over snowflake patterned napkin for you here.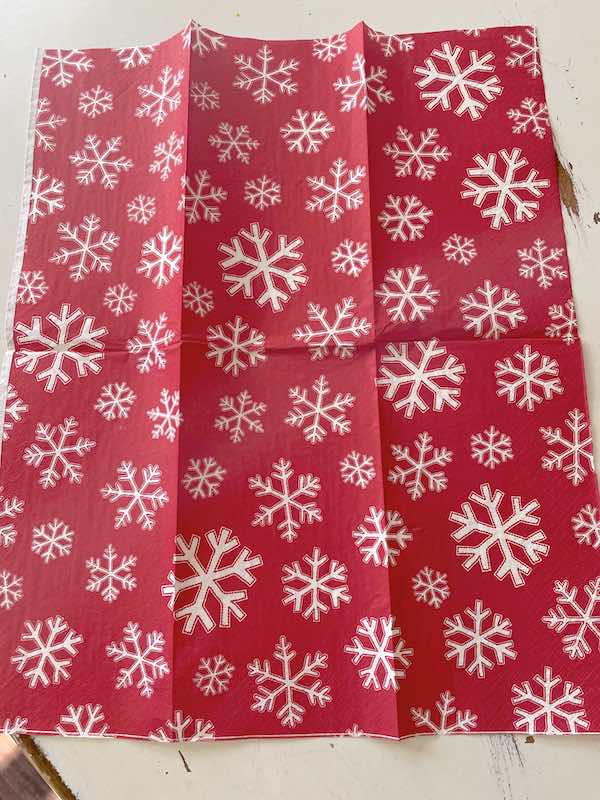 Dive into the magic of the season by selecting a napkin that truly embodies the Christmas spirit. I chose two different paper napkins, an all over snowflake design and a pretty pastel Christmas tree design.
Pull the printed part of the napkin away from the white back piece. You only want to use the printed side.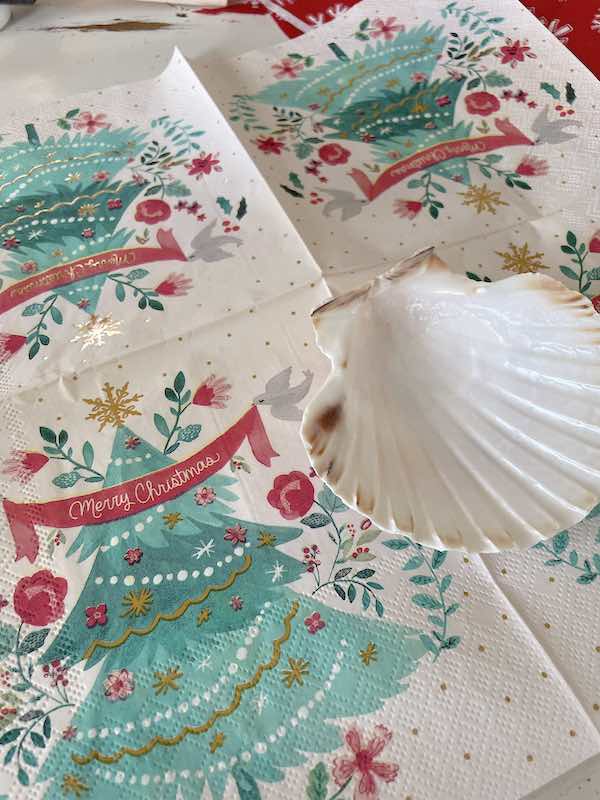 Shell Selection: Finding the Perfect Seashell Canvas
Now that you have your festive napkin in hand, it's time to turn your attention to the seashells. Delicate, unique, and full of character, seashells come in various shapes and sizes, offering a world of possibilities. I like a wide open shell because it is easier to fit the napkin inside.
You may have seen many Oyster shells used to make these sea shell decoupaged trinket dishes. I just used the shells I had on hand.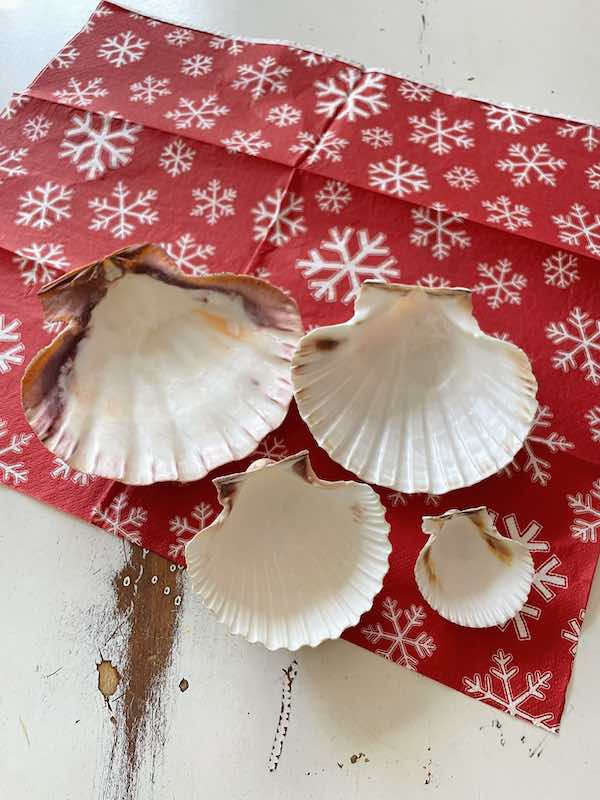 Explore your collection and choose the shell that speaks to you – the canvas for your Holiday Decoupage Shell Trinket Dish.
Mod Podge Magic: Bringing Your Trinket Dish to Life
With your napkin and seashell ready, it's time to work your Mod Podge magic! Begin by brushing the inside of the shell with a slightly watered-down mixture of Mod Podge. This acts as the adhesive, ensuring your napkin adheres seamlessly to the shell's curves.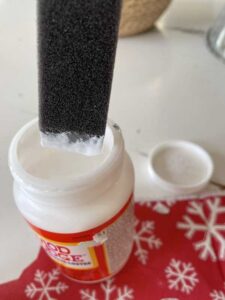 Press and Seal: Creating a Seamless Design
Carefully place the cut piece of napkin inside the shell, pressing down gently to mold it into place. The Mod Podge will work its charm, transforming the ordinary into the extraordinary. Take your time to ensure the napkin fits snugly, creating a seamless and beautiful design.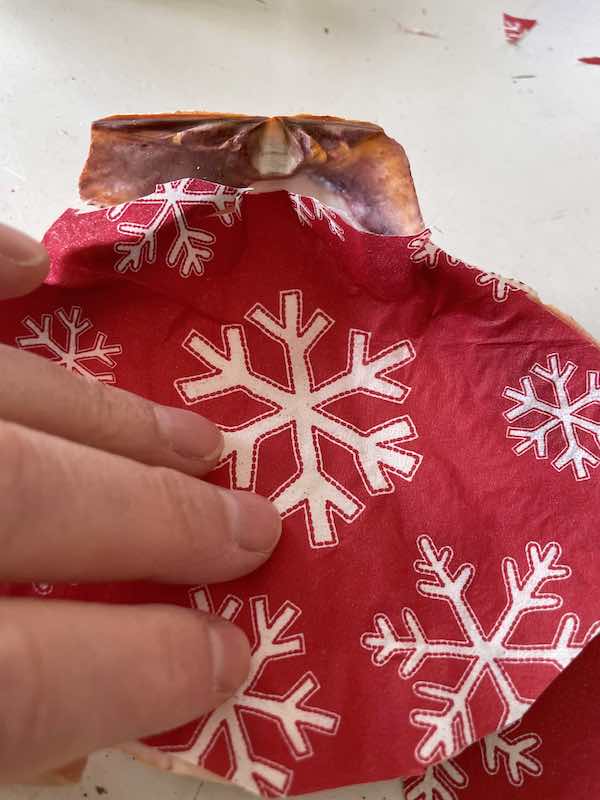 Seal with Shine: The Final Touch
To seal the deal and add a touch of gloss, brush the entire inside of the shell with another layer of Mod Podge. This step not only secures the napkin but also gives your trinket dish a polished finish, enhancing its overall appeal.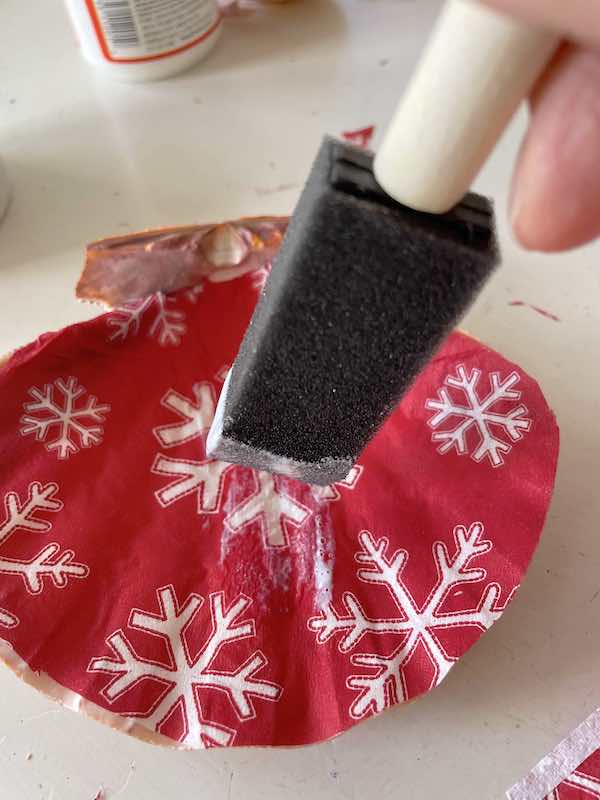 Optional Elegance: Adding Gold or Silver Accents
For those who love a touch of elegance, consider adding gold or silver paint to the edges of your trinket dish. This simple yet effective step elevates the design, adding a touch of sophistication to your festive creation.
Ornamental Delights: Crafting Mini Trinket Dishes
Feeling extra creative? Experiment with smaller versions of these trinket dishes. Drill a tiny hole at the top, thread a ribbon through, and voila! You've transformed your creation into a unique homemade ornament, ready to adorn your Christmas tree with love and creativity.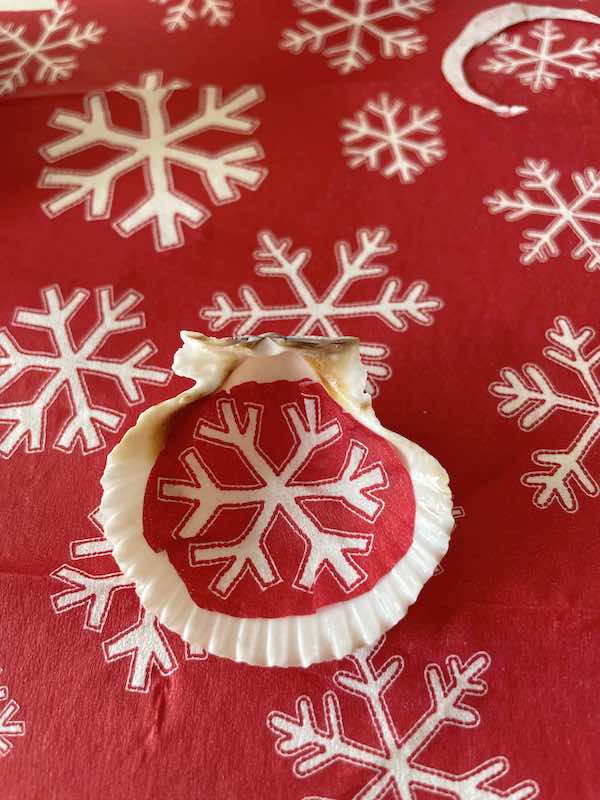 And there you have it – your very own Holiday Decoupage Shell Trinket Dish, a perfect Christmas gift idea and a delightful addition to your holiday celebrations. Stay tuned for more inspiring DIY projects, fabulous party themes, and heartwarming family tales right here at Karinskottage.com. Until next time, happy crafting and spreading the festive cheer!
More Christmas Posts
Elegant pink and gold Christmas wreath
Karins Kottage Christmas Home Tour
Buffalo Plaid Christmas Decorations
How to make a Sea Shell Christmas Wreath
Shop for Supplies
These are affiliate links and I make a small commission at no extra cost to you. This allows me to keep my blog up and running. I soooo appreciate any support you give me 🙂