Hello, my dear readers of Karinskottage.com! As we step into the beautiful season of fall, it's time to explore a fashion trend that's not only stylish but also incredibly comfortable – the combination of puffer vests and leggings. Whether you're planning a leisurely stroll through autumn foliage, running errands, or catching up with friends, this look is versatile, chic, and perfect for those of us aged 50 and over. Join me as I explore the world of puffer vests, black leggings, and the art of effortless fall fashion.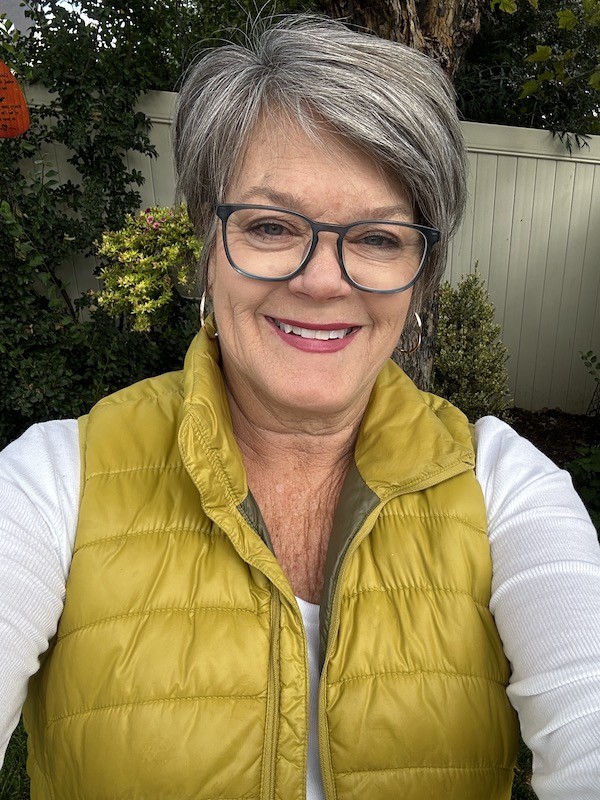 The Base: Black Leggings
Black Leggings and a Crisp White Long-Sleeved T-Shirt Our foundation for this fabulous fall look consists of two timeless wardrobe essentials: black leggings and a white long-sleeved t-shirt. These pieces offer comfort and versatility while providing a sleek and elegant canvas for our puffer vest ensemble. Black leggings offer a flattering silhouette, while the white tee adds a touch of freshness to the overall look.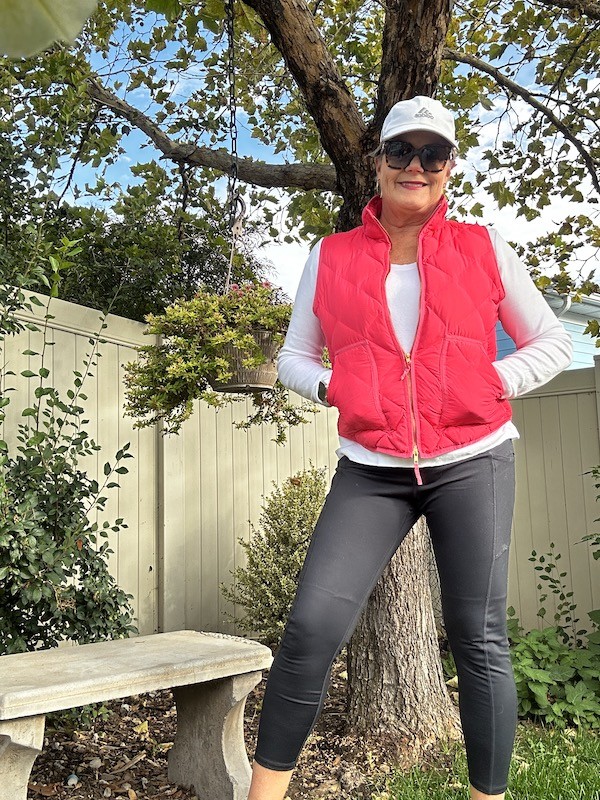 Footwear with Flair
Now, let's discuss the footwear choices that will complete your ensemble. We have two fantastic options for you: white and black Adidas sneakers or navy New Balance sneakers. Both choices blend comfort and style effortlessly. The white and black Adidas sneakers bring a sporty and trendy vibe, while the navy New Balance sneakers introduce a pop of color and casual elegance. The choice is yours, depending on your mood and the occasion.

The Showstopper Puffer Vests
Puffer Vests Here's where the magic happens – selecting your puffer vest! I have three delightful options for you: a lively green vest, a charming pink vest, and a classic black vest. Each color represents a unique style and can be adapted to various settings and occasions.
Green Puffer Vest: If you're feeling adventurous and wish to embrace the fall colors, the green puffer vest is a great choice. It adds a burst of vibrancy to your outfit, making it perfect for casual outdoor gatherings, nature walks, or even a day out exploring.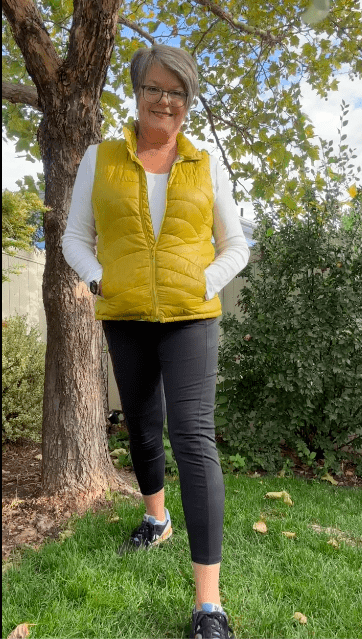 Pink Puffer Vest: For a touch of femininity and a playful twist, opt for the pink puffer vest. I love how this gentle hue brings a youthful and spirited vibe. It's ideal for brunch with friends, leisurely shopping sprees, or simply brightening up a gloomy day.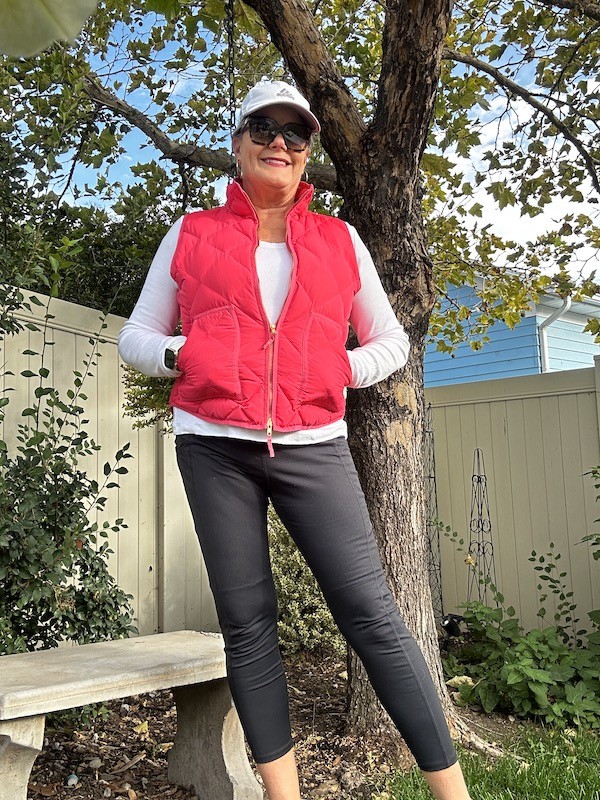 Black Puffer Vest: When in doubt or seeking an effortlessly chic look, the classic black puffer vest is the way to go. Its timeless appeal complements any outfit. One can never go wrong with the classic black and white combination.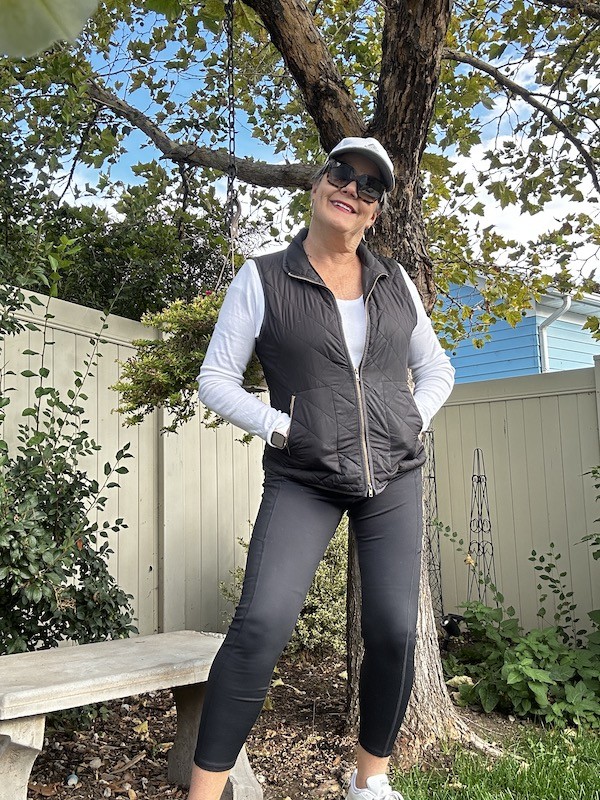 Why Puffer Vests?
Puffer vests are an autumn wardrobe staple for several compelling reasons. They provide warmth without the added bulk, making them perfect for transitional weather. Their lightweight design ensures comfort throughout the day, while the quilted texture adds a delightful touch of texture to your outfit. The versatility allows you to experiment with different colors and styles, making them a must-have for the season.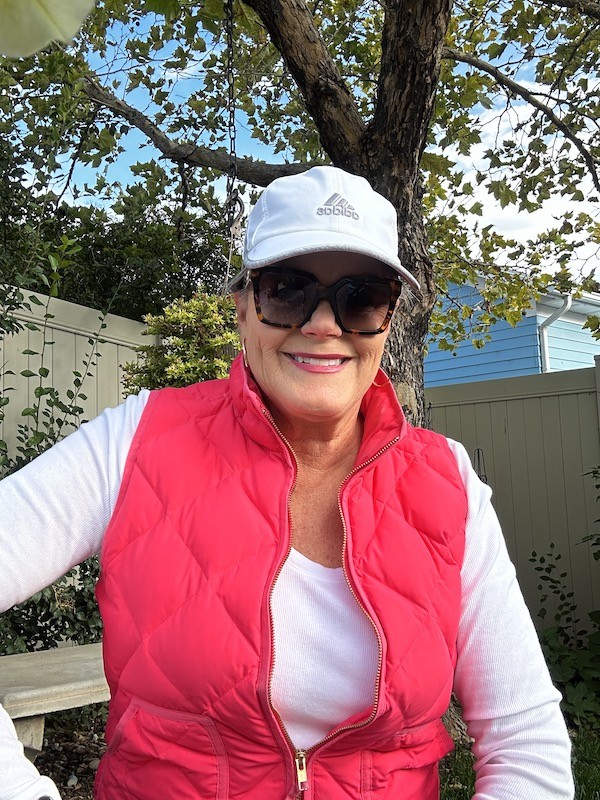 Incorporating puffer vests into your fall wardrobe is not just about staying cozy; it's about doing so with panache and style. Whether you choose to pair them with black leggings, a crisp white long-sleeved t-shirt, and your choice of Adidas or New Balance sneakers, you'll be ready for any fall adventure that comes your way. So, embrace the cool autumn breeze and step out with confidence in this timeless, ageless look.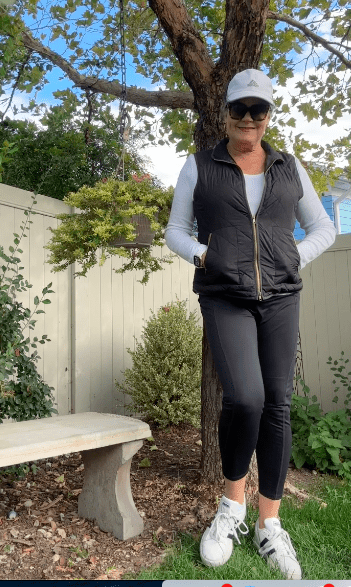 Don't forget to share your puffer vest outfits with us on social media, and stay tuned for more fashion inspiration right here at Karinskottage.com. Happy fall, fashionable readers!
More Fashion Posts From Karins Kottage