Hello, fabulous ladies 55 and older! Welcome back to Karin's Kottage, the cozy corner of the internet where I celebrate timeless style and embrace the beauty of age. Today, I have a special treat for you – the chic crop combo featuring white wide leg pants, a fun peach and blue patterned top, and a blue jean jacket. Get ready to rock this fabulous ensemble and show the world that age is just a number when it comes to fashion!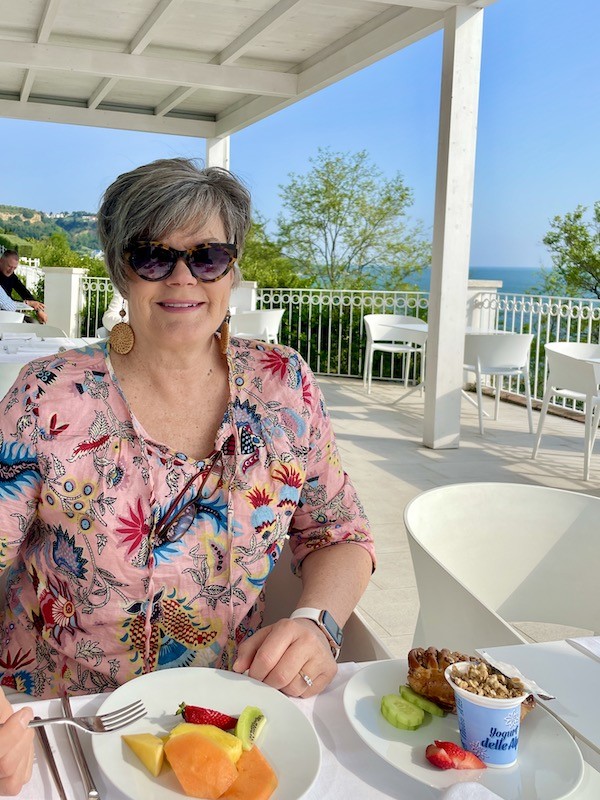 Wide leg pants with peach top
Now, let's dive into the world of white wide leg pants. These beauties are a game-changer for women of any age.  The wide leg style can be worn whether you have short legs or long. Not only do they offer comfort and ease of movement, but they also have an air of sophistication that is simply irresistible. Embrace the wide leg wonder and experience the joy of looking effortlessly chic while feeling comfy all day long.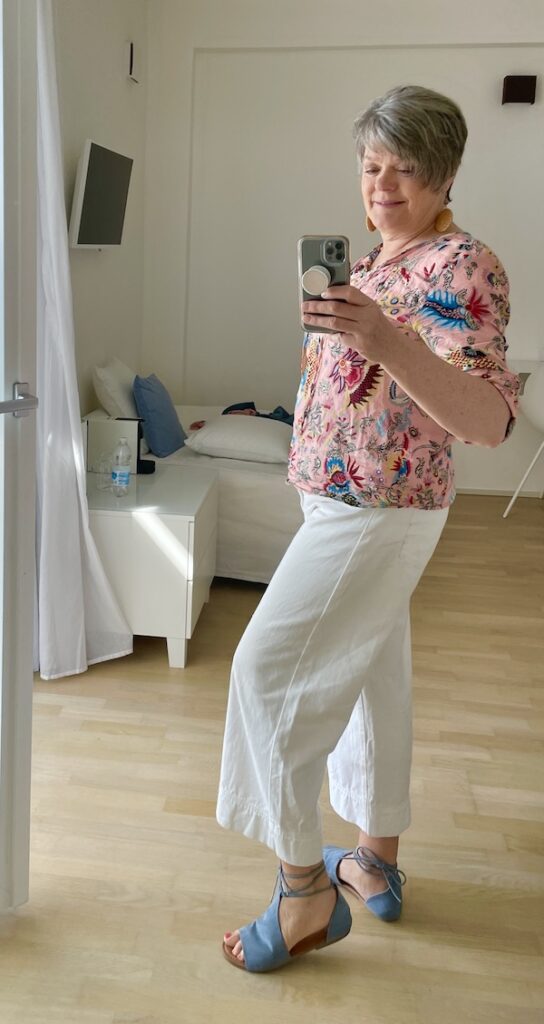 Peach and blue print top
Peach is a soft and delicate hue that brings out your natural radiance and adds a touch of femininity to your outfit. I have always been a fan of peach and salmon colors. Peach tops are perfect for white pants, creating a fabulous color combination that's pleasing to the eye. Makes you feel like summer everyday! Whether you opt for a flowy peasant blouse, a fitted tee, or a linen button down blouse you'll look and feel like the confident and stylish woman you are.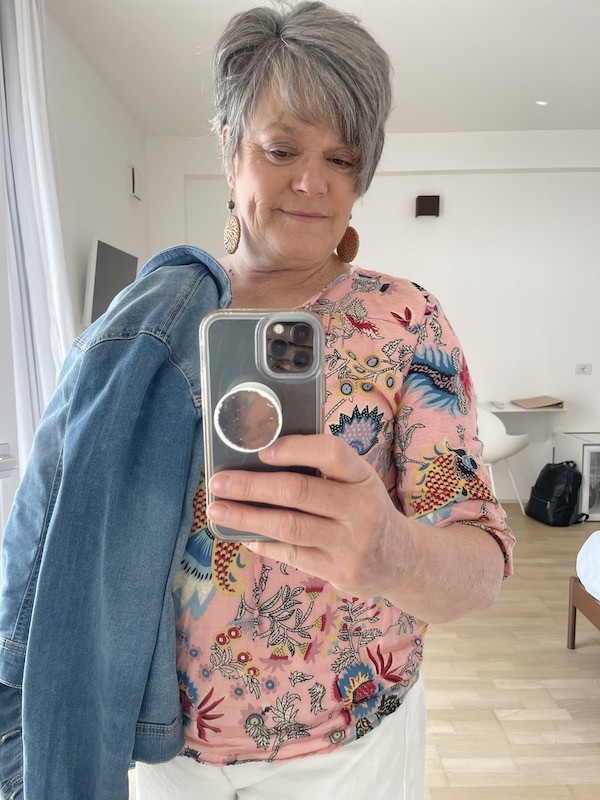 Blue Denim jean jacket 
And what's a cropped white pants combo without a trusty jean jacket? It's the ultimate piece that adds a cool and casual vibe to any outfit. The beauty of a jean jacket lies in its versatility.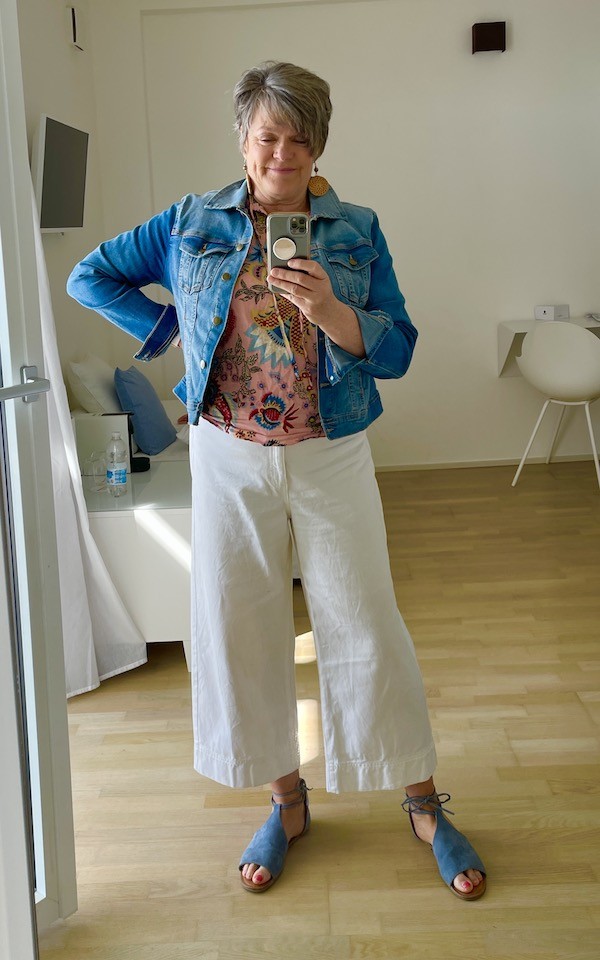 You can layer it over any top, leaving it unbuttoned for a relaxed look or button it up for a more polished appearance. It's a timeless classic that never goes out of style.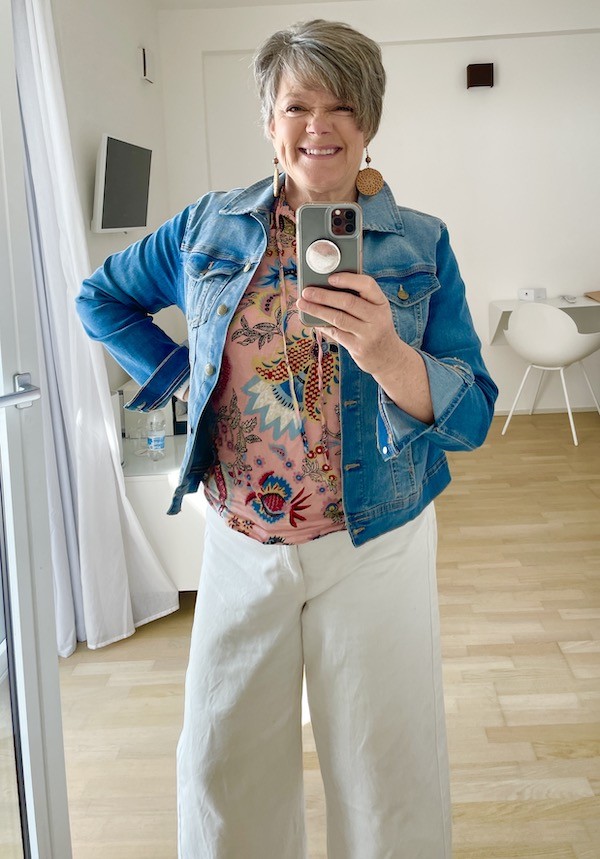 Casual Accessories 
Now, let's talk about accessorizing. Adding the right finishing touches can take your cropped white pants, peach top, denim jacket to the next level. It's a small detail that can make a big impact on your overall look. Opt for pieces that reflect your personal style, such as fun bold necklaces, bracelets, or earrings. My personal favorite are large earrings. These little touches of sparkle will add an extra dose of glamour to your ensemble.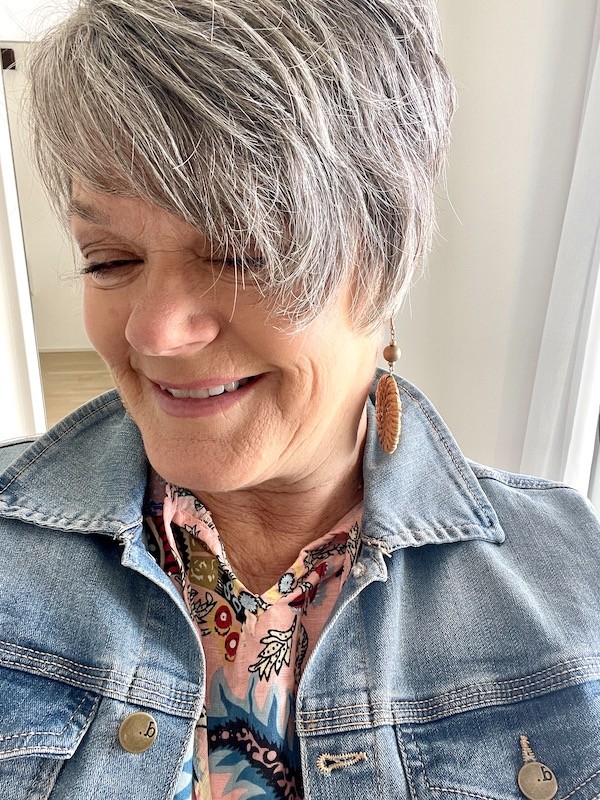 To complete your fashionable transformation, slip on a pair of chic sunglasses and grab a stylish handbag or mini back pack. These accessories not only elevate your look but also offer practicality and convenience.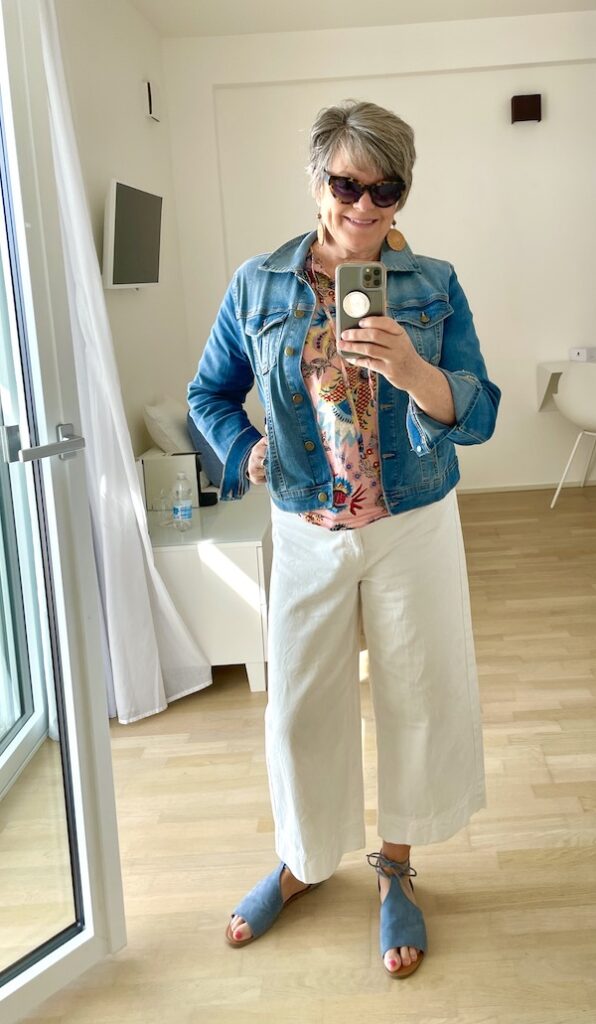 Beautiful and functional
After all, fashion should be both beautiful and functional, right?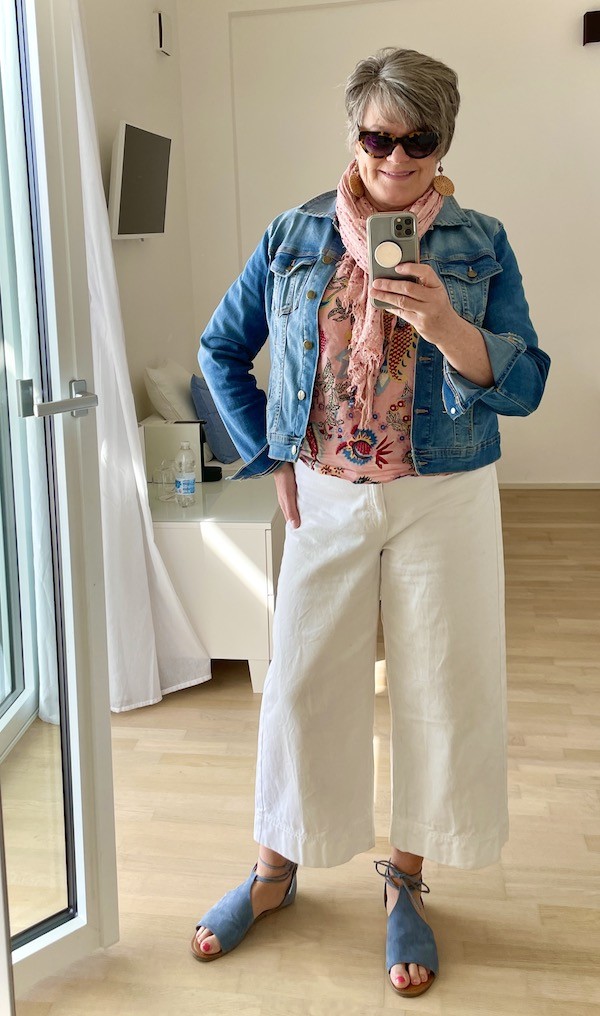 Now, it's time to step out into the world with confidence, embracing your unique style and the wisdom that comes with age. Remember, age is just a number, and fashion is for everyone. Embrace your individuality, celebrate your beauty, and enjoy the journey of expressing yourself through style.
Until next time, stay fabulous, my lovely ladies!
Warmest wishes,
Karin
More Fashion Posts
How to style blue peplum jacket
Fashion Friday- Jean jacket casual
Shop Fashion