Today I am sharing how to style a pink raincoat and white jeans outfit. Spring is time to wear some bright fun colors don't you agree? It has been such a long long white winter so color is needed! Combining pink, lime green and white are some of my favorite colors. I have linked to clothing and sneakers styles at the bottom of this post.
Spring showers bring May flowers so one needs to have a raincoat at the ready. I love this pink raincoat and it is perfect for a rainy day. I wore it on my last trip to Italy because it is so lightweight and easy to pack in my backpack. It really kept me dry and protected me from the wind.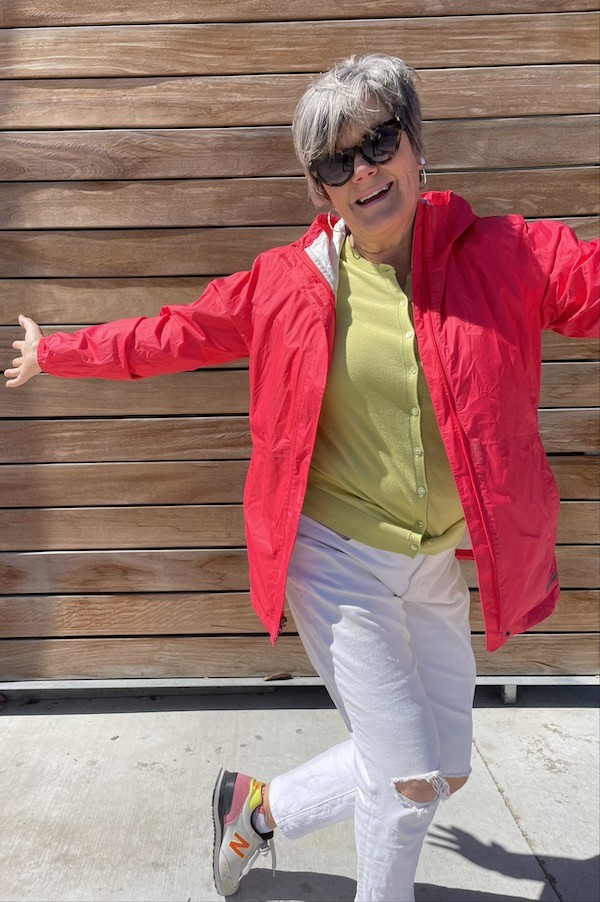 White jeans with ripped knees
I know some of you may not think the ripped look is meant for women over 50 but I really love them. These white jeans are super comfortable and looks great for that casual look.
White ripped jeans are perfect for spring and summer and can be dressed up or down depending on the type of shoes you wear.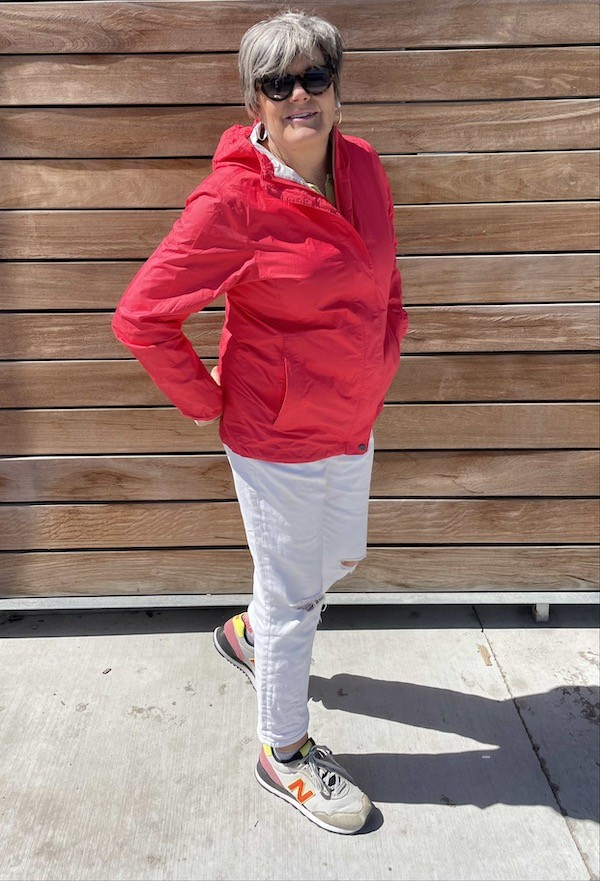 Plus the ripped knee areas keep you cooler on hot days. You may remember when I paired these white jeans with this summery duster cardigan wrap or my striped linen tunic. They are some of my most comfortable jeans!
I love styling these white jeans with my pink raincoat! The raincoat gives that pop of spring color that I want right now.
Lime green cardigan
I don't usually wear a buttoned up cardigan all on it's own but decided to give it a try. The buttons create a nice line down the front to lengthen my short torso.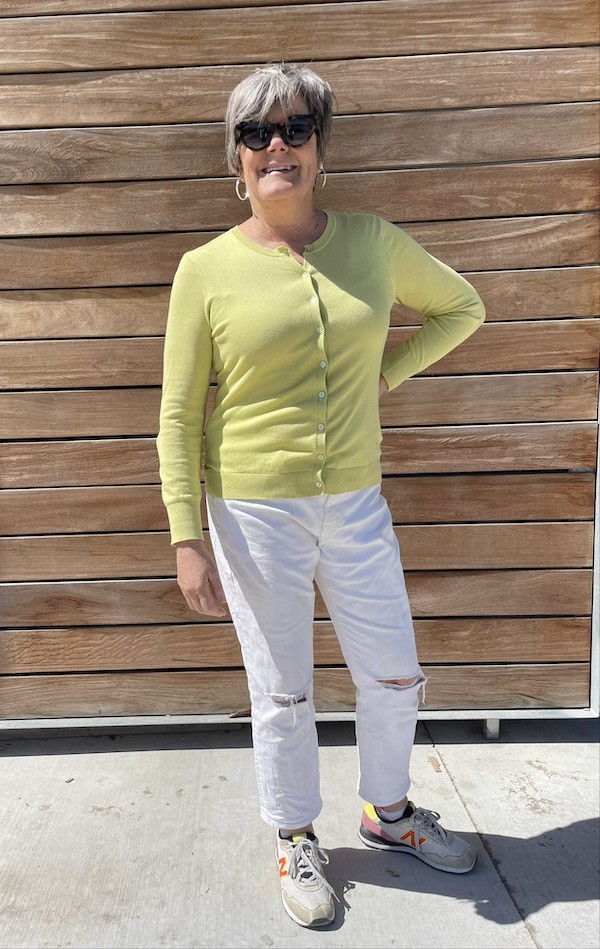 Usually I wear a cardigan with a blouse or bright colored tank top underneath like this bold colored tank top and pencil skirt outfit.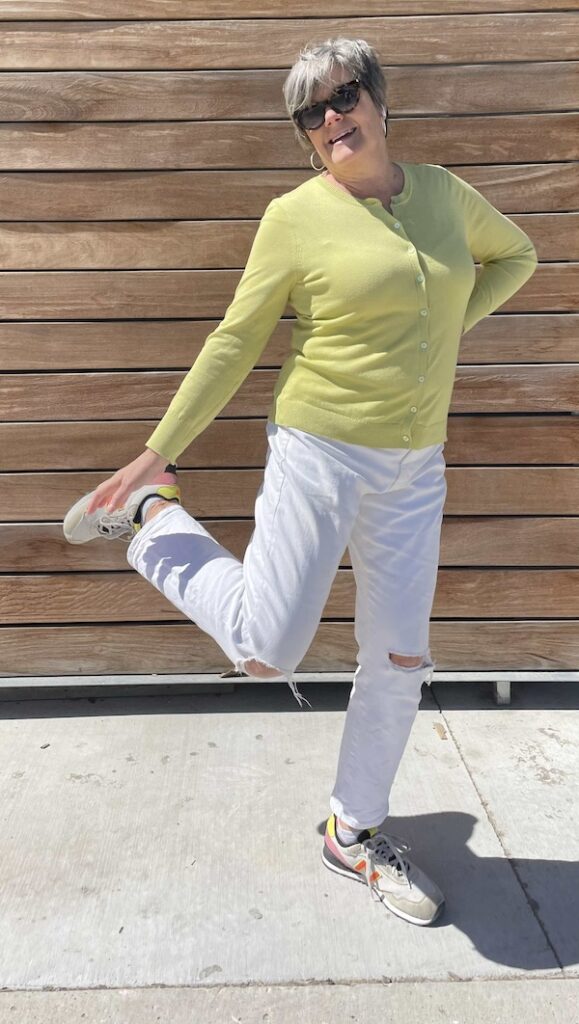 I like wearing a light weight cardigan white cardigan for spring and early summer because it goes with everything. A few years back on my old blog I wore it over a peach colored tank top and turquoise and white striped maxi skirt. I think this outfit could still work today with a little tweaking. What do you think?
Style Pink raincoat with white jeans
This lightweight Marmot raincoat is so perfect for spring! It looks amazing with my white jeans. I can wear it as a raincoat as well as just a windbreaker. It comes it lots of different colors too!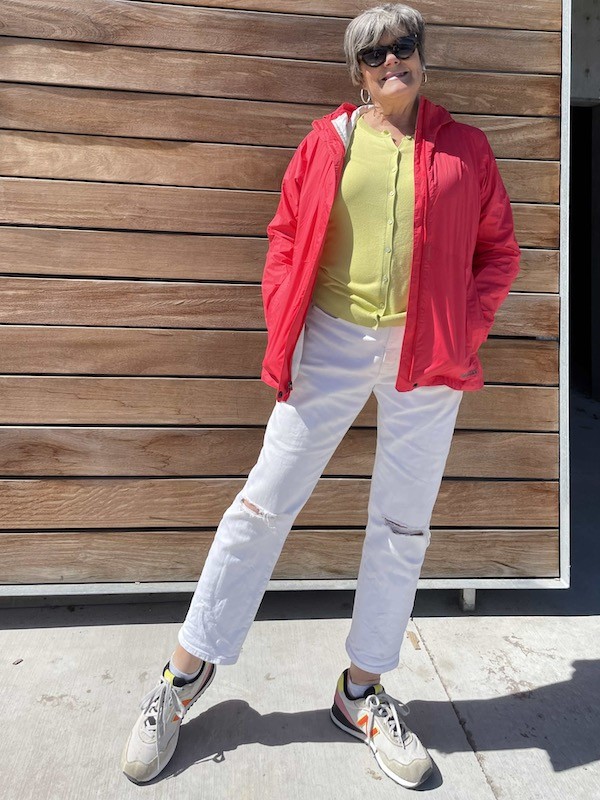 You can pack this raincoat in your purse or backpack and have it at the ready. Keep it in your car for any sudden changes in the weather.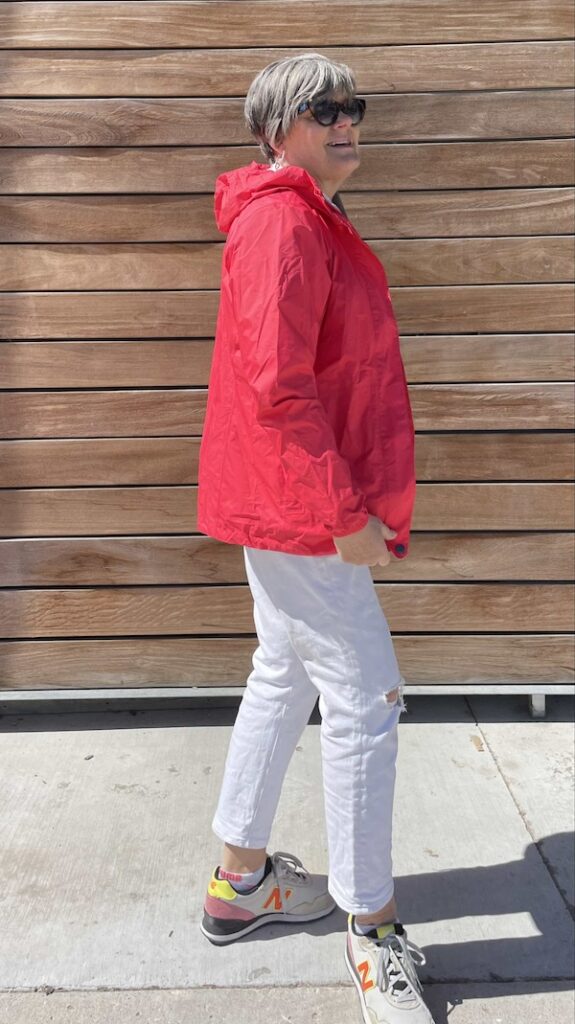 Shop similar fashion Items
These are affiliate links and I make a small commission at no extra cost to you. These commissions help pay to keep this blog going. I really appreciate any of your purchases.
I found many similar and exact items from this post for you. Happy shopping 🙂