Today I am sharing my OOTD what to wear with gold eyelet peasant blouse. I have had this cute peasant blouse from Old Navy for a few years and I love it! It goes with so many things like skirts, jeans, black pants and of course my favorite cropped raw hem white jeans!
Cropped jeans with a raw hem that are slightly wide at the hem line are so flattering and fun to wear. The raw hem is really on trend right now and rightly so. Raw hems are slightly edgy and look fabulous with sandals, sneakers and heels for a dressier look.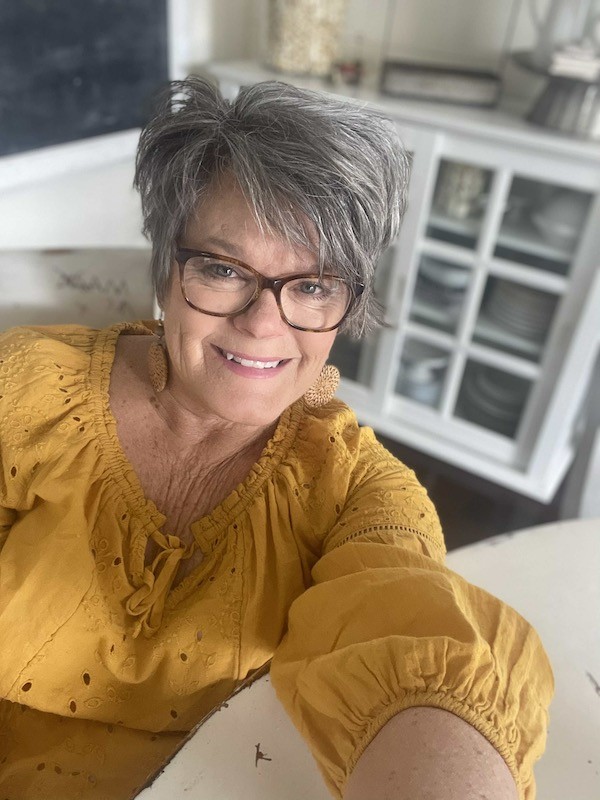 The gold eyelet peasant blouse
Peasant blouses are so flattering on most body types. I remember wearing a peasant blouse when I was a young teen in the 70's. I have always loved eyelet fabric and the combination of peasant blouse with eyelets is so pretty and feminine.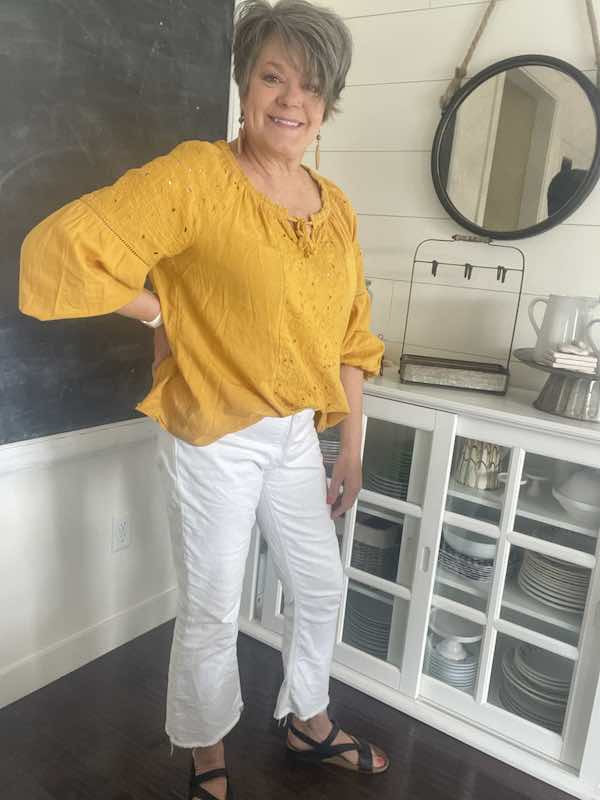 This blouse flows away from the body and can be partially tucked into the tops of my jeans. I could belt it when worn over a midi skirt.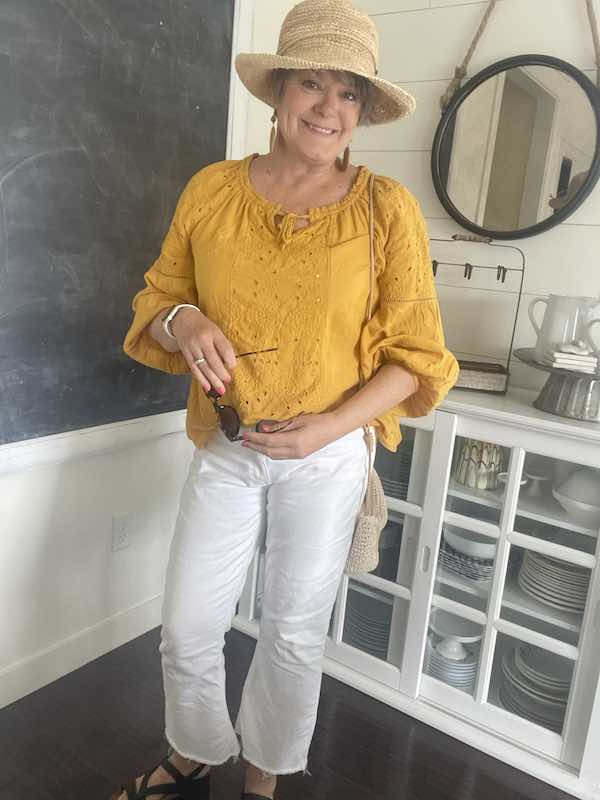 I really like the split front area with ties. Because this particular peasant style is so flattering, I tend to buy a lot tops like this with the split front. Most likely because it elongates my short torso.
White jean with raw hem
I know you are probably thinking she wears white pants all the time! Yes…Yes I do. In the spring and summer I absolutely do. Even as a teen living in Southern Cali I always loved white pants.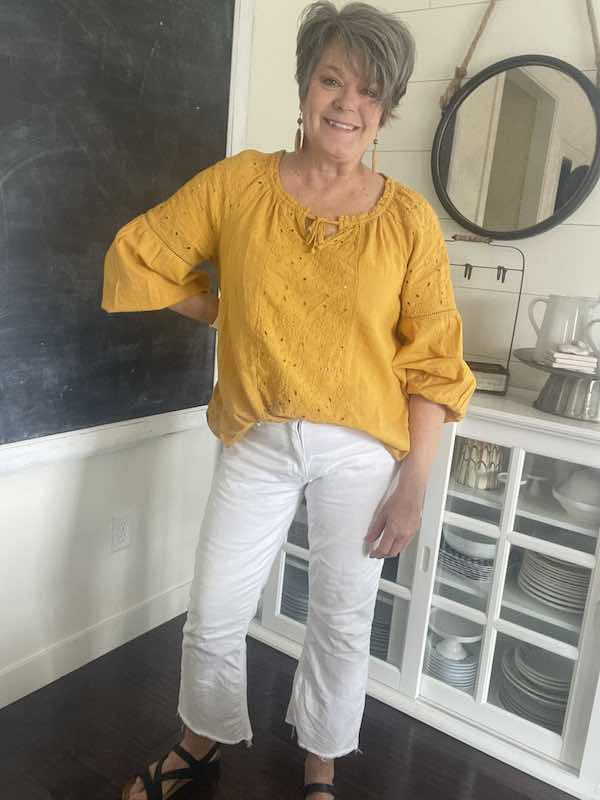 White jeans with raw hem go with everything! These are from Jcrew factory and I bought them last year along with my other white jeans that have ripped knee areas.
Am I obsessed with white pants? Maybe haha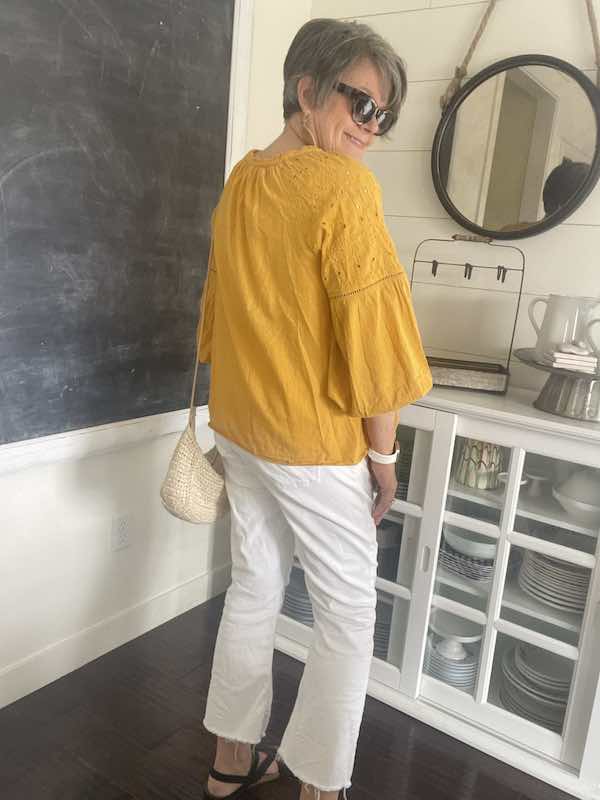 Do they bring back memories of living in Southern California and walking around Balboa Island or evenings on the beach. Yes and Yes! Maybe that is why I love them so much!
Casual accessories to wear with gold eyelet peasant blouse
Of course one must have a straw hat to go with your gold eyelet peasant blouse and white jeans. I mean why not! If I am going to have southern California memories of walking on the beach then I need to have a straw hat right!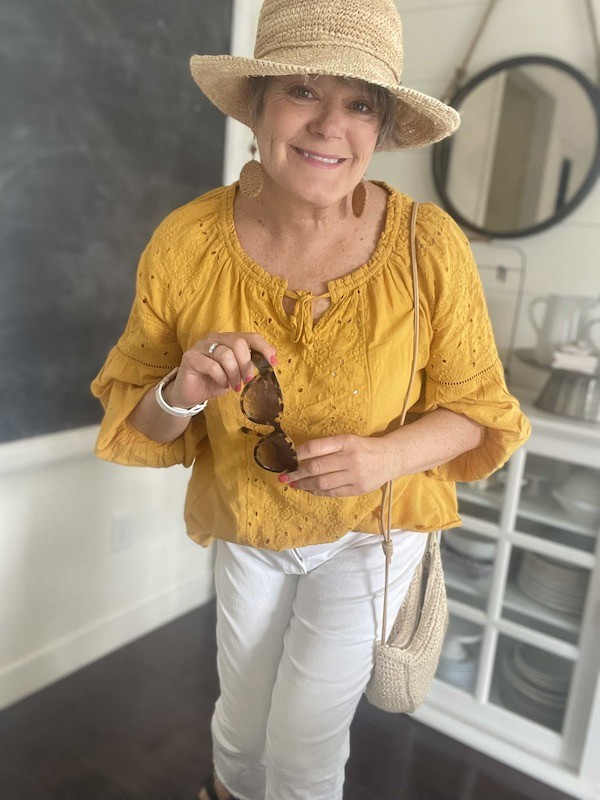 Along with a straw hat I need to wear my Karl Lagerfeld sunglasses that I bought last year while in Italy. Sunnies just make any outfit come alive don't you agree?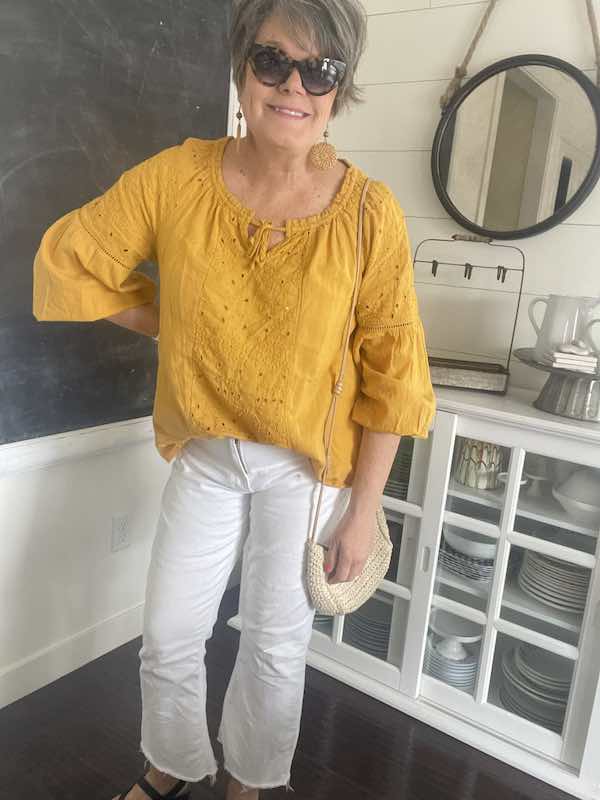 I couldn't decide whether to wear a straw shoulder bag or my cute new yellow mini back pack so I am showing you both.
Black sandals
These sandals are super comfortable and are great with my casual look. I could have multiple pairs of these sandals. I have people asking what brand they are all the time. They are Eurosoft sandals and feel so good on my feet.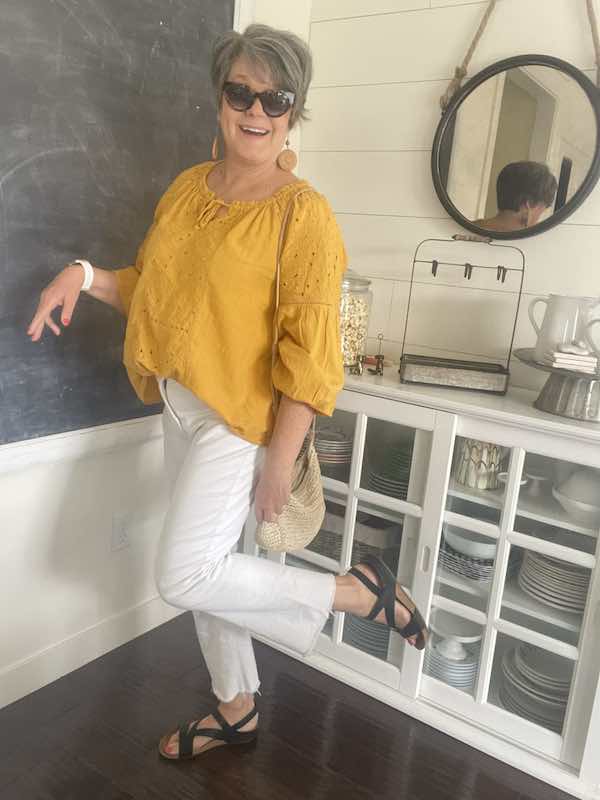 More Fashion Posts
If you like this post you will love to see more of my fashion posts here.
P.S Did you notice I cut my hair shorter recently….what do you think? Leave me a comment below.
Shop Similar Fashion Items
These are affiliate links and I make a small commission at no extra cost to you. This helps me keep my blog going. I REALLY appreciate any purchases you make. Happy shopping.