Merry Christmas friends! It is a wonderful time of year and I hope and pray it is for all of you. So many great Christmas ideas from last weeks Karins Kottage linky party. Thank you from the bottom of my heart for sharing all your ideas.
These Gingerbread house and snow globes are just so cute! The easy DIY mason jar Christmas scene and the hot chocolate bar using mason jars just speak to me! Simple nostalgic and adorable are all these ideas. Make sure to pop over to each of my friends that I am highlighting today.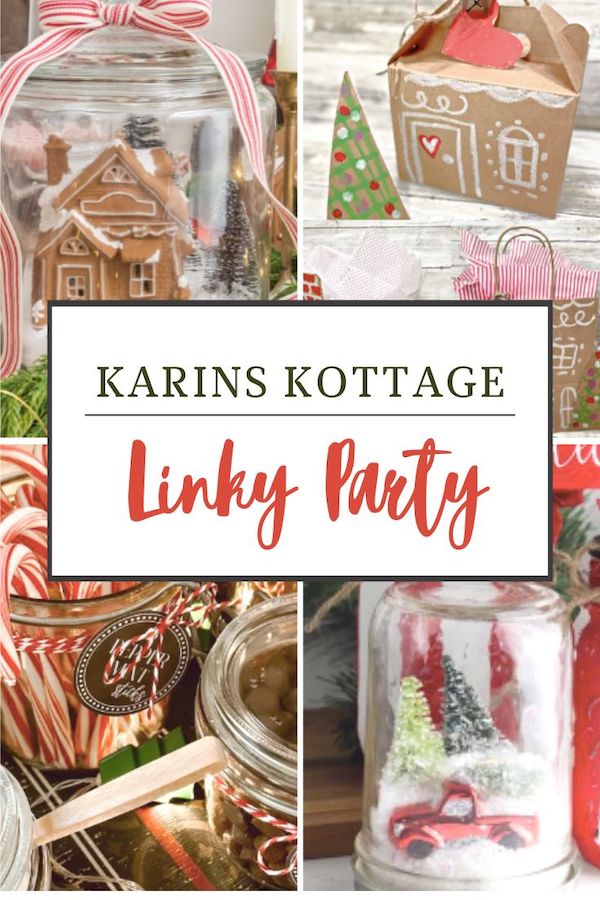 Karins Kottage linky party Christmas ideas highlights
I love all things you do with mason jars! This little snow scene is just a classic and I need to put mine up! YEs I am still behind getting all my decorations up 🙁 Hunny I'm home you have inspired me to get mine going!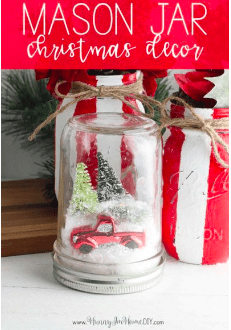 Here is another great way to use mason jars! Create a fabulous hot chocolate bar! Eleanor Rose home has shared some great ideas of what to include in your mason jars for your hot chocolate bar.
I think I might incorporate some of these ideas for my hot chocolate bar this year!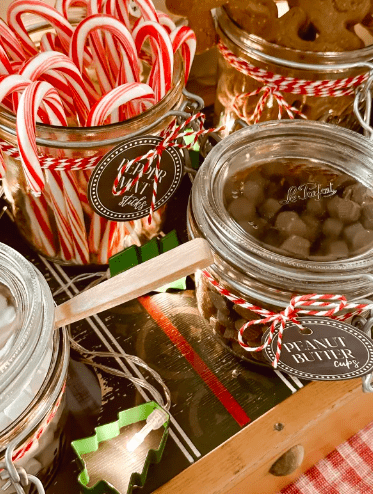 Oh my gosh Midwest life and style created this gingerbread snow globe out of a thrifted gingerbread house that she painted! You have got to go check this out you will be amazed at how she transformed the little houses!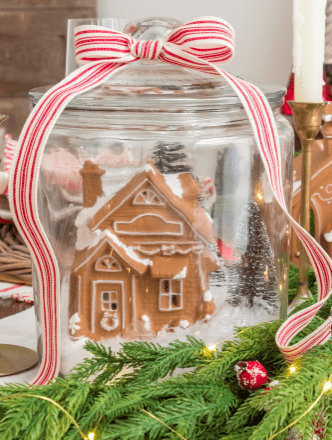 You know I love recycling things and this is such a cute idea on how to create cardboard gingerbread house gift wrap! Me and my inklings shares how she used the backs of cereal boxes for some of the extra pieces. I had never heard of the paint sticks she used but they don't make a mess!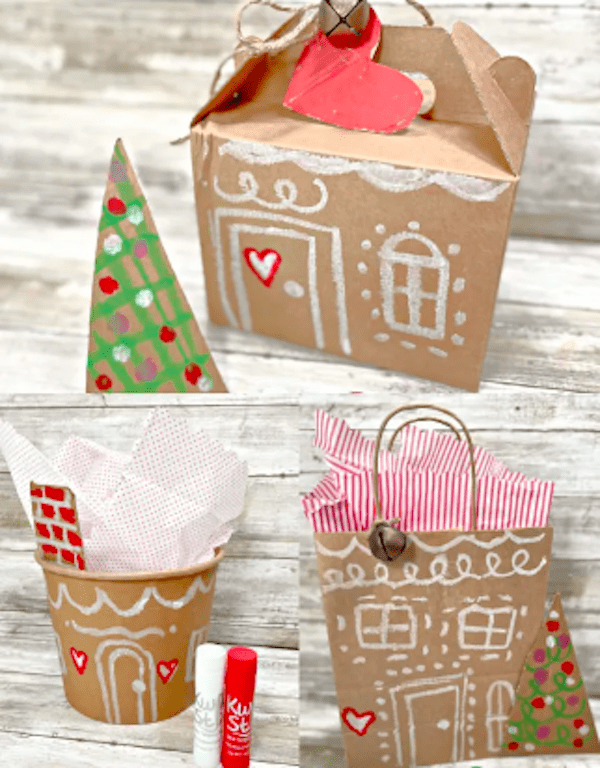 Karins Kottage Happenings
Last week I had 4 of my grandkids staying with us while their parents went on a little staycation. It was so fun to have them here. On Friday night my sister, and two granddaughters went to see the play Little Mermaid Jr. and it was fantastic!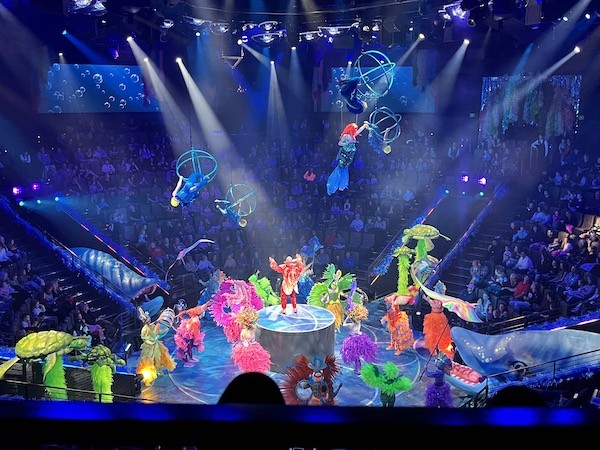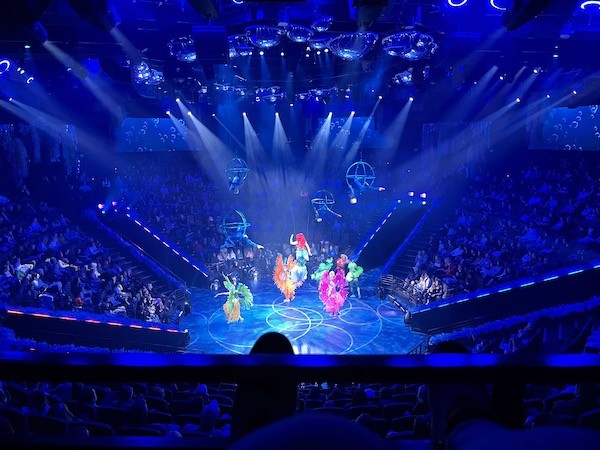 After the play I held my annual Sugar Plum fairy dinner with all the grandkids! They get to make their own elf pancakes for dinner.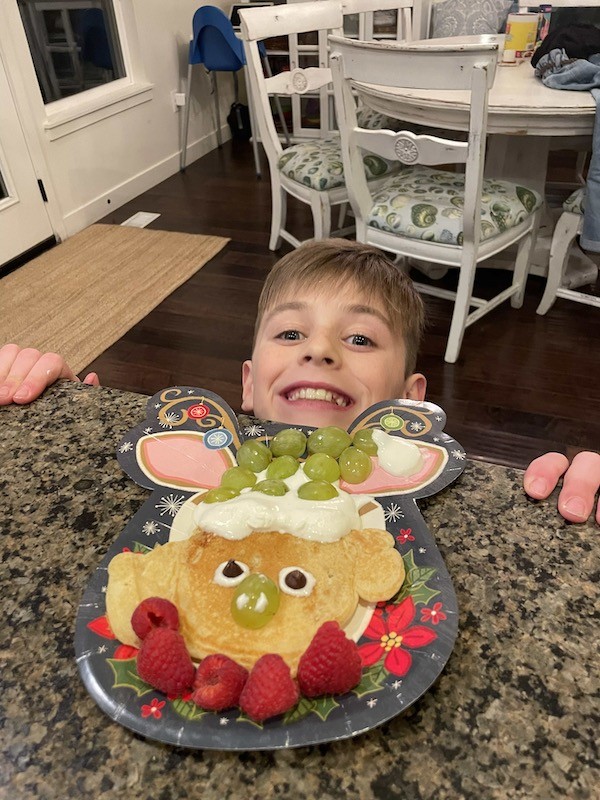 Then we head to the dining room where I decorated it like what the sugar plum fairy might do. Then we have our breakfast dinner and each child receives a little gift or two.
Last Thursday we attended a really fun German festival called Christkindle Market and I bought this felt Merry and Bright garland that I am obsessed with!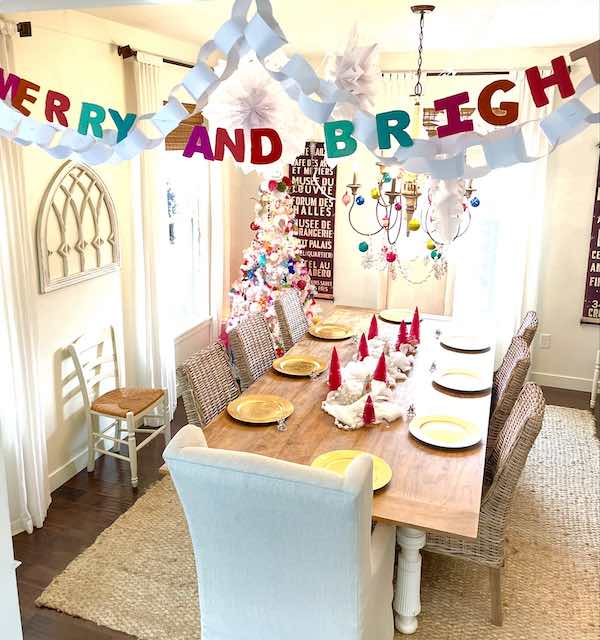 The kids love to decorate the white Christmas tree with all the fun bright colored ornaments I have collected for them over the years. We always top it off with frosty the snowman head.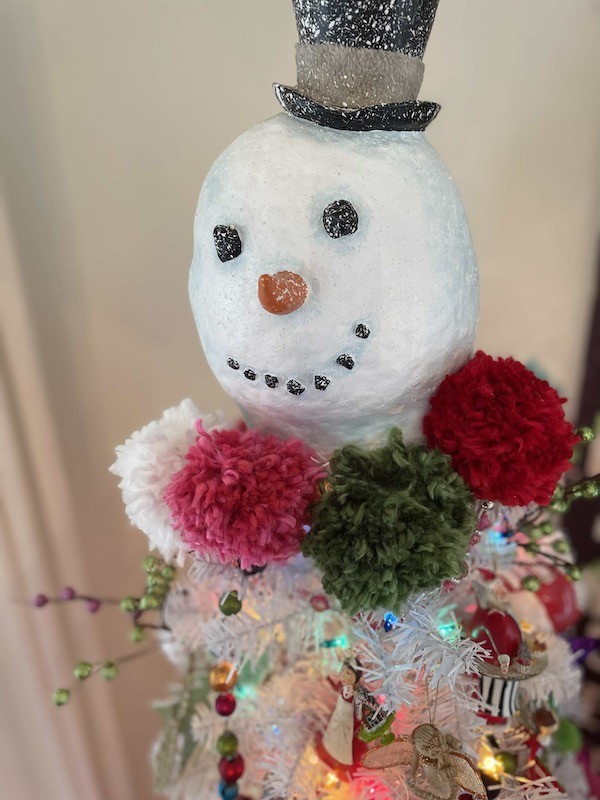 Linky Party
Please link up as many Christmas posts as you would like. The more the merrier! I love seeing all your decor ideas, recipes, Christmas crafts.