As most of you know we love going back to visit Casoli Italy often. We are here so often these days checking on our Palazzo renovation and bringing interested folks to tour the area that it really feels like a second home. Our partners in Palazzo Ricci, Bimbi and Spencer are always such gracious hosts and this time we were able to enjoy their pool out by the honeysuckle. It was glorious!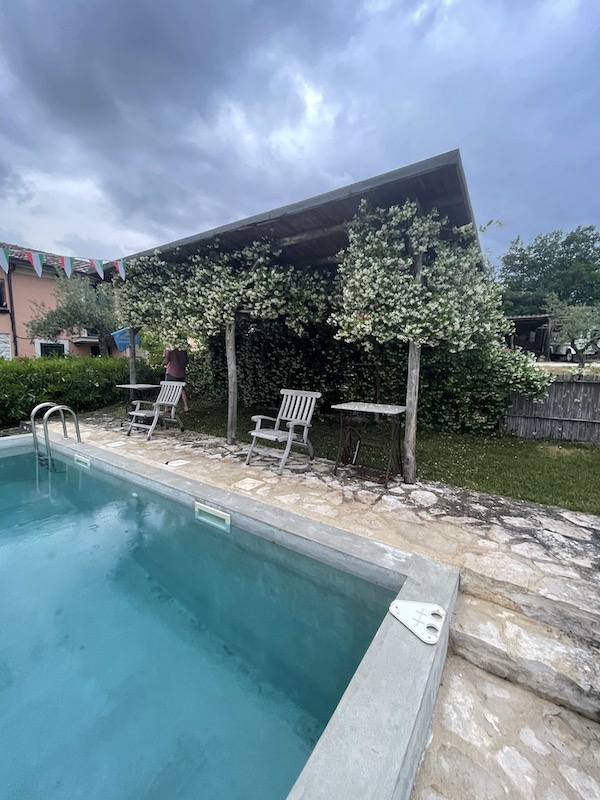 To welcome the first group, Bimbi ordered this amazing traditional lasagna catered by our local favorite cook. We absolutely love it because the noodles are super thin like crepes. Afterwards we were able to just relax and get ready for the first group tour that would start tomorrow.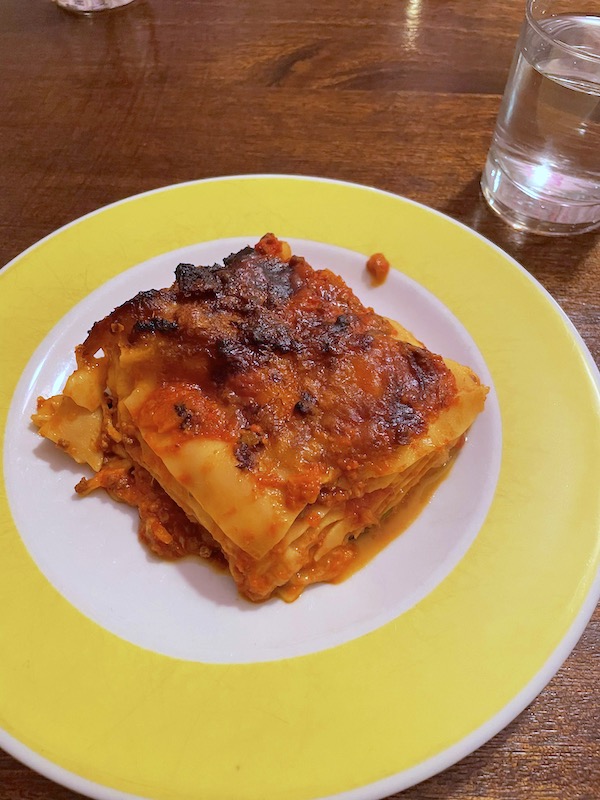 Back visiting Casoli Italy open air market
The next morning was Friday and this is when Casoli has their open air market. Even in the drizzling rain vendors have their booths set up ready to sell.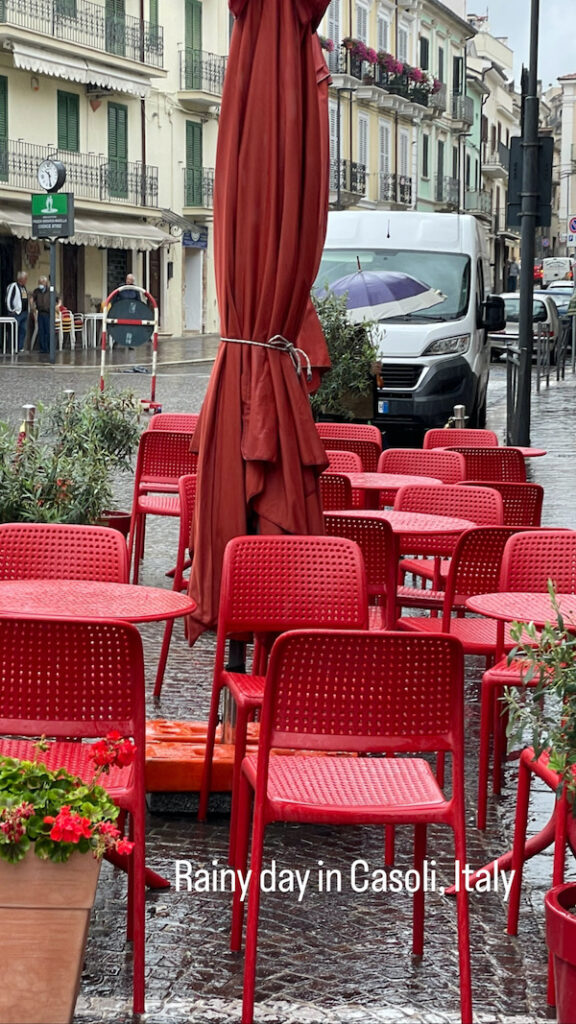 Everything from fresh grown vegetables and fruits, seafood, Porchetta (my absolute favorite pork), flowers, kitchen goods, clothes and shoes, traditional Casoli fabrics and all kinds of things needed to run you home.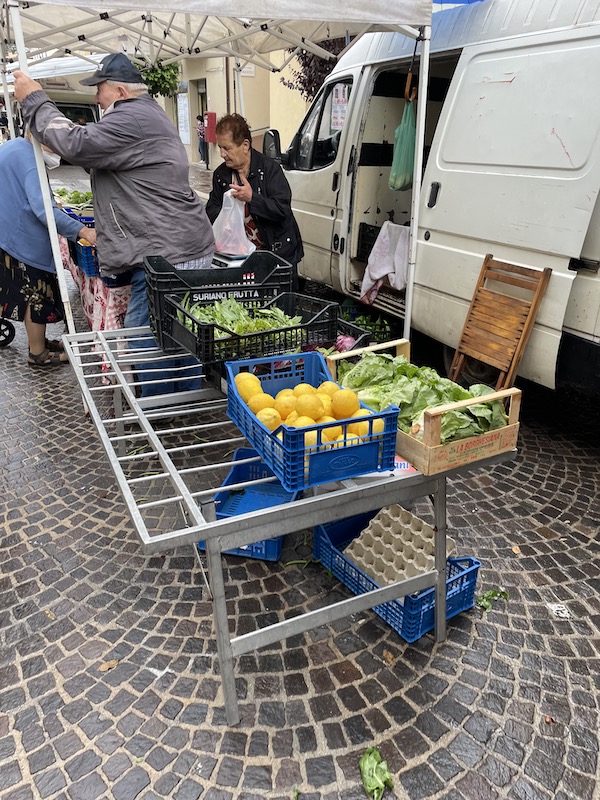 There is something so refreshing about going to an open air market. It is so different from our everyday shopping trip back at home. Everyone is so friendly and helpful even when I can't speak to them in Italian.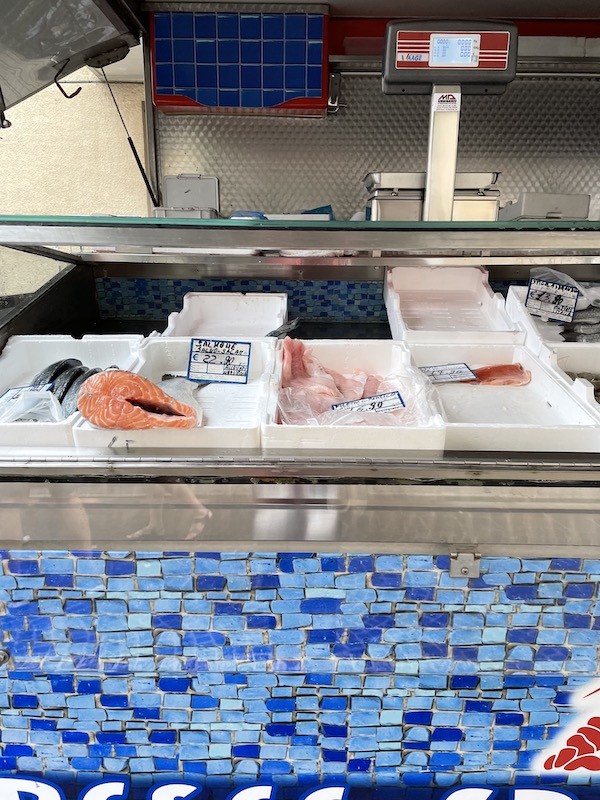 I bought a wooden charcuterie board and bowl at one of the booths. I can't wait to start using them in a new tablescape.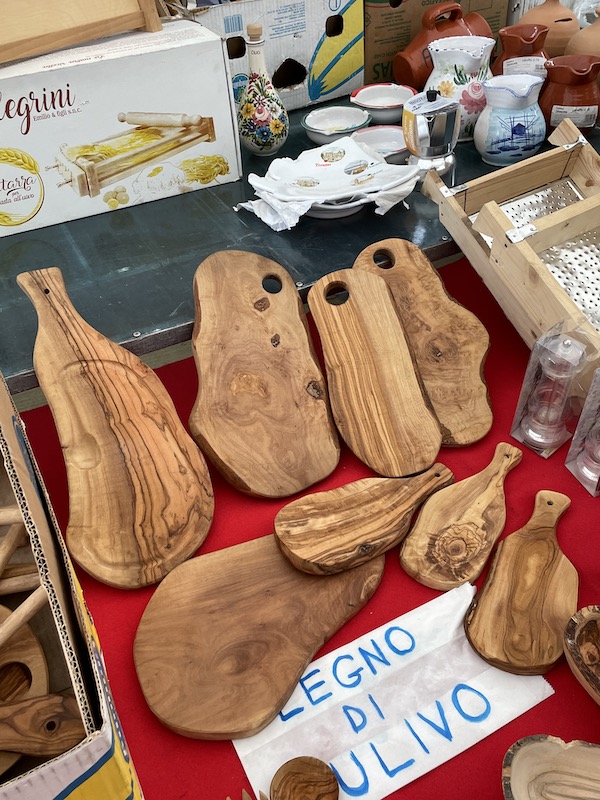 Touring Roccascalengna medieval castle
To begin the tour, we went to Roccascalegna and showed our friends the amazing medieval castle that was built on the edge of a huge cliff! Inside the castle there is a museum of torture devices that were used back in medieval times that are terrifying.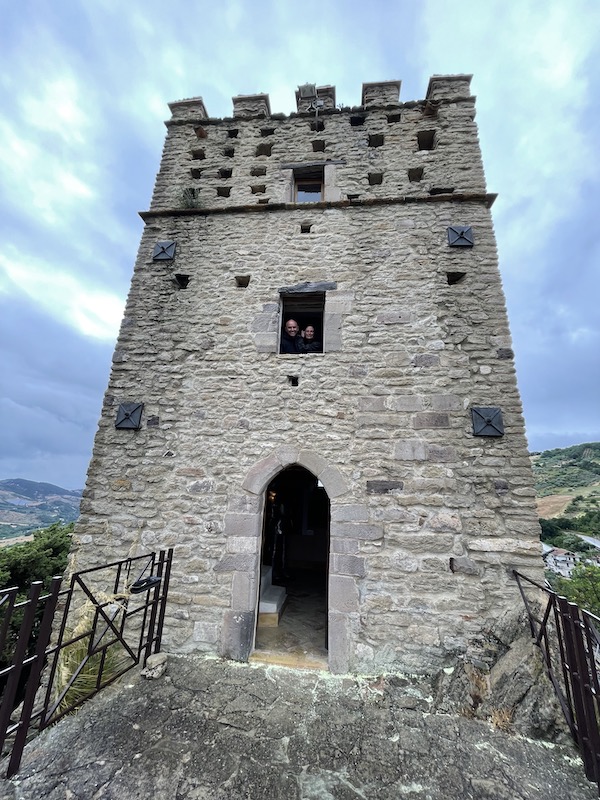 There is also an exhibit which shows photographs of Italian immigrants that left Abruzzo around the 1900s. It's fascinating to see what they went through. Most were crammed in on boats for months at a time to find economic opportunities in foreign countries. There are photographs taken of some when they arrived to their destinations either in America, Argentina or other different countries. It shows how difficult it was for them to begin their new life.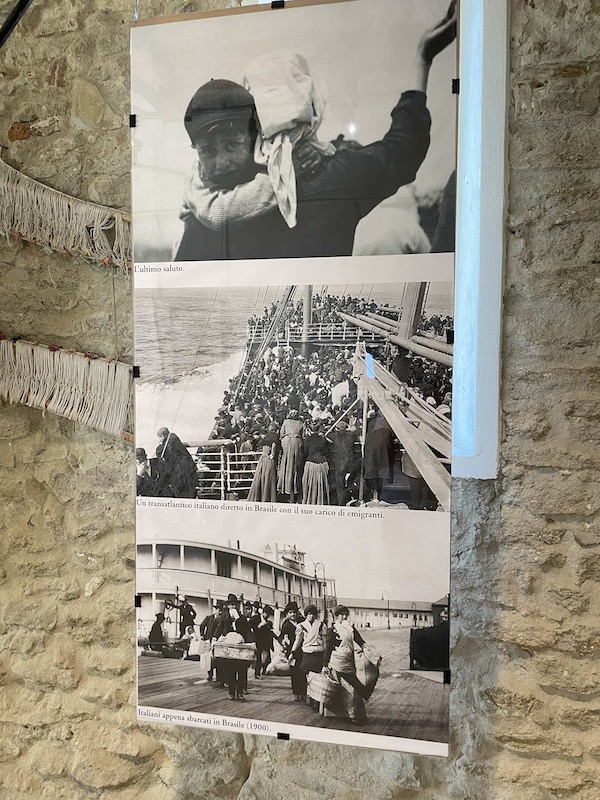 We always take those that come on the tour to this area because this medieval castle has stunning views of Casoli. It's only 15 minutes away from Palazzo Ricci and it is in a darling town where we had lunch.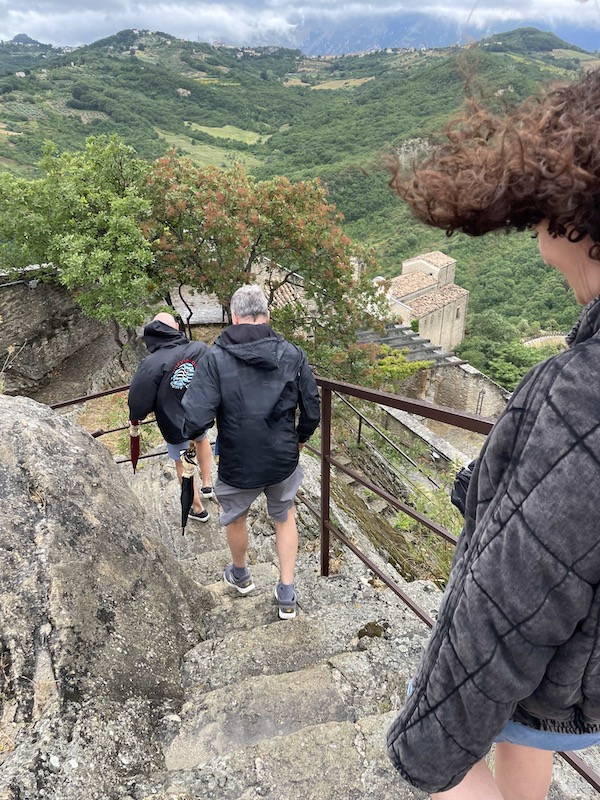 We tried a new restaurant in Roccascalengna and it was just ….OK. The best part about this restaurant is sitting in the enclosed little patio overlooking the castle.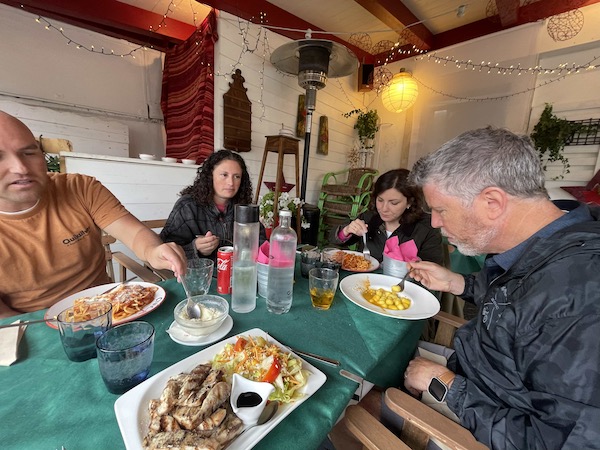 On this particular day it was so windy and cold! Very unusual for June. You can see in the pictures it was blowing us around. It was also rainy but it was kind of eerily cool to be in a medieval castle with that kind of weather.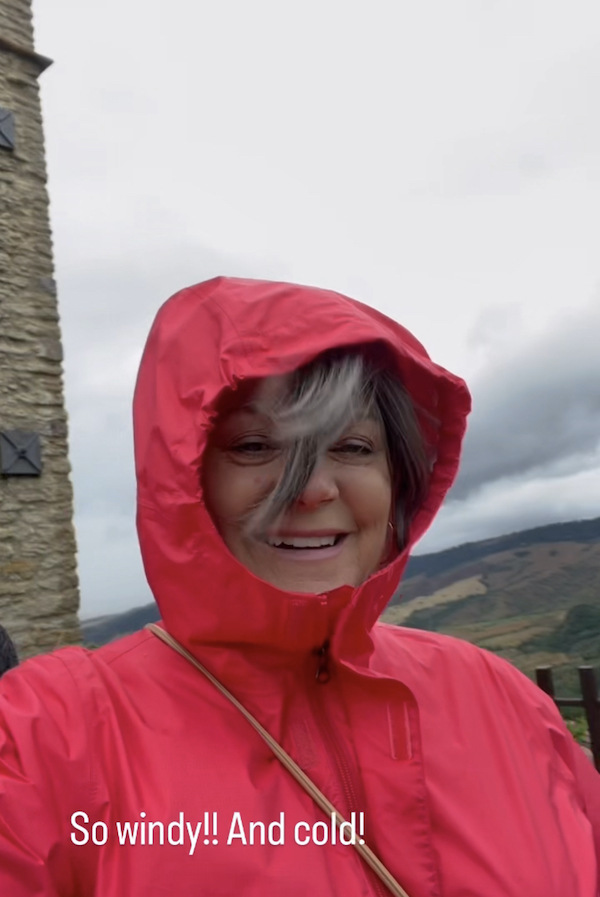 Fara San Martino hike
After lunch we took part of our tour back to Bimbi and Spencer's villa for them to rest from jet lag. The other part of our group arrived so we took them on a short hike up Fara San Martino canyon to see an 11th century monastery. You can see my pictures of the monastery here.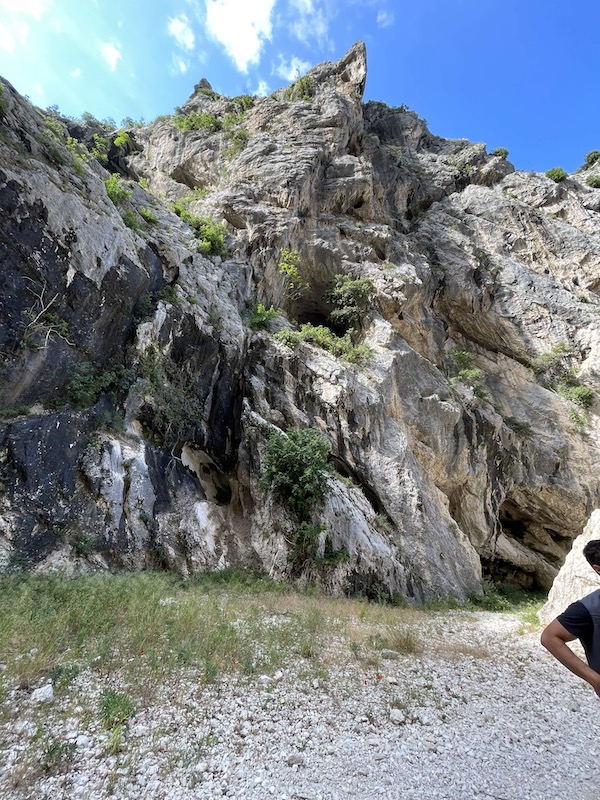 There is a slot canyon on the way up. At the bottom of the hike you can see this beautiful spring with waterfalls that come down from the mountains.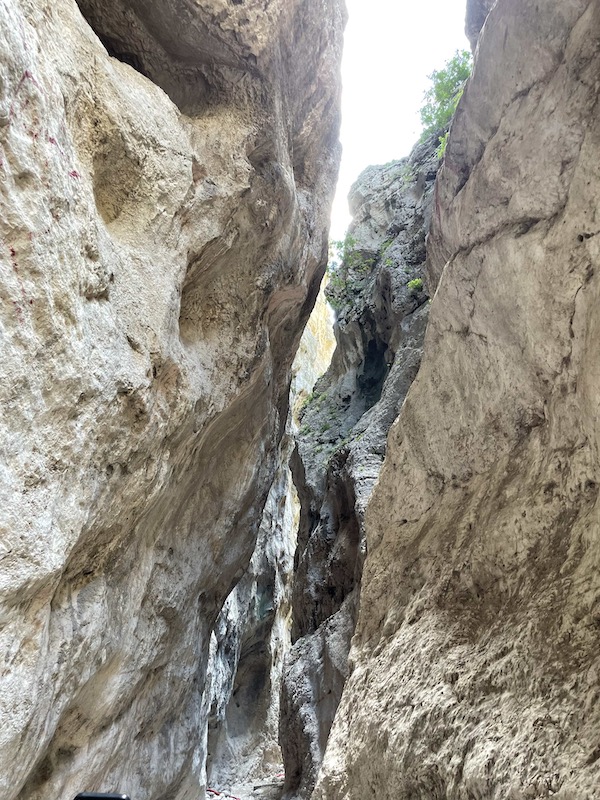 This is the water that is used to make Di Cecco pasta. You may recognize the Di Cecco pasta in blue and yellow packages in your grocery store. The water is so clear, cold and delicious to drink.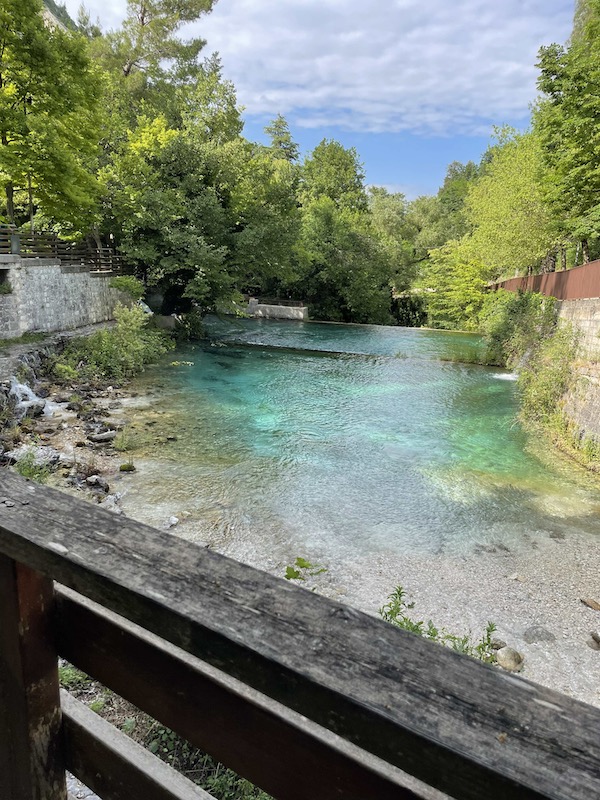 This little hike is only 15 minutes from Palazzo Ricci. To get out in nature and see unique surroundings is always so refreshing.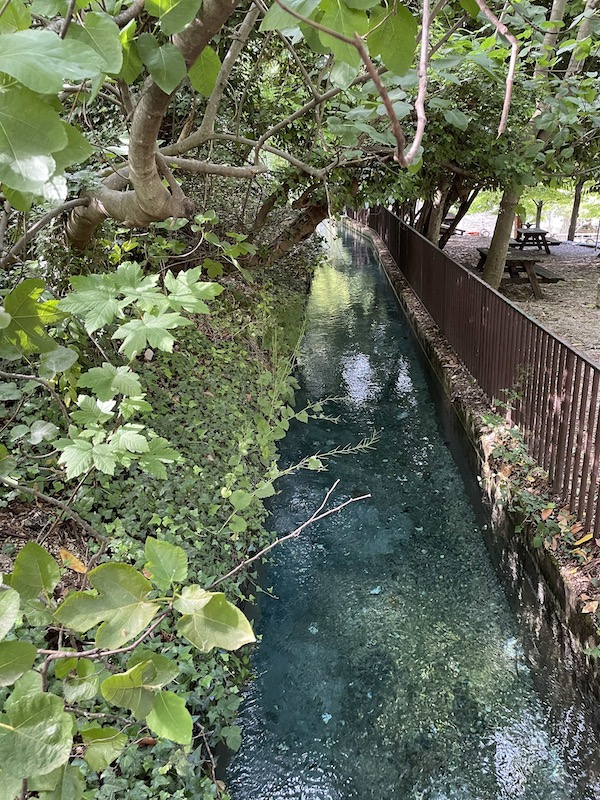 It's always so wonderful to be able to take people to see sites and different things that are so close to our Palazzo.
Olive oil tasting while visiting Casoli Italy
After a little rest we took our group to do a wine and olive oil tasting. As you know my hubby and I don't drink alcohol but we do love olive oil. Olive oil made in Italy has the most amazing flavor and the color is always green not golden yellow. It is so fresh and delicious drizzled on a piece of bread! No butter just olive oil.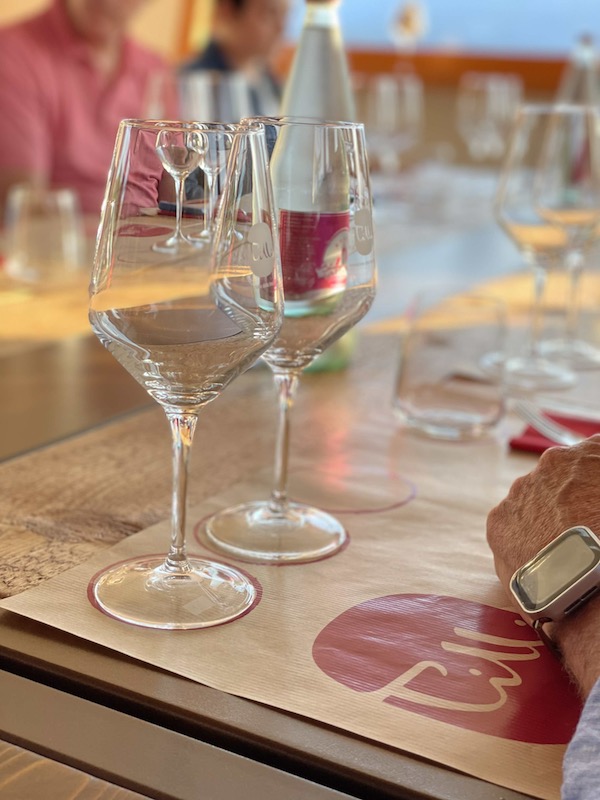 Since we don't drink alcohol they brought us out some delicious juices to try. It was the perfect ending to a lovely day.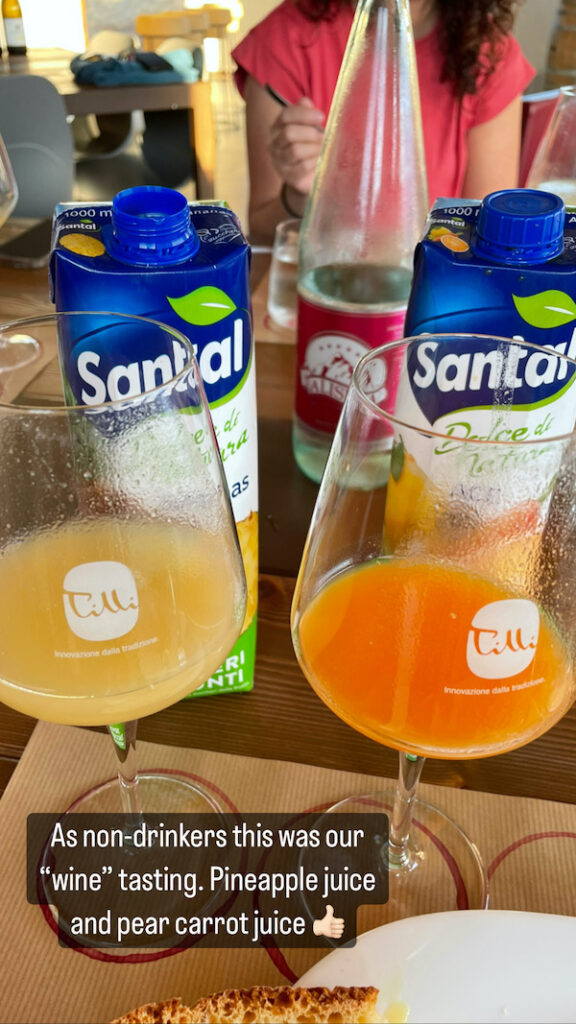 The views from the Azienda Tilli winery are breathtaking of the Maiella mountains. All of us decided we could sit and enjoy this view for hours on end.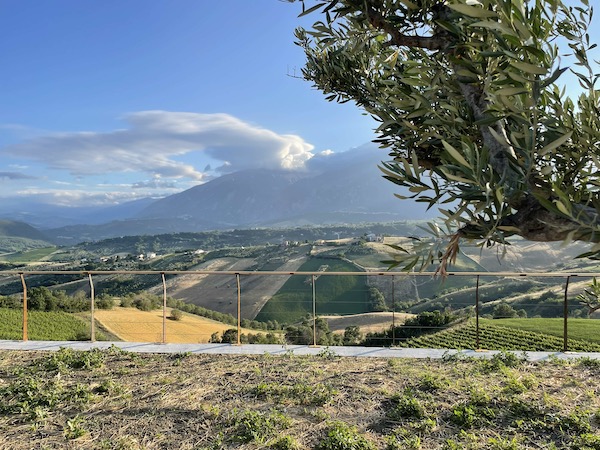 It was so interesting to see how they make their wine using metal stainless steel vats instead of wooden barrels. Then for the final part, to age the wine, they put the wine in these gigantic terra-cotta vats. I had never seen or heard of that before.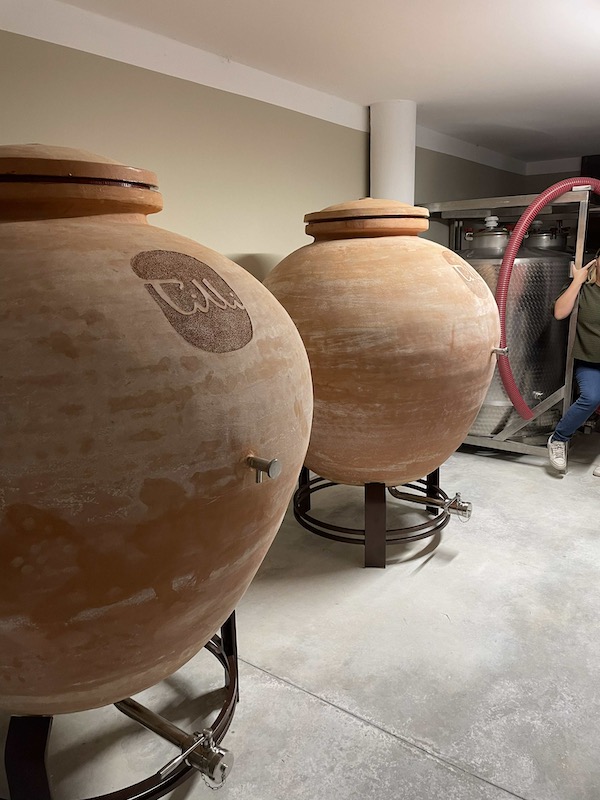 It's such a unique experience to sit around a large table with everyone learning about olive oil and winemaking and getting to know one another right at the beginning of the trip. 
I have always been such a fan of sitting around a nicely set table with family and friends to connect with one another.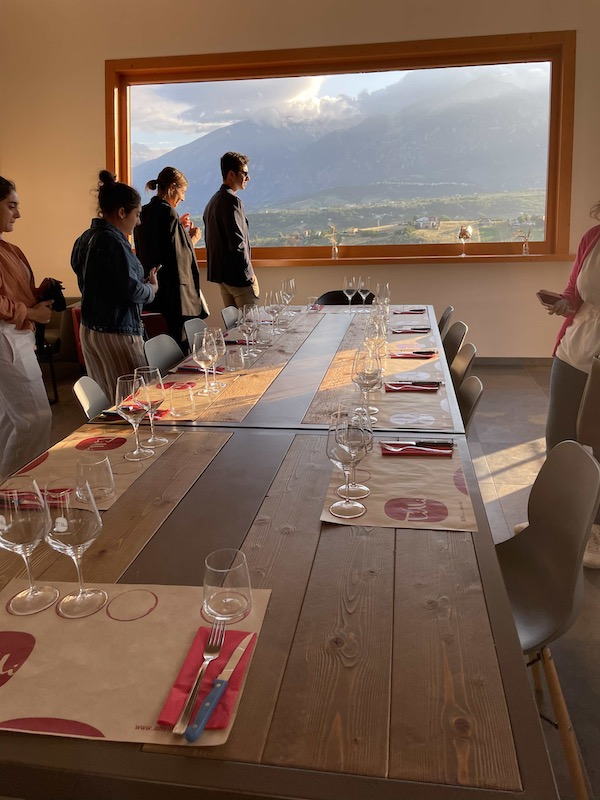 The host of winery served us delicious appetizers. We were each served a plate of locally made salamis, cheeses and bread drizzled with their delicious olive oil. There is so much good food in this region of Italy!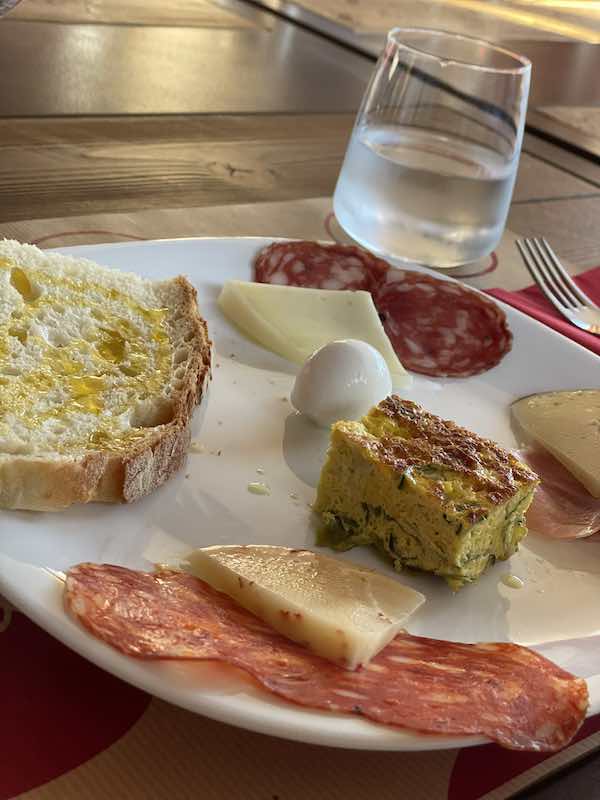 After the winery tour we all headed back to Bimbi and Spencers and turned in for the night. It is great to be back visiting Casoli Italy. I have lots more to share all about our 3 week trip to italy so stay tuned 🙂
Shop Italian finds