Todays Summer breeze centerpiece Wednesday Linky party is brought to you by these creative bloggers!
I chose these creative ideas because they just look like a summer breeze has come across my screen.
Don't you agree?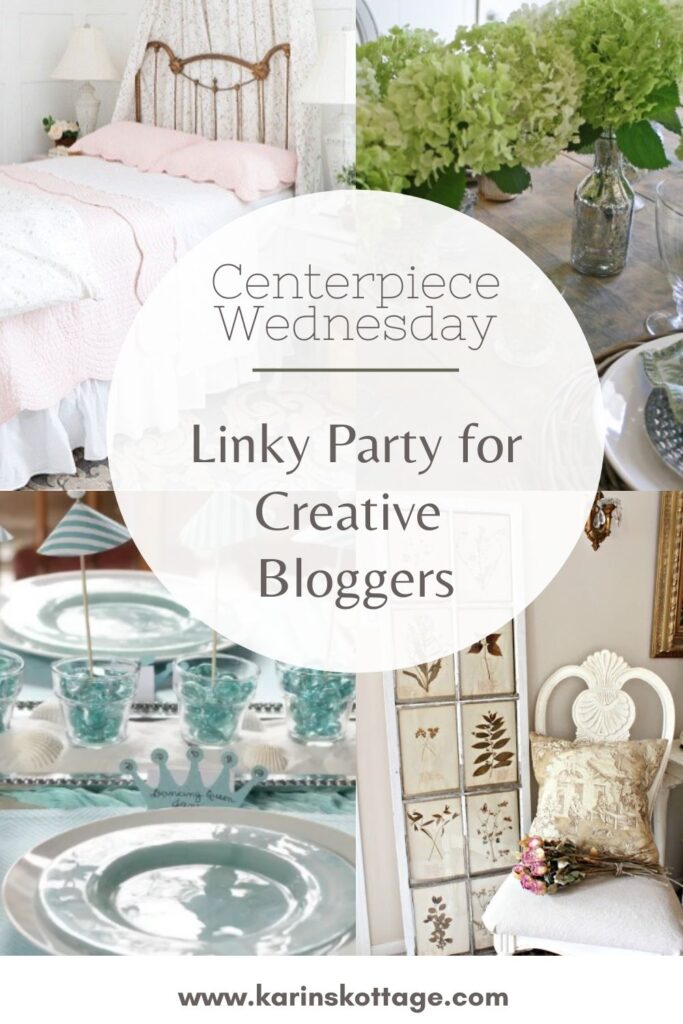 Centerpiece Wednesday Linky party highlights
You are going to want to turn on some Abba music while visiting this tablescape that Bluesky at home created!
Carol even created the cutest crown place cards with Dancing Queen and the guests name hand written on them!
What a fun idea! I have a tutorial on how to make mini paper umbrella's like these.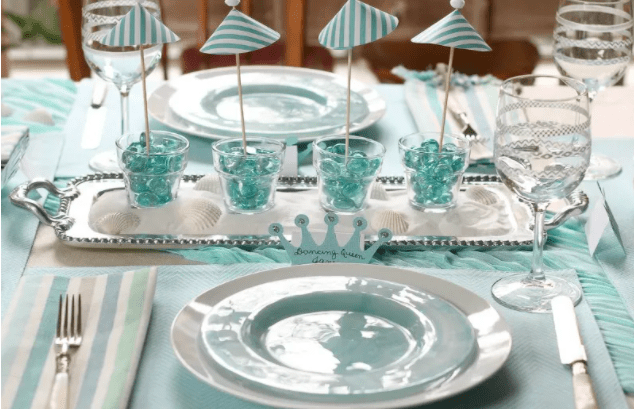 If this guest bedroom doesn't make you swoon I don't know what would.
The crowned Goat really put a lot of thought into creating this crown guest bedroom makeover and I for one love it all!
You need to see the top of the crown above the bed it is stunning!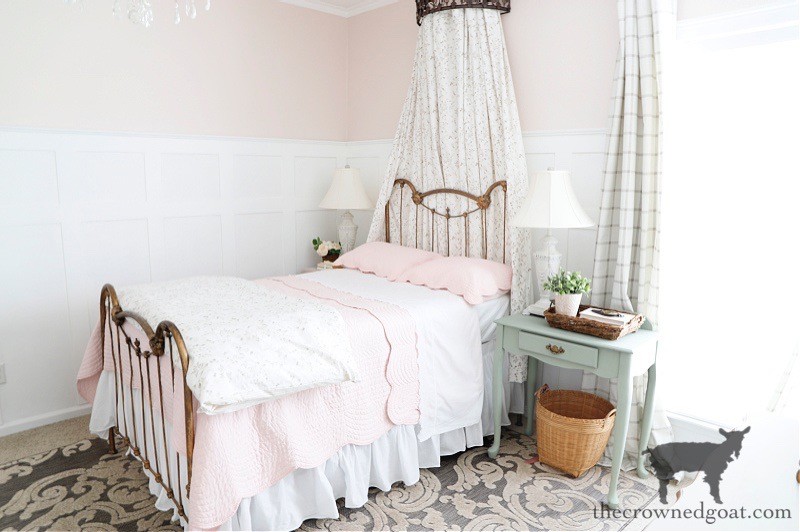 Common Ground uses architectural treatments like this window pane all throughout her house.
It is so fun to see how she has moved this piece around in her home multiple times and each time it looked amazing!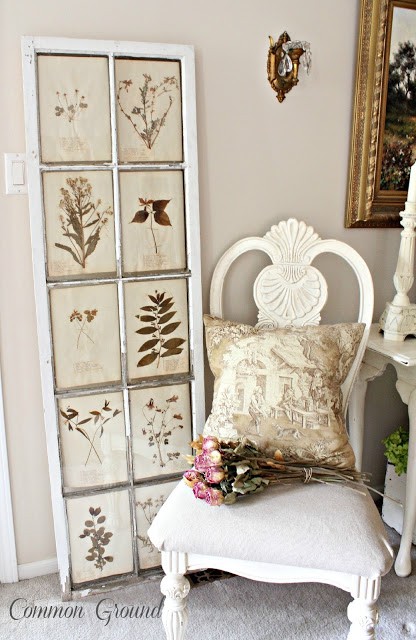 Masterpieces of my life loves to entertain outside but it has been so hot where she at.
She set a beautiful table using hydrangeas and mercury glass vases inside her house looking out to her yard.
It is beautiful!
Years ago I set an outdoor table by our pool when we lived in Texas. I used hydrangeas in big glass goblets and it looked so cool and refreshing as a summer breeze.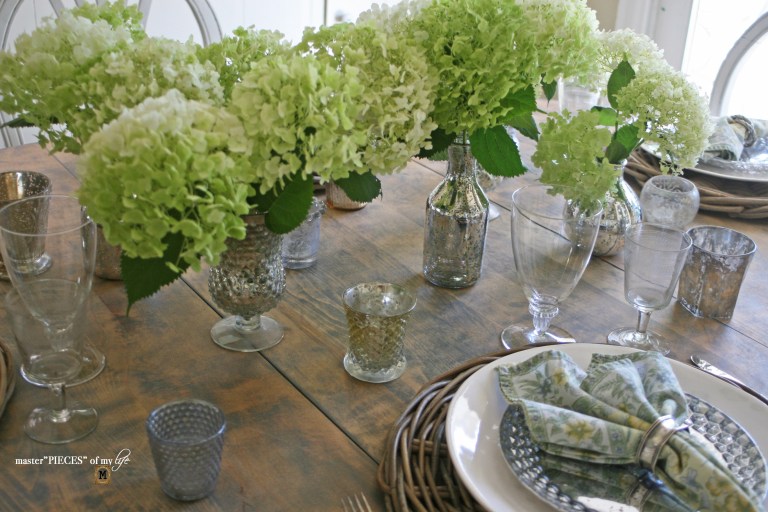 Karins Kottage Happenings
Here at the Kottage I have been working on Girls Camp decorations. The theme this year is "Ignite the Light" with a constellation theme. I have been making cosmic space type decorations for our camp site.
I shared some of the things I have have been working on a couple of weeks ago here.
Today I created a kind of tie dyed sheet that I am going to use as a backdrop but ….I didn't tie dye it!
I used acrylic paint in a spray bottle mixed with water! It may not look like much right now but once we finish adding stars and a few constellations it will look fabulous!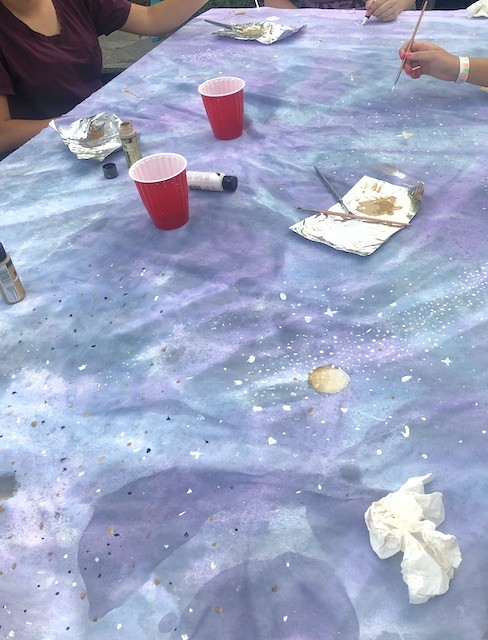 I will be sharing the tutorial on this craft later this week.
New Recipes
I have been trying out new recipes too.
The other night I made this apricot crisp recipe and it turned out great! My apricots were a little too ripe so it was a tad bit mushy 🙁 but the flavor was awesome! I used almond and vanilla extract and a little orange zest yum!
The buttery oatmeal crust is scrumptious!
Here is another favorite recipe for mini peach blueberry crisps that is also perfect for a summer dessert!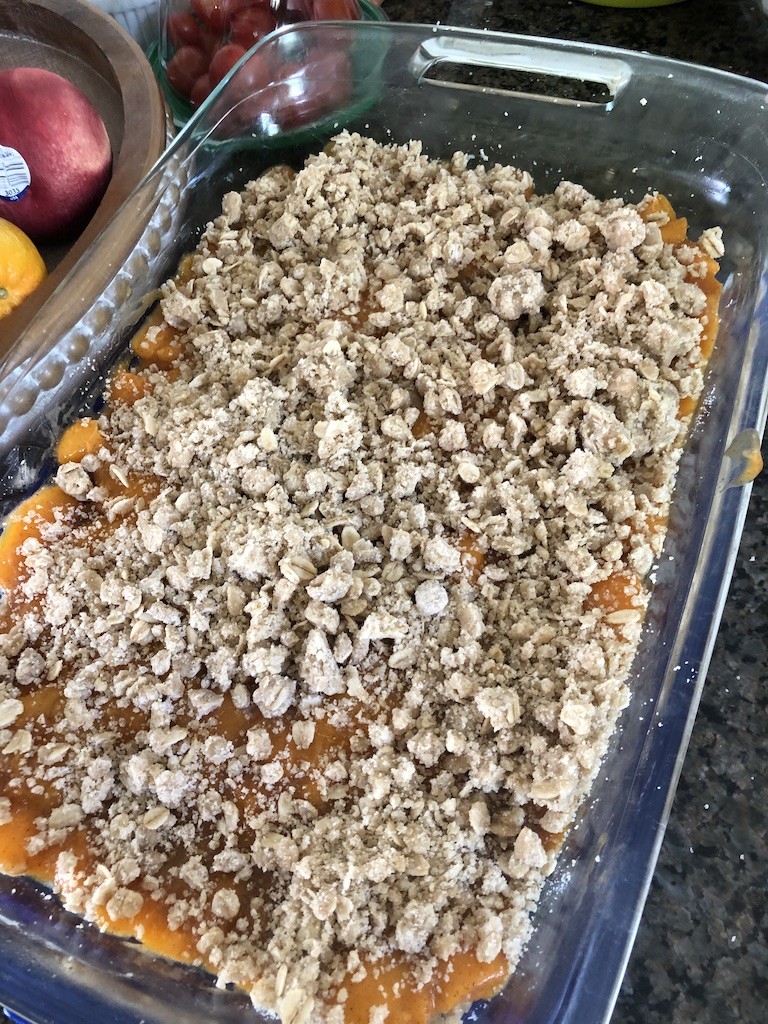 LINKY PARTY
Please share any of your favorite summer posts. I love to see what you have been up to.