Today I am sharing how to make turkey zucchini boat appetizers! These little nuggets of goodness are so easy to make and really delicious too!
Perfect way to use up all the zucchini growing in your garden.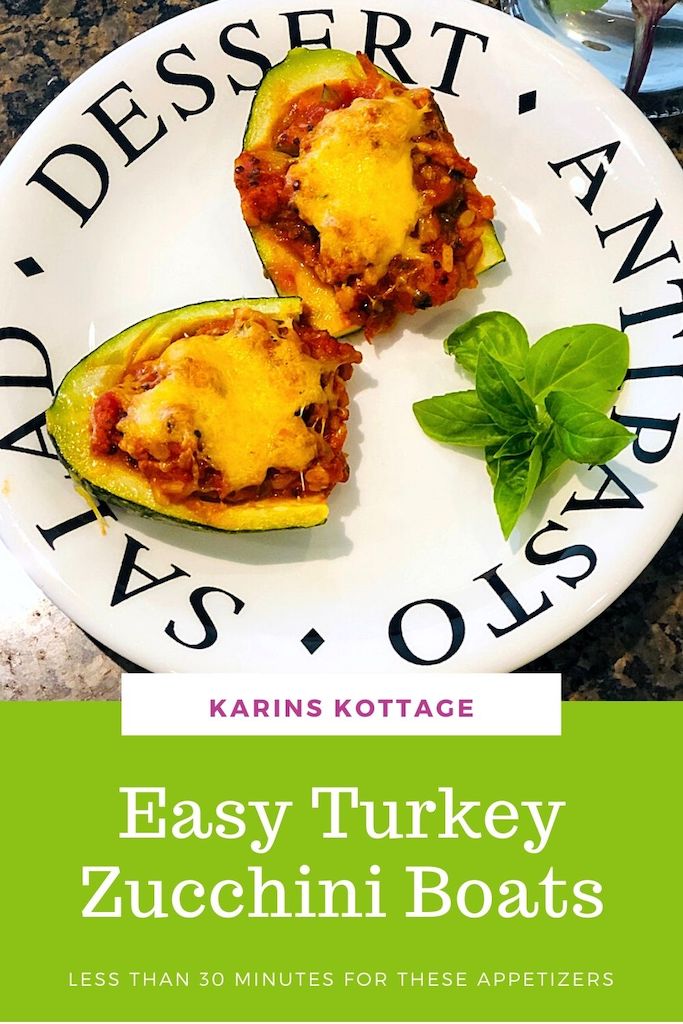 If you like zucchini recipes you will also love this zucchini and yam soup!
Ingredients for how to make turkey zucchini boat appetizers
Of course you need some zucchini. I used only two zucchini's for four of us because we are going to be having other appetizers too.
We had Costco spring rolls, Aidel's pineapple sausages, watermelon and pineapple skewers. All things super easy to put together.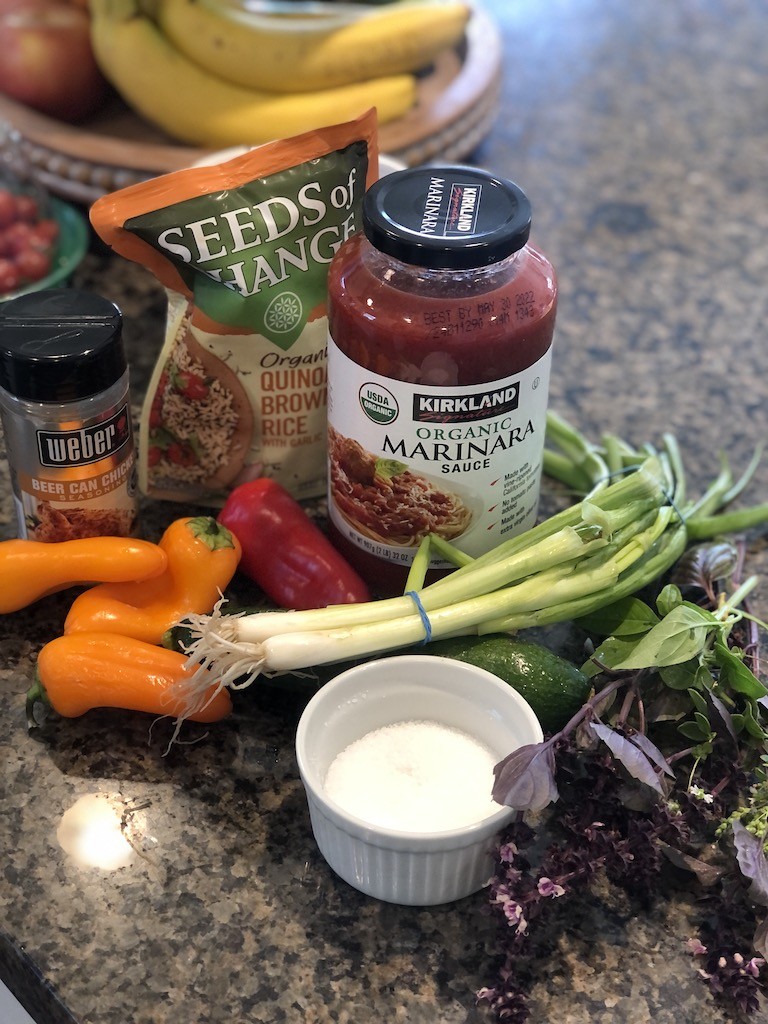 For the filling you need
One pound ground turkey
1 bottle Kirkland organic marinara sauce
A package Seeds of Change organic quinoa brown rice
4 small peppers
1 bunch green onions
Weber Beer can chicken seasoning
Fresh basil and rosemary
Kosher salt
Note: This makes a lot of filling so plan to use it another night over spaghetti noodles or in tacos. Two meals out of one pan!
Roasting Zucchini
The first thing I did was to cut my two zucchini's in half. Scoop or cut out the flesh. Leave some flesh to make sure the zucchini boat will be sturdy enough to hold the filling. Set aside the flesh.
Then cut each Zucchini half into 2 inch pieces. Hence your appetizer sized zucchini boat!
Notice I was not too careful about it. Oops oh well you don't have to perfect.
Rub each piece with olive oil and sprinkle with salt. Bake at 400 for about 10 min.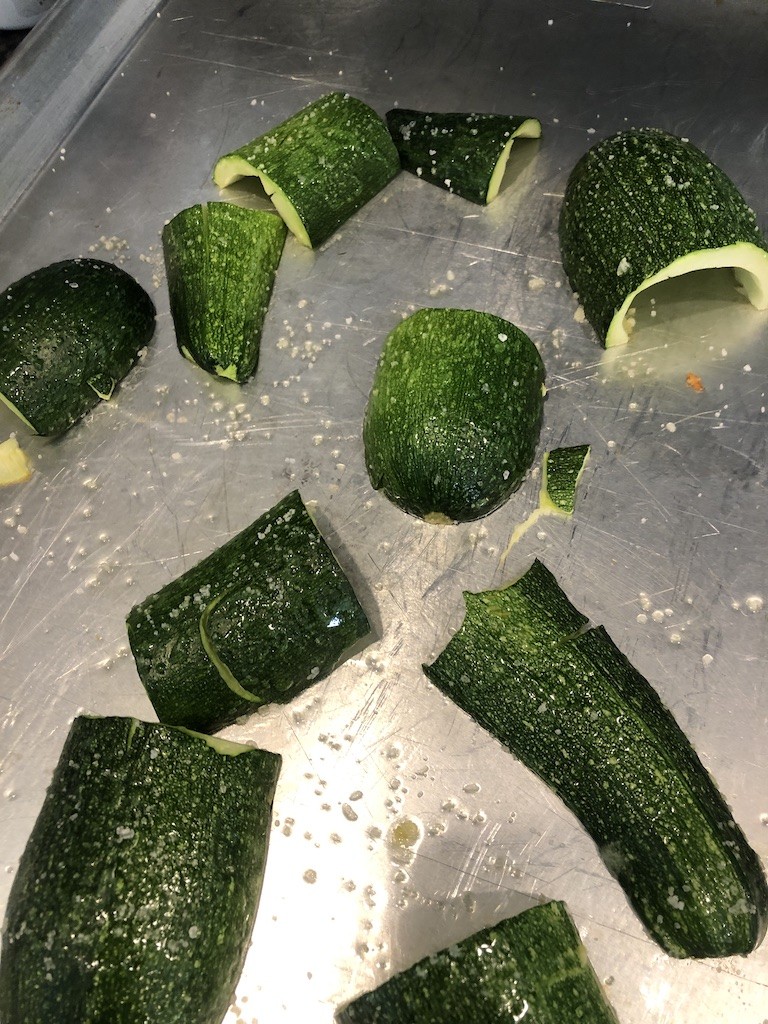 Make turkey filling for zucchini boats
Next you are going to chop up all the vegetables including the flesh of the zucchini.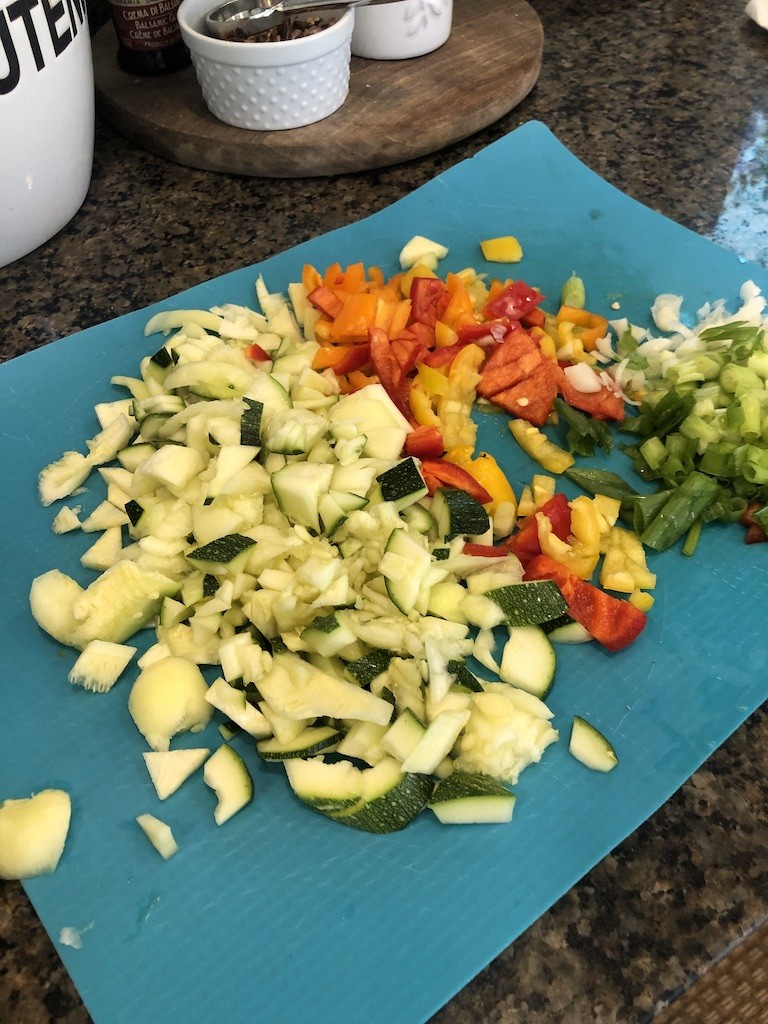 Sautee all the vegetables in a hot black Iron skillet (my favorite skillet) with a little olive oil.
Of course you need to add some fresh herbs from your garden! Herbs are so awesome and super easy to grow in pots in your garden.
Here is my post on how to make a herb basket.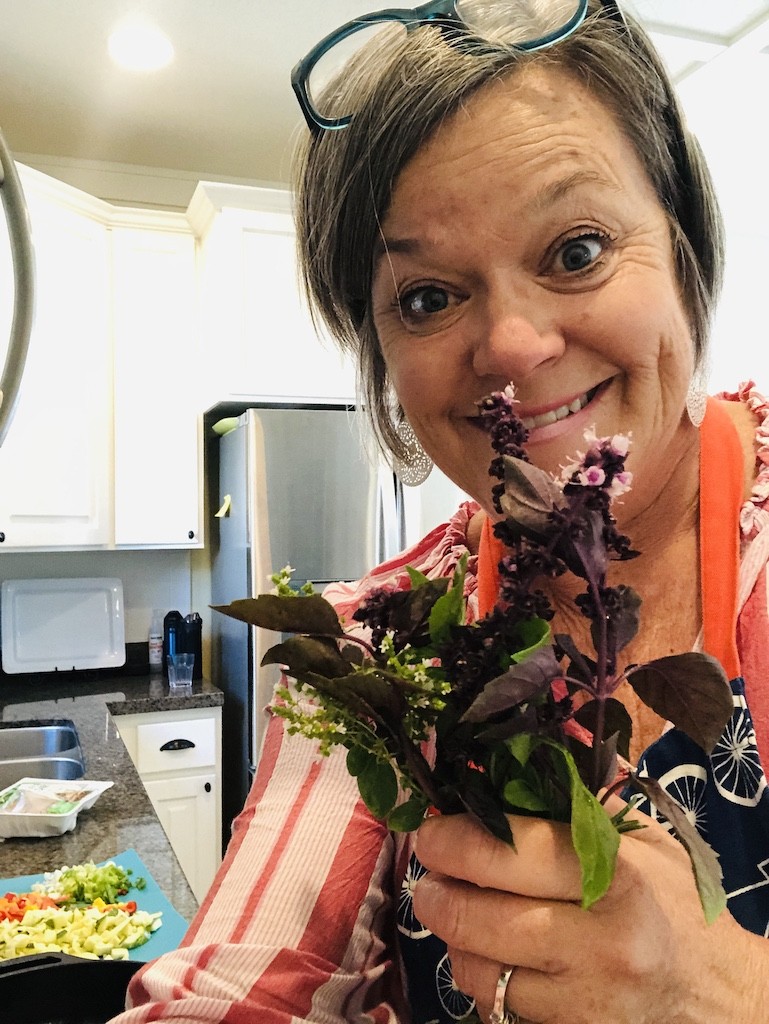 Add in chopped fresh basil and rosemary to your skillet.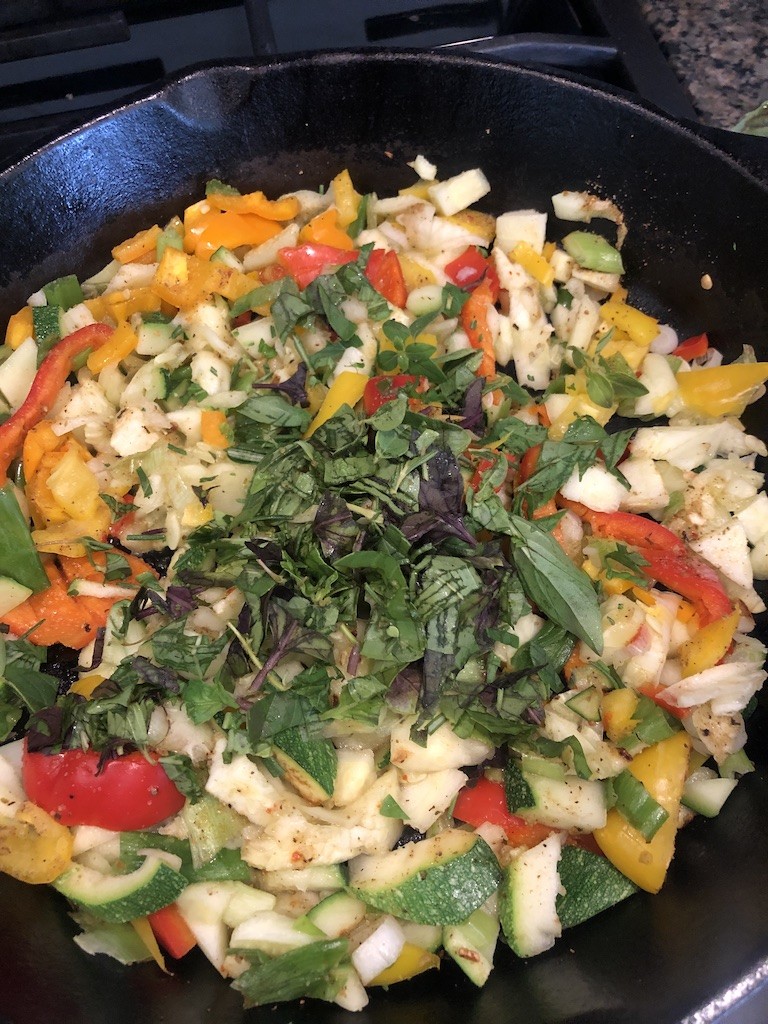 Sautee for about 5-7 minutes or less. You do not want the vegetables to be mushy.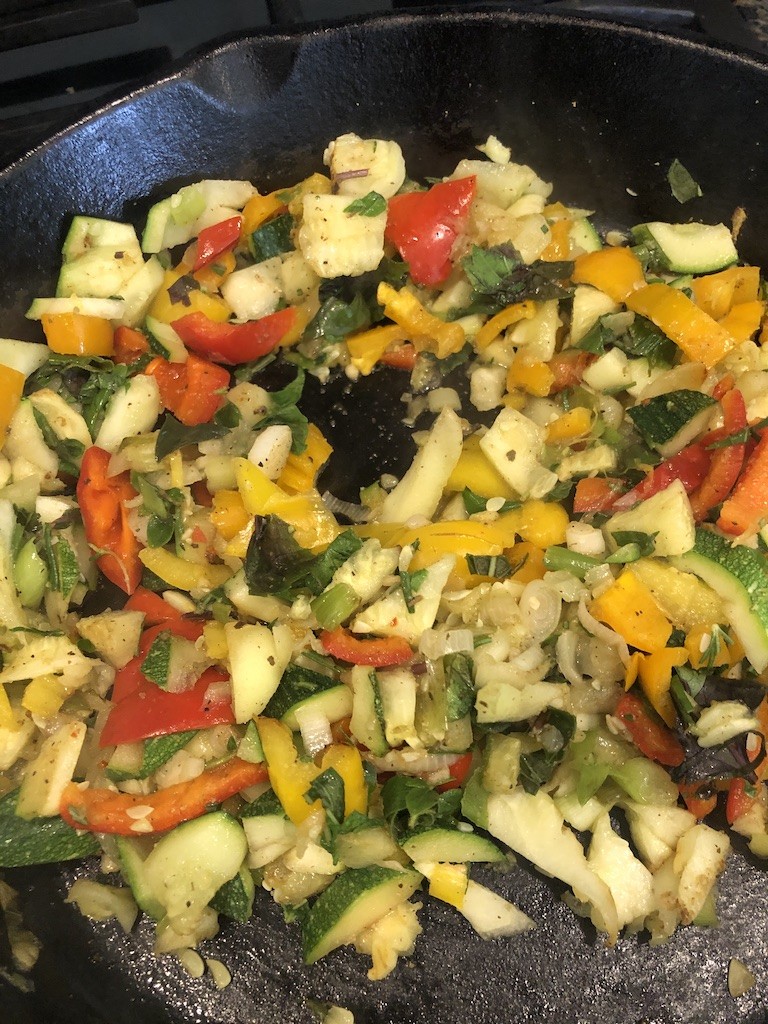 Remove vegetables from pan and place in a bowl. Set aside.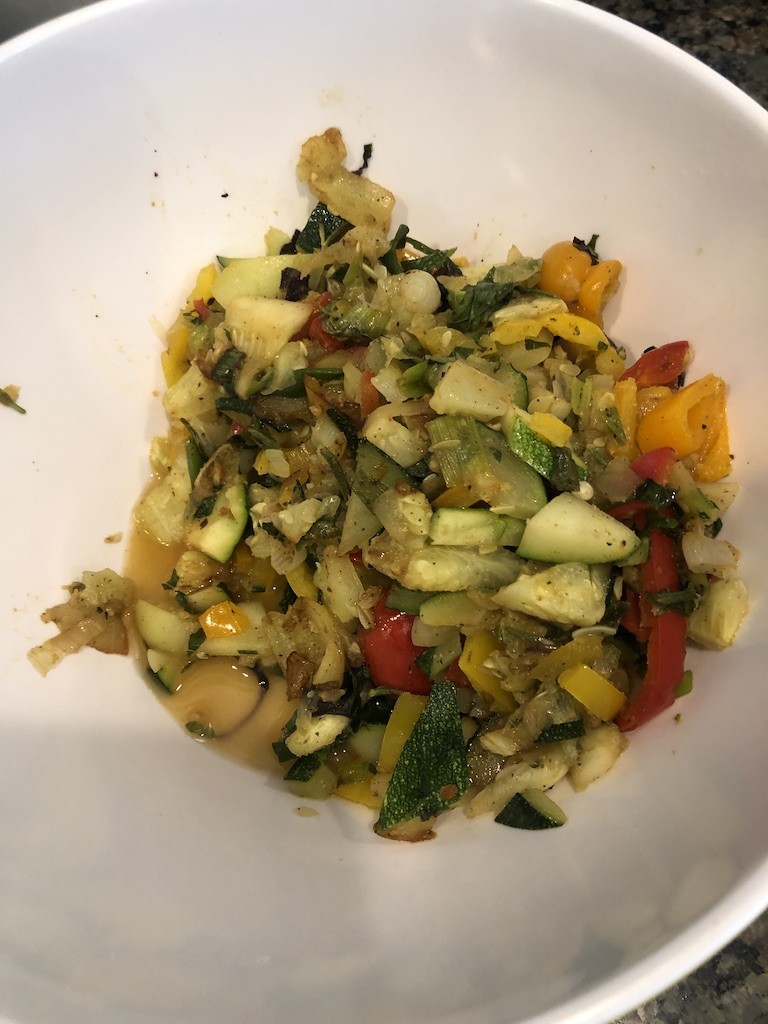 Cooking ground turkey for zucchini boats
Into the same black iron pan add a little bit more olive oil and brown your ground turkey until cooked all the way through.
There should not be any pink.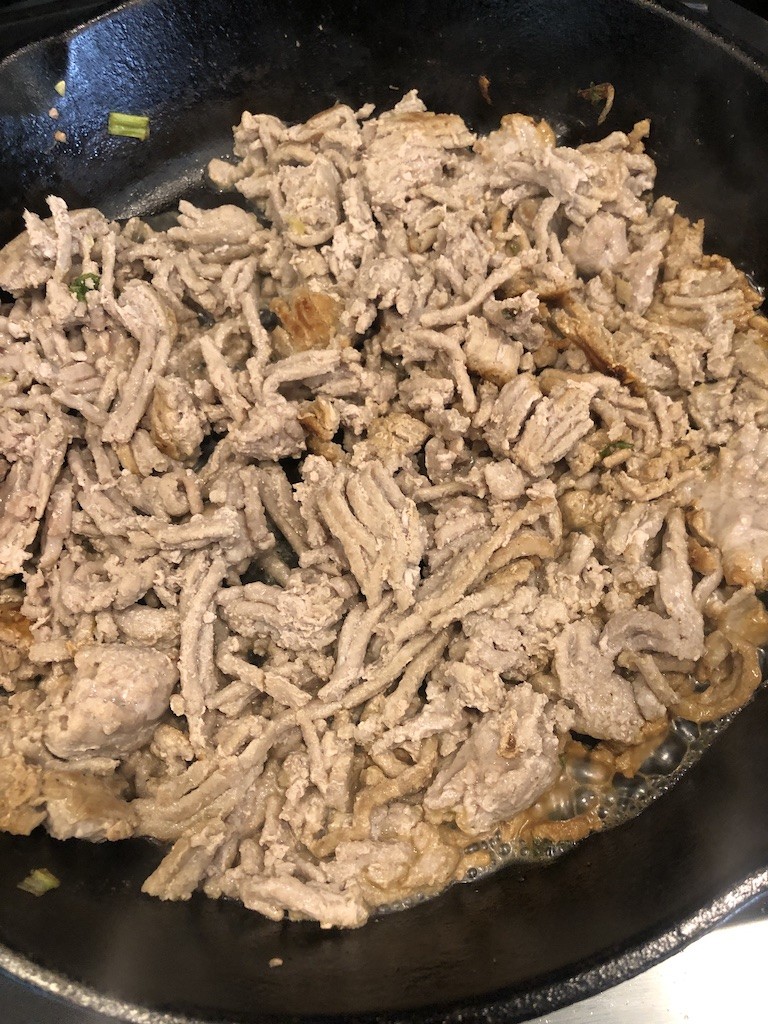 Once the ground turkey is cooked add the sauteed vegetables back to the pan.
Microwave the Seeds of change quinoa and brown rice for 90 seconds and add to the pan.
Pour in the marinara sauce and add your seasonings.
Cook until heated through.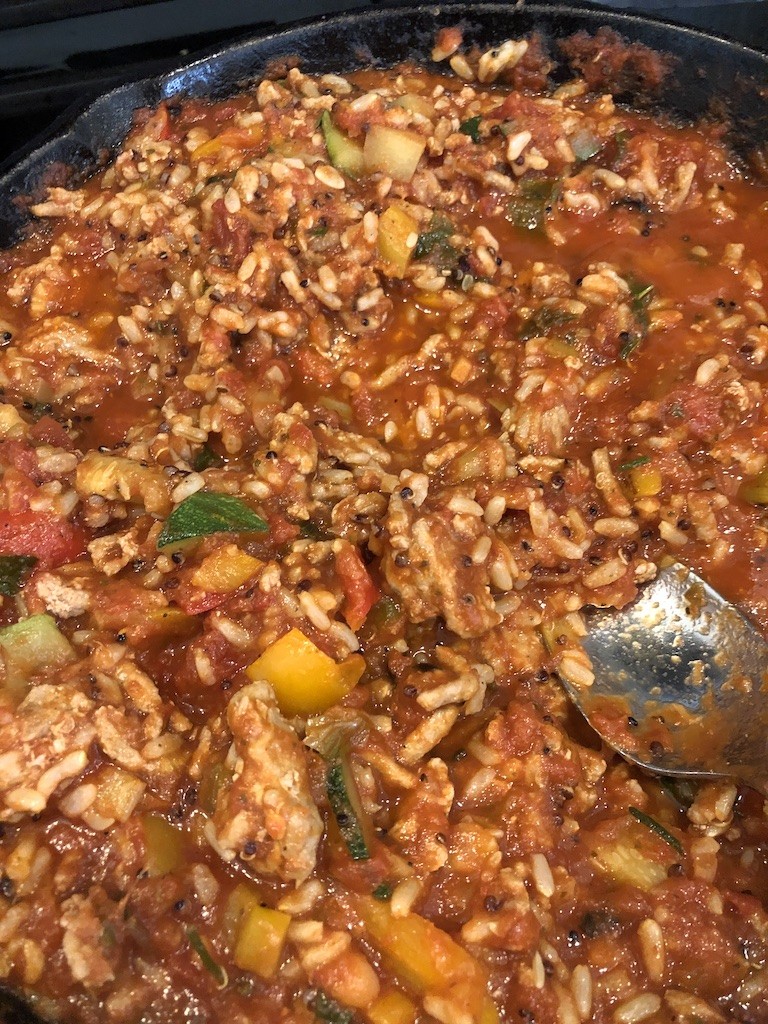 Fill the zucchini boats with turkey filling
This is the easy part! Fill your boats with your turkey filling. You can kind of overflow them a little bit. I made a few smaller bite sized boats for my little grandkids and they loved them!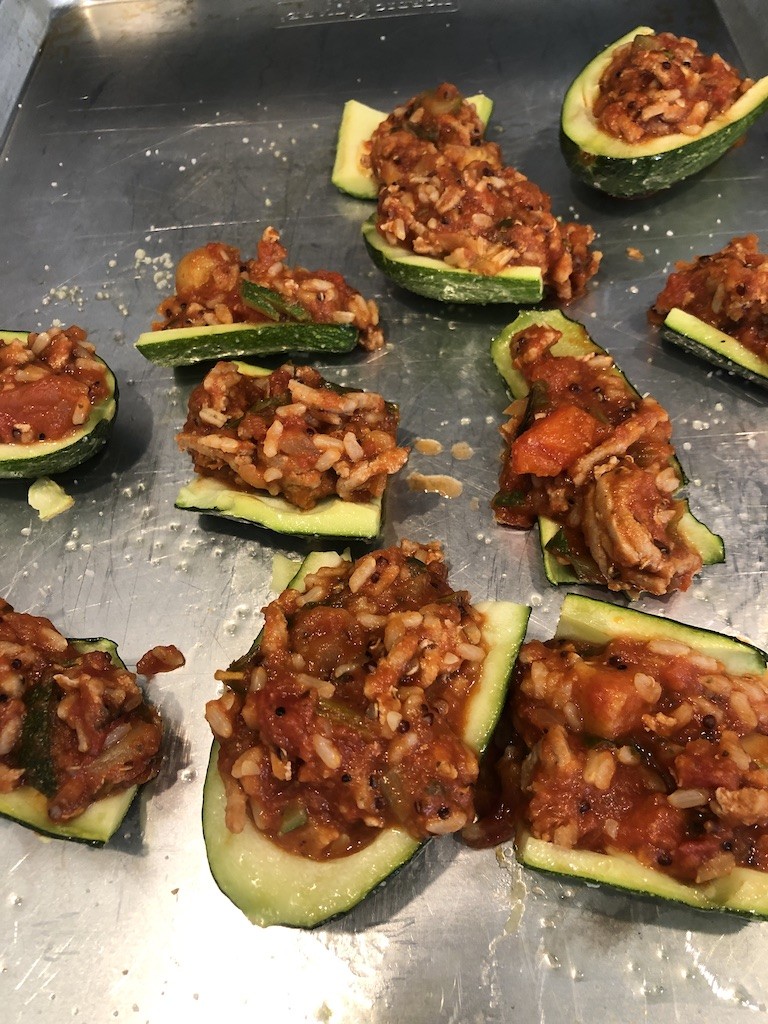 Top with shredded cheese. I used colby jack cheese but you can use whatever kind you like.
Bake at 400 degree oven for about 20 minutes or until cheese is melted.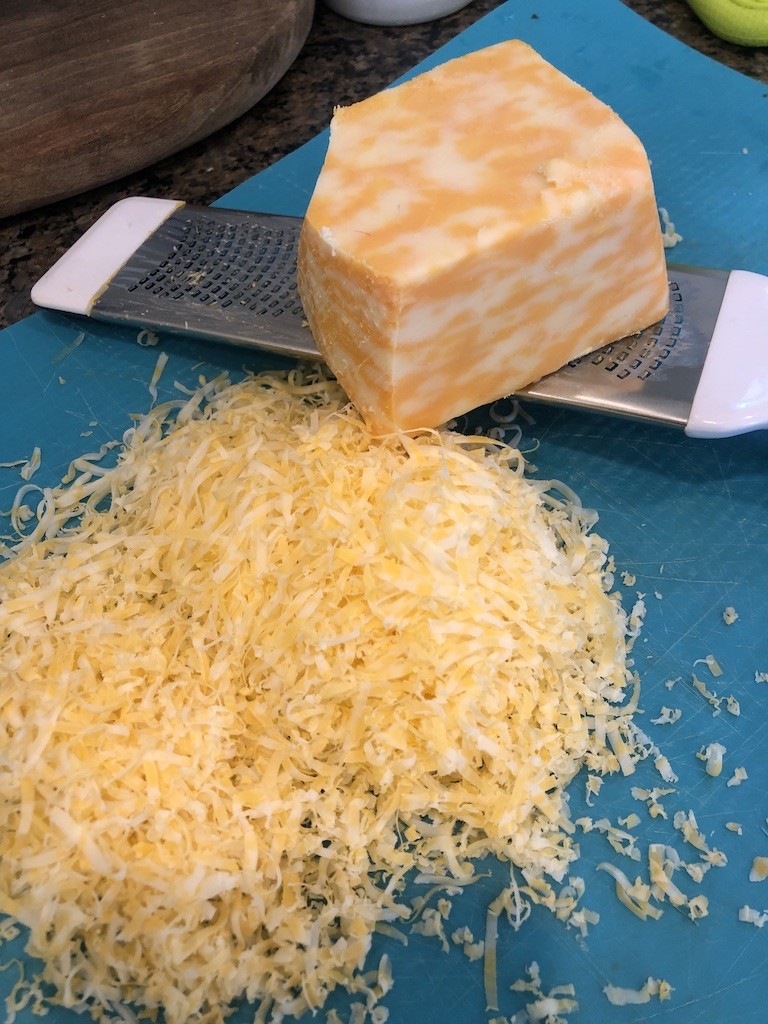 Serve your little turkey zucchini appetizers
I love these cute black and white appetizer plates. TJ Max carried them years ago and I wish they still had some.
You can see how I styled them for this black and white and pink tablescape.
I used the matching dinner plates in this Halloween black and white and orange polka dot tablescape.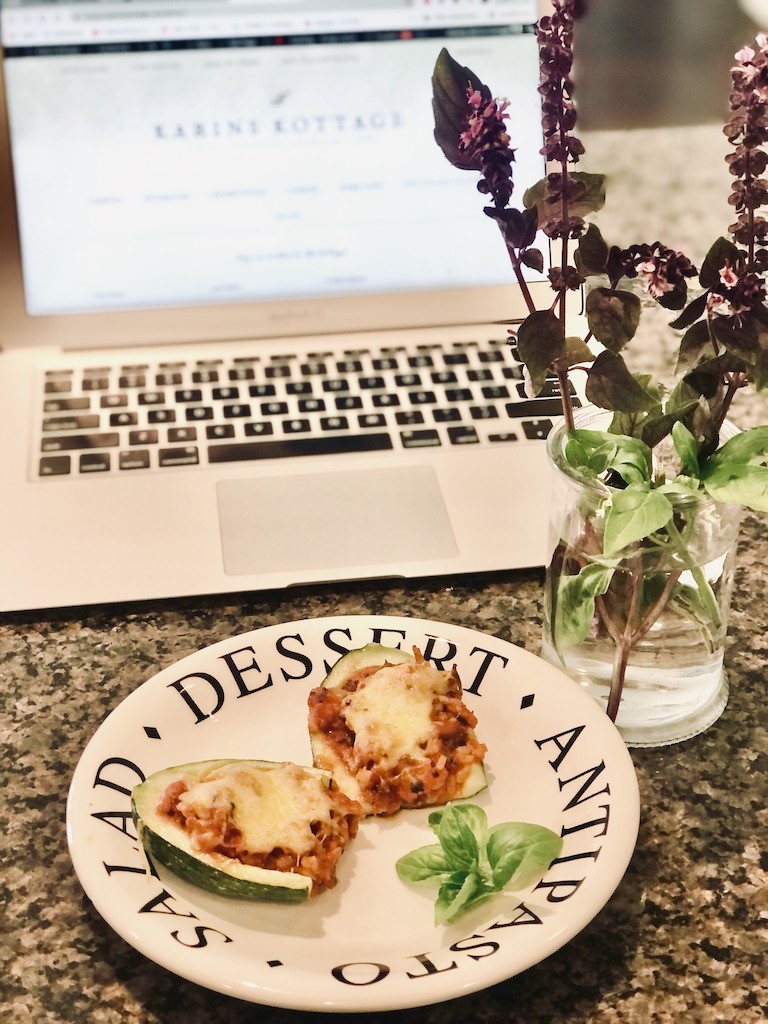 Turkey zucchini boat appetizer recipe
Zucchini Turkey Boat Recipe
Make these yummy turkey zucchini boats as appetizers or as a meal
Equipment
knife

cutting board

oven

skillet
Ingredients
3

Zucchini

cut in half

1

lb

ground turkey

1

bottle

Organic marinara pasta sauce

1

green onions or regular onion

finely chopped

3

small sweet red peppers or 1 large

chopped

1

tsp

garlic

finely chopped

1/2

tsp

kosher salt

1

tsp

weber beer can seasoning

fresh basil (to taste)

chopped

1

pkg

Seeds of change quinoa and brown rice

Parmesan cheese or colby jack cheese

grated
Instructions
1. Wash and cut zucchini in half.

2. Using a spoon scoop out the flesh of the zucchini. Put flesh into a paper towel and and squeeze out the moisture and put aside. If making these as appetizers cut into 2 inch pieces.

3. Using olive oil, rub each piece of zucchini and bake in 400 degree oven for 10 minutes.

4. Heat frying pan with olive oil and add chopped onion, red pepper, garlic, fresh basil and zucchini flesh and sautee in frying pan. Remove from pan and set aside.

5. Add ground turkey to the pan and add a little more olive oil and cook until browned.

6. Microwave the rice package and add into the frying pan.

7. Fill each zucchini boat with turkey and vegetable filling.

Top with your favorite grated cheese and bake in oven for 20 min or unti heated through and cheese is melted.