Fried oatmeal with lemon curd and blueberries is going to be your new favorite breakfast!
We had this similar breakfast dish while traveling through Vancouver Island in British Columbia a few years ago.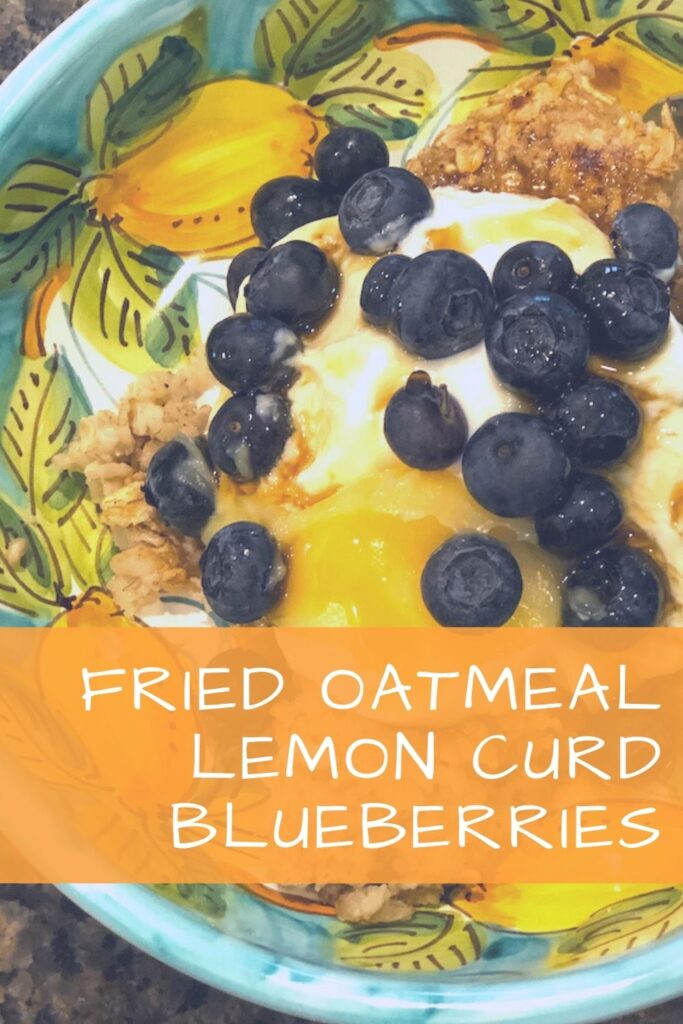 The restaurant is called Jam Cafe. Oh my gosh it was the best thing I had ever eaten for breakfast!
I think they may deep fry their oatmeal but when I make mine I just pan fry it.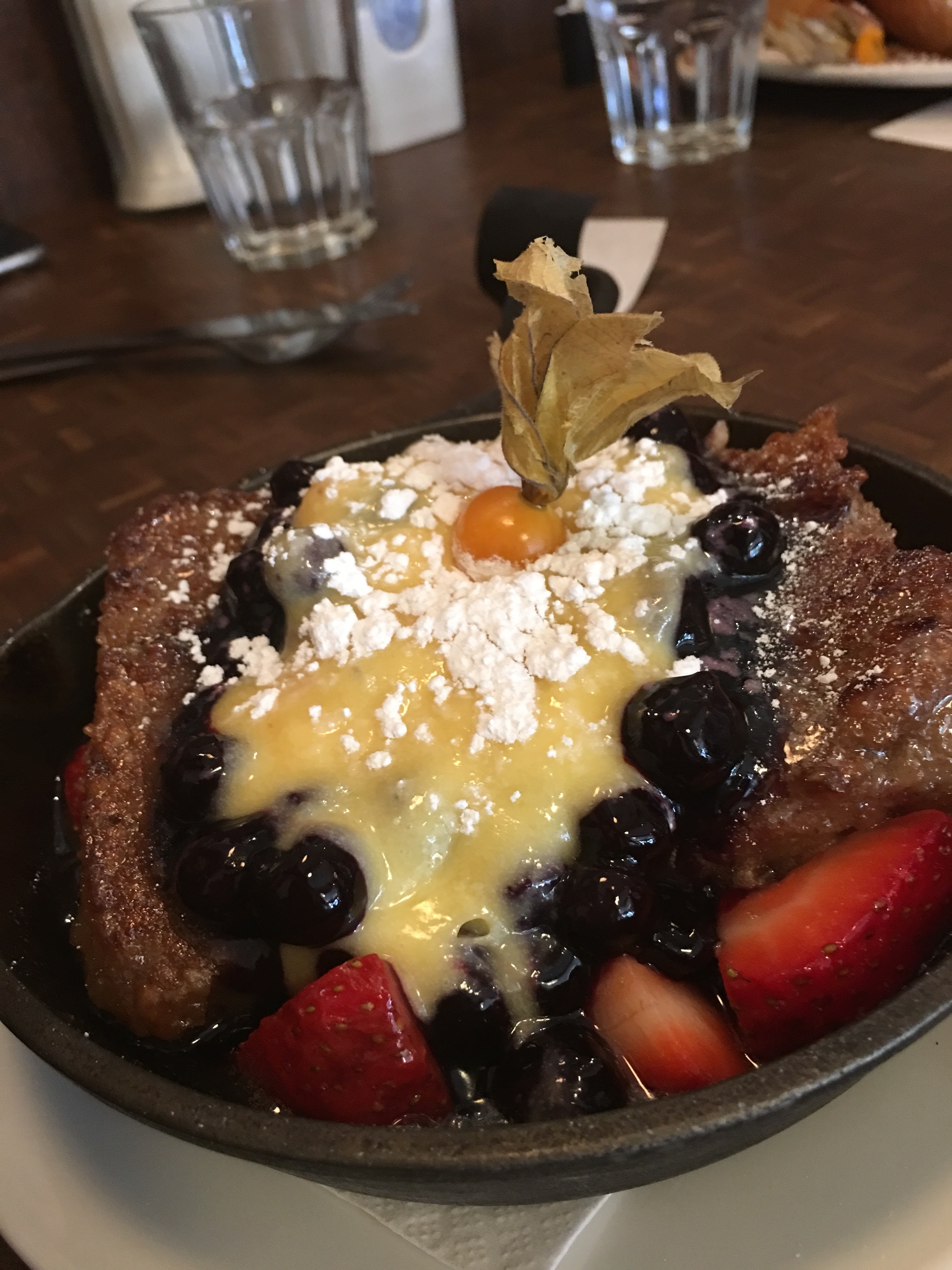 This is such a great way to use up leftover oatmeal! or just make a bunch of oatmeal to keep on hand in the fridge read to go.
Frying the Oatmeal
The key to this is using leftover refrigerated oatmeal. By refrigerating the leftover oatmeal is causes it to stick together which makes it perfect to be able to fry it.
I used a black cast iron frying pan and it came out perfect. Use about 1 Tbsp of butter and melt it in the pan.
Add the block of cold oatmeal to the pan and fry on one side until golden.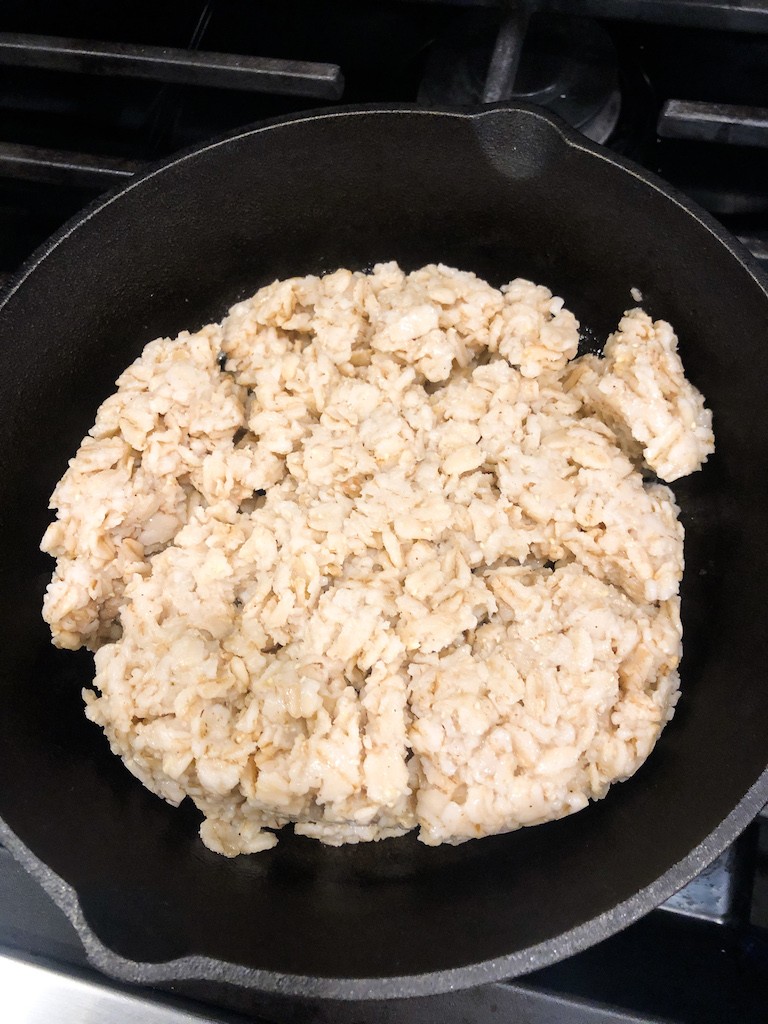 Flip the oatmeal over and fry on the other side.
You could fry it longer to get a really golden color but I liked it lightly fried.
If it starts to fall apart as you flip it don't worry. You can press it back together with a spatula!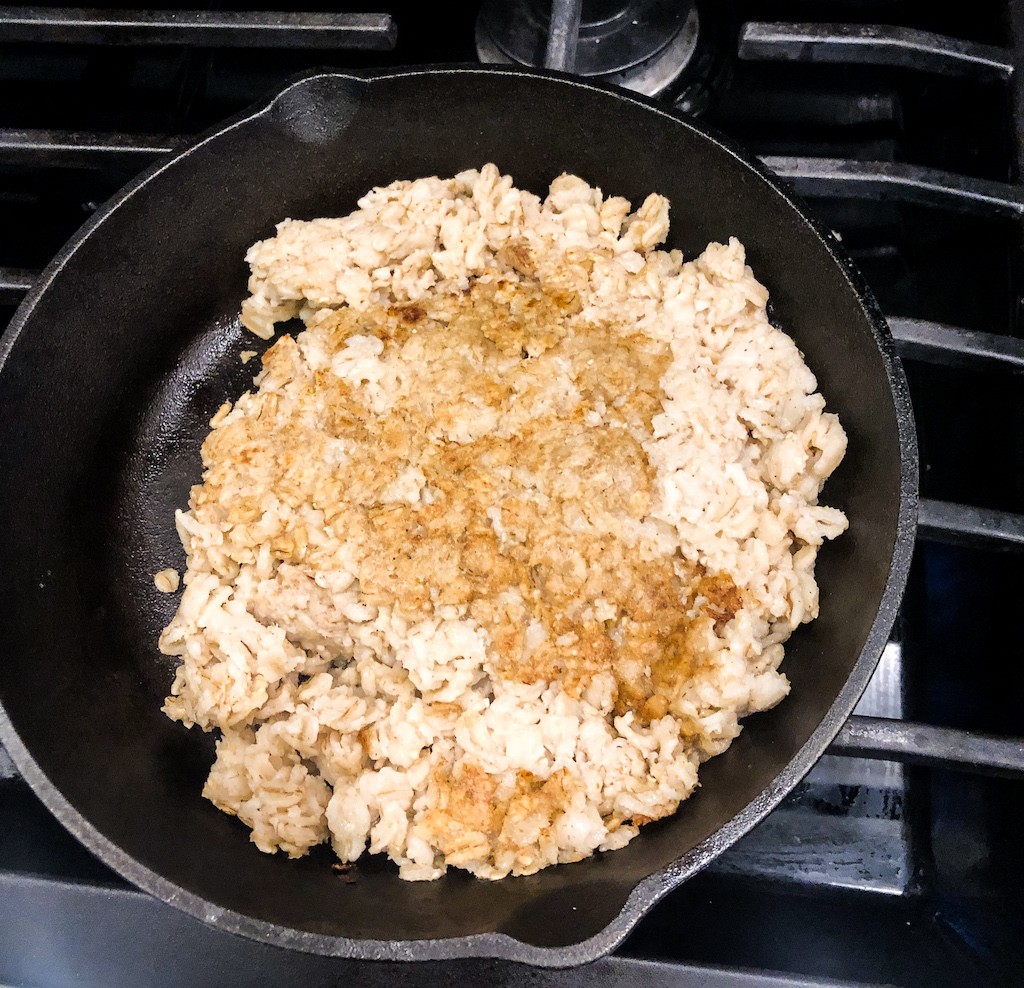 Tip- You could place your oatmeal into a rectangle shaped plastic tub in the fridge. Then it will be easier to cut into slices to fry.
I just kept mine in a round shape.
Add yogurt and lemon curd to fried oatmeal
We added dollops of vanilla greek yogurt. Chobani vanilla greek yogurt has a great flavor and it's not too sweet.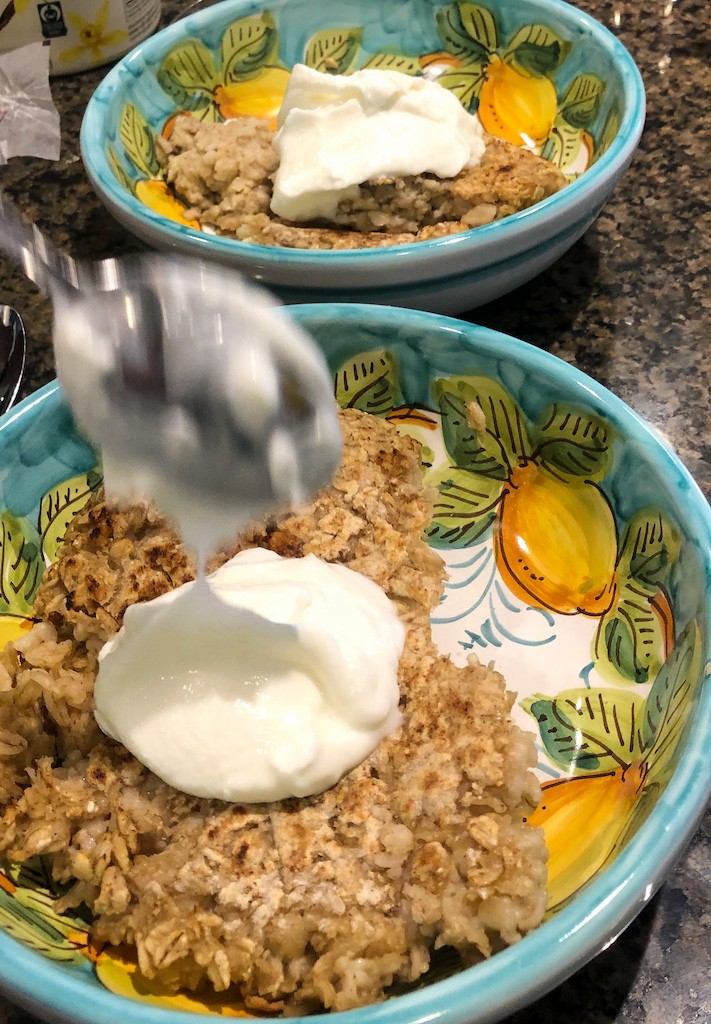 Mrs. Darlington's lemon curd totally makes this fried oatmeal out of this world good! We used about a tablespoon per serving.
It is so tangy and creamy.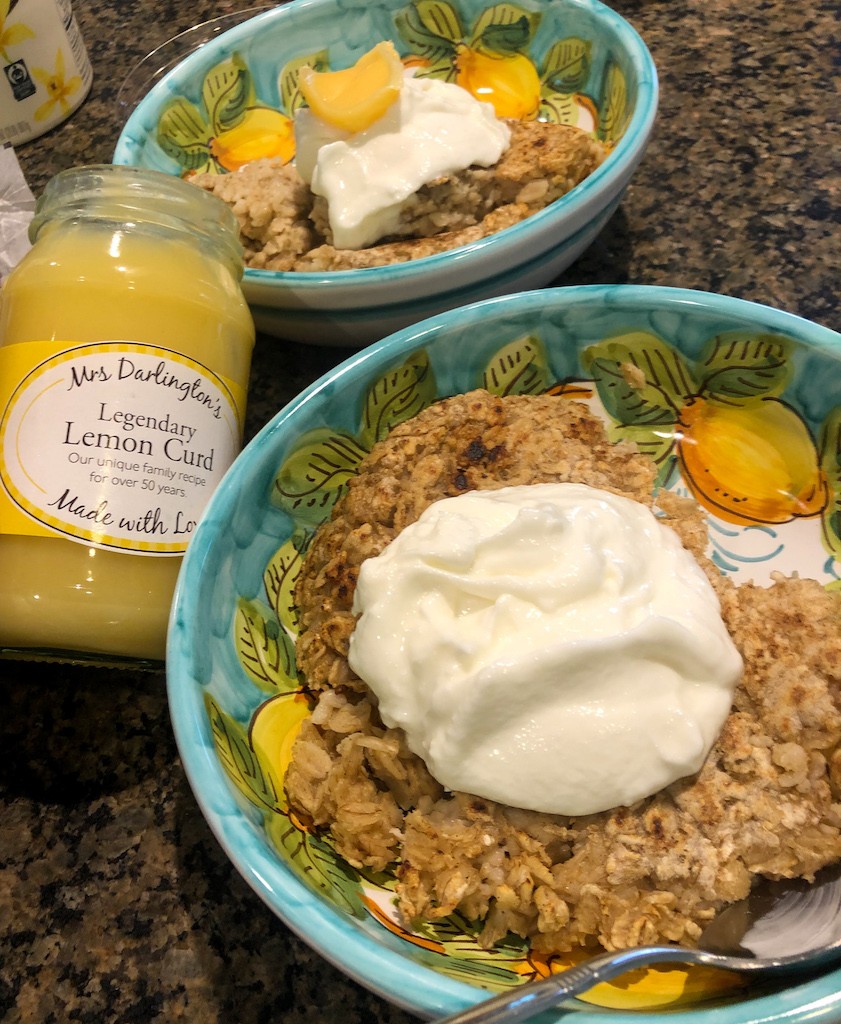 Blueberries and syrup
Sprinkle some fresh blueberries over the top of your lemon curd and yogurt.
I love cooking with blueberries especially for breakfast.
This is another amazing blueberry recipe- Lemon Blueberry cottage cheese pancakes.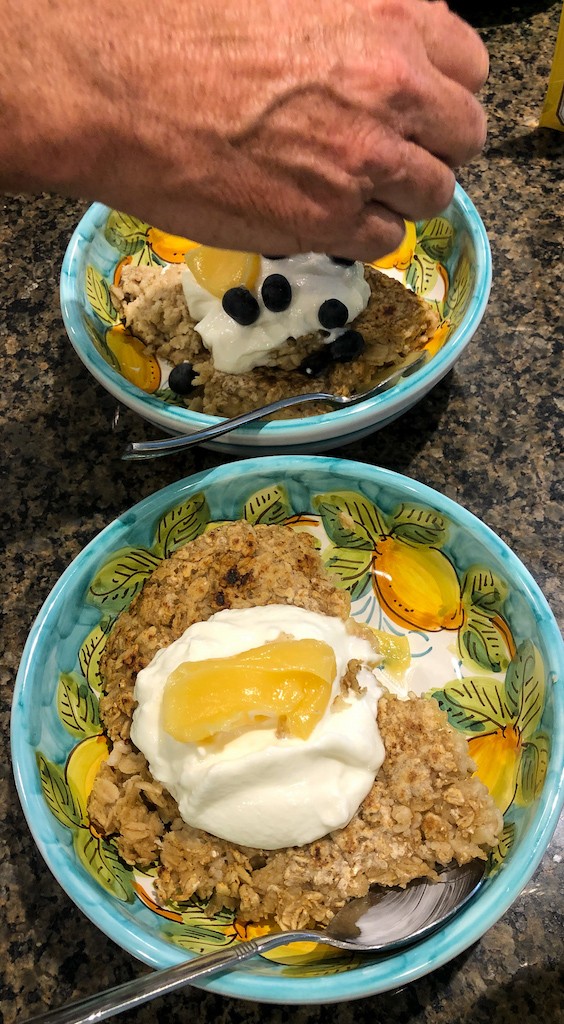 For the finishing touch drizzle a little real maple syrup over the top of all of it.
If you like unique flavors for breakfast try these pumpkin ginger waffles or this veggie eggs on toast recipes.
You will thank me later for them! 🙂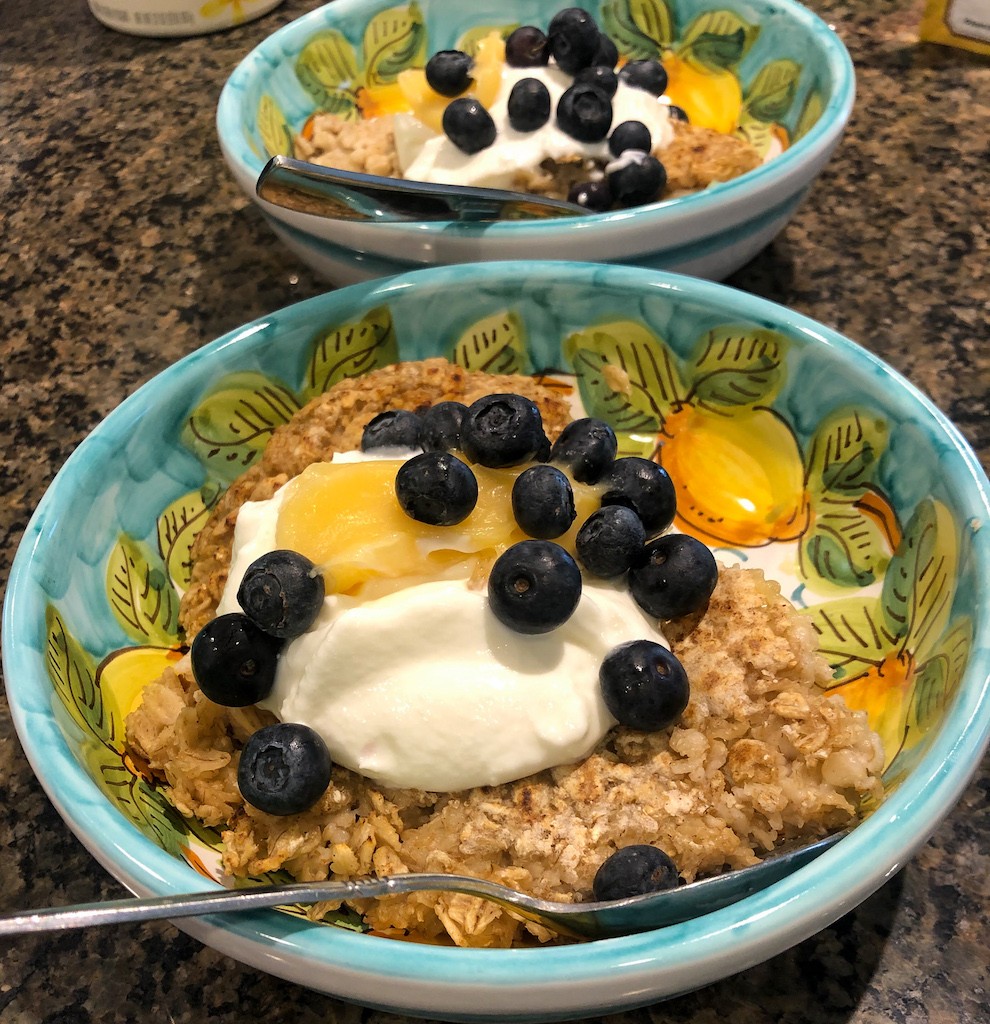 I am telling you this fried oatmeal is soooo good!
You will be making extra oatmeal to keep in the fridge to make this all the time!
SHOP

PIN FOR LATER