Ultimate fall breakfast Pumpkin Ginger Waffles made with Libby's canned pumpkin, buttermilk, cinnamon and of course ginger. The aroma is amazing!
PUMPKIN GINGER WAFFLES!

I really don't like PLAIN waffles or pancakes any more and so when I find a yummy recipe for them using different ingredients I love to try it out. This Pumpkin Ginger waffle which could also be called Gingerbread waffles is a great new recipe. The only thing I would like to change would be to make them crispier other than that I LOVE the flavor.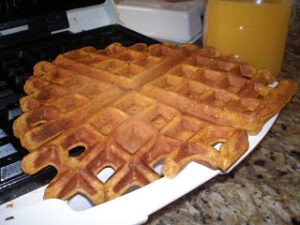 Maybe I could sprinkle a little sugar on the batter right before I close the lid to the waffle iron to make them crispier? Anyone else have another idea of how to make them crispier?
Where did I find this Pumpkin Ginger Recipe?
Does anyone keep old magazines pages any more? I do! Maybe too many! The other day I was looking at some of my old Country living magazines and I found this Pumpkin Ginger Waffle recipe in the Oct. 09 Country Living Magazine and decided to try them out! Libby's canned pumpkin is a household must in my pantry.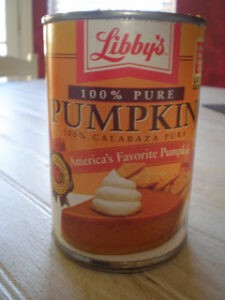 Using canned pumpkin is so easy and a great way to use up some up in your cupboard. Of course what is the fall season without some Pumpkin cookies too! The mix of Pumpkin and Ginger is my all time favorite fall combination. The aroma wafting through the kitchen and really throughout the house just gives me all the autumn feels. What smells bring back memories for you of your childhood in the fall?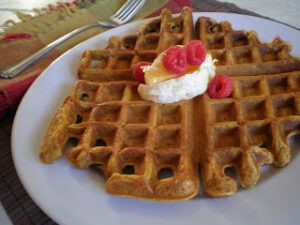 We lived back east when I was younger. The memories I have of have that time in my life are just sweetest! Raking leaves with my brother on a cold October day and jumping in the piles! I can almost smell the leaves right now! We could not wait for Charlie Brown's "The Great Pumpkin" show to come on TV, Figuring out what we wanted to be for Halloween was always so exciting and thinking about all the candy we would get! So many fun memories. Isn't funny how food can bring back memories? Below me and brother. He is dressed up as Flip Wilson when he would be Geraldine Jones (for those of you who might remember that haha)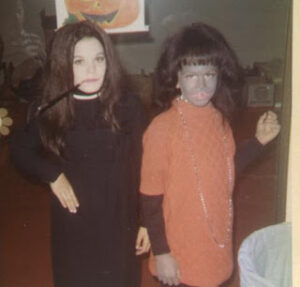 I whipped out these pumpkin ginger waffles yesterday morning and topped them with a dollop of freshly whipped cream, a few oranges, fresh raspberries and of course maple syrup! SO YUMMY! Here are a couple other family favorite breakfast recipes you might like.
Kodiak pancakes with sauteed apples and coconut
Lemon blueberry cottage cheese pancakes
Shop Kitchen Things

Printable Gingerbread Pumpkin Waffle Recipe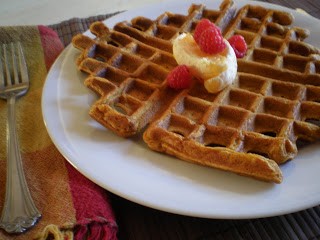 Pumpkin Ginger Waffles
Ultimate fall breakfast pumpkin ginger waffles made with pumpkin, buttermilk, cinnamon and ginger. Your house will smell delicious!
Equipment
Waffle Iron

Mixing Bowl

Whisk
Ingredients
1 ¼

cup

flour

1 1/2

tsp

baking powder

½

tsp

baking soda

¼

tsp

salt

2

tsp

ground ginger

1

tsp

cinnamon

¼

C

finely chopped crystallized ginger

I didn't have this so I grated 1 orange peel into the mixture

2

large eggs

1/2

C

Pumpkin

¾

C

buttermilk

I didn't have this either so I added milk mixed with some lemon juice

½

C

sugar

1

tsp

Vanilla

3

Tbsp

melted butter
Instructions
Mix flour, baking powder, soda, salt, ginger and cinnamon in a bowl. (If using the crystalized ginger remove 2 Tbsp of flour mixture and toss the ginger and flour together and then set aside).

Whisk eggs, buttermilk, melted butter, pumpkin, sugar and vanilla in another bowl.

Combine flour with pumpkin mixture.

Stir in butter and fold in crystallized ginger mixture (if using). Do not overmix.

Heat a waffle iron and make waffles, using about 1/2 cup batter per each one. Keep warm in 200°F oven, if desired.