Amazing lemon blueberry cottage cheese pancakes that melt in your mouth!
I am trying to find recipes with more protein these days.
I've been keeping track of what I eat with the app called my fitness pal and it shows that I eat too many carbs and not enough protein
BUT I. Love. Carbs.
How to find foods I like with added protein?
A hankering for blueberry lemon pancakes
I had a hankering for some blueberry pancakes this morning so I did a search for pancakes with cottage cheese and found this one from Unfussy Picure and decided to try it out!
DEELICIOUS!!! Really Really good!
It makes a funky batter because there is 1 cup of cottage cheese, 2/3 cup Greek yogurt, 2 eggs, 1 TB melted butter, very little flour only 5 TBS, 1 TBS sugar, and a 1 Tbs lemon juice, lemon peel and a pinch of salt and 1 cup of blueberries that you hand place in the pancakes.
I had to add a bit more flour but even still….
A little tricky to flip
They were hard to flip 🙁 I think my cottage cheese was too runny and too big of curds.
Plus my blueberries were huge too!
But I am telling you they taste sooooo good! A little tangy mixed with sweetness.
They kind of reminded me of a blintz.
I tried turning down the heat on the back burners but they did not get that golden color like the ones in the front.
I think I just needed to add more flour.
Absolutely worth it to make these pancakes
Even though they were hard to flip they were soooo worth making!
My hubby LOOOVED them too! I am going to make these again!
Try them out and let me know if you get them to flip easier.
More Karins Kottage Recipes you will love
Frozen blueberry yogurt dessert My grandkids love these!
Peach blueberry crisp Perfect summer dessert or use frozen peaches.
Fried Oatmeal with lemon curd and blueberries This is sooooo good I could eat it everyday!
Watch my video on how I made the Blueberry Lemon cottage cheese pancakes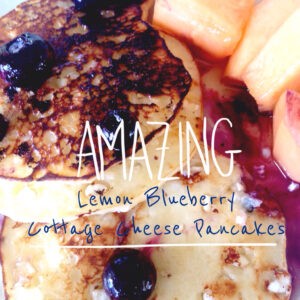 Blueberry Lemon Cottage Cheese Pancakes
Delicious light and fluffy with a little tang pancakes. Similar to a blintz
Equipment
1 non stick skillet

1 Mixing Bowl

1 Whisk
Ingredients
1

cup

cottage cheese

drained (I forgot and used a paper towel to soak up some liquid)

2/3

cup

Greek yogurt

2

eggs

1

Tbsp

butter

melted

5

Tbsp

Flour

1

Tbsp

Sugar

1

Tbsp

lemon juice

Lemon zest of one lemon

Does not need to be exact

pinch

salt

1

Cup

Blueberries

Placed on each pancake not added to batter
Instructions
Make Blueberry Lemon cottage cheese batter

Mix up wet ingredients- yogurt, cottage cheese, eggs, melted butter (not hot).

In another bowl mix the flour, sugar salt. Add to the wet ingredients.

Add in lemon zest from one lemon and a squeeze of lemon juice.

Spray griddle with a little oil. Heat griddle to medium low (these take a little longer to cook)

Use about a 1/4 cup of batter per pancake. Place 4-6 blueberries on each pancake.

Let cook about 4-5 min a side or unti the underside is cooked and pancake holds together enough to flip.

You need to be a little patient with this process in order to keep them intact. You don't want your griddle to hot or too cold. You might have to play with the first one to get the hang of it.