Day two of traveling in Italy during Covid! Today we finally got to see the construction progress on our Palazzo Ricci! I have been waiting to see all the progress that has been made on it.
Below is a photo of when we first saw Palazzo Ricci and fell in love!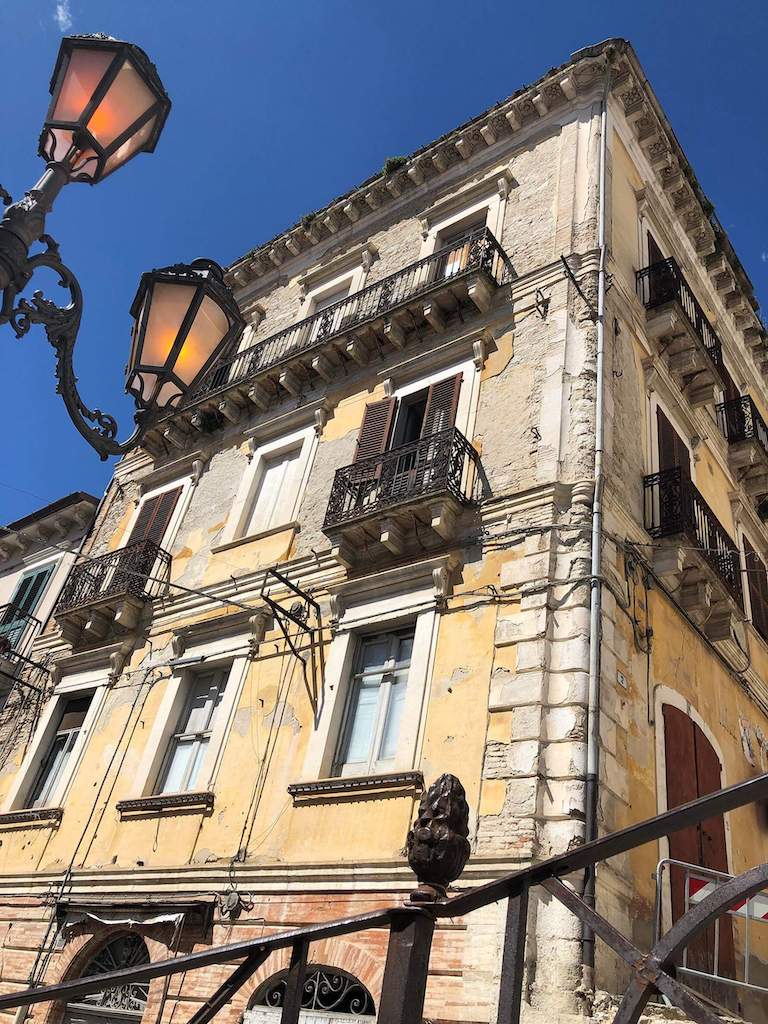 As many of you may remember we started this project over 2 years ago and then Covid hit. So as you can imagine that slowed down the progress a bit.
Now we are continuing to see huge progress with the renovations of this beautiful building.
We started the day with a morning with a walk
With friends and business associates, we started the morning off with a beautiful walk in the countryside. Spring has sprung and everywhere you look it is green with beautiful wild flowers growing all along the path.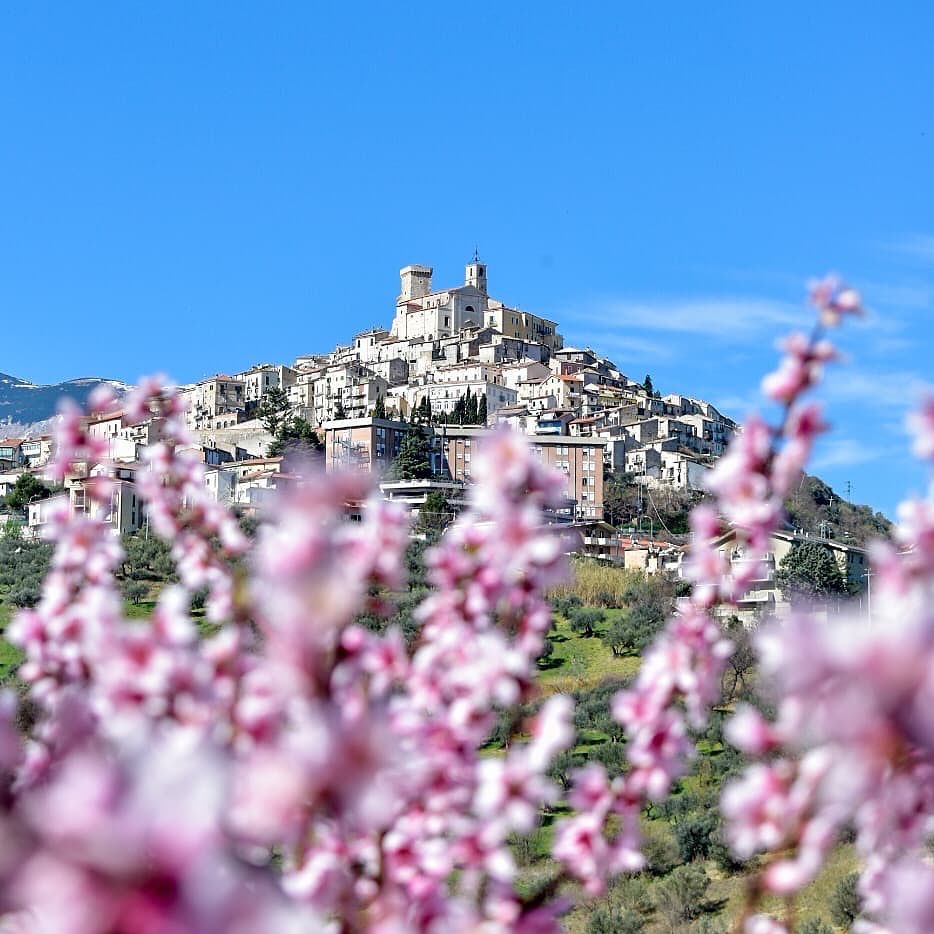 The views are something to behold!
Bimbi and Spencer are our friends and partners and we stay with them at their Piano La Roma Villa. While on our walk we always pass this huge cliff. It is just a little ways from their Villa. Bimbi and Spencer nicknamed the cliff Spencer's leap because he likes to tease Bimbi by going out to the edge. She's afraid one day he will accidentally leap off of it!
This is our friend Bob being silly and doing a yoga pose of sorts 🙂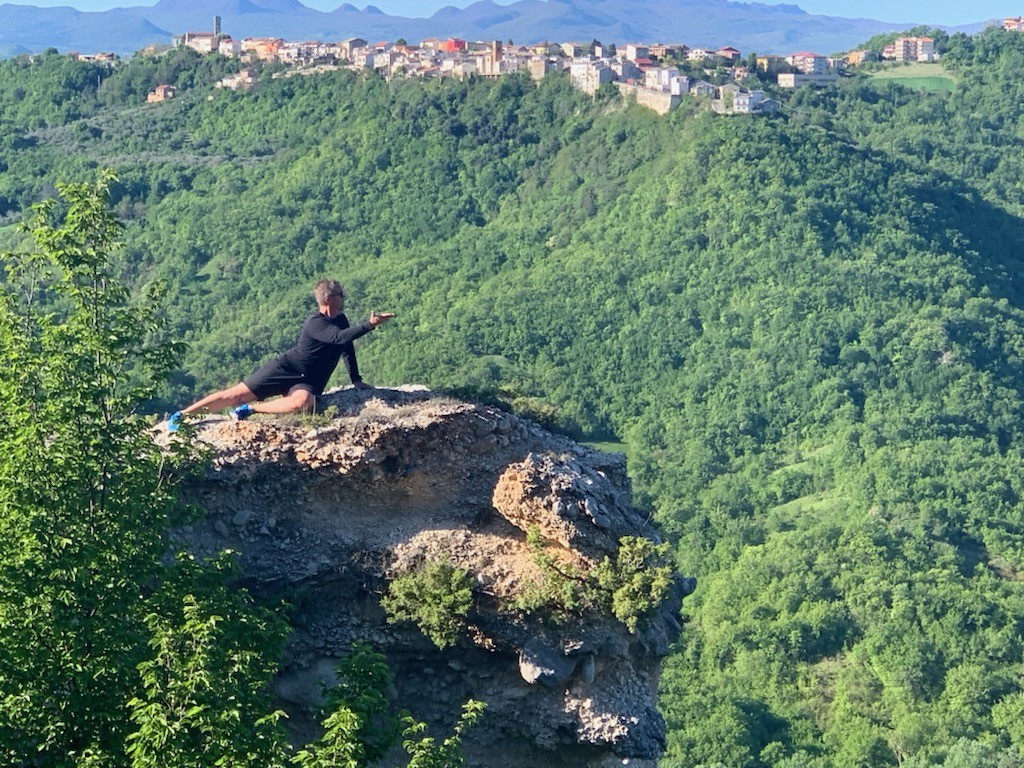 The men in our group were enthralled with this giant cliff that seriously has one huge drop off! If you are afraid of heights do not look down!
Crazy men and their daredevil ideas…."let's get closer to the edge!"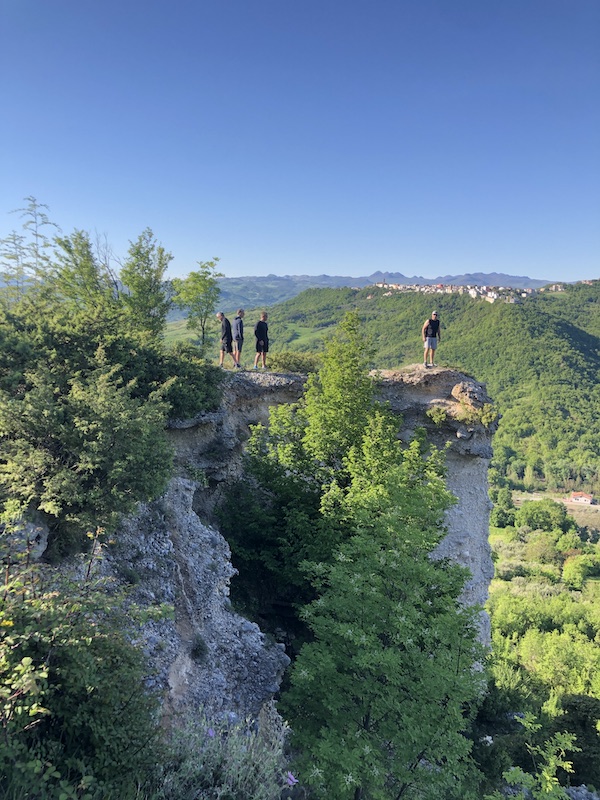 Casoli is a comune and town in the Province of Chieti in the Abruzzo region of Italy. It is known as the "green region" of Europe due to parks like Majella National Park. With this mountain landscape, it's no wonder towns like Roccaraso, Castel di Sangro, Ovindoli and Campo Felice are magnets for avid skiers from Italy and other parts of Europe.
Breakfast at Bimbi and Spencer's
The whole crew had breakfast together and Bimbi spoils us every morning with soft boiled eggs, yummy toast, with homemade jams and local honey. Plus she always serves the most amazing yogurt and yummy granola.
When Bimbi and Spencer bought this Villa with tons of olive trees they figured out how to harvest the leaves and make olive leaf tea. This tea is mild, caffeine free and has a sweet taste.
We love it and always have it with our breakfast.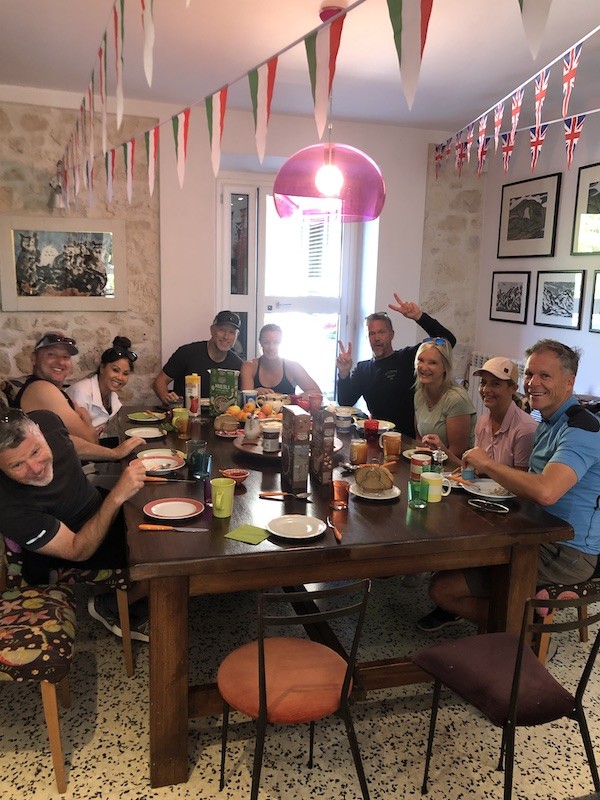 Onto Palazzo Ricci to see the construction progress
After breakfast it was time to head to our beloved Palazzo Ricci!
I have been wanting to see the construction progress of Palazzo Ricci with my own eyes!
The outside is covered in a type of green netting to keep debris from flying out all over the town.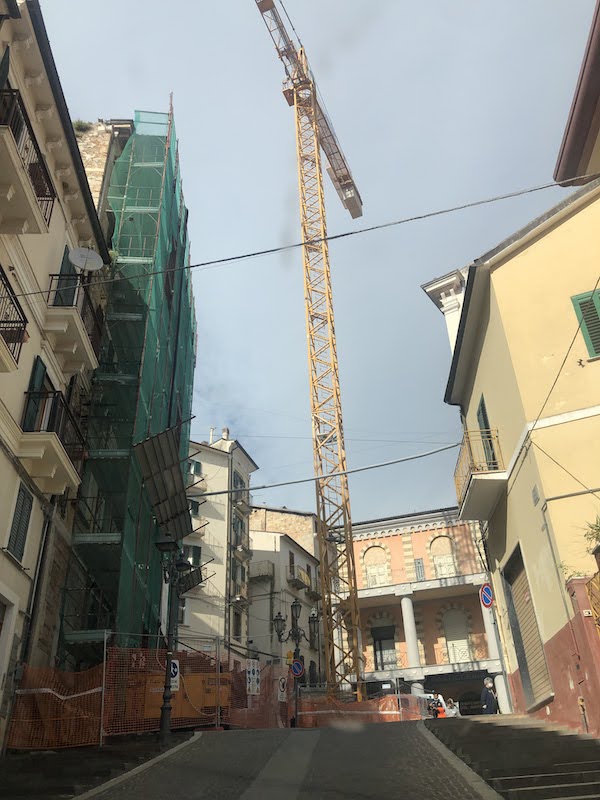 The ginormous crane hovering overhead is quite a sight. It continually blows my mind to see how they are able to do this with skinny streets and buildings so close to each other.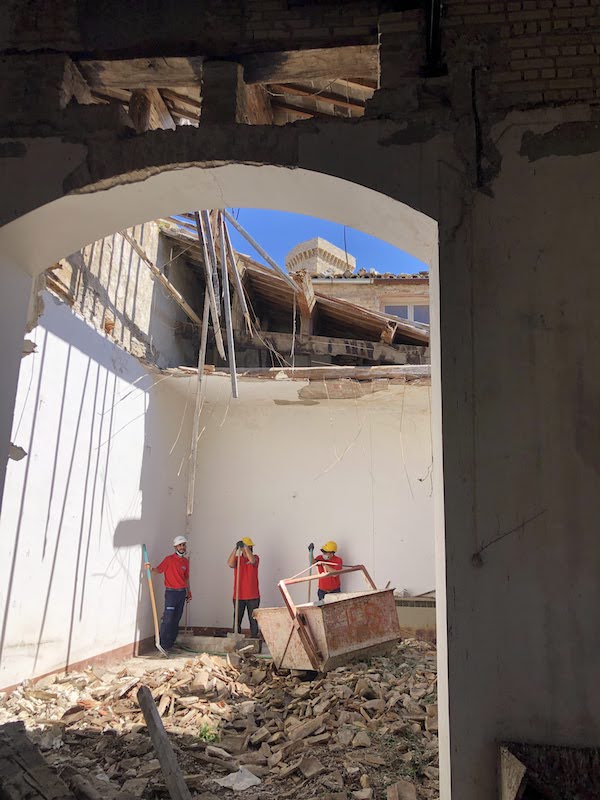 Because the roof had caved in a few areas, there was lots of damage to the building because it had been exposed to all kinds of weather for years.
The crew is in the process of hauling out the damaged debris as well as knocking down walls to create new spaces.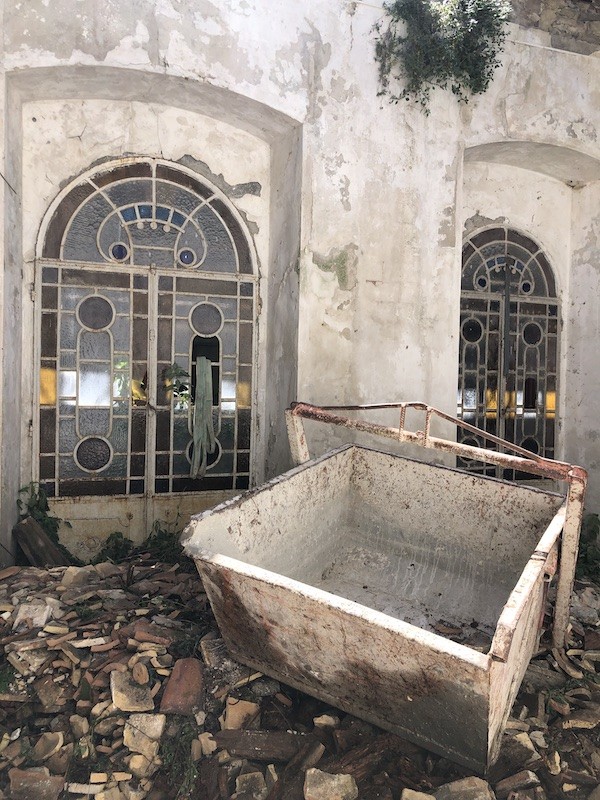 You can see renderings of how the Palazzo will look when completed here
Of course we are keeping doors, windows, beams and other architectural pieces that can be saved and made new again.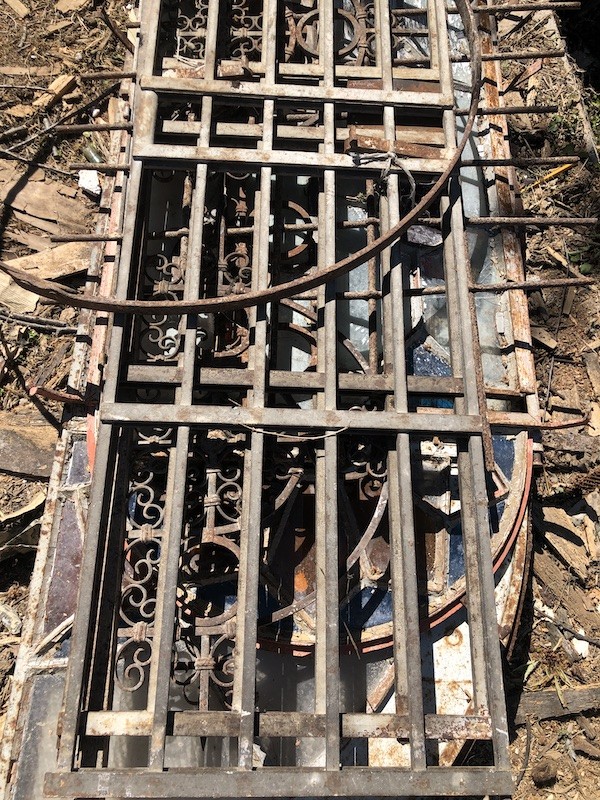 Unique finds during the construction process
In one dark corner of the basement the crew found an old wine barrel filled with wine!
No idea of how old it is or if it is still good. We have someone looking into it for us.
(Personally we don't drink alcohol but we know this is a very unique find)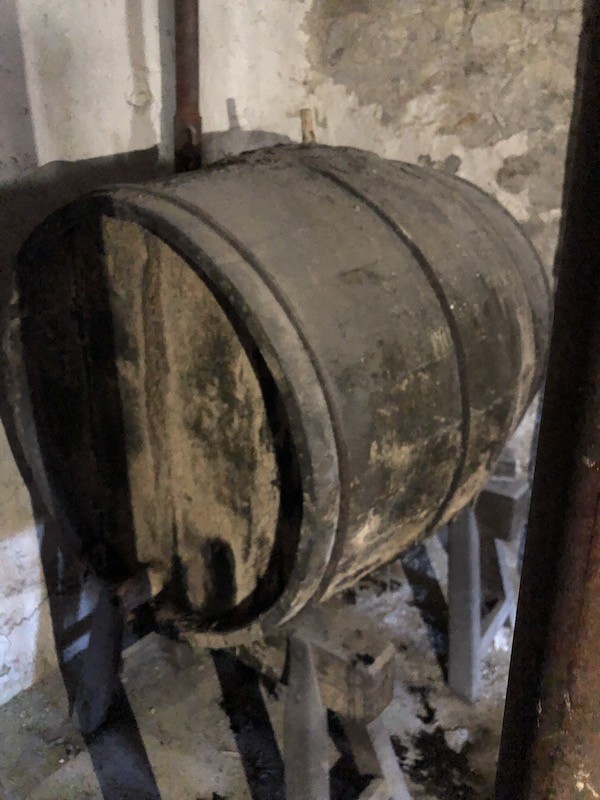 Look at these relics we found. I love old antiques like this because it helps tell a story.
It looks like these are tools of some sort.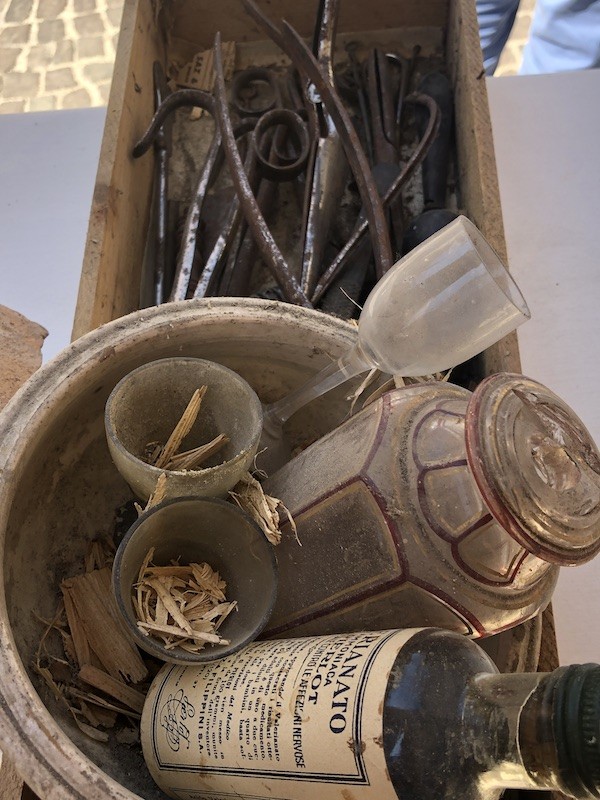 Also out on the grounds I saw these old wooden crates with Ricci on them.
Maybe they used them to hold all the grapes to make their wine. We will find ways to use these little relics in the decor of our palazzo to honor this old Palazzo's memories.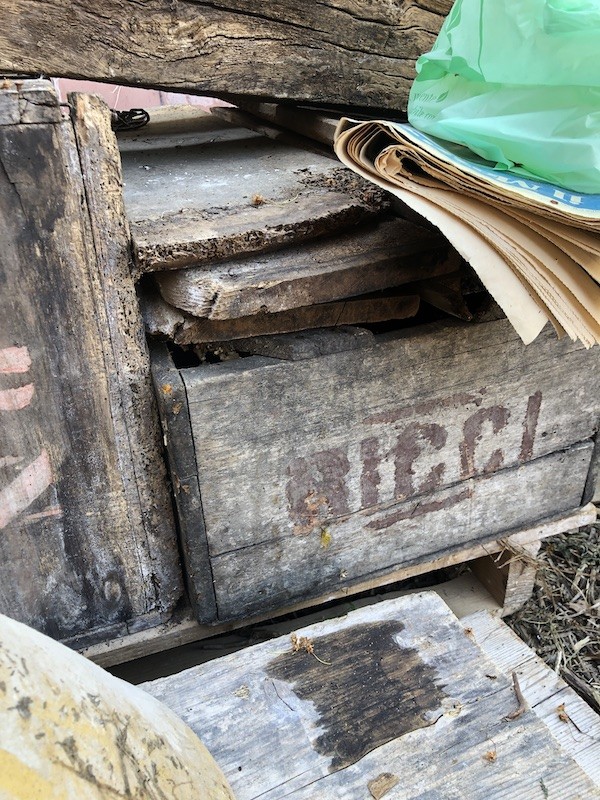 In this video you are viewing an area on one of the floors. The ceilings in here are 18 feet high!
Currently the ceiling is made of metal, but we are removing it and putting in wood beamed ceilings.
Don't you wish these walls could talk?
The views out of the one side of the palace look to the mountains and it is spectacular.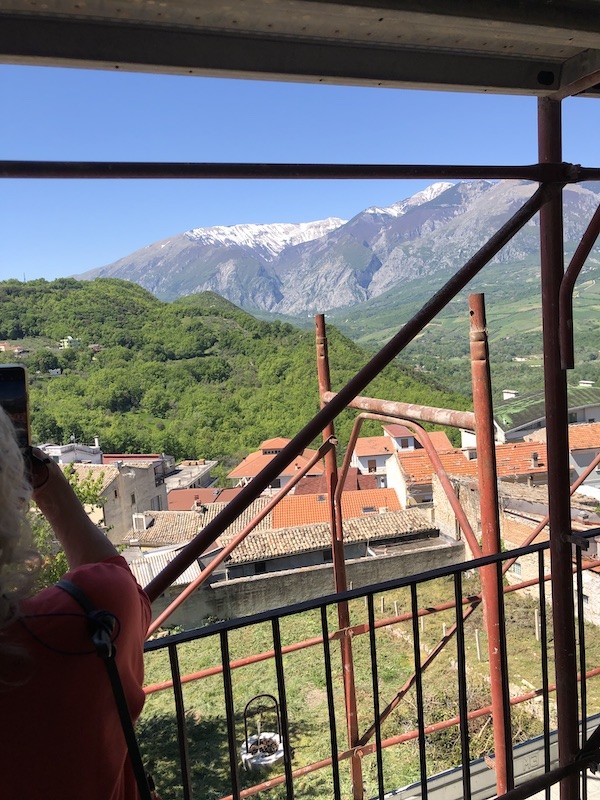 I can't wait to sit on one of these balconies to enjoy the view!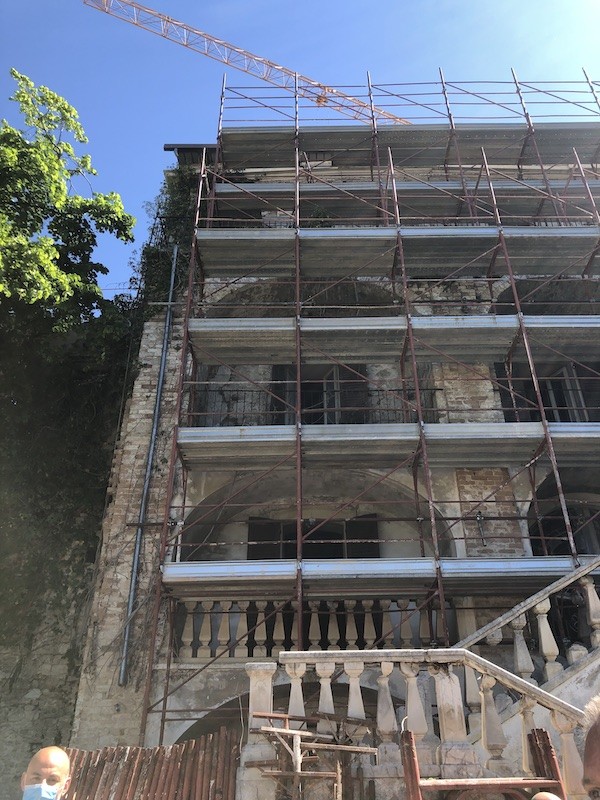 When walking through the palace now, it's hard to tell what is what because of all the support props that are everywhere.
I am so grateful that our engineers know how to totally restore this building.
Tomorrow I will share with you another huge castle that our team restored that was in worse shape than our palace.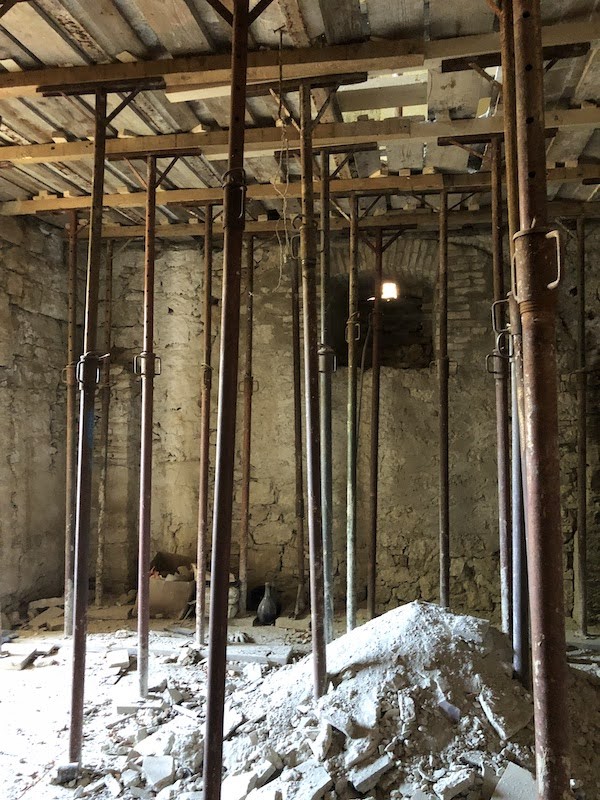 Touring the Castle in Casoli
At the top of Casoli right above our Palazzo there is a castle called Castello Masciantonio. It was built in the 11th century! The castle was built by the Normans in the eleventh century.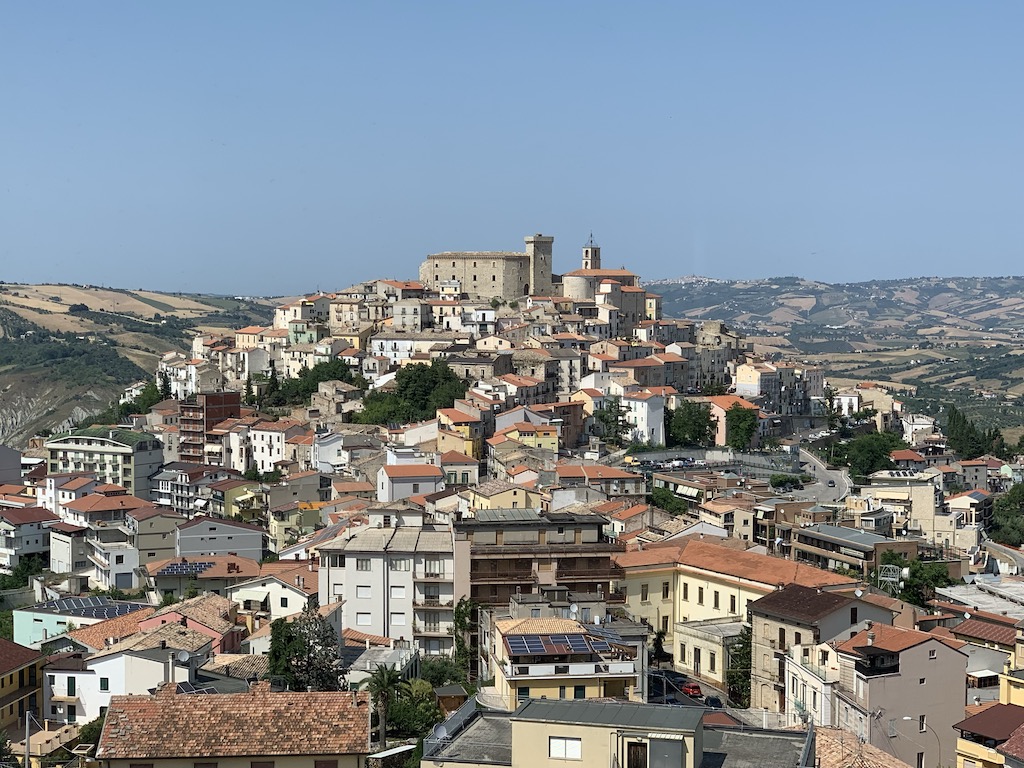 We love to take our guests through it and climb the stairs all the way to the top to get a 360 degree view of Casoli.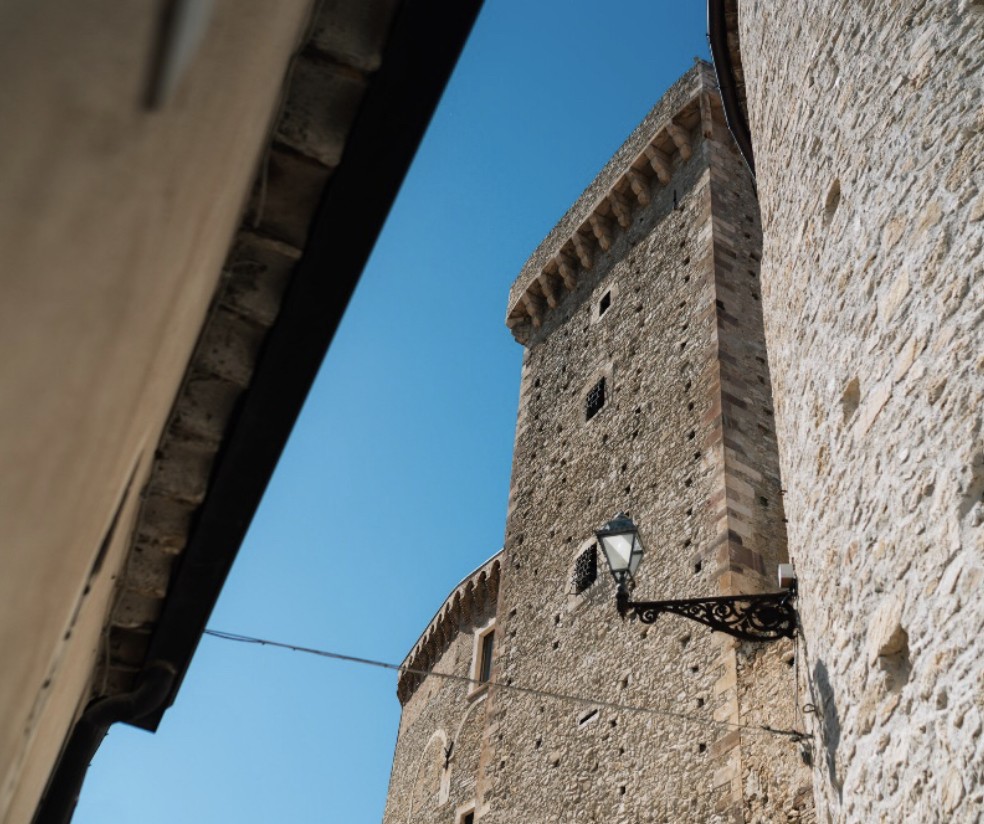 Of the original structure only the tower remains. The castle was then enlarged by the Orsini family in the fourteenth century, and later was a possession of various Italian noble families, including Pasquale Masciantonio.
Currently it is used a museum but it has great reception areas for weddings.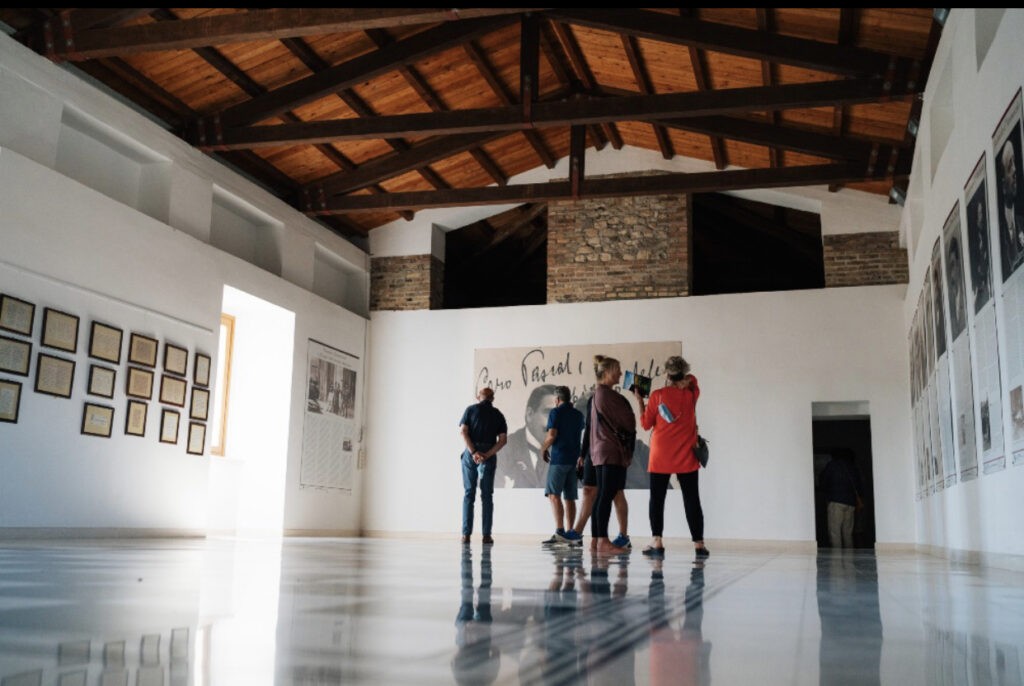 It was here that the poet Gabriele d'Annunzio sought refuge.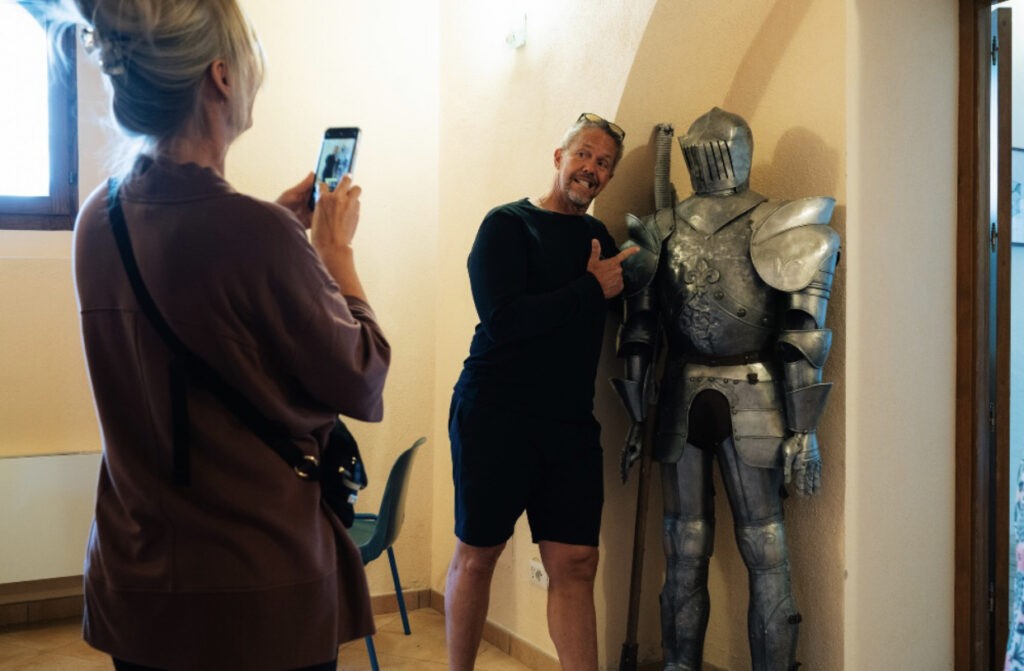 Time for Lunch
After we toured the Palazzo we headed to a fabulous lunch at Miramonti Ristorante.
It was held outdoors because of Covid restrictions.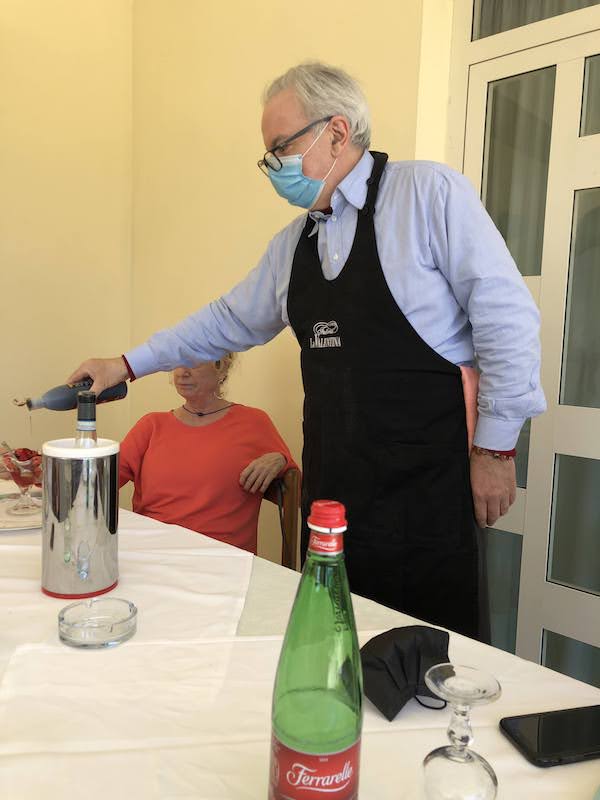 The food was amazing as usual. Everyone was full to the brim.
Lunches in Italy are usually the biggest meal of the day and this was actually a light lunch!
We started with this gorgeous antipasto!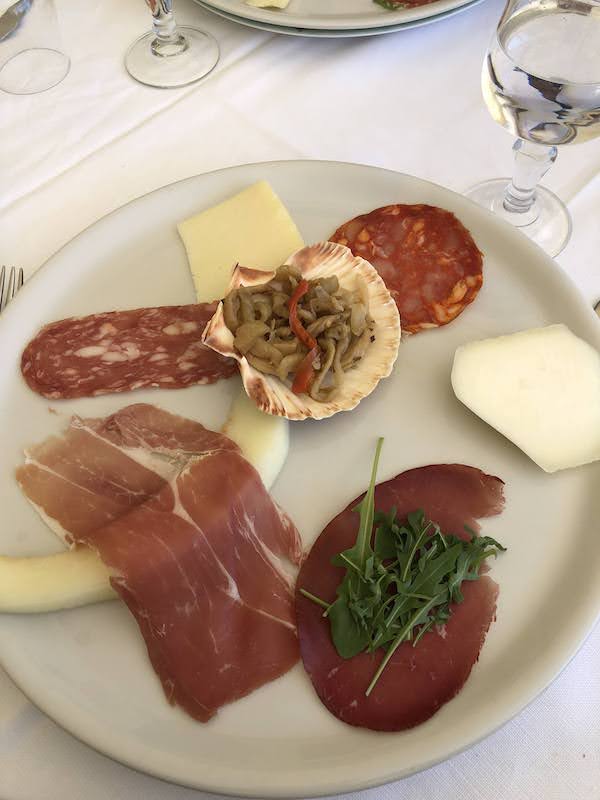 Any type of meal you have is always a 2 hour experience. Everyone talks and relaxes and enjoys the food.
The main dish was homemade pasta with truffles and of course fresh parmesan cheese!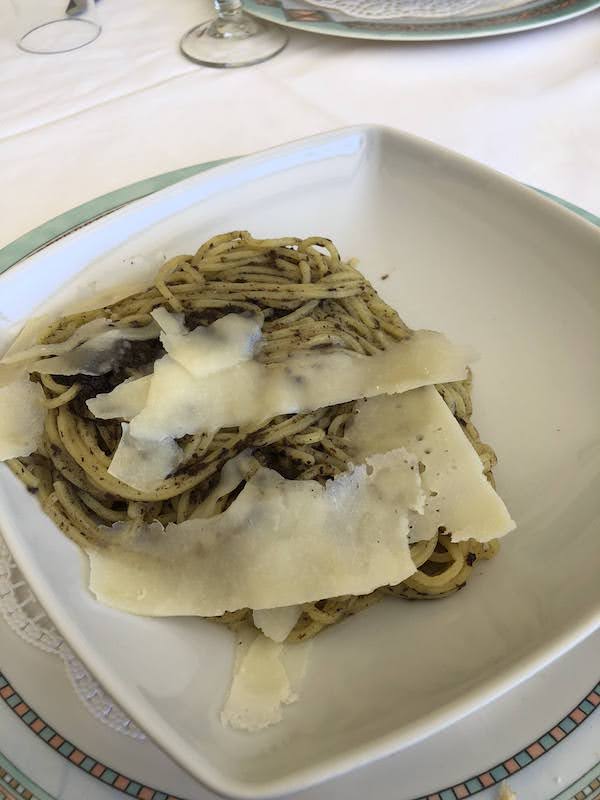 We ended the lunch with beautiful red ripe strawberries drizzled with balsamic. It was soooo good!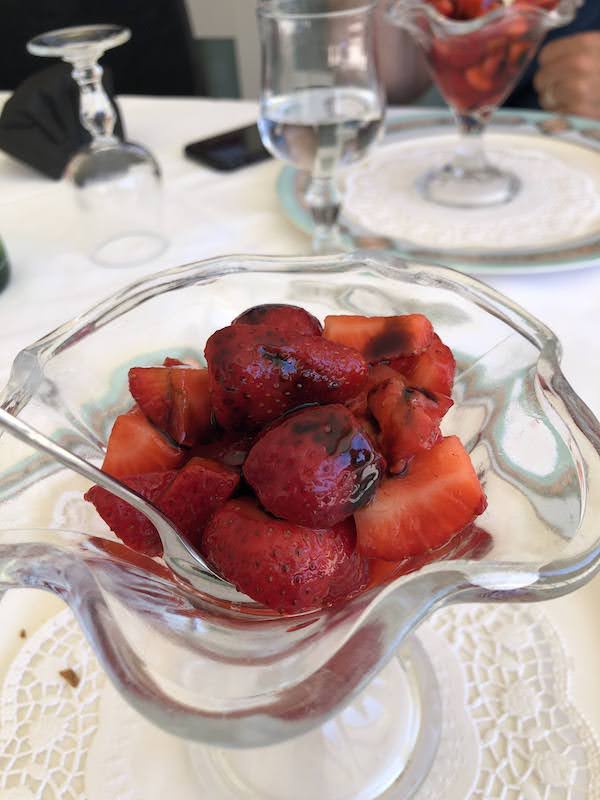 A visit to the La Cooperativa Sociale Di Casoli
After lunch we visited the non profit organization La cooperative Sociale Di Casoli. Which is Palazzo Ricci's chosen humanitarian partner. We visited the area where they weave natural fibers. It is such an amazing place. Aimed at helping socially disadvantaged people.
This cute lady was teaching me how to use the weaving machine.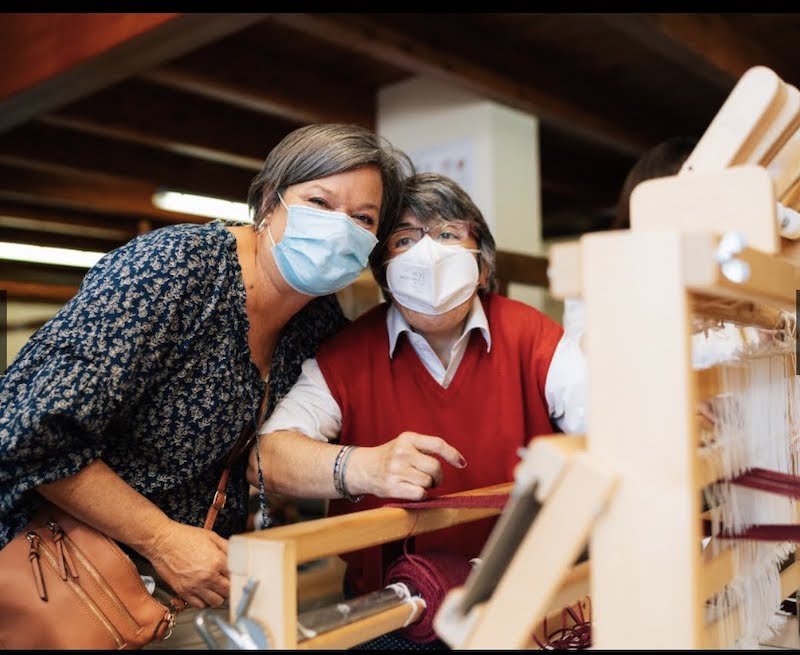 From their website- The cooperative's mission is to pursue the general interest in human promotion and the social inclusion of citizens, through productive activities aimed at the work placement of socially disadvantaged people, with particular attention to people in conditions of hardship, through various legislative instruments.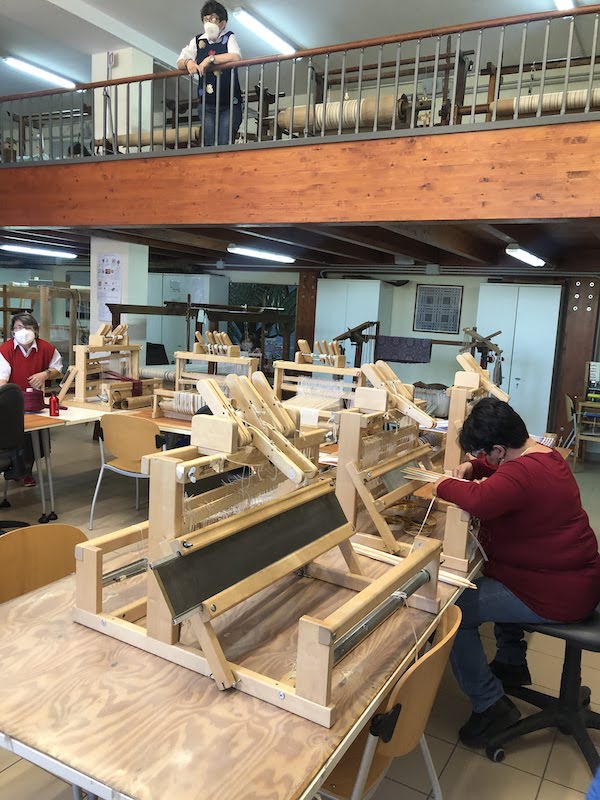 What was once a winter occupation of peasant women, who in this way provided for all the " textile " needs of the family, from the wedding trousseau to the various household cloths, using natural fibers, such as hemp and cotton that in many cases colored by themselves, now it can be the source of a healthy re-appropriation of a creative manual skill rich in history.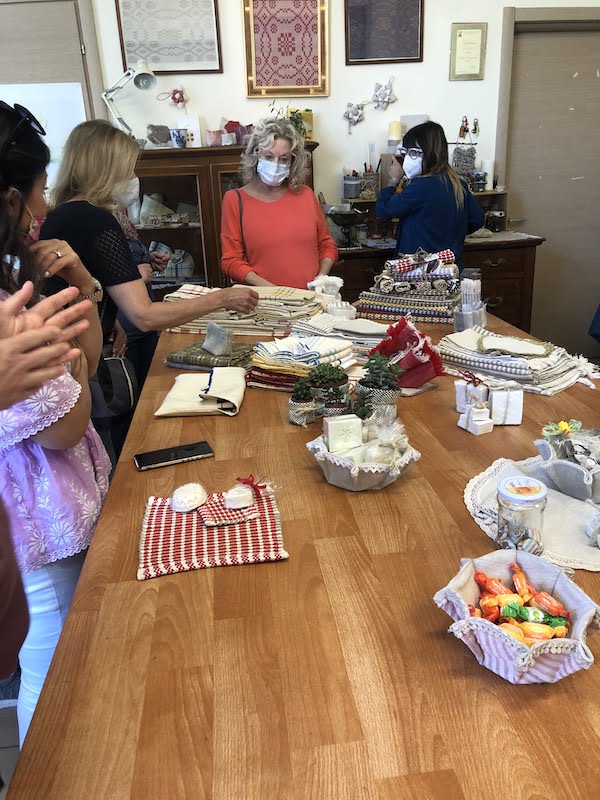 Palazzo Ricci will be supporting this cooperative by purchasing these handmade items to have in all of our residences. Each of the ladies bought a few things to take home as well as to support the cooperative.
I bought some darling blue and white placemats that I will be using in a tablescape soon!
A birthday and anniversary party
We ended the night with a fun party at Bimbi and Spencer's house. Celebrating multiple birthdays and two anniversaries!
We started on the patio with some seafood sliders.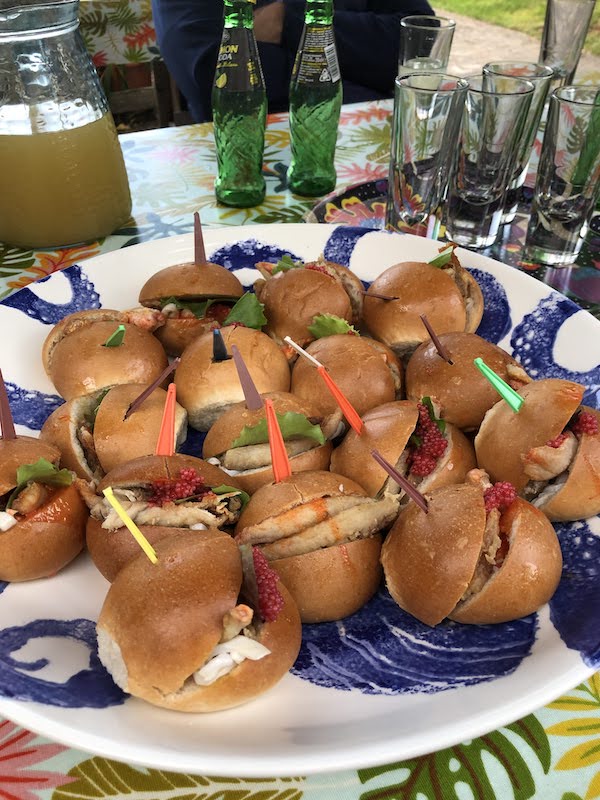 You may remember the promotional film we had about Palazzo Ricci called Reborn. It was directed by award-winning, Italian filmmaker, Walter Nanni. In the film Walter wears this amazing Italian hat.
He brought it to our celebration and we all took turns trying it on 🙂
Our photographer Fabrizio Di Paolo took these really beautiful photos.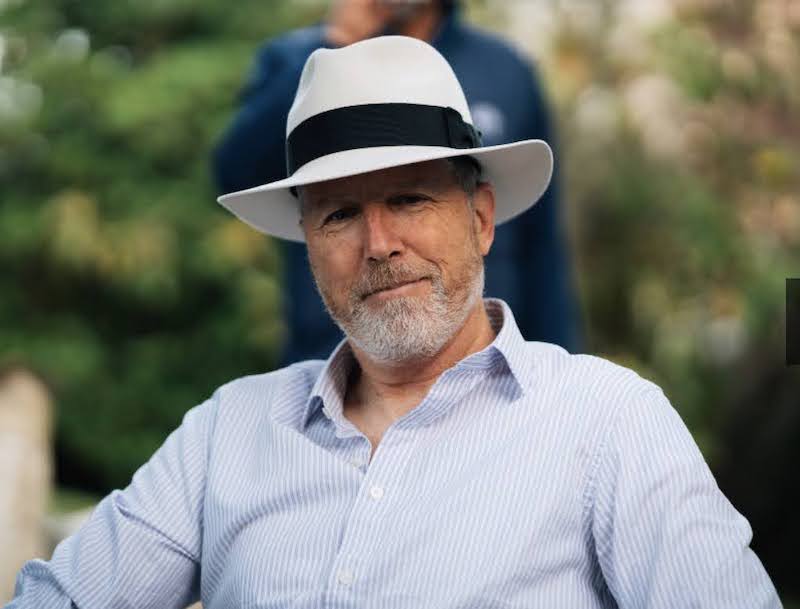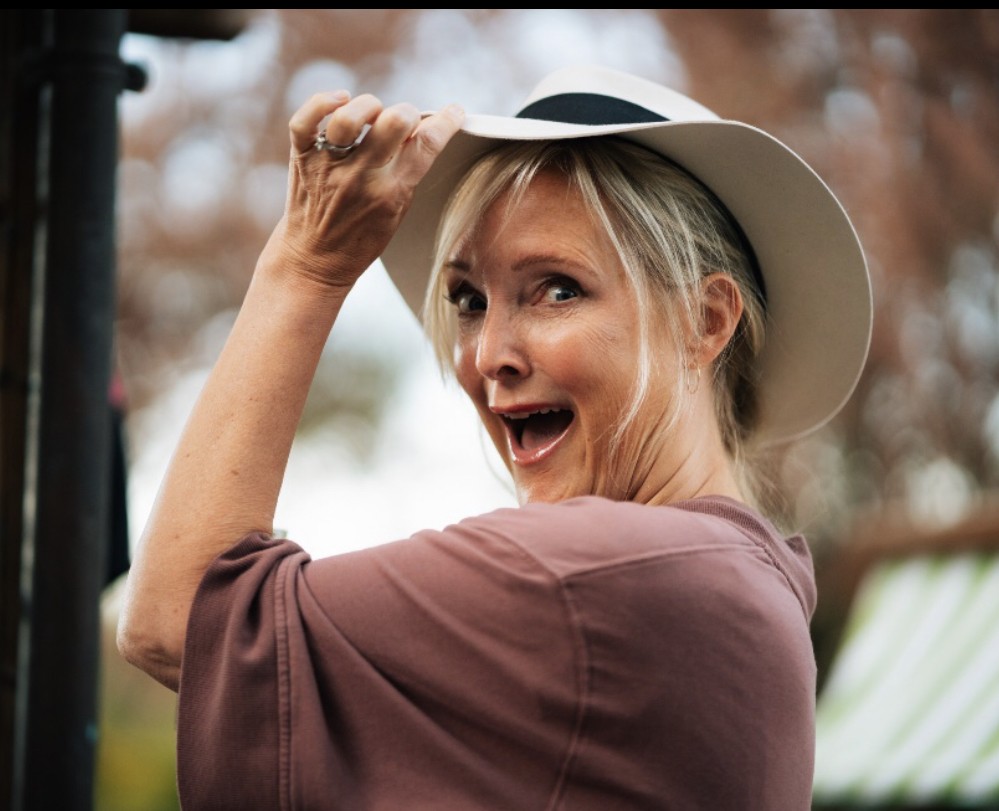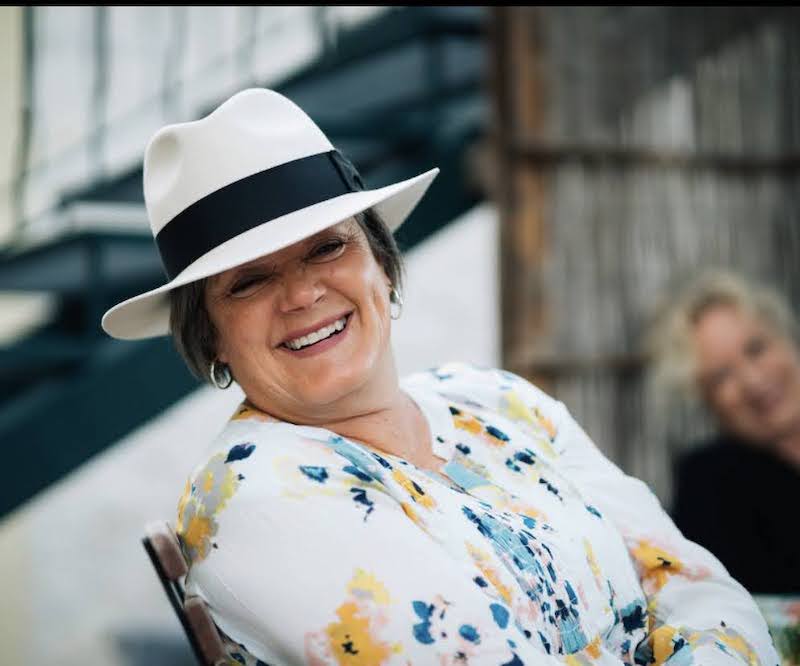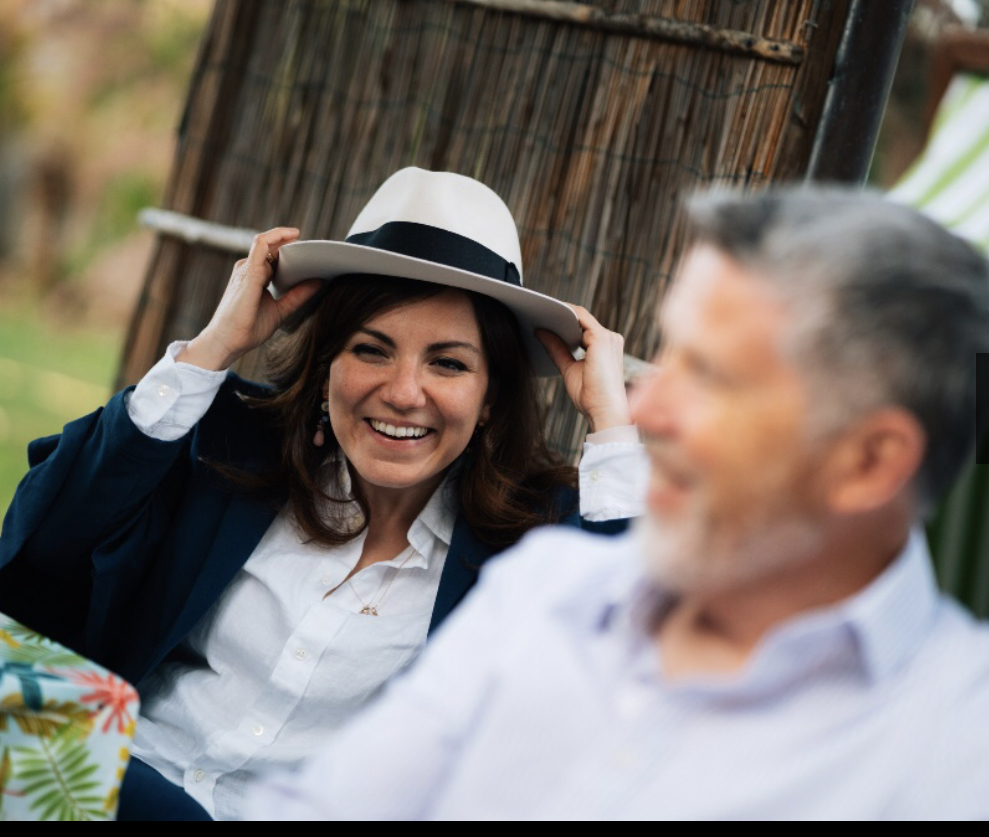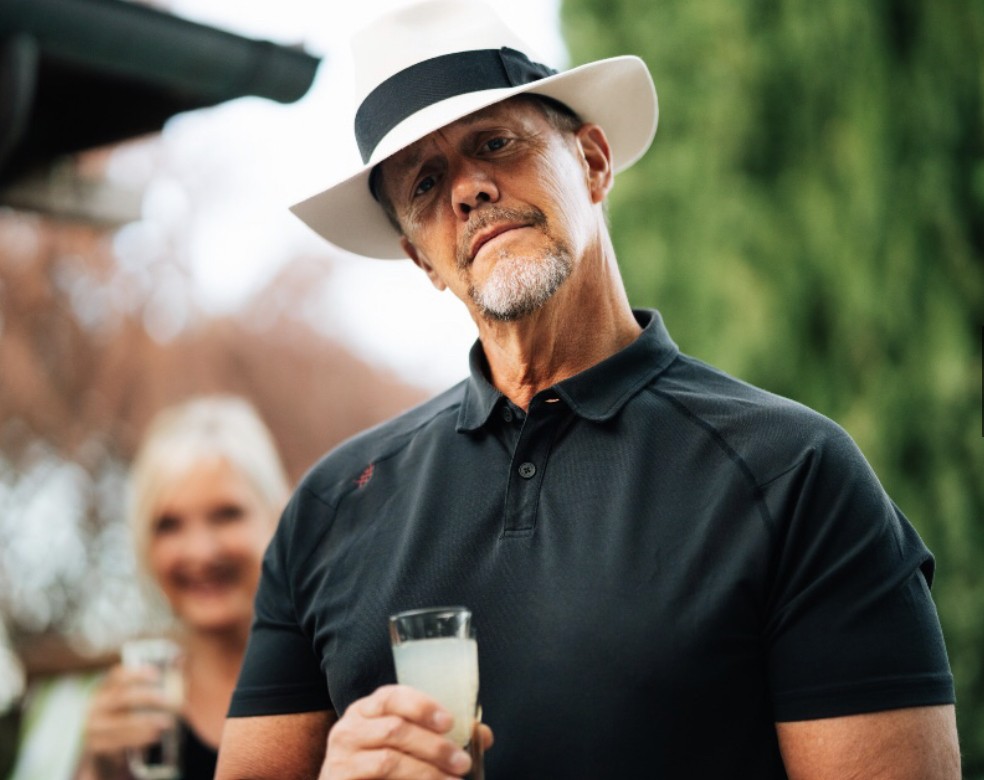 Isn't this a pretty tablescape! The multi colored glasses just sparkled! I think I need some! 😉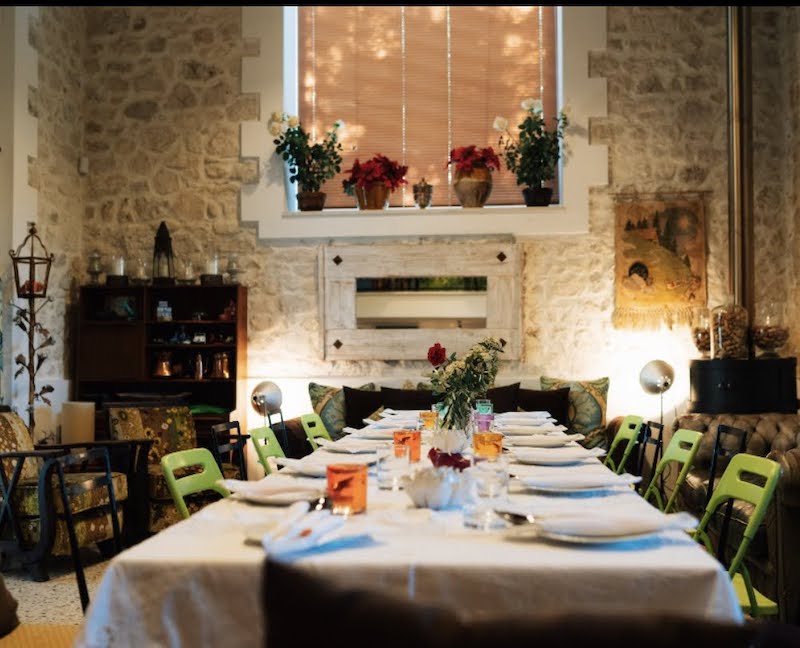 A local chef came and catered the meal. Tons of gourmet shell fish dishes.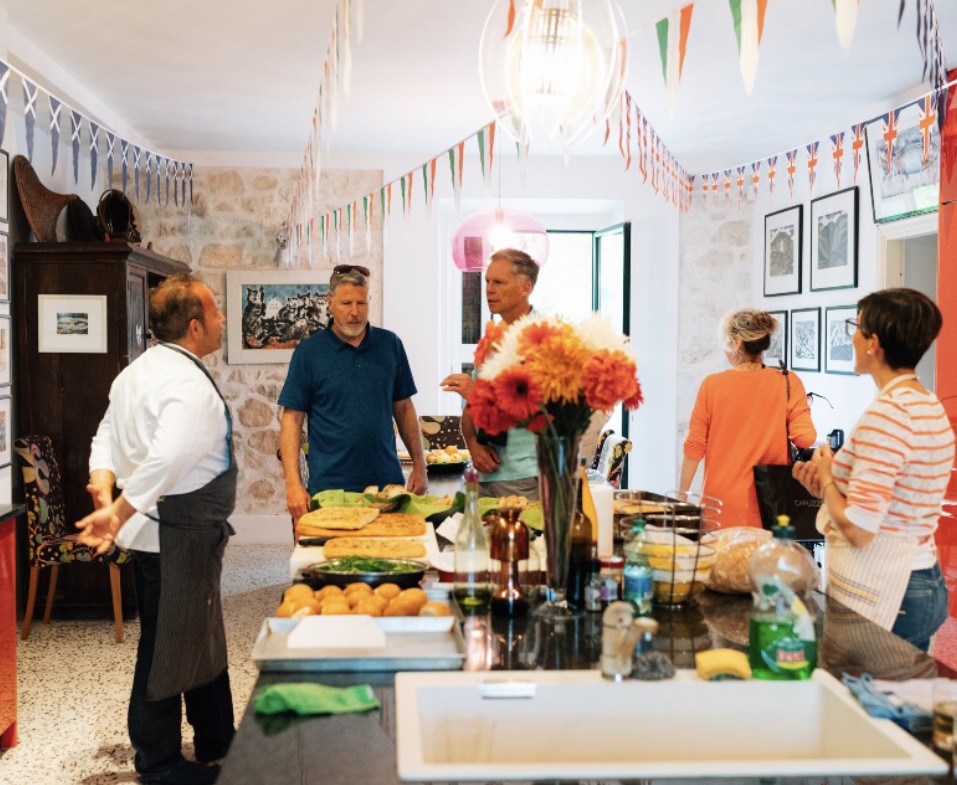 I unfortunately am allergic to shell fish..it makes my lips puffy. This was the gorgeous appetizer.
Look closely and you will see a tiny squid.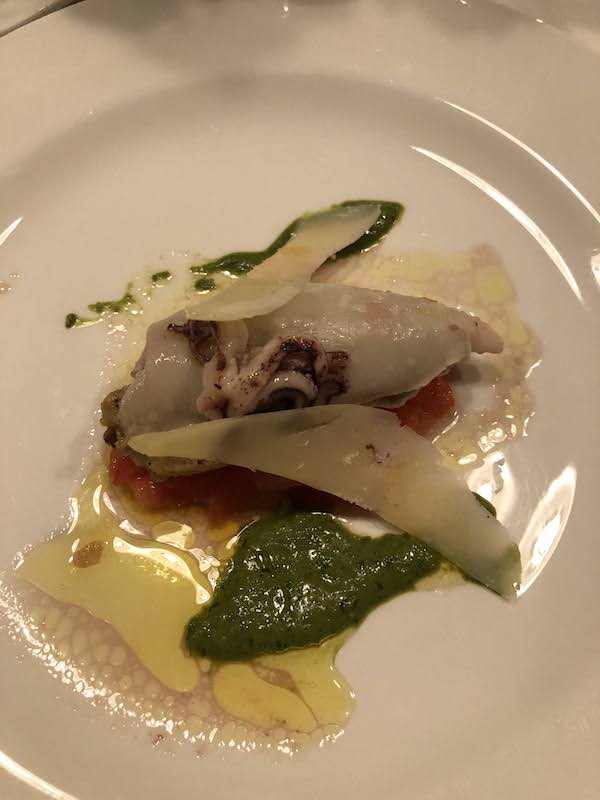 I did eat the main course which was a beautiful white fish dish and it was amazing!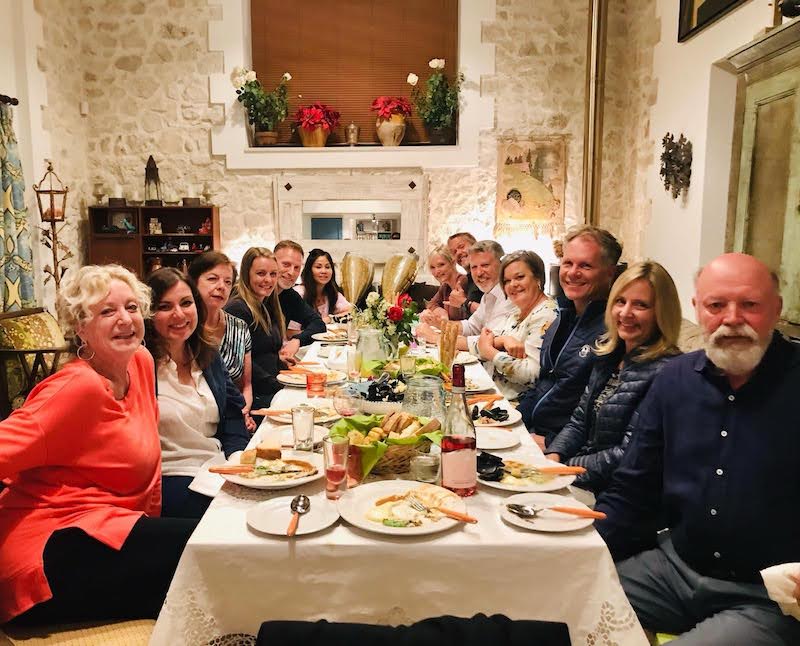 It was the perfect ending of a perfect day in Italy!
If you missed Day 1 post you can read it here.