This was my first attempt at trying a gluten free strawberry pie and I really liked the crust!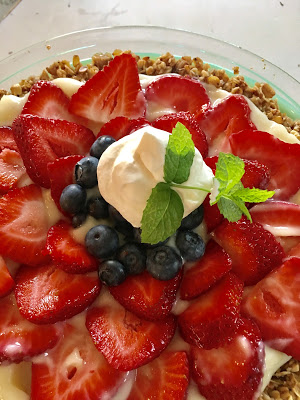 The crust recipe comes from Food.com but I changed one
INGREDIENTS for Crust
1 cup rolled oats
4 tablespoons brown sugar
1⁄4 teaspoon salt
1⁄2 teaspoon vanilla
1⁄3 cup melted butter
2⁄3 cup finely minced walnuts (But I used Cashews)
Preheat oven to 350F.
Toast oatmeal in a shallow pan for 10 minutes to brown, watch carefully.
Remove from oven and in small mixing bowl combine oatmeal with remaining ingredients.
Press into 9-inch pie plate.
Bake crust for 10 minutes or until a golden. Let crust cool.
Ingredients for Filling
One box instant white chocolate pudding (follow directions on box)
Whipped cream
Fill pie shell with pudding, top with whipped cream, add strawberries and blueberries.