I was looking through my notebook of tear-outs from magazines that I have collected over the years and noticed how many photos I have torn out that have large accessories in them. I do love big bold things in rooms instead of lots of little nick knacks or whatever you want to call them. In looking around in my house….. I actually don't have anything that I would deem a Large or Big accessory item but I do want some! Take a peek at this red horse with wings hanging on the wall in this room…I think it is from an old gas station or something like that. I also just love the big barn looking door that slides open. How fun is that.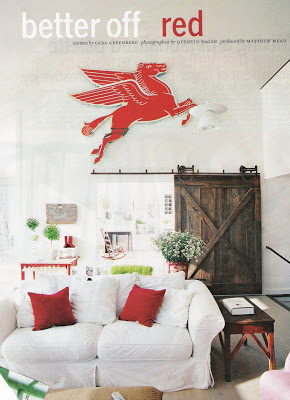 or how about the large urn, the big garden tools, the large round orbs….OOOOHHH I want some!!…but have any of you priced large items lately? Holy Manoly they are very expensive. I guess that is probably why I don't have any large items in my house yet.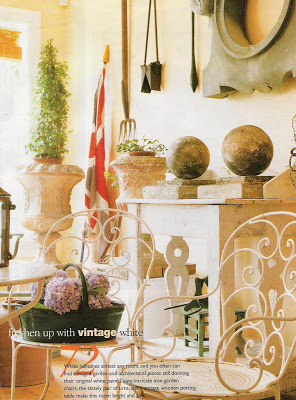 Take a check at this gigantic clock!! Then look at the columns and the big architectural piece on the mantel. That is what I am talking about! Large interesting pieces to fill up the space in your home….it makes the home stand out…it is not like any other…you can't find these pieces at your neighborhood decorating store…you know what I mean?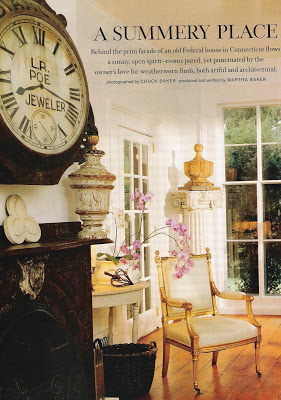 I took another look around my house and I did find one piece that would be considered large….
I made a clock and it is pretty big…I will have to take a picture of it and post it on here. I will call it my "Beginnings of Largeness"!
Hey I live in Texas…everything is bigger in Texas "Y'all"
Oh oh…… and I do have a very large letter "B" that stands for our last name that needs to be painted black and hung up on the wall somewhere…lets see any other "Biggins" around here?……. I do have a couple of large black framed mirrors……. and ……..that's about it.
I will be on the look out for some large interesting pieces that will cost next to nothing…. so if you see any please point me in that direction.
Ta Ta For Now