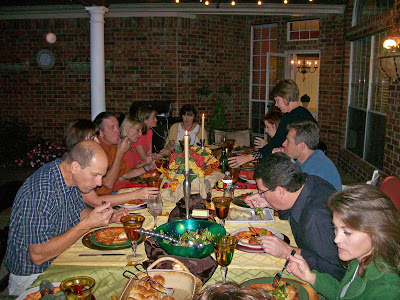 We had our Autumn dinner party/birthday party on Saturday night for our friends and we all had a wonderful time. The weather was absolutely perfect so I moved everything outside onto the patio overlooking the pool.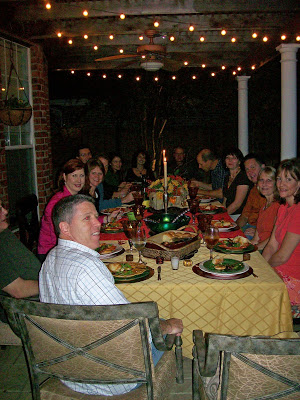 The food all turned out amazing! Four of the women either had just celebrated their birthday or were about to so that turned our dinner party into a little birthday party as well. Pam brought an incredible spinach, tortellini soup with sausage that was to die for! Kerri brought a gorgeous big green salad with gobs of yummy things in it like Greek olives, capers, cheese, sun-dried tomatoes. Virginia brought her famous mini sized orange rolls that you just can't stop eating even after you have had dessert! Robin made roasted acorn squash that she made for the first time and it was delish! Judy made yummy fresh green beans sauteed in bacon and onions. Penny brought some sparkling apple juice to fill our goblets. I made the pork roast with carrots and I tried a new cake recipe ….chocolate pumpkin three layer cake with orange cream cheese frosting.
Virginia also brought the famous dessert "Better than Robert Redford dessert"! !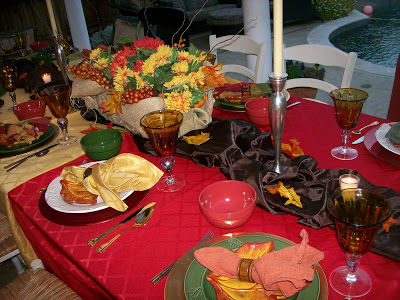 WE TRULY HAD ONE INCREDIBLE FEAST!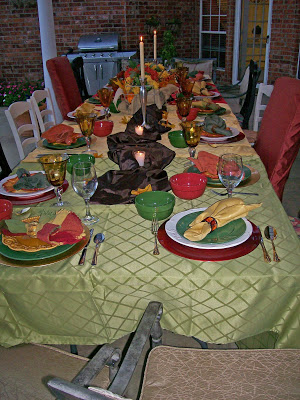 TABLESCAPE IDEAS
Use multicolored tablecloths and lay them on the table side to side instead of the regular way of front to back. Tablecloths were from Garden Ridge $7.99 each. I used four tablecloths. The brown fabric down the center of the table is actually lining fabric that I bought years ago from Walmart for $1.00 a yard. I have never even sewn up the edges.
Use a multitude of different colored napkins. (I used plaid, golden yellow, green and rust) Everything does not have to match. I just used what I had. The color palette of fall colors.
Use a variety of napkin ring holders and borrow some if you need to. I borrowed some from my friend Virginia.
Mix up your silverware. I used gold and silver silverware (every other place setting)
Use charger plates to create a color balance. (the large plastic plates that sit under the main dinner plate) I used red an gold ones (every other place setting) Garden Ridge $1.00 each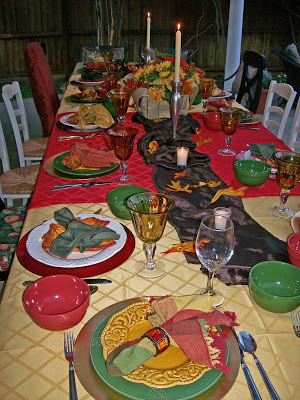 Green Dinner plates from Walmart purchased years ago for $1.00 eachLeaf plates purchased from Walmart last year for $2.00 each
Red and Green bowls purchased from Garden Ridge .50cents each. SCORE!!!
Goblets purchased from Walmart last year $2.00 each. Centerpiece: I had a wire basket that I bought at a thrift store years ago and I lined it with burlap fabric.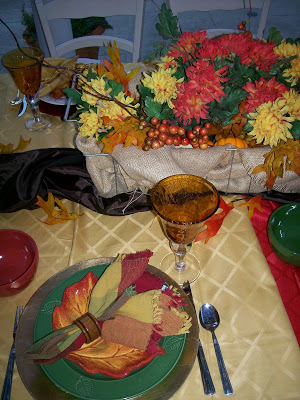 I then wadded up tissue paper and put that inside the burlap to allow the flowers to stick in there. I grabbed three silk bouquets of mum that I had in my kitchen and placed them in the basket. I then added a bunch of miniature pumpkins and placed them around the edges that I bought from the grocery store and stuck in some curly sticks to give it some oomph! You don't need a lot of money or fancy dishes to entertain. Use what you have, combine multiple colors, borrow things and most of all just have fun!Thanks to all my great friends for pitching in and cooking up all this delicious food it was a great night!