Mix, Match, and Host with Elegance- Creating a charming backyard fall dinner party. Welcome to Karinskottage.com, where I am all about transforming everyday moments into extraordinary memories. As we transition into the cozy embrace of fall, what better way to celebrate the season than by hosting a lovely dinner party in your backyard? In this blog post, we'll guide you through every step, from setting the table to crafting the perfect ambiance, ensuring your guests leave with hearts full of warmth and gratitude.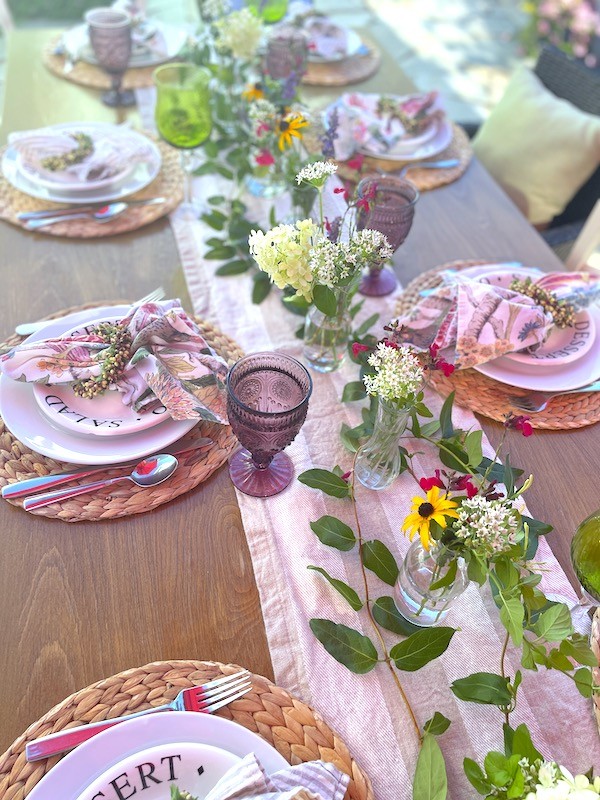 Setting a charming backyard fall dinner table
The key to a memorable fall dinner party lies in the details of your tablescape. We believe in the beauty of mixing and matching to create a unique and inviting atmosphere.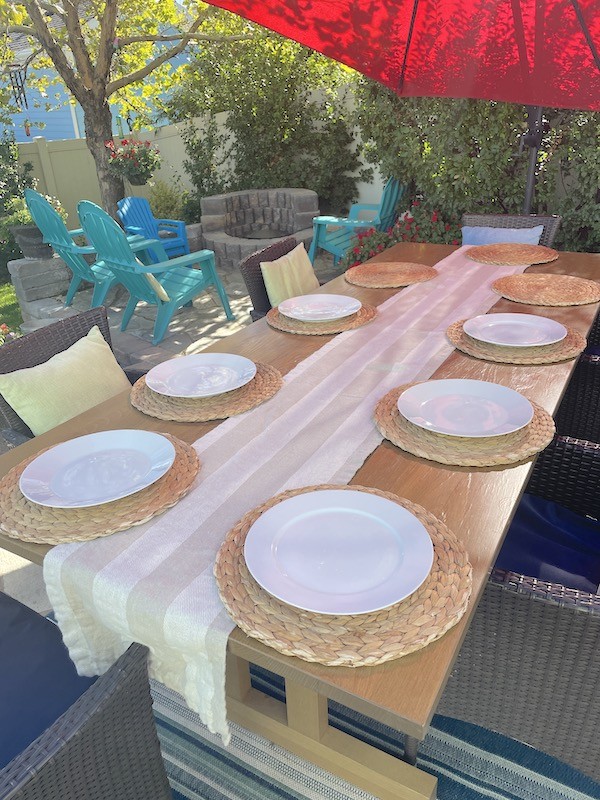 Start with a crisp white dinner plate, elegantly resting on natural woven placemats. These simple yet classic elements provide a clean canvas for your creativity to shine.
Now, let's talk about napkins
For a touch of whimsy, combine floral fabric napkins with striped linen napkins. The clash of patterns adds a playful twist to your table setting.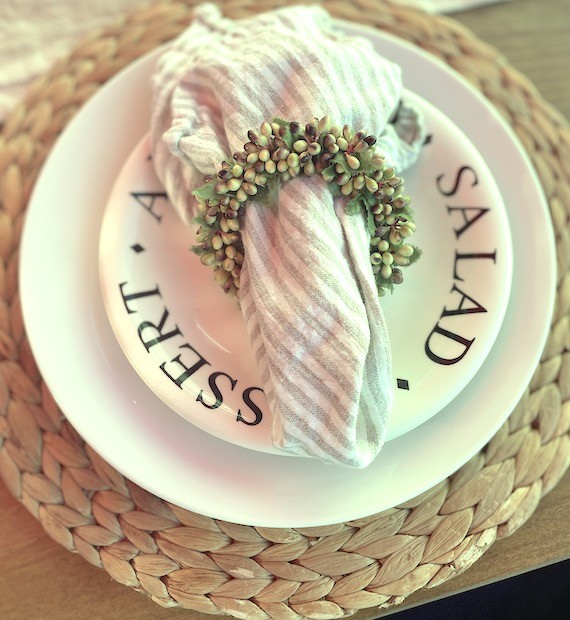 Complete the look with 4″ green and purple pip berry candle rings as napkin rings. These charming accents bring a pop of color and a sense of nature to your fall-themed soirée.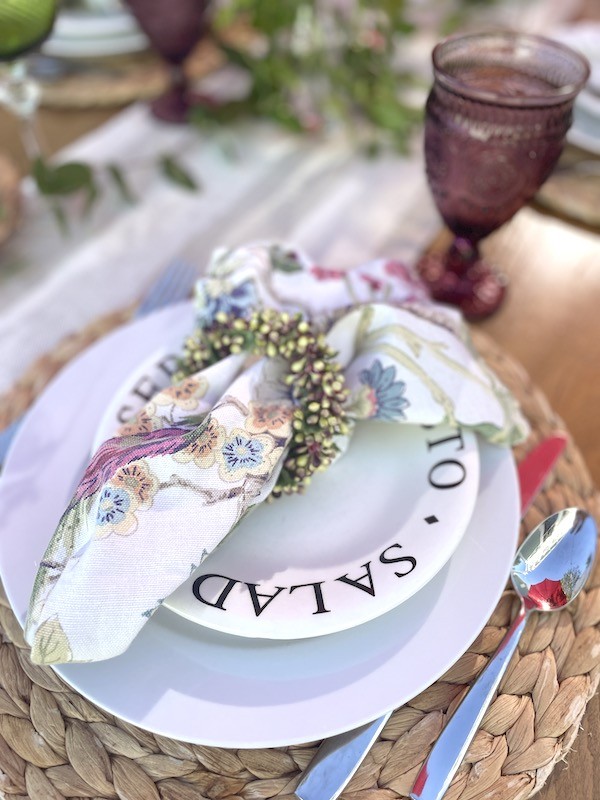 Glassware
Don't feel pressured to have all matching pieces; instead, embrace the eclectic charm of your collection.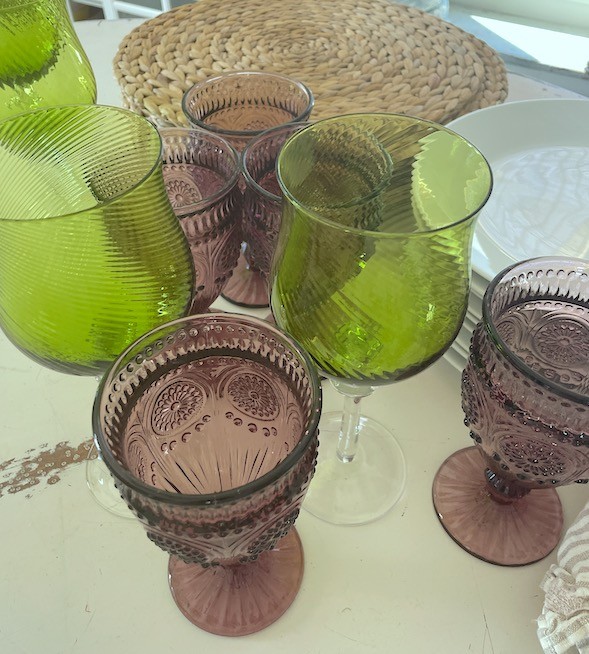 Mix Pioneer Woman's delightful purple goblets with Pier 1's fresh green goblets for a fun and eclectic touch. Your guests will appreciate the thoughtfulness in your selection.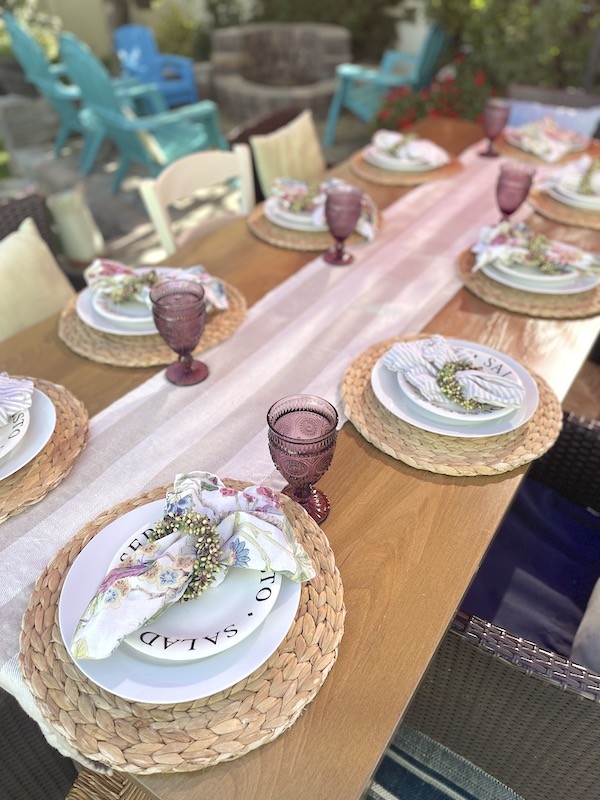 As for the silverware
Opt for a timeless and elegant set. The classic shine of silverware adds a touch of sophistication to your table, balancing out the whimsy of your napkins and goblets.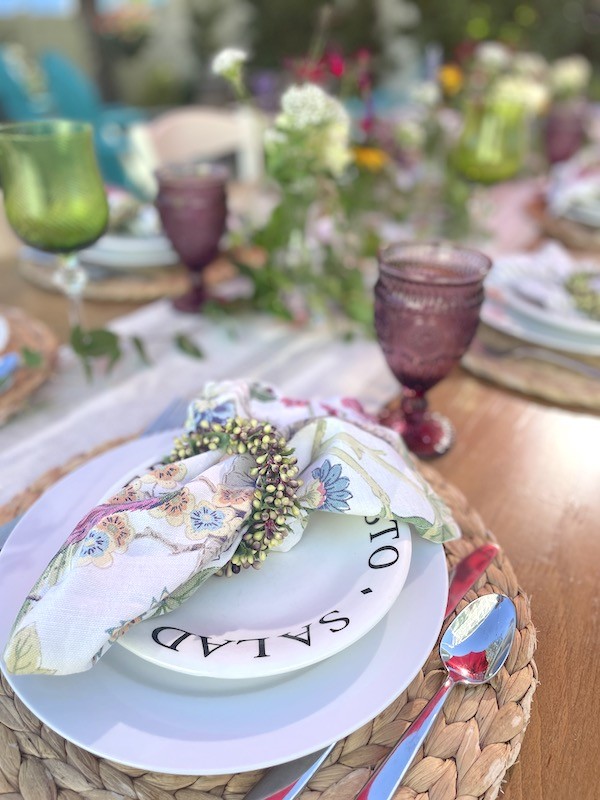 Centerpiece and Ambiance
Now, let's craft a captivating centerpiece that captures the essence of fall. Lay a natural color striped linen table runner as the foundation. This runner adds warmth and texture to your table setting.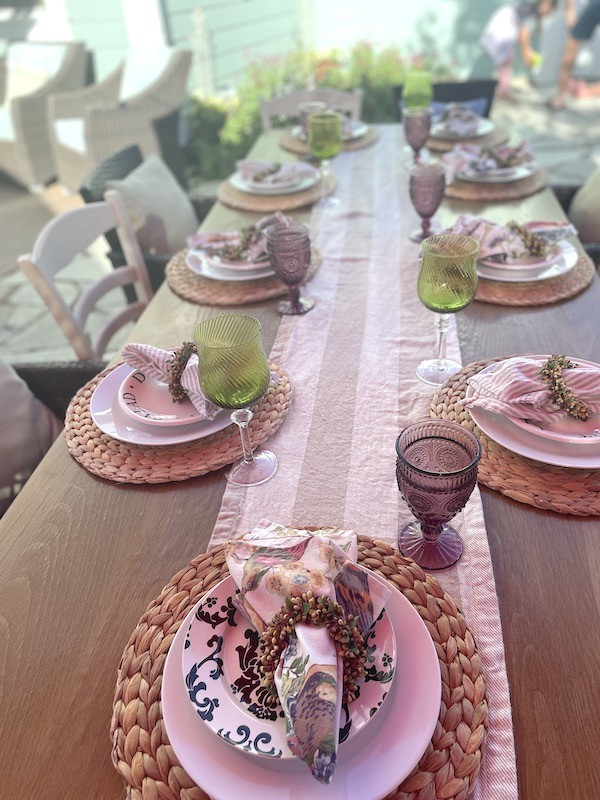 Flowers for your charming backyard fall dinner centerpiece
Think seasonal and garden-inspired. Use mix-matched mini glass vases to hold freshly cut flowers from your yard, including small white hydrangeas.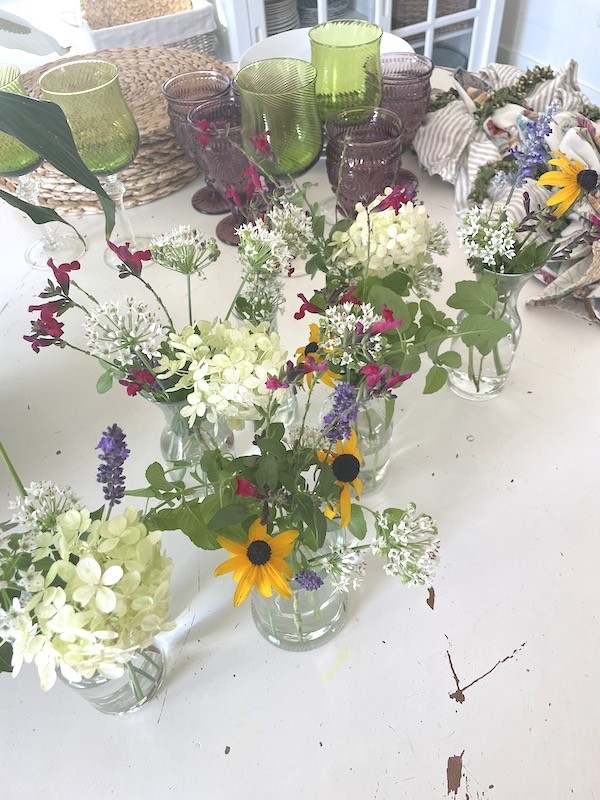 The combination of colors and heights creates a dynamic focal point that evokes the beauty of autumn.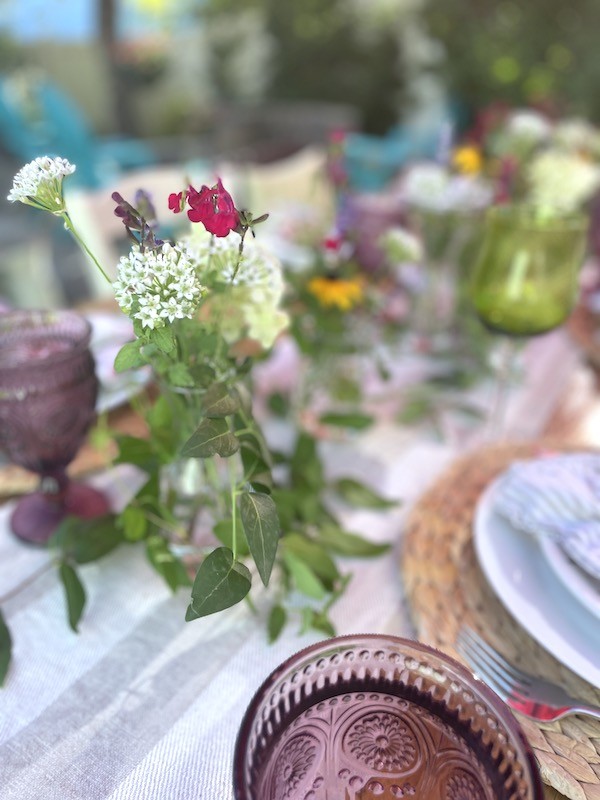 Layering green vines of honeysuckle down the center of the table mixed with the little vases of flowers makes for a realy pretty centerpiece.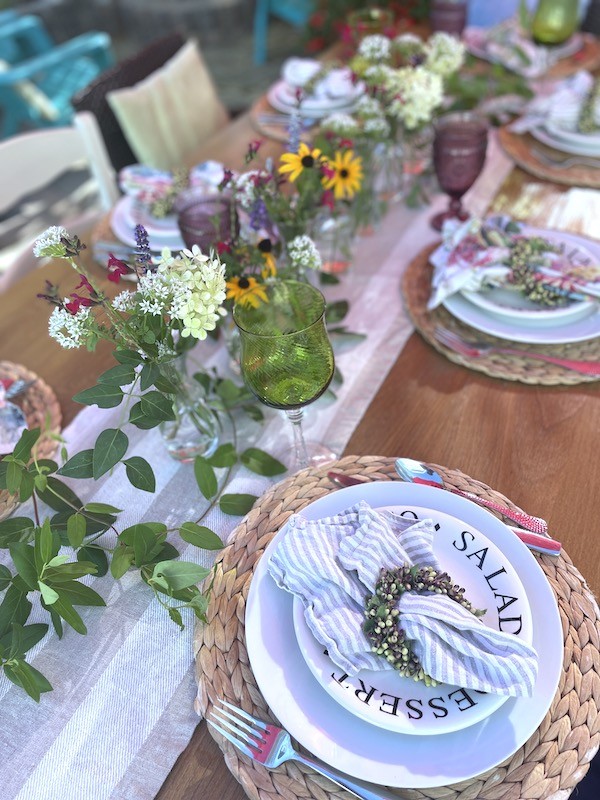 To illuminate your table as the sun sets
incorporate skinny gold candlesticks with tapered candles. These golden accents will cast a warm and inviting glow over your dinner party.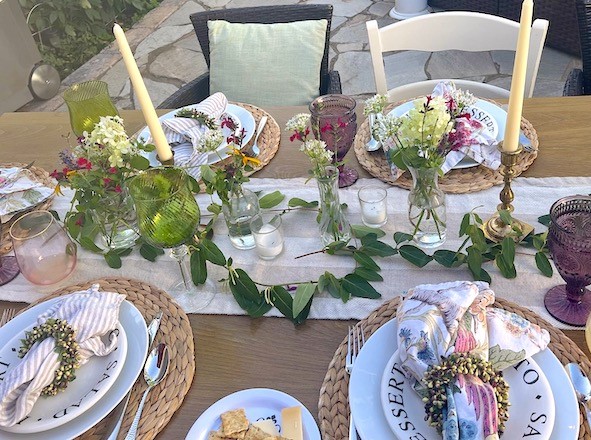 For added ambiance, scatter clear glass votive candles throughout the table. The soft flickering light will create an enchanting atmosphere.
Enjoy creating a charming backyard fall dinner party
As the cool breeze of fall sweeps through your backyard and the laughter of your loved ones fills the air, your lovely fall dinner party for nine will become an unforgettable memory.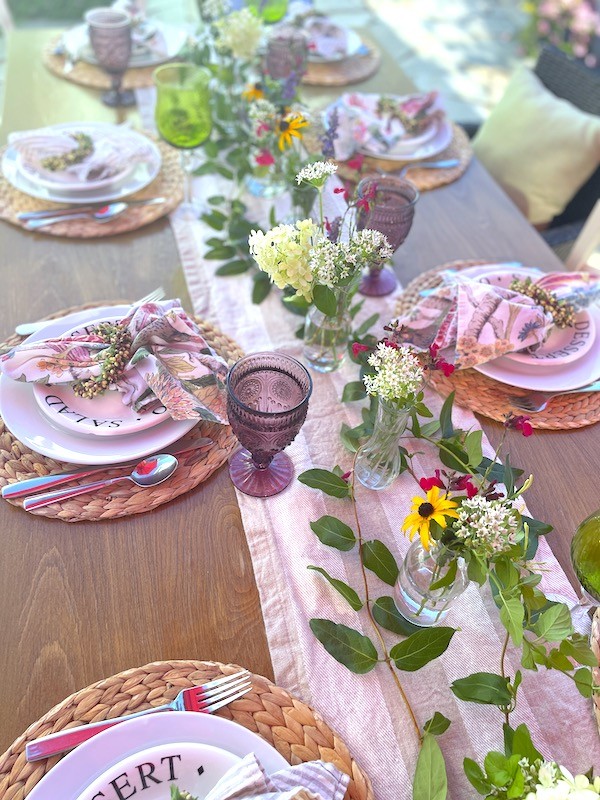 Remember, it's not about perfection; it's about creating a space where family and friends can connect, share stories, and savor delicious food.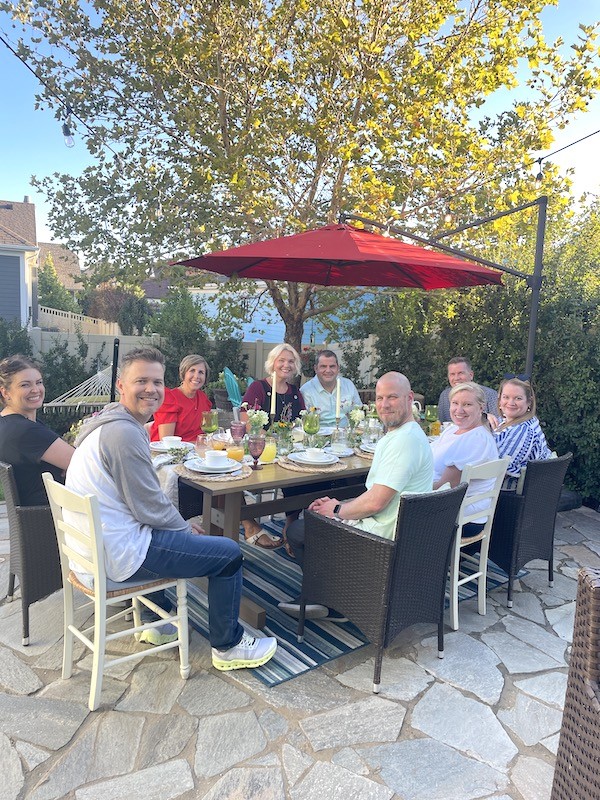 So, embrace the beauty of mix and match, let your creativity flourish, and host a backyard dinner party that reflects the warmth of the season and the love of your family. Happy hosting!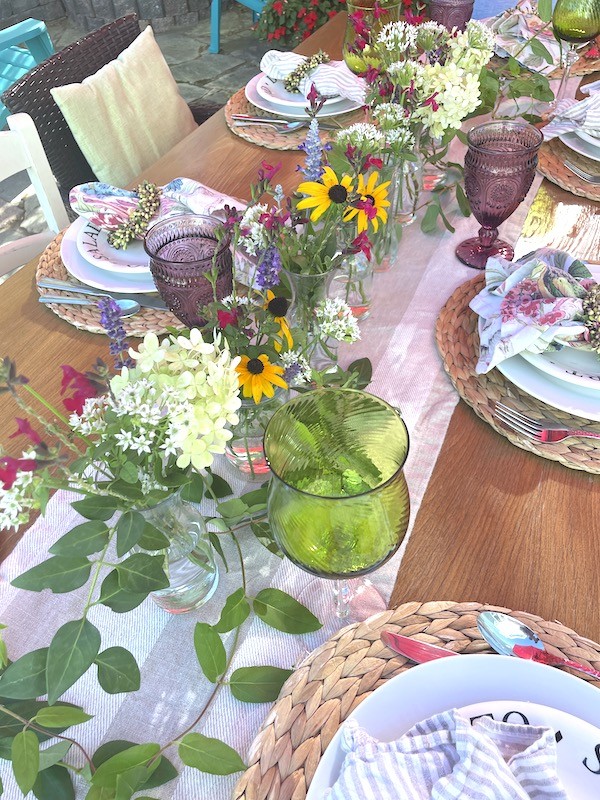 More Fall Charming Fall Tablescapes
How to create outdoor fall tablescape
Fall tablescape with mason jars and sunflowers
Fall Tablescape mixing and matching
Welcome autumn with a fall tablescape placecards made of real leaves
Stay tuned for more delightful tips and inspiration here at Karinskottage.com, where every day is an opportunity to make your house a home and create cherished moments with your loved ones.
Shop