Two chic Ways styling a tunic floral top and jean jacket with pink slip skirt and cropped linen wide leg pants.
Are you a stylish woman over 50 who wants to look and feel fabulous while staying true to your age? I've got you covered! In this blog post, I'll show you how to create two spring outfits using a versatile tunic floral top and a classic jean jacket, paired with either a pink slip skirt or natural linen wide leg cropped pants.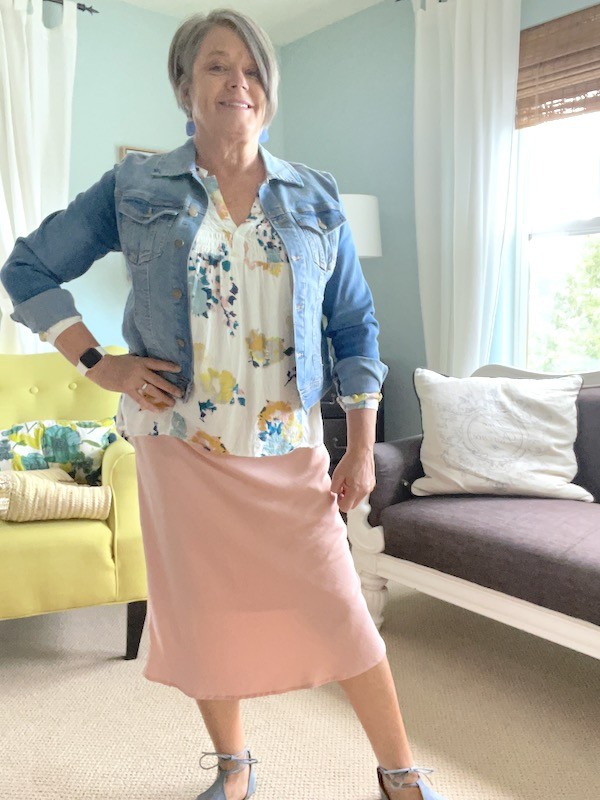 These outfits are not only fashion-forward but also flattering for women in their 50s and beyond.
Let's dive in!
Floral Tunic Top Fashion Tips for Women Over 50
Choose a pretty pastel colored floral tunic top. This allows you to mix and match with different colored bottoms. I have had this top for a few years now and I love how it looks with jeans, neutral and of course pink but I could also wear it with a little gold too.
This is truly an effortlessly chic floral tunic that goes with just about everything.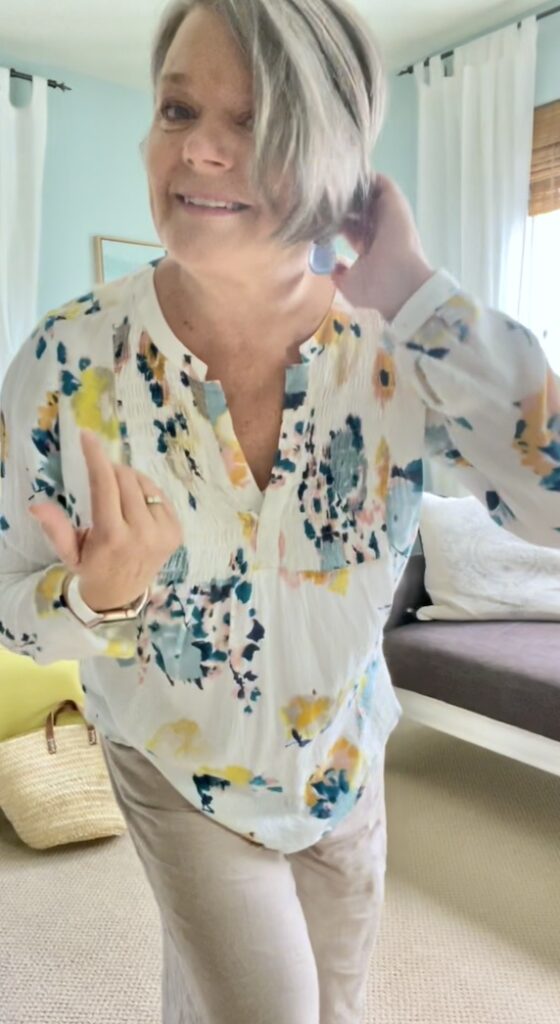 Don't you love it when you can wear something more than once in a different way?
Effortlessly chic floral tunic outfit feminine and flirty
Outfit 1: Feminine and Flirty with a Pink Slip Skirt
For a feminine and flirty look, start with a floral tunic top in soft pastel hues. The loose fit of the tunic provides comfort while still maintaining a chic silhouette. Pair it with a pink slip skirt that hits just below the knee to create a balanced and flattering ensemble.
The slip skirt adds a touch of elegance and sophistication to the outfit. Complete the look by layering a classic jean jacket over the tunic top. The denim adds a casual and modern twist, while also providing some extra coverage.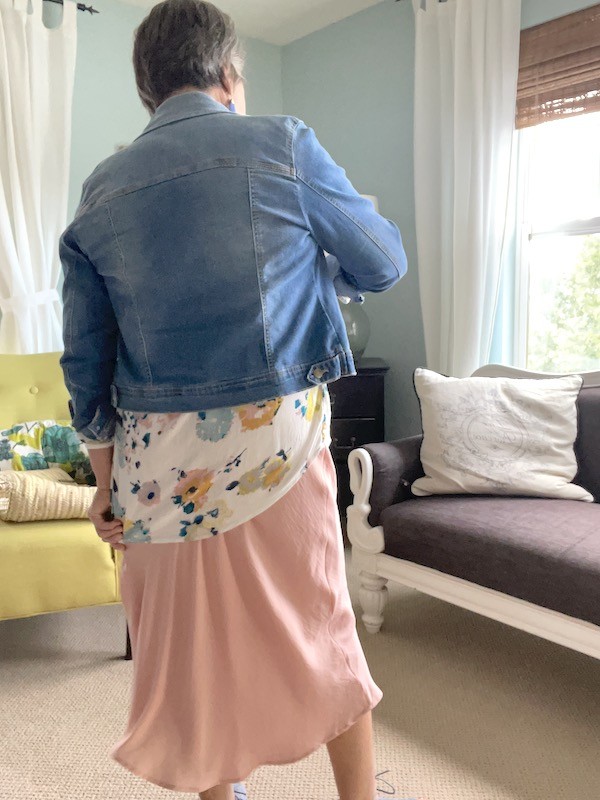 Finish off with a pair of blue suede lace up sandals to provide a stylish appearance.
Effortlessly Cool with Natural linen
Outfit 2: Effortlessly Cool with Natural Linen Wide Leg Cropped Pants
If you prefer a more laid-back yet effortlessly cool outfit, opt for natural linen wide leg cropped pants. The lightweight and breathable fabric of linen is perfect for the warmer months. Pair it with the floral tunic top for a relaxed yet put-together look. This is such a great option for traveling in humid climates because linen breathes.
The loose fit and cropped length of the pants offer comfort and style, making them ideal for us over 50 women. Layer the ensemble with a jean jacket to add a touch of casualness and to create a chic contrast with the feminine floral pattern.
Complete the outfit with a pair of white stylish sneakers to add a contemporary edge.
Styling Tips:
Accessorize wisely: Add statement jewelry pieces like a long pendant necklace or chunky bracelets to elevate the outfits further.
Consider a straw hat for a casual fun summer look and a great pair of sun glasses!
Experiment with layers: Try layering a lightweight cardigan or a colorful scarf over the tunic and jacket combo to add more dimension and flair.
Embrace your style
Remember, fashion knows no age limits! Embrace your style and experiment with different combinations to find what makes you feel confident and fabulous. These two outfit ideas are just a starting point to inspire you on your fashion journey.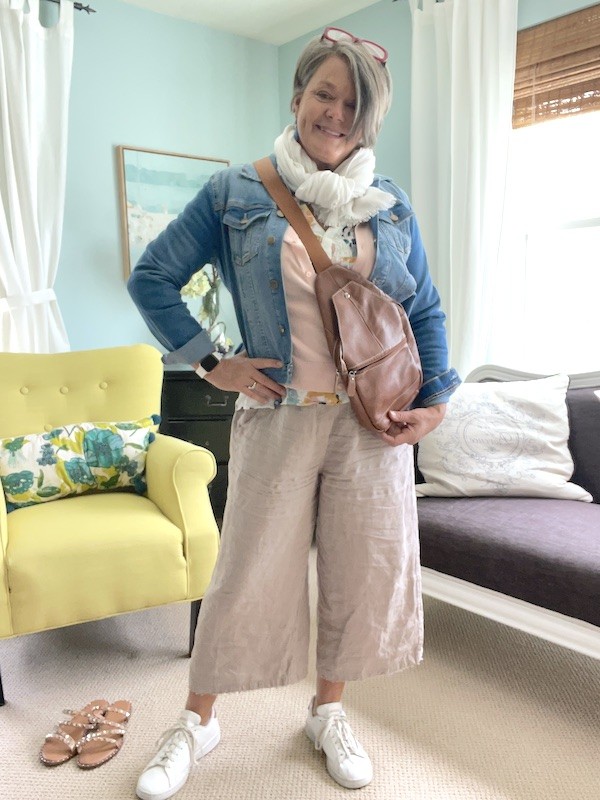 Stay true to yourself, have fun, and let your inner fashionista shine!
More Karins Kottage Fashion
Shop Similar Fashion