Welcome to the end of June Karins Kottage linky party! Where did June go? I have been traveling in Italy for 3 weeks and just returned home last night. It is nice to be home and to have slept in my own bed! I really can't complain about the long lines at the airport or how long it takes to fly. We are just so blessed to be able to travel.
This week I am highlighting six bloggers that have shared their creative patriotic ideas from last weeks party. A dollar store wreath, 4th of July in the garden room, a red velvet 4t of July cake, a free 4th of July scattergories game printable, a lady liberty tablescape and fun craft to make to keep the kids sparklers and glow stick in.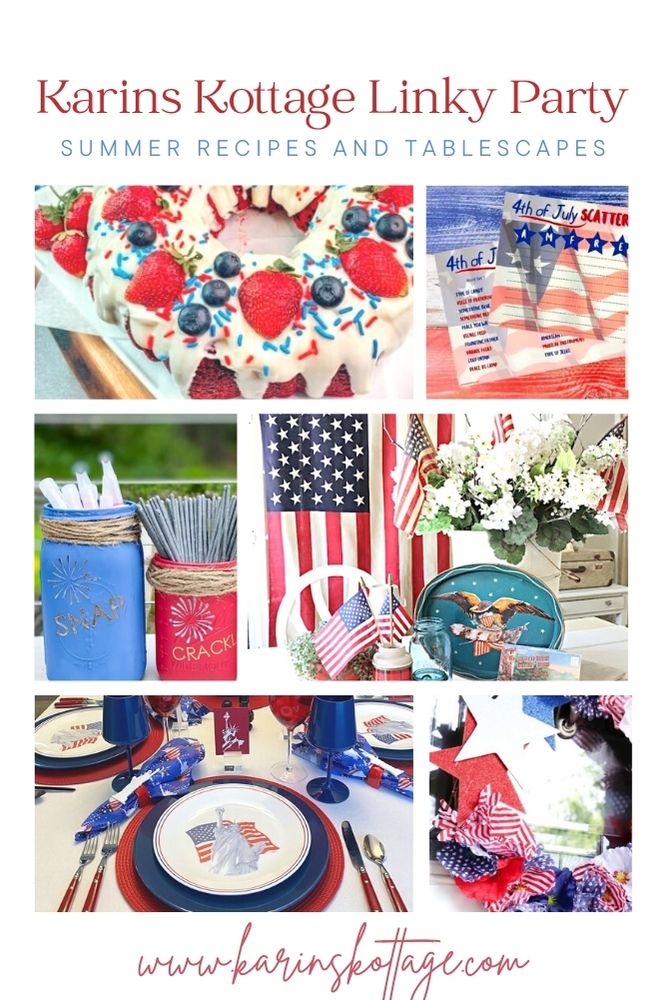 Karins Kottage Happenings
Well since I just returned from Italy I am a little foggy in my brain haha. I am so slow at getting my blog posts out from the trip because we are so busy every day. We literally just fall into bed every night because we are spent! Hopefully you have followed me on Instagram to see daily updates that I posted there.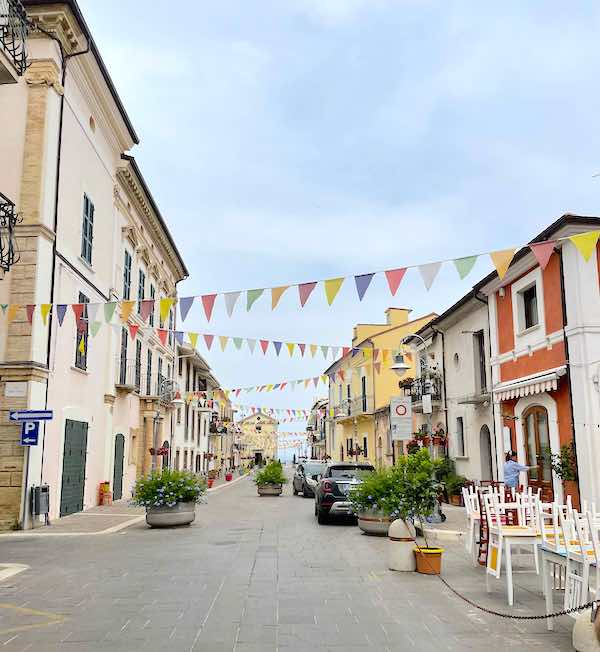 One day we went to this adorable town called San Vito Chietino. This particular street was decked out in lots of colorful pots, flowers, flags and even chairs in front of each resident.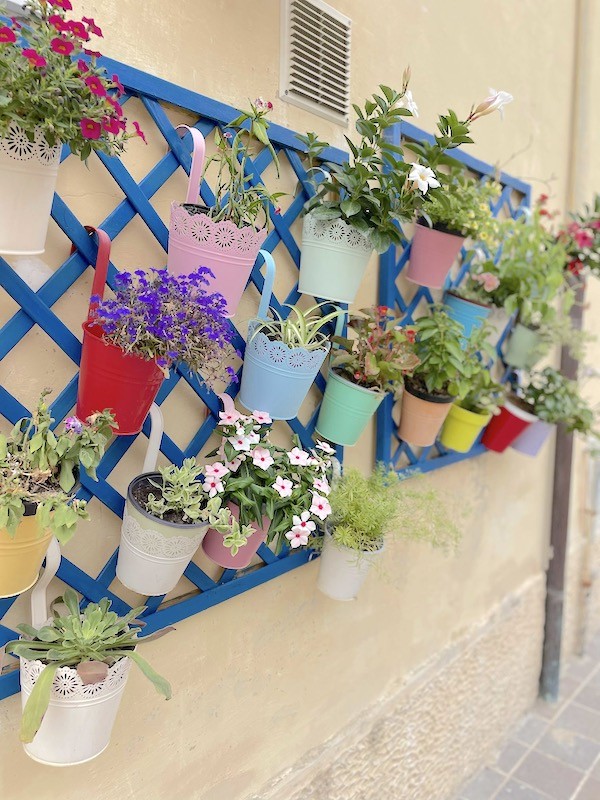 It was such a sweet sight to see all these bright colors up and down the street.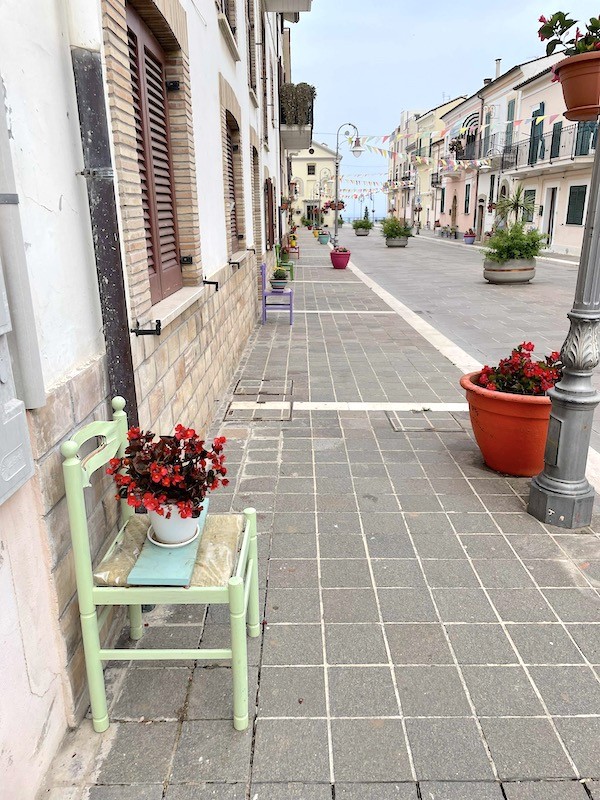 You could tell they have a lot of pride in this darling town. It was a bit hot and toasty outside that day…actually most days we were in Italy was unseasonably warm.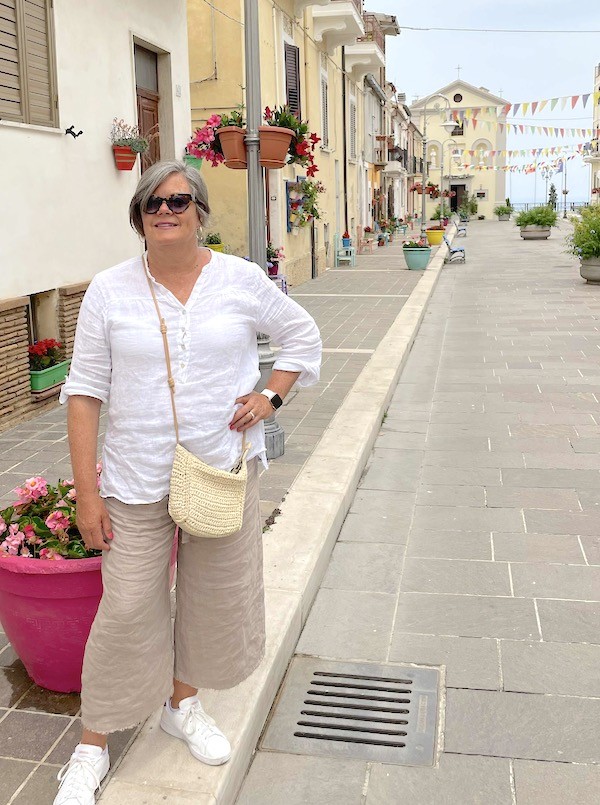 End of June Linky party highlighting 6 bloggers
I am so happy to highlight these 6 bloggers today! Such great ideas to share with all of you.
Common Ground shares all these fun ideas on how to decorate her garden room in such a cute way for the 4th of July! I always love her ideas!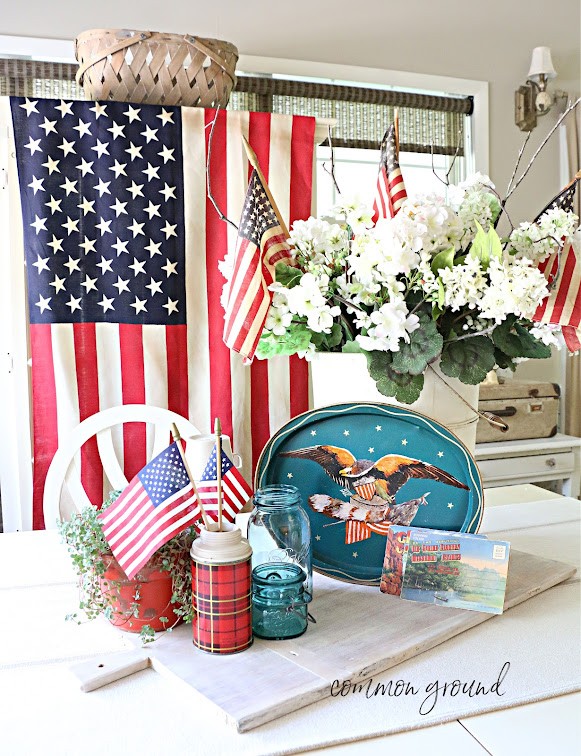 Loving this idea of creating a snap crackle pop sparkler station for the kids! Not only can these cute mason jars be crafted by the kids but they can hold all the sparklers, glow sticks and poppers until they are ready to be used. Must have Mom has lots of fun craft ideas on her blog.
Whispers of the heart is sharing her red white and blue lady liberty tablescape! Love all the fun pieces that she used to create this patriotic table.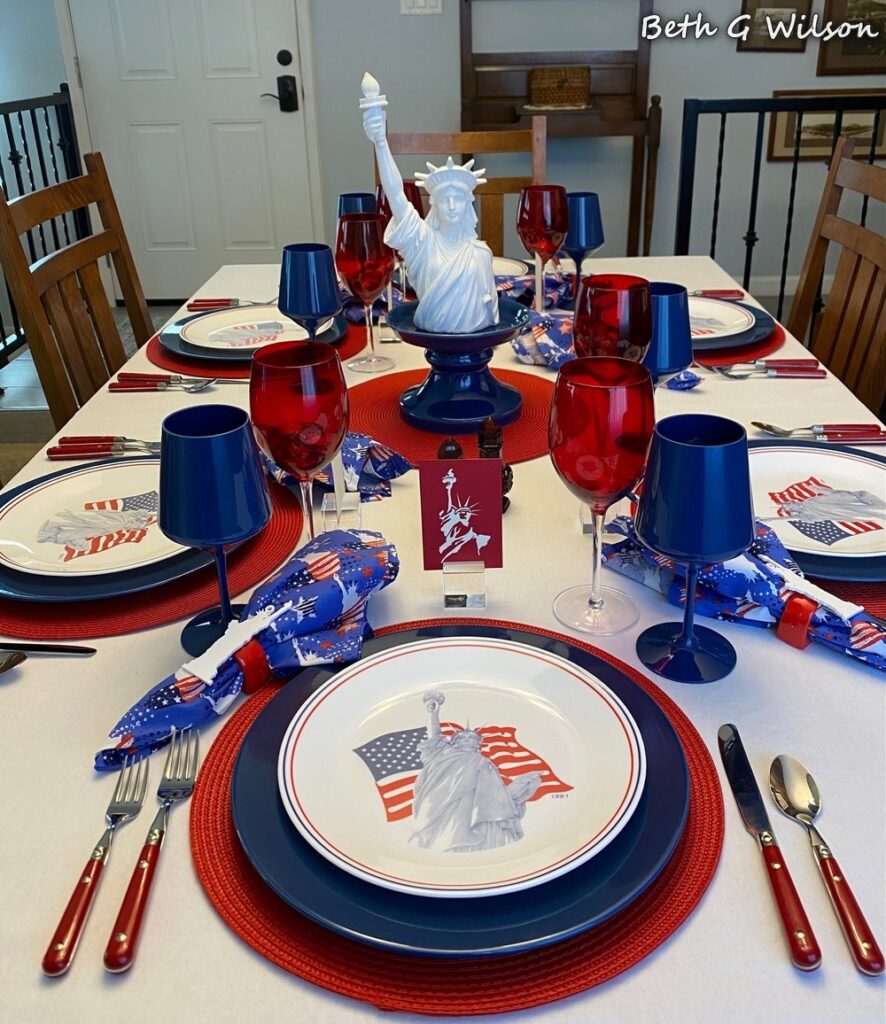 Walking on sunshine made this beautiful red velvet cake for the 4th of July. I just may need to make this for our 4th of July celebration. It is a showstopper.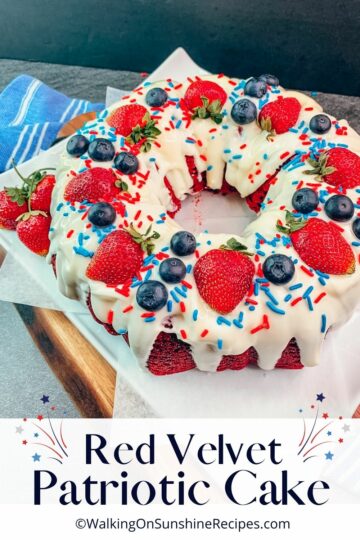 How about this adorable dollar store wreath that Hunny Im Home DIY made. Those striped and polka dotted poppies are so cute and all from the dollar store!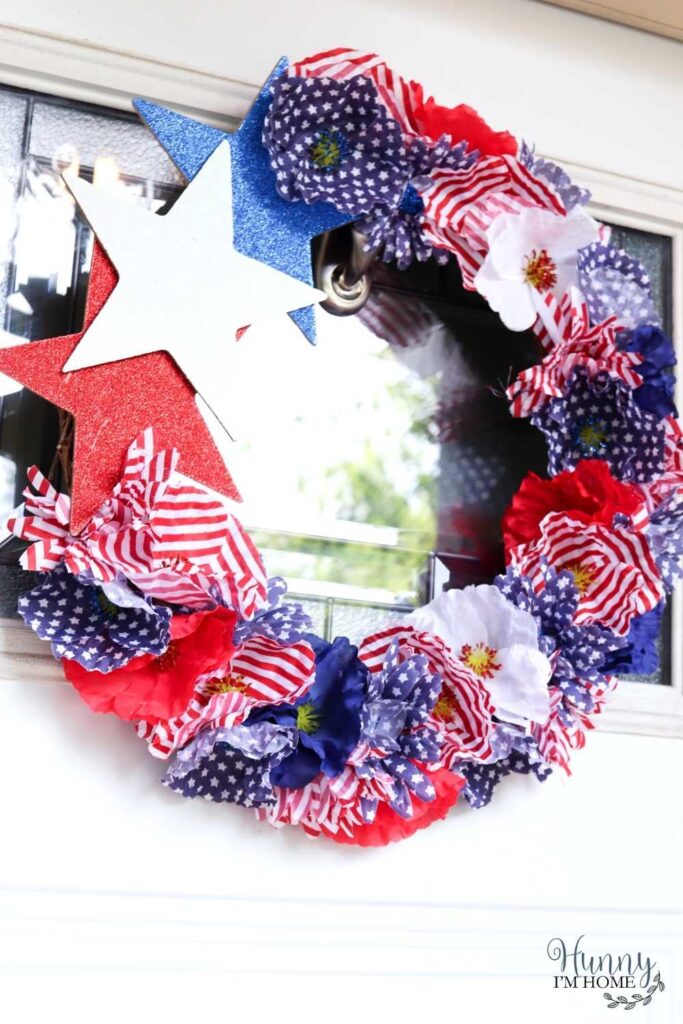 I don't know about you but I love to play scattergories! I am so excited to print these out for my family to play on the 4th of July. It is not only fun but educational too! Hessun Academy has lots of other great learning games for kids.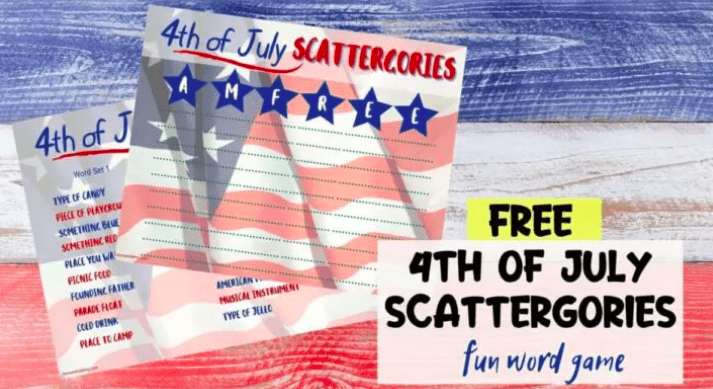 Shop

Red white and blue Posts
Here is a link to lots of my red white and blue posts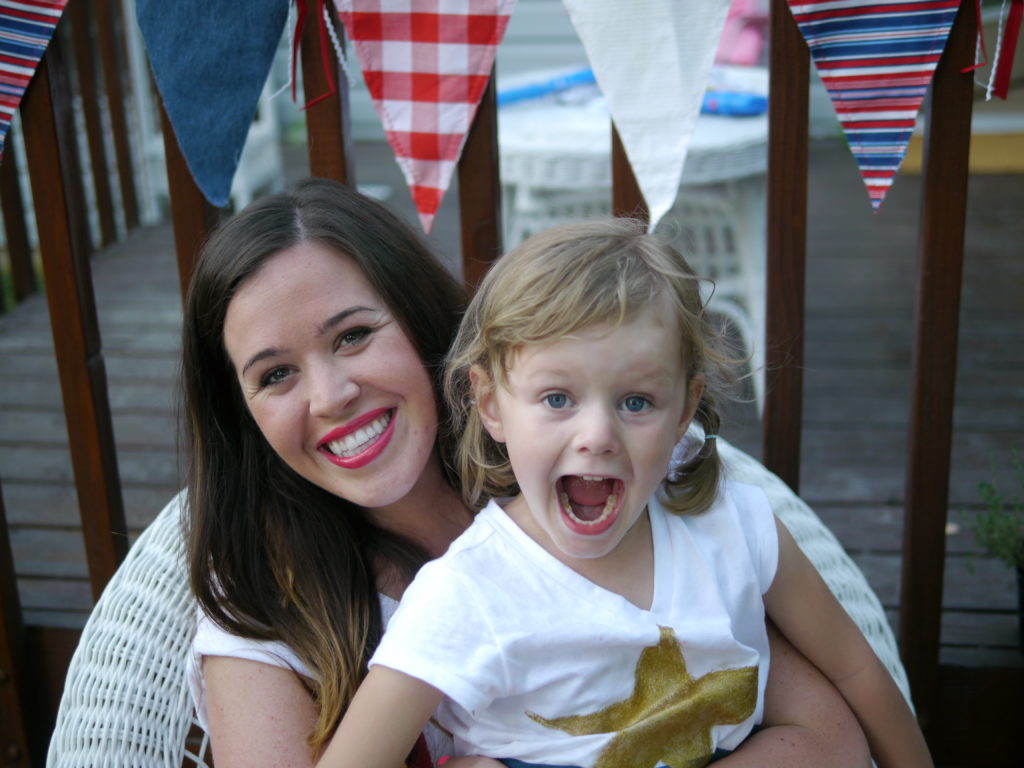 Linky Party