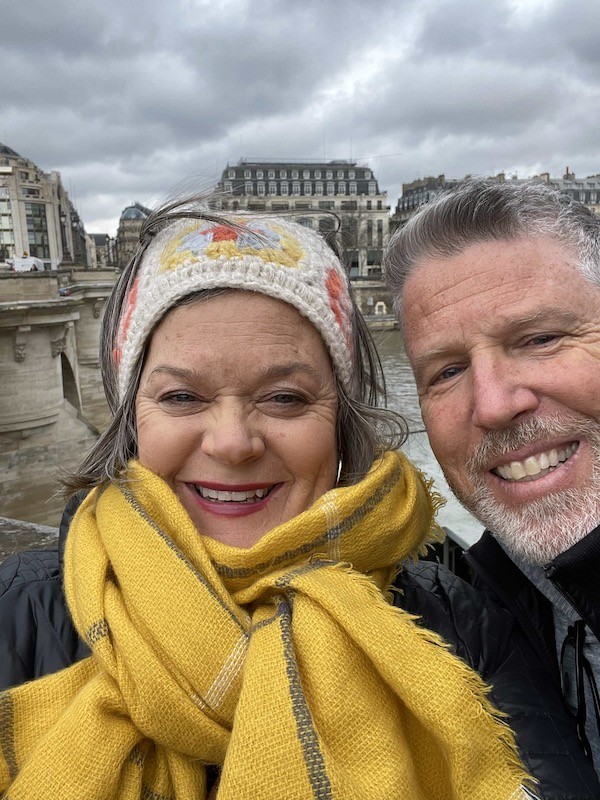 Our trip to Paris France in December was magical!
Let me tell you it was cold and I mean really cold! We bundled up with hats, gloves, long johns and scarves.
Even with it being cold it was TOTALLY WORTH IT!
Lots of store fronts and streets all decked out for Christmas. Beautiful unique decorations and lights everywhere we turned.
Of course the food was delicious and people were very friendly.
Where we stayed on our trip to Paris, France
We stayed in an apartment on Île de la Cité Island in the heart of France just a few blocks from the Notre Dame on the Seine river.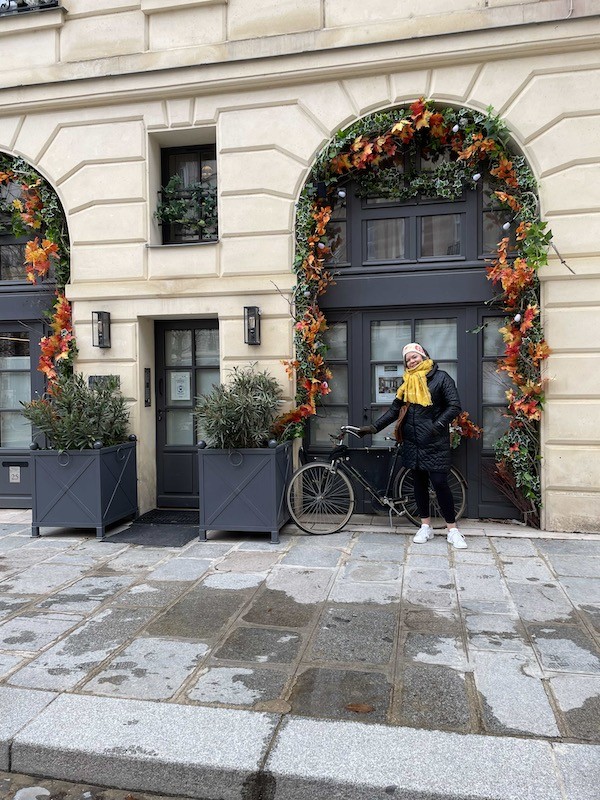 It was everything you would imagine a little French apartment to be like. Below is the foyer of the apartment building.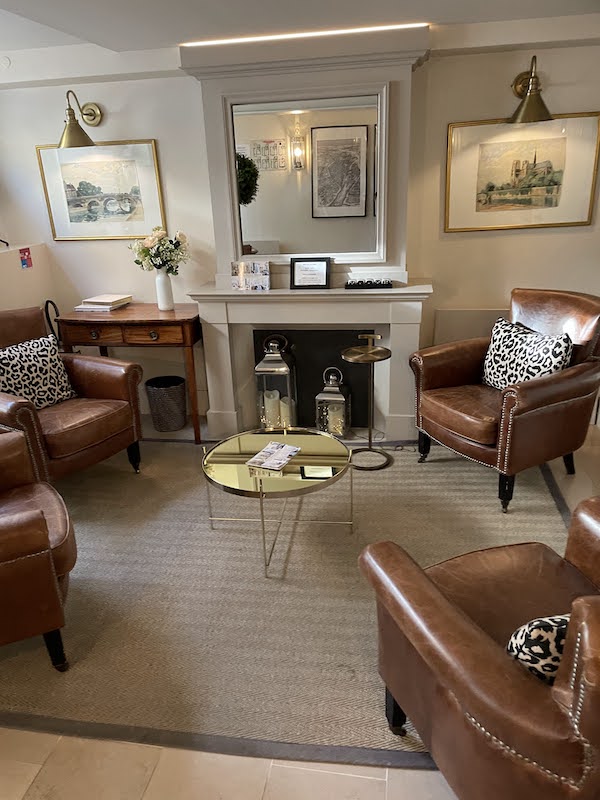 In the living room is a tan sofa and bright colored pillows. I snapped this pic right before we left so ignore my suitcase.
Behind the sofa was a gorgeous gold mirror. It is the epitome of what I think a French mirror should look like.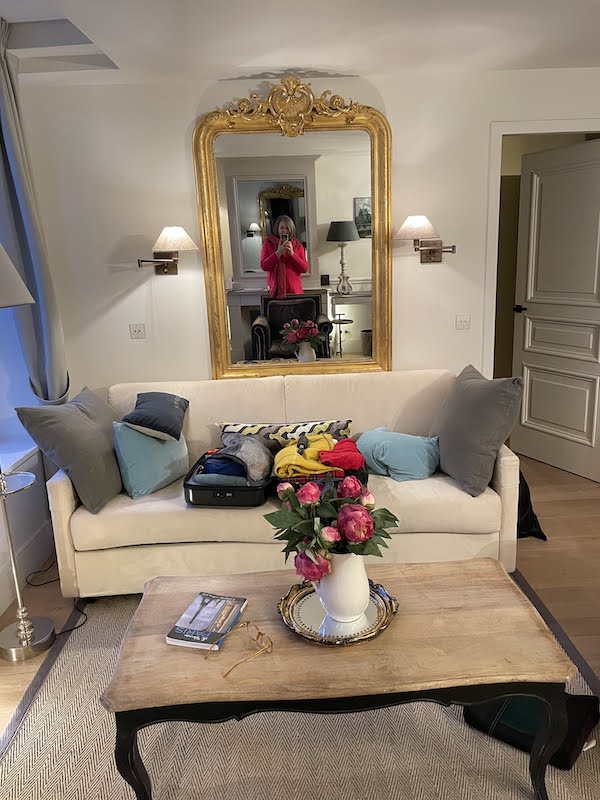 A pretty little coffee table with turned legs.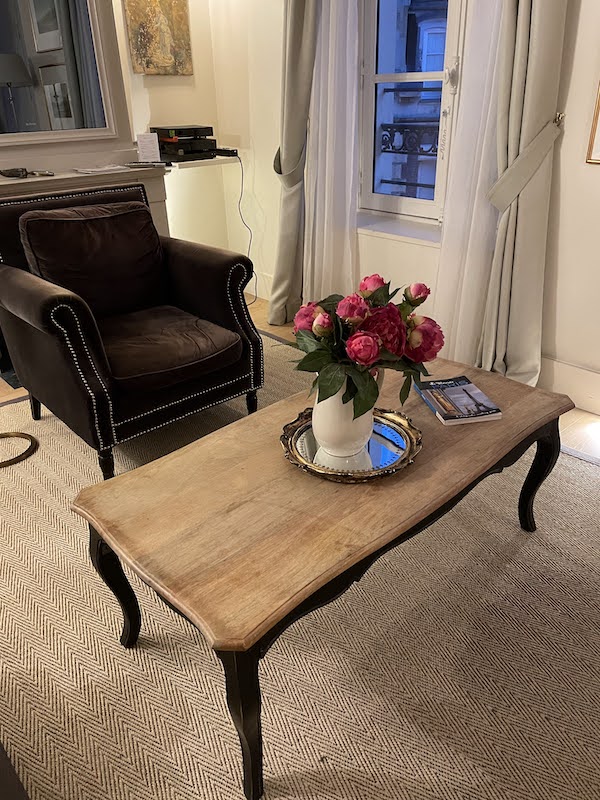 On top of the coffee table was a French looking mirror with a white vase filled with faux pink peonies. We indulged in pastries and yogurt!
They have the best yogurt!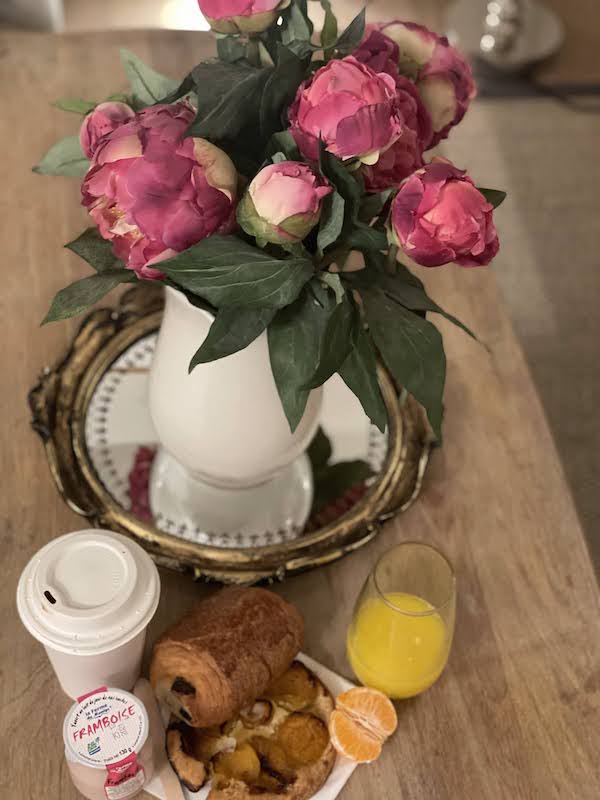 The bedroom was cozy and romantic with a tufted headboard and grey bedding. A pretty French crystal chandelier and another gold mirror hung above the bed.
Antique night stands flank the bed with a little upholstered chair in the corner. A faux fireplace on the other wall completed the room. The bed was unmade so I am not showing the entire bed haha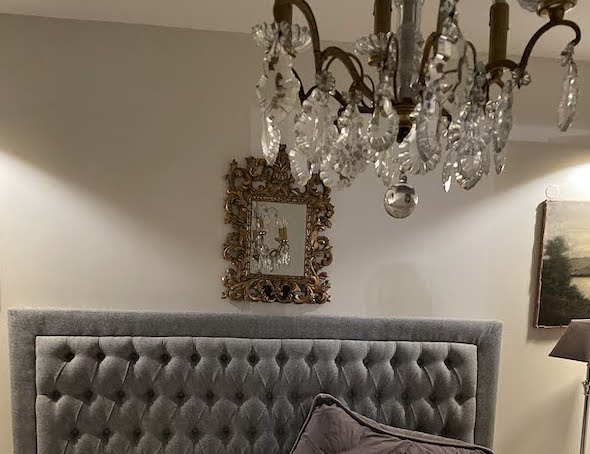 The kitchen in the apartment was tiny but well appointed.
There is a dishwasher and a washer and dryer in there!
Plus an oven/microwave and cooktop. Ignore the trash bin, we were emptying it out before we left.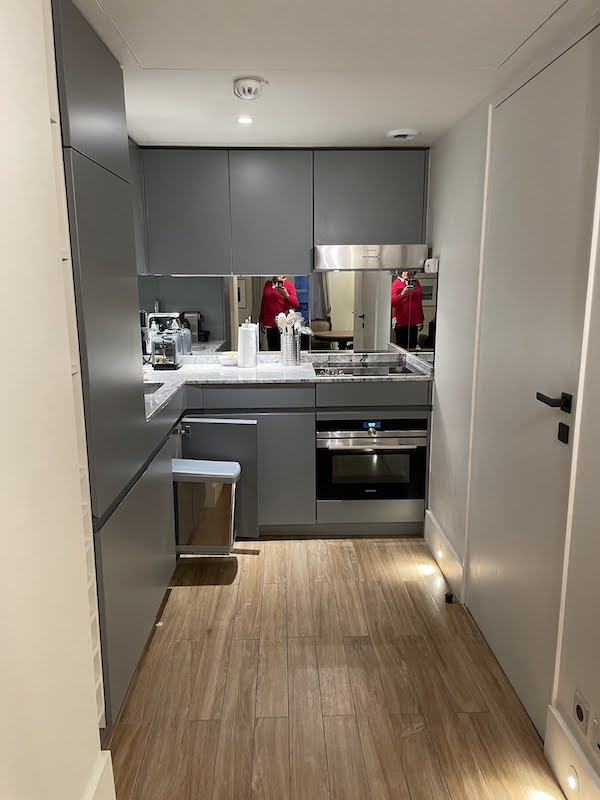 Here is a little video of the apartment right when we arrived. It is sooo cute!
Getting around in Paris in December
It was super easy to get around Paris, walking or taking the Metro was the best.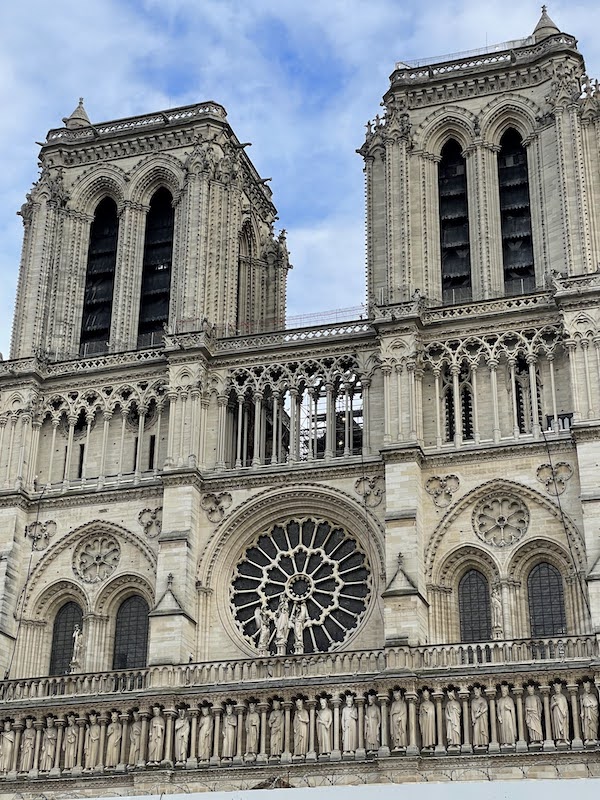 We walked around the Notre Dame and saw all the reconstruction taking place.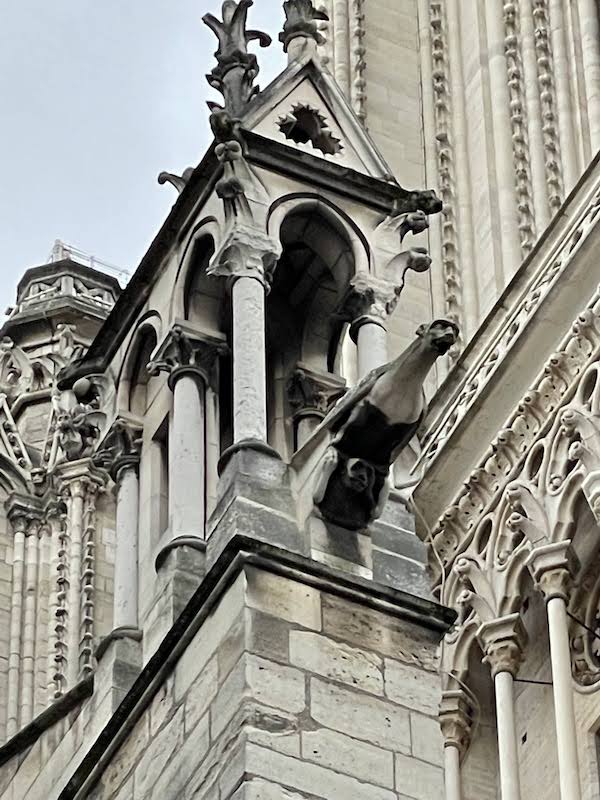 The building is magnificent!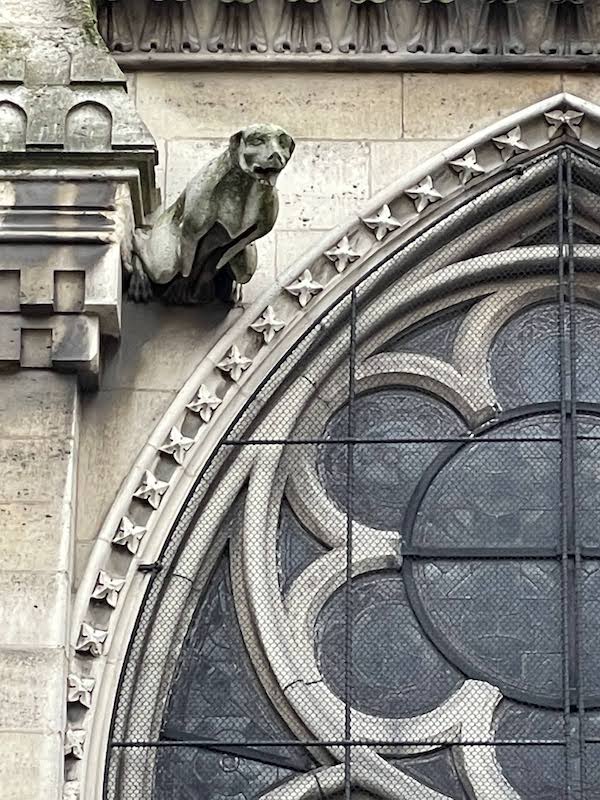 The details are somewhat gothic. The gargoyles that hang over the edges of the Notre dame are meant to keep evil spirits away.
Parvis De L'Hotel de Ville
Just look at how amazing the blue lights are on this building.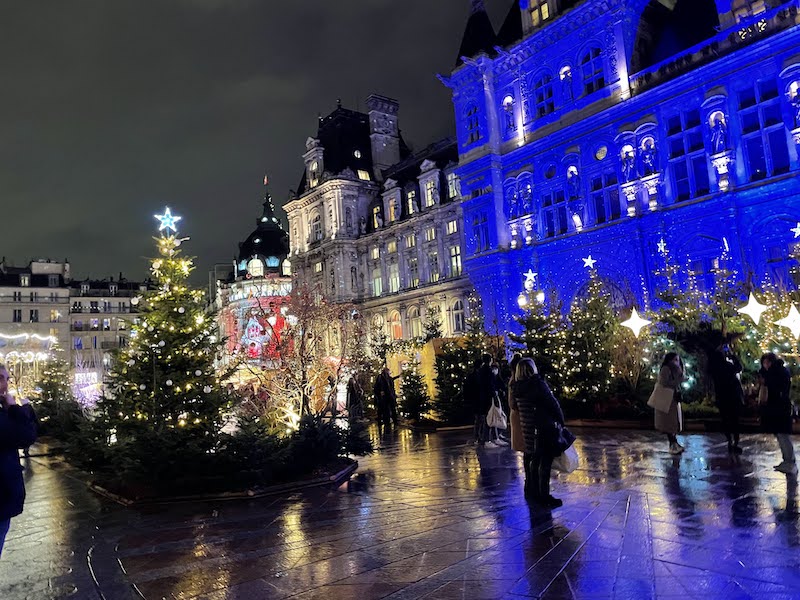 One night we walked to this plaza right in front of the Parvis de l'Hôtel de Ville and it was one of the highlights!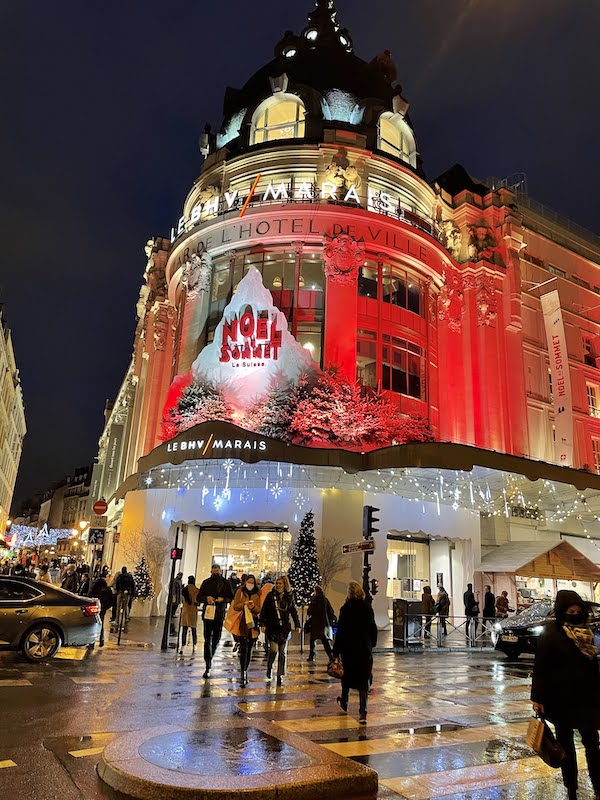 It even looks like snowflakes are falling. In reality the snowflakes are actually an enormous disco ball that rotates slowly with a light shining on and it reflects on the building.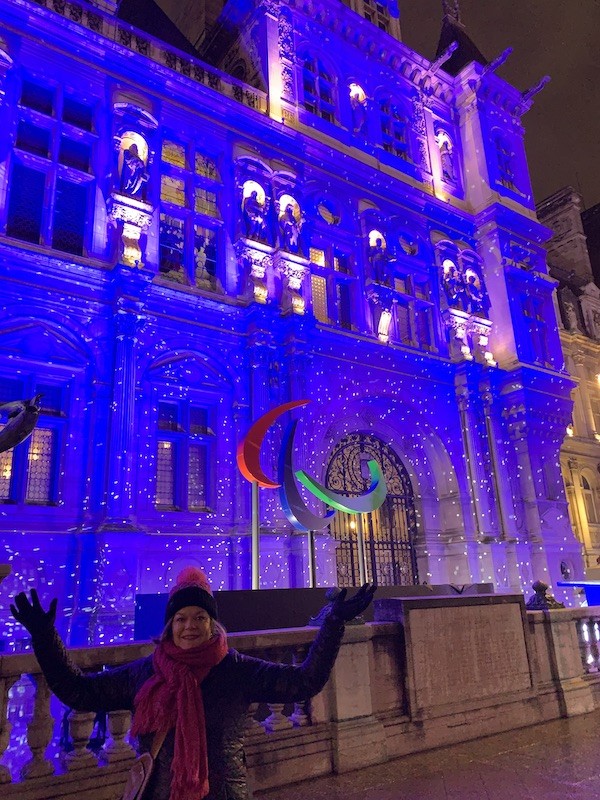 I just could not get over all the details. The lighting, the decorations, the fun vibe going on here.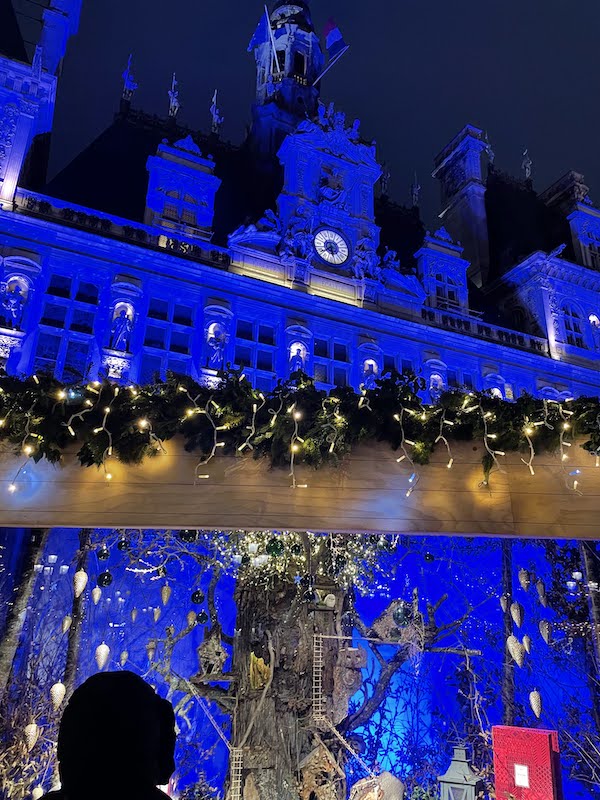 You can enjoy the sparkling fir tree forest and free merry-go-rounds for children. Just look at all the beautiful vignettes meticulously crafted.
We enjoyed some potatoes with 3 different cheese on them as a snack. Oh my was it good!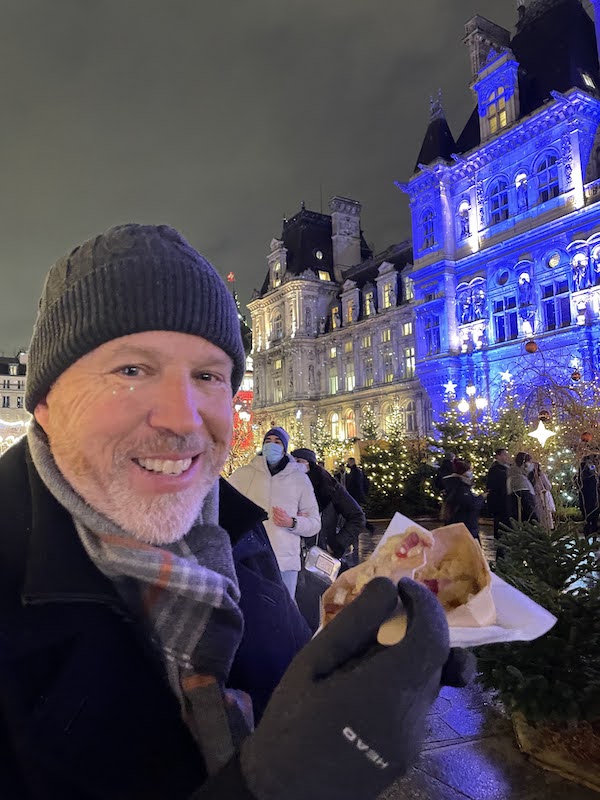 There are lots of darling little wooden Christmas booths selling yummy food items and little crafts. Yes this was heaven!
Jardin des Tuileries Christmas Market
I had never been to a European Christmas market before and this was just incredible!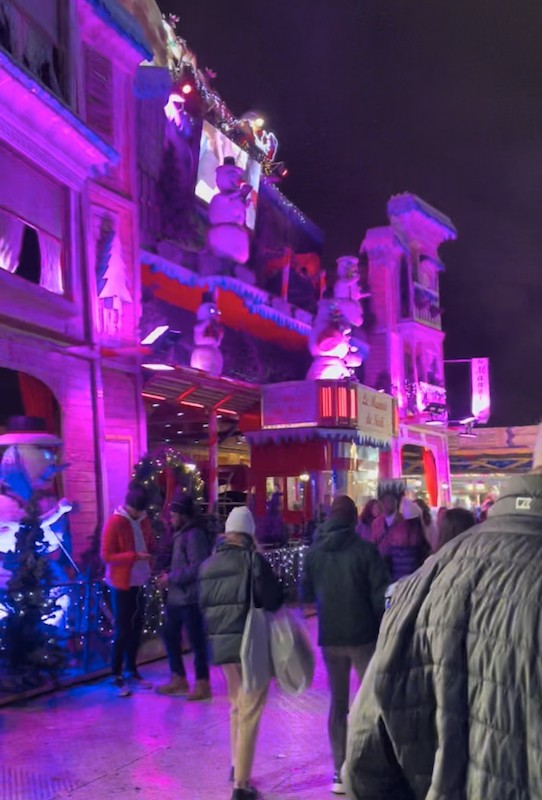 Kind of like a fair/carnival feel all decked out for Christmas! I mean what could be better?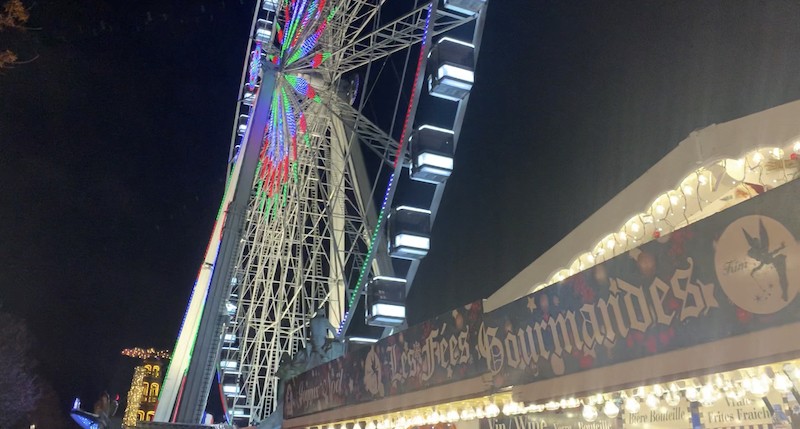 There were rides, food vendors, a gigantic ferris wheel, ice skating and people selling crafts.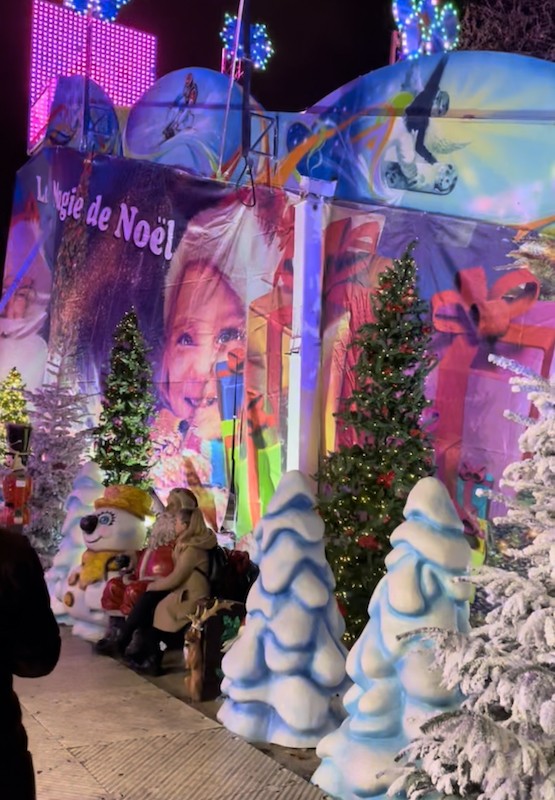 Look at this huge real life wooden windmill!
Seriously this was mind blowing and brought back memories of having one of these set out for Christmas.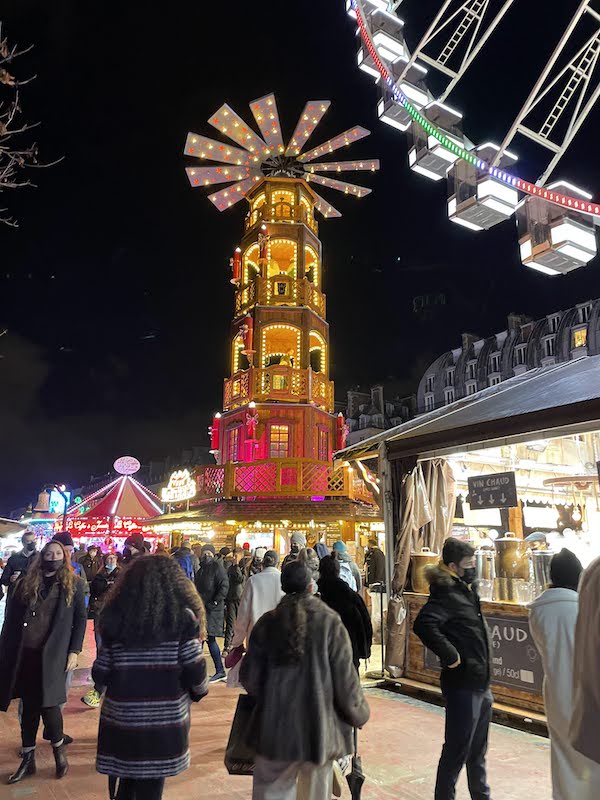 It was so funny to hear Christmas songs playing only in English everywhere! Even these reindeer were singing in English! haha
The Eiffel Tower on our trip to Paris in December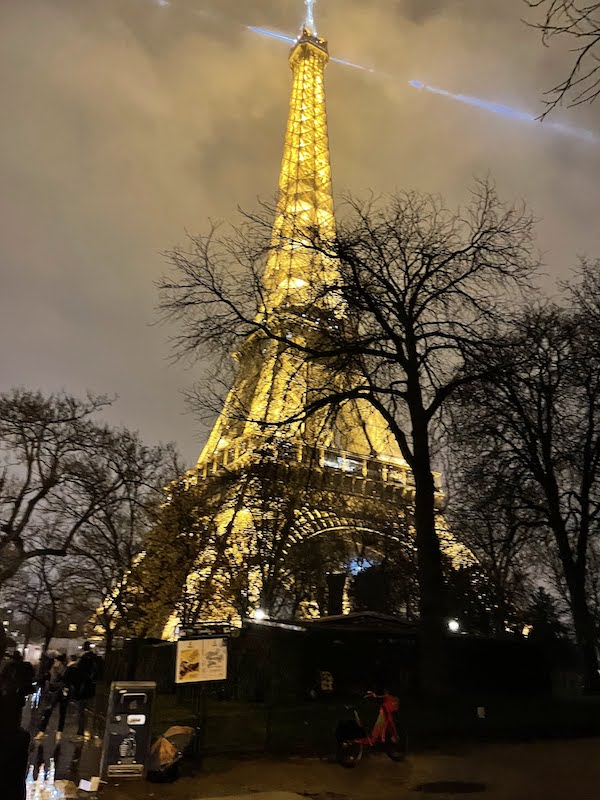 The Eiffel tower is stunning! I had no idea how big it was.
We stood right below it and watched as it lit up.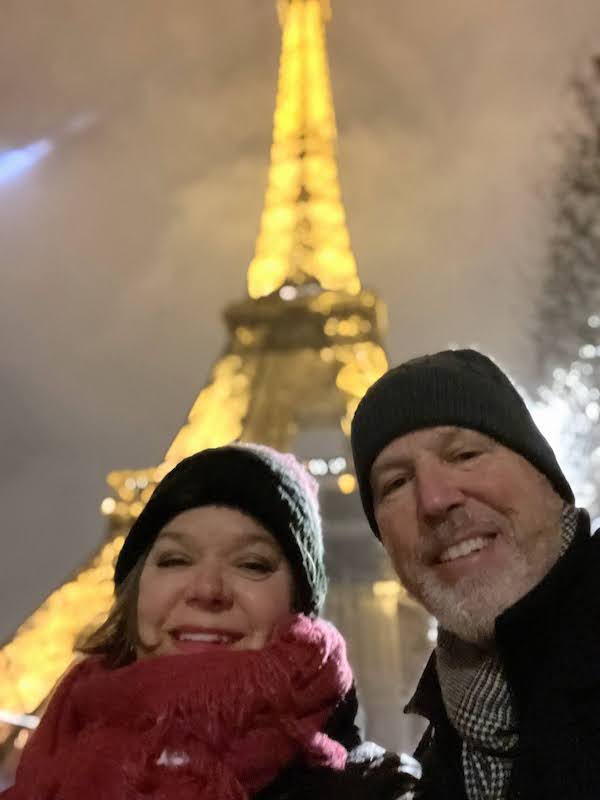 It really sparkles and glows at night. Yes it was raining when we went there… A perfect Paris experience!
I am just posting my videos without editing them so excuse how rough they are. Just keeping it real for you 😉
They turn on the lights every hour on the hour. You can see it for miles aways too!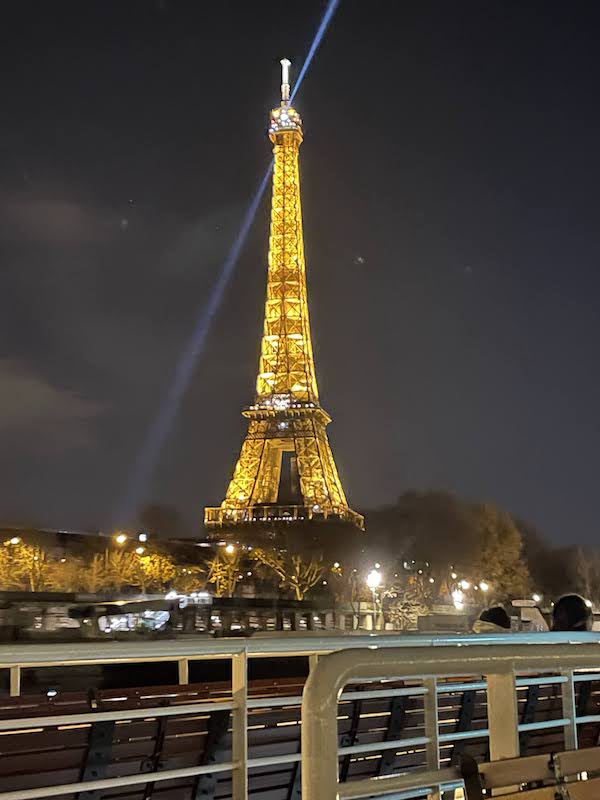 At the top they have beacon light that rotates around and you can see it from miles and miles away.
River Cruise on the Seine
One night we decided to go on the river cruise down the Seine.
It is a large boat with an open top area where you can sit.
Or you can sit below in an enclosed area. We attempted to sit in the open area but it was extremely cold!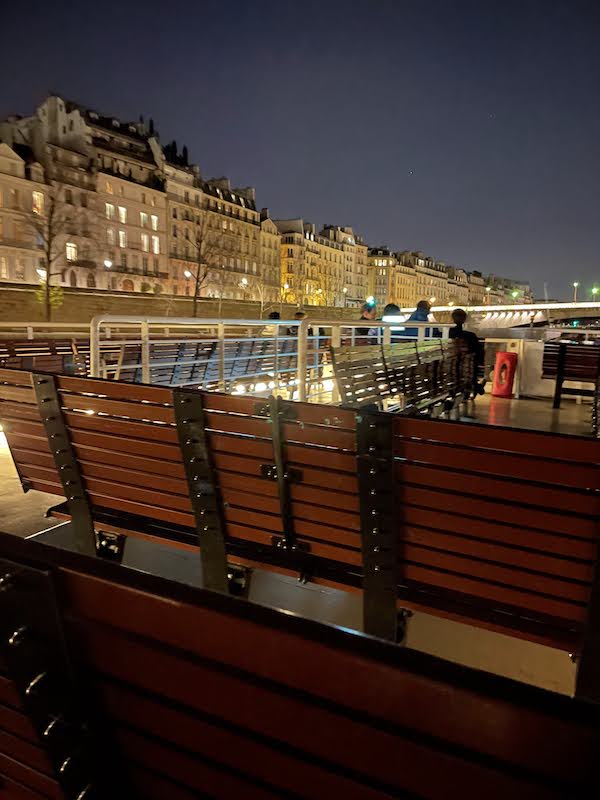 I had to go below but even then it was freezing! I did get a great pic of the Eiffel tower from inside the boat haha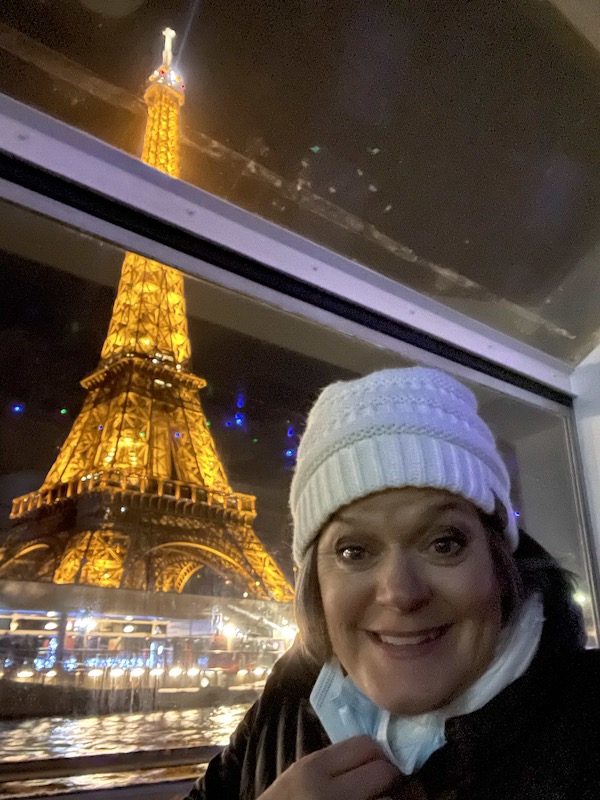 The river cruise lasts an hour and you go by the Assemblee Nationale, Musee d'Orsay, Institut de France, Pantheon, Cite de la Mode, Hotel de Ville, Notre Dame, Conciergerie, and of course the Eiffel tower.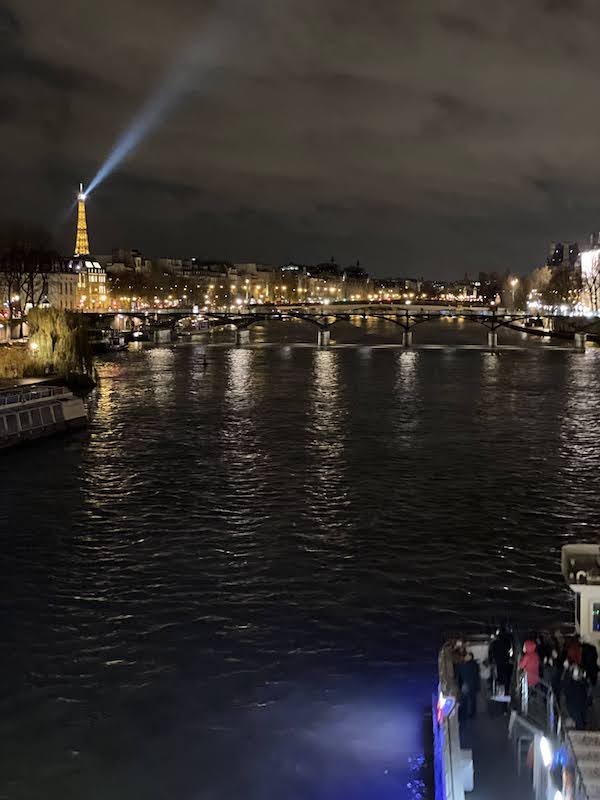 For sure it is something to do even if it is cold. I took the video below from inside the boat so it is not the greatest.
Tip- If you are going in the winter bring a blanket!
Well, I have so much more to share including Italy in December but it will have to be in another post.