Welcome to Karins Kottage linky party where I am highlighting Thanksgiving decor and tablescapes!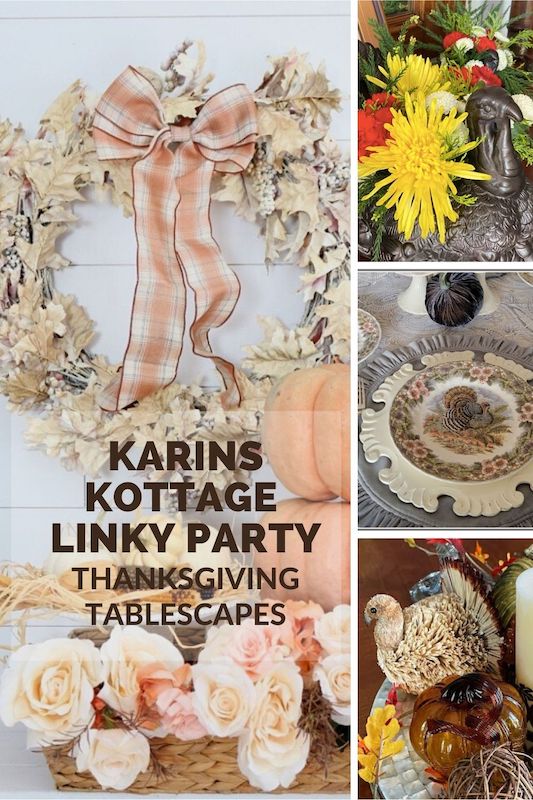 I can hardly wait for Thanksgiving day!
How about all of you?
So many pretty Thanksgiving decor ideas to choose from. One has shared dishes scored from an Estate sale, another found turkey floral holders at a thrift store and turned them into a beautiful centerpiece, beautiful soft peach colored decorations and a tray filled with all things Thanksgiving!
Karins Kottage Happenings
What are you going to wear on Thanksgiving?
Have you given it any thought?
Here is an idea that you might like.
In fact I will be sharing fashion ideas all this week 🙂
How to style black jeans and a white blouse a classic easy to put together look.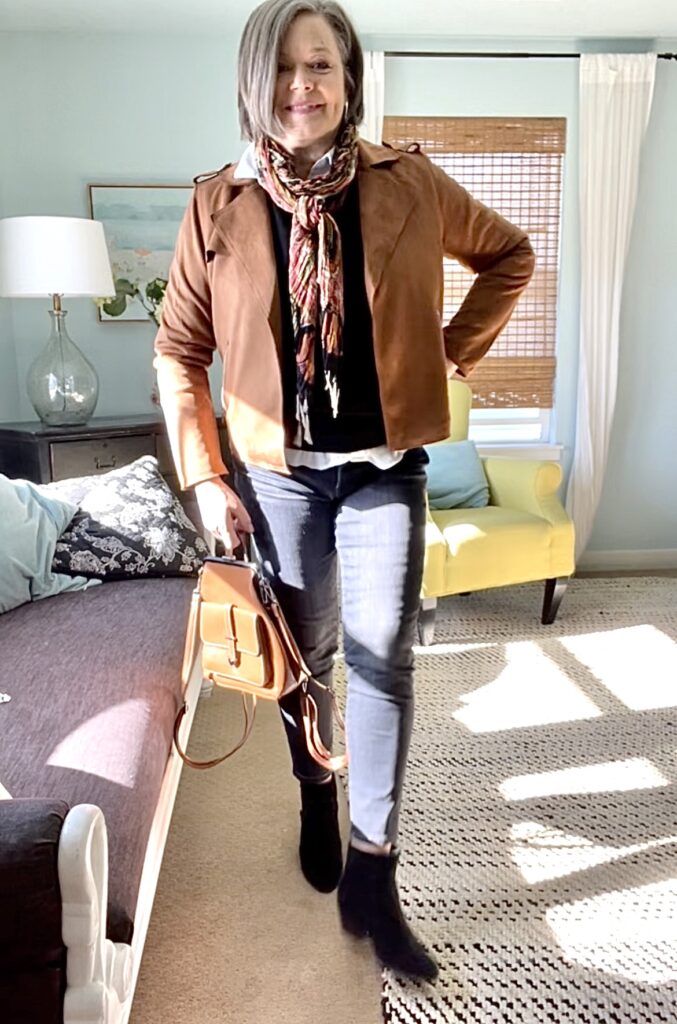 Make sure you check out my banana cake with cream cheese frosting recipe. It is a great alternative to pie for Thanksgiving.
Although I will still be making pumpkin pie for sure!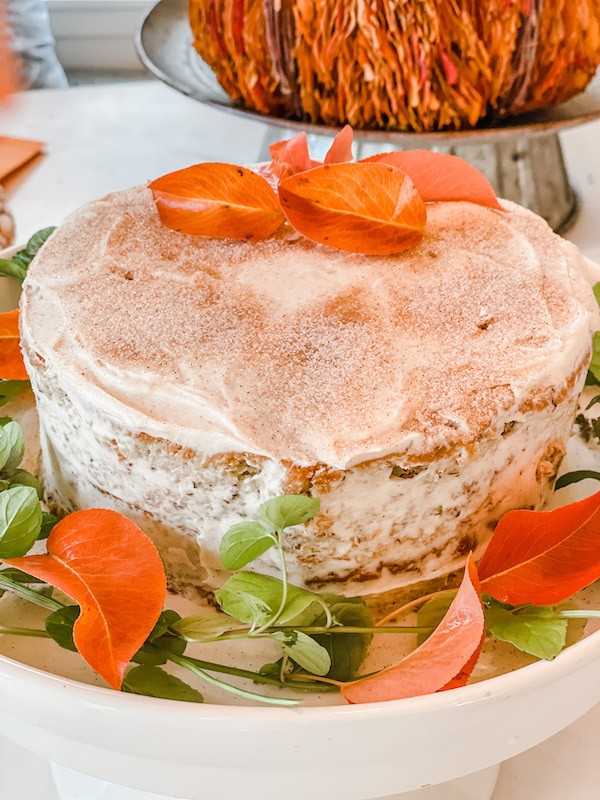 Karins Kottage Linky Party Thanksgiving decor and tablescapes
Alright friends here are the highlights I chose from last weeks party!
First up is The crowned Goat!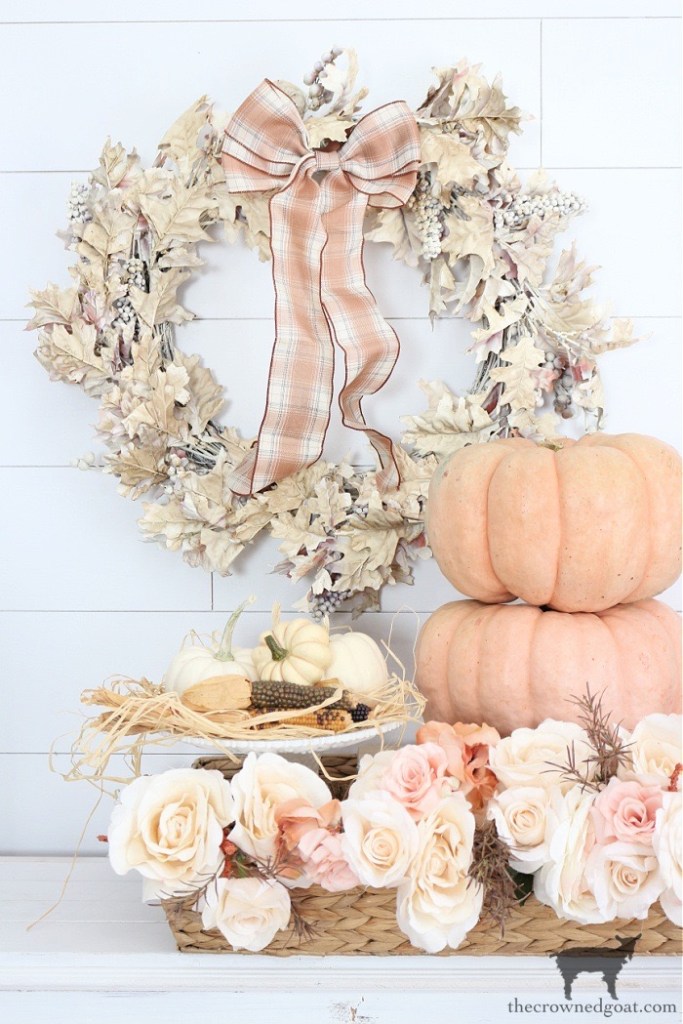 Coco always puts together gorgeous fun things and this Thanksgiving/fall vignette just calls to me!
I love the peach colored pumpkin, the pretty creamy colored leaf wreath mixed with the gorgeous soft pastel roses!
All this is on her kitchen island. I seriously need to do this in my kitchen.
Estate sale Find
Rita over at Panoply seriously scored on these spectacular Thanksgiving plates.
Myott Factory archive illustrations Thanksgiving china that she found at an estate sale!
I have never seen a more beautiful Thanksgiving plate. The soft pastel colored flowers that surround the turkey are amazing sitting against her white and grey charger plates.
You need to see the entire table to see how beautiful it is.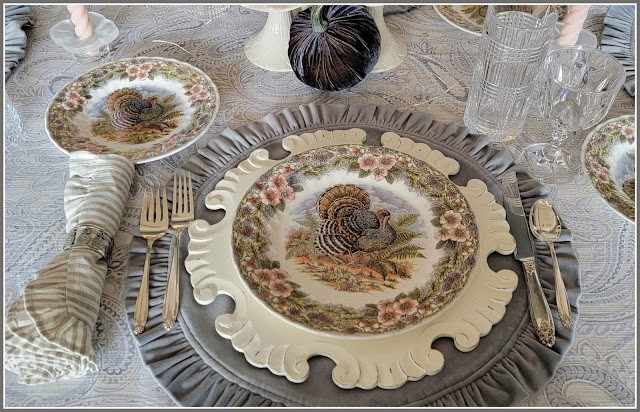 Thrift store Turkey flower vases
You will not believe how these turkeys looked before Lynne at Thrifting wonderland DIY'd these turkeys to make them look like a million bucks!
They started out pretty ugly looking…multi colored and chipped. Lynne could see they had a great shape.
She tried painting them black with some white over it and then tried to distress them but did not like how they looked.
Then she decided to paint them a chocolate bronze color and WOW look at them now!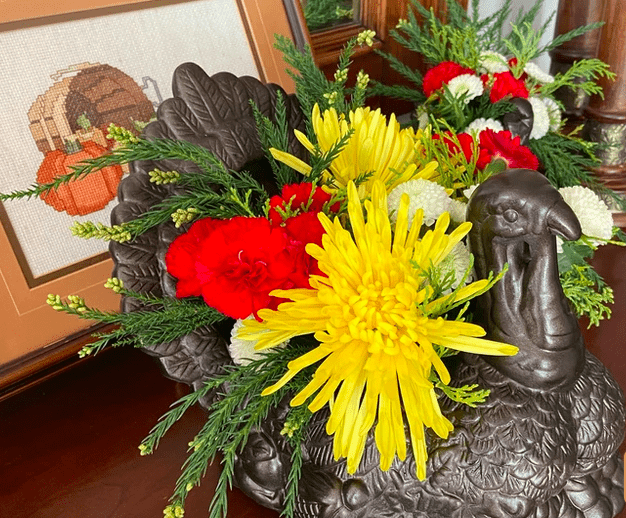 Autumn Thanksgiving Tray
Come to Dinner at 8 shares how she put together this fun fall tray.
Lots of different pumpkins including a golden glass pumpkin, a wooden pumpkin, twig pumpkins and more. The sisal turkey brings in lots of texture. Perfect for coffee table or sitting on your sideboard.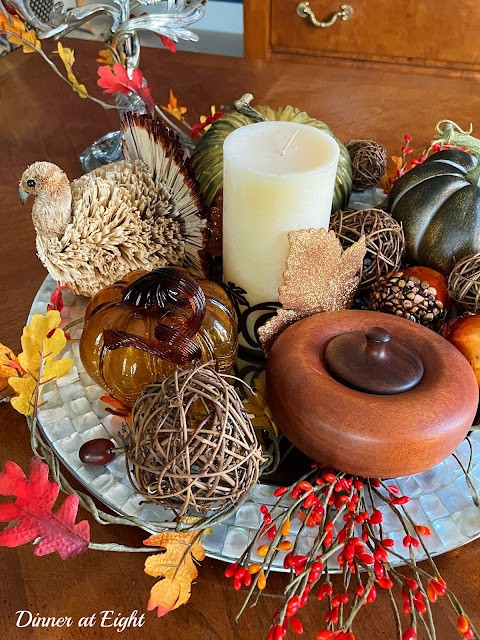 Shop my Like To Know it

Let's Party! Bring out your Christmas ideas!