Hello my friends or should I say Ciao! We are back to Italy during covid and it has been absolutely wonderful once again. Traveling to Italy during covid is a little tricky to get ready before we leave.
We are vaccinated and that helps but we still had to have a negative covid test 72 hours before we left. You do need to show your "green card" which is your vaccination card that is stamped showing proof.
Oddly enough we did not need to show it in the airports but we do have to show it in most restaurants and museums.
We even had to show it at an outdoor medieval festival. Even with those protocols in place it is wonderful to be back in Italy.
Piccolomini Castle in Celano
After getting a rental car we headed out to Casoli where our Palace is. We stopped at Piccolomini Middle Ages castle in Celano, Province of L'Aquila.
One of the great things about Italy is the fact that there is always something new to discover! We had never been to Celano so it was fun to take a pit stop and check out this amazing castle.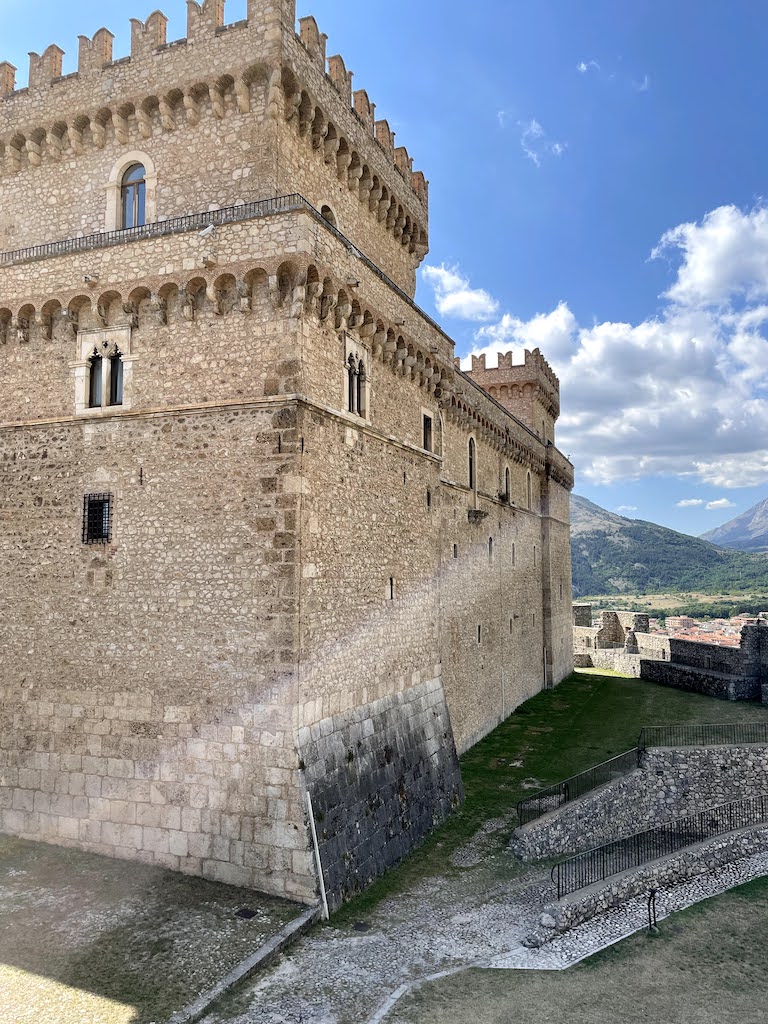 Look at some of the details on the outside of the castle wall. Around the windows and under the eaves.
Inside the arch is a painting but you can't really see it in my photo.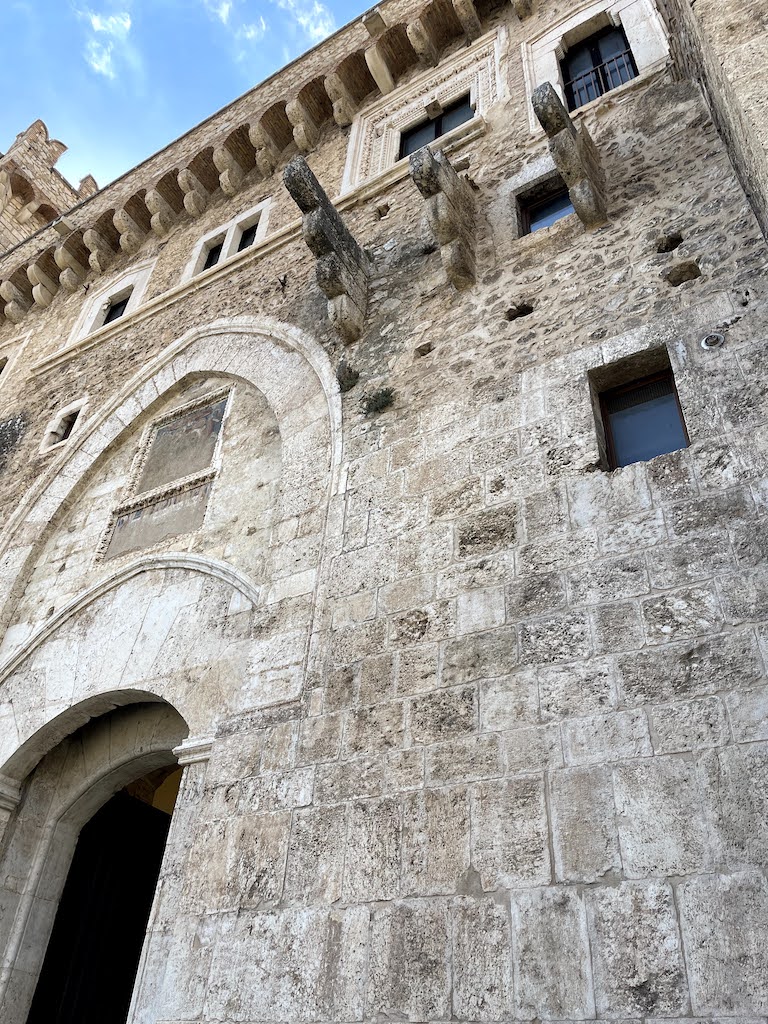 Originally used as a military fortress at the end of the century. XIV , by the will of Count Pietro Berardi, it was subsequently enlarged by the niece Covella with her husband Leonello Acclozamora.
It was completed and transformed into a residential palace by Antonio Todeschini Piccolomini, nephew of Pope Pius II.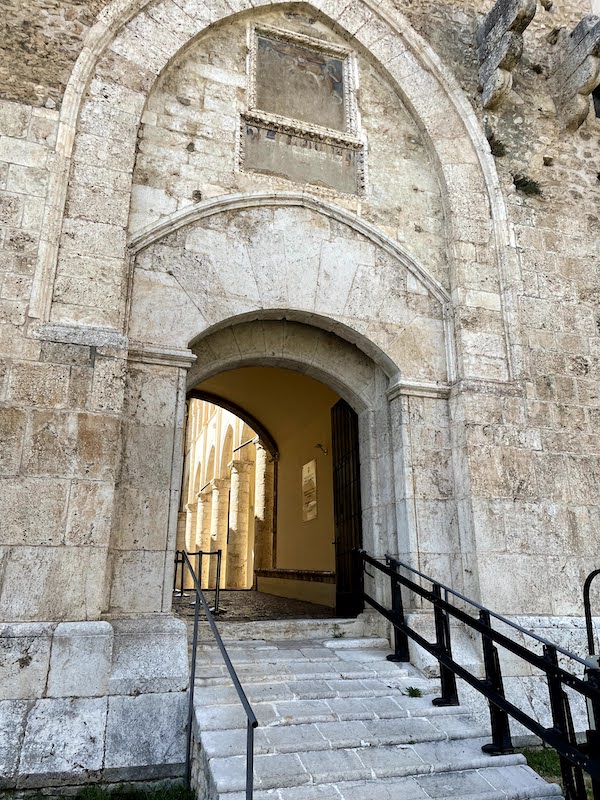 Once you enter the castle you are in the courtyard surrounded by beautiful columns.
The museum unfolds on a single floor through 8 exhibition rooms, divided into several thematic sections: sculpture (stone and wooden), painting (mural, on canvas and on wood) and goldsmith's art.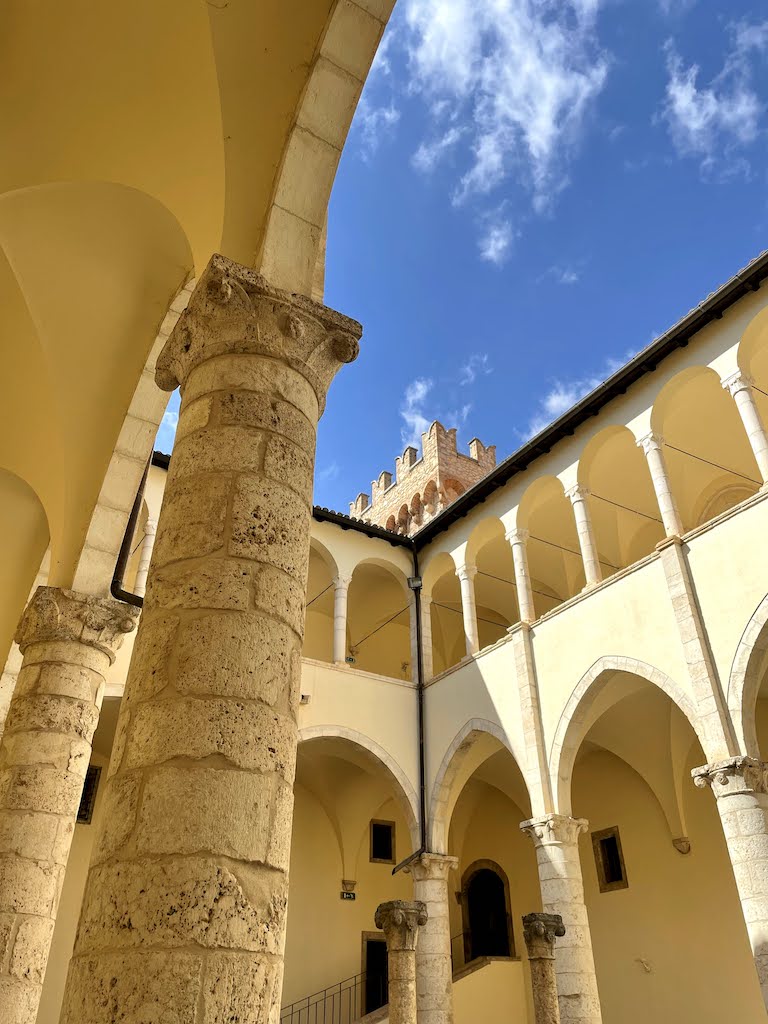 All these works come from all over the Marsican territory and can be dated between the 6th and 18th centuries!
In one area you can see a jail cell or a dungeon area.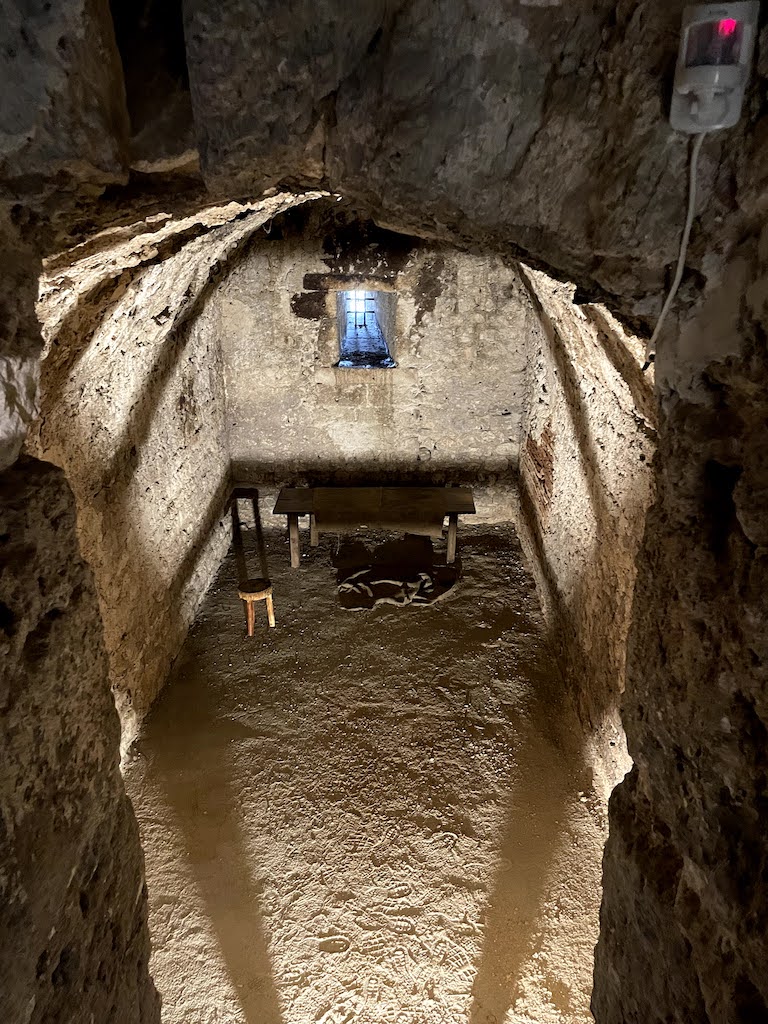 There are many amazing ancient artifacts like this helmet and swords from the 1300's. There were all kinds other helmets, swords and tools all on display under glass.
It is always fascinating to me to see what they used and how they made these things back then.
Can you imagine wearing this type of helmet and how uncomfortable it must have been let alone wearing it on a hot day!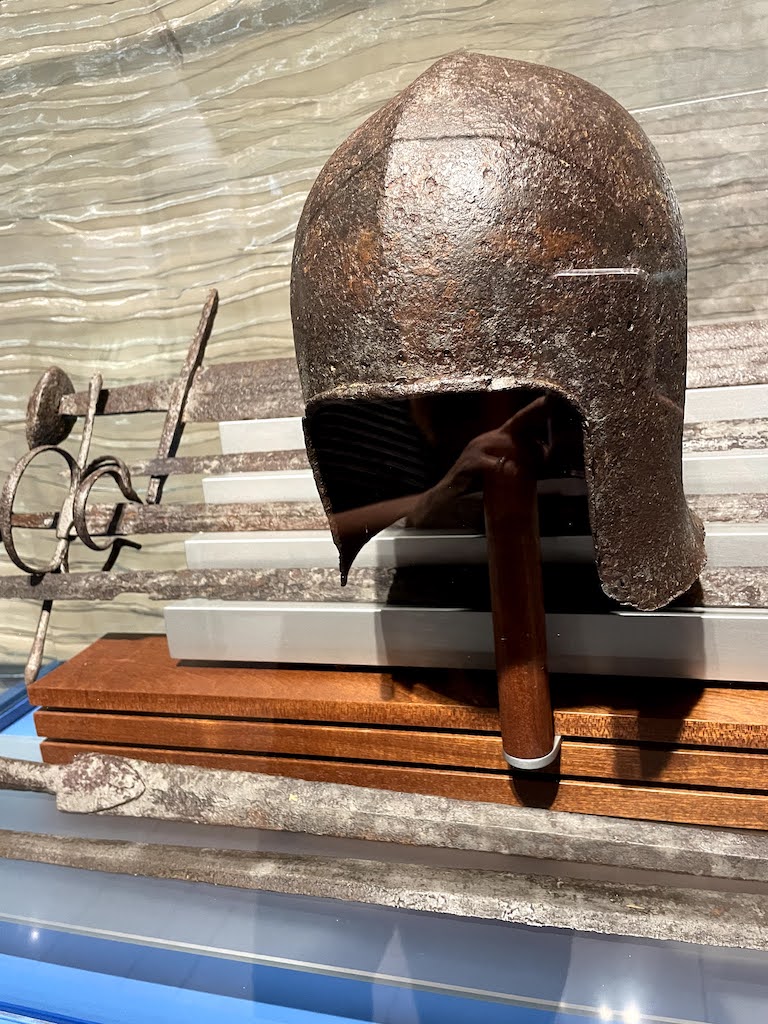 Beautiful artwork on display
Really amazing Christian artwork was on display.
Their attention to detail is phenomenal to me. The piece below has all kinds of intricately formed metal decorations and jewels surrounding the painted face of Mary the mother of Jesus.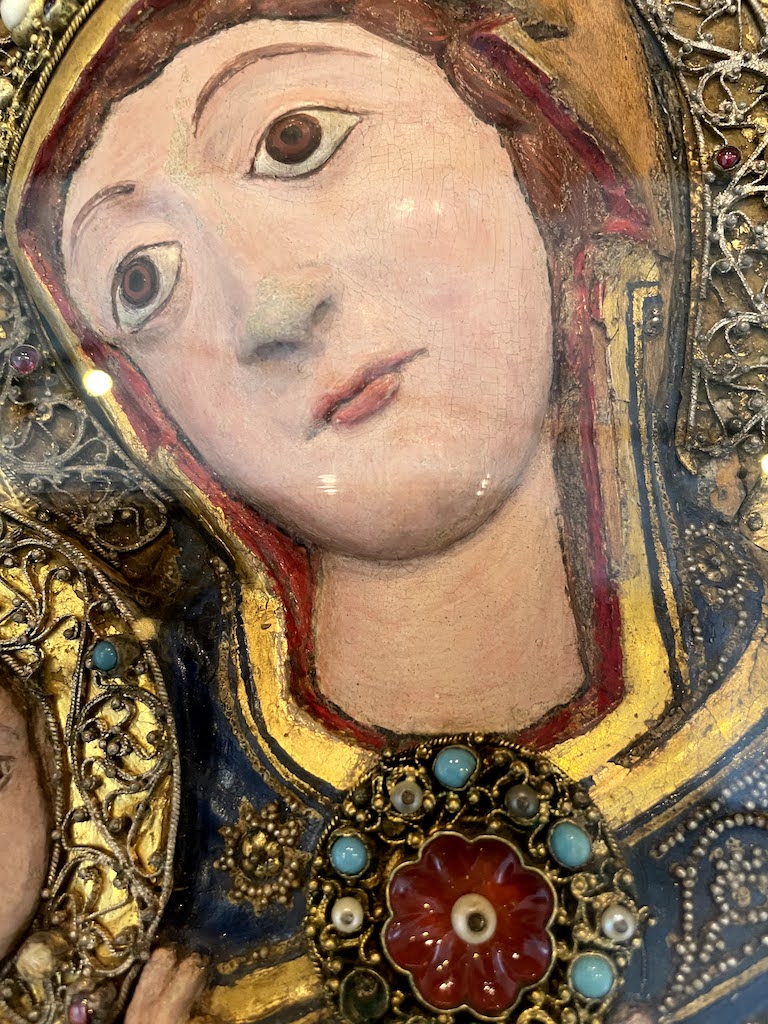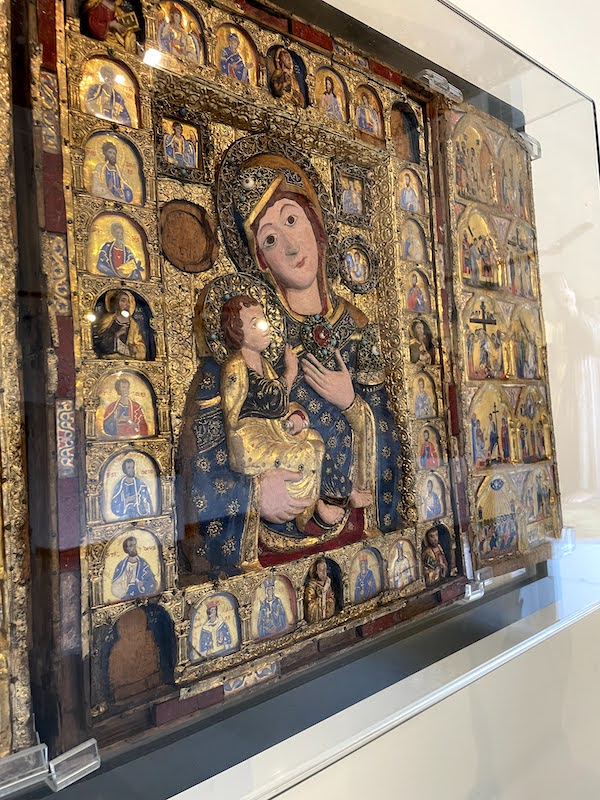 Amazing pieces of stone on display from the castle after an earthquake.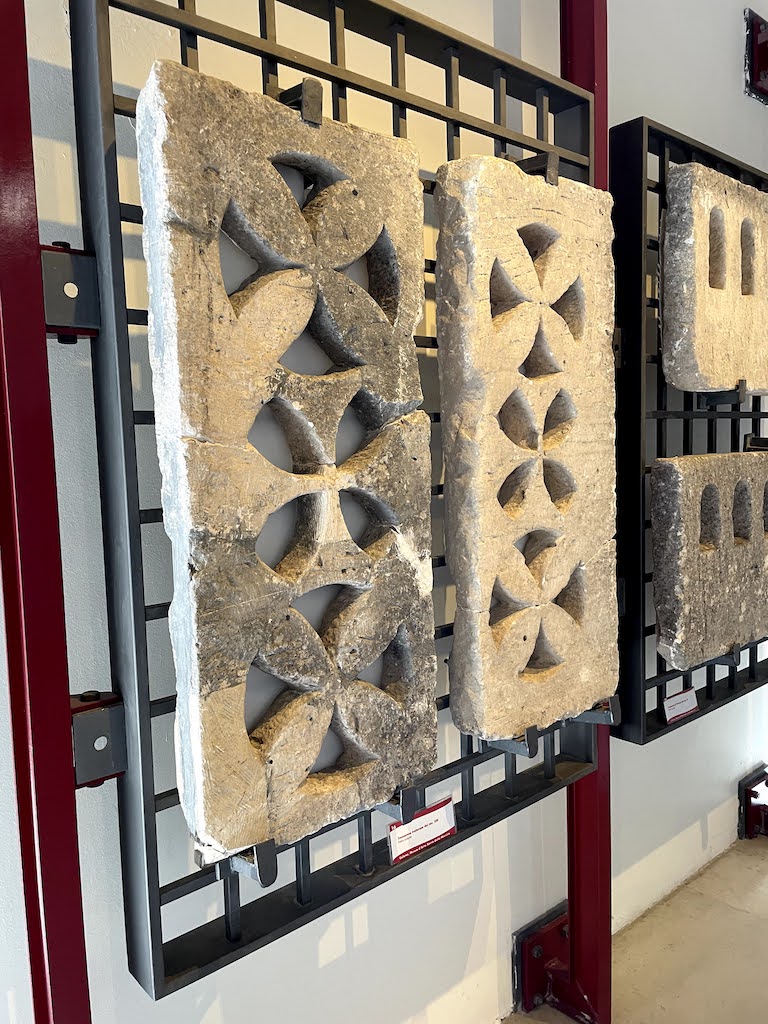 There were multiple hand carved statues of apostles. I really liked this one of the apostle Peter holding a fish.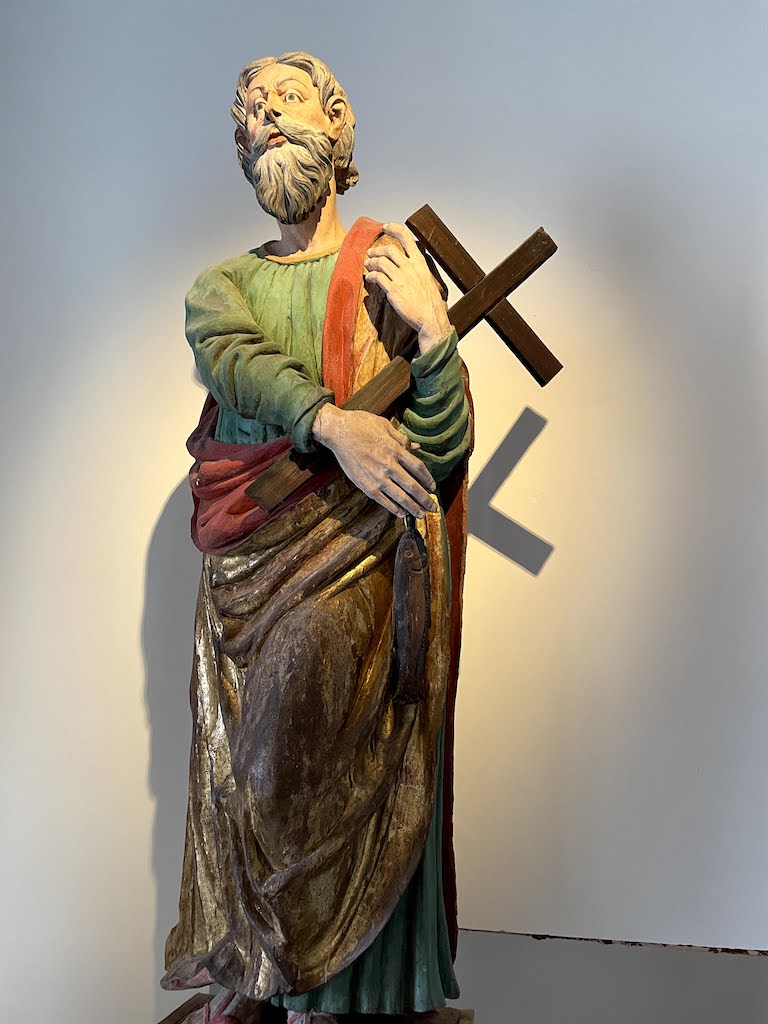 While we were there, two artists were working on restoring a painting. You can see the artists in their white coats at the back on the right in the photo below.
I can't even imagine trying to restore a giant painting dating from the early 1300's!
Can you?
Look at the details of this cross that was also on display.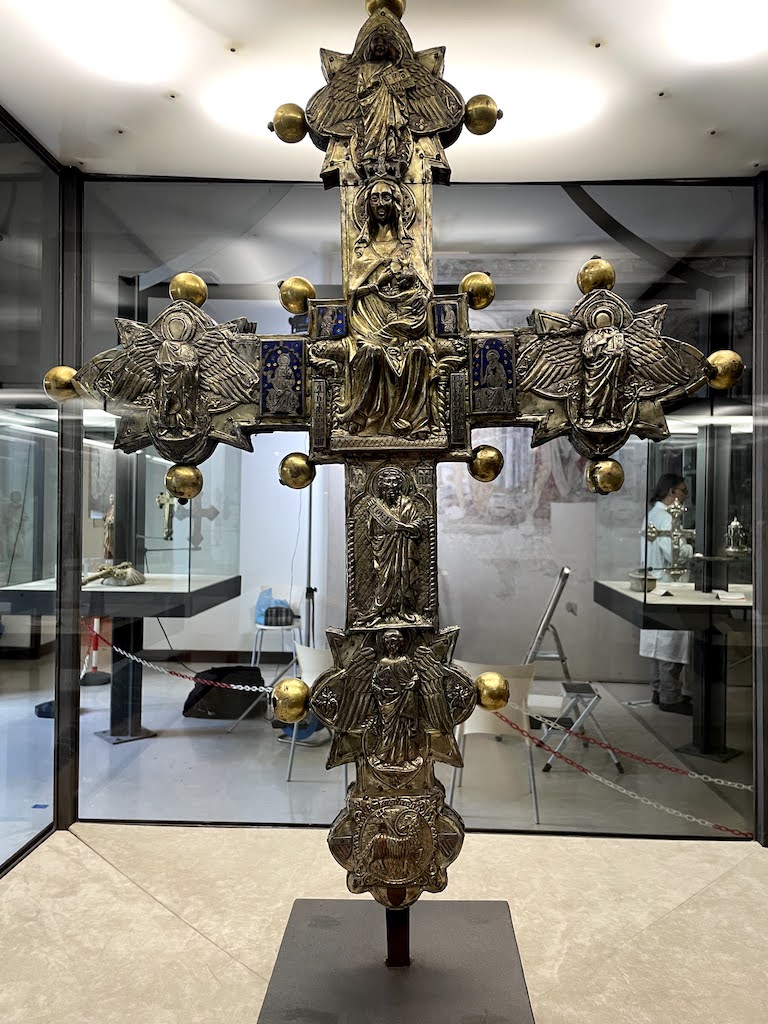 Of course after we toured the castle we stopped to get some gelato!
We make it a goal to have at least one gelato a day haha.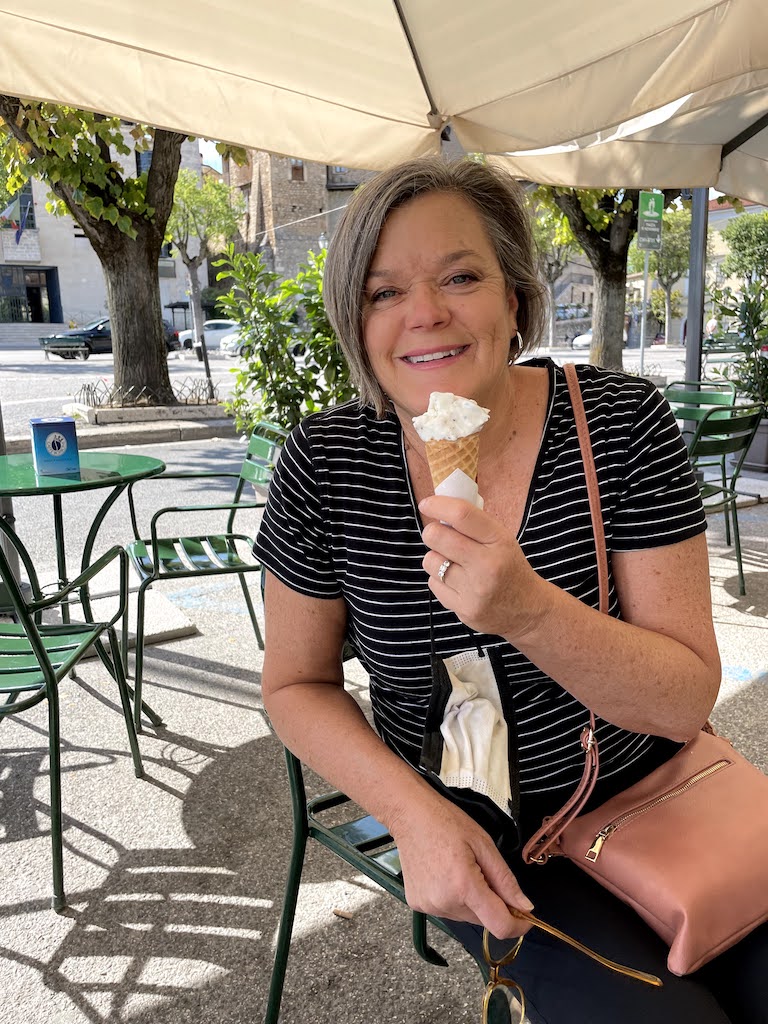 After our gelato we headed to Casoli! I love driving into town and seeing all the buildings in bright colors.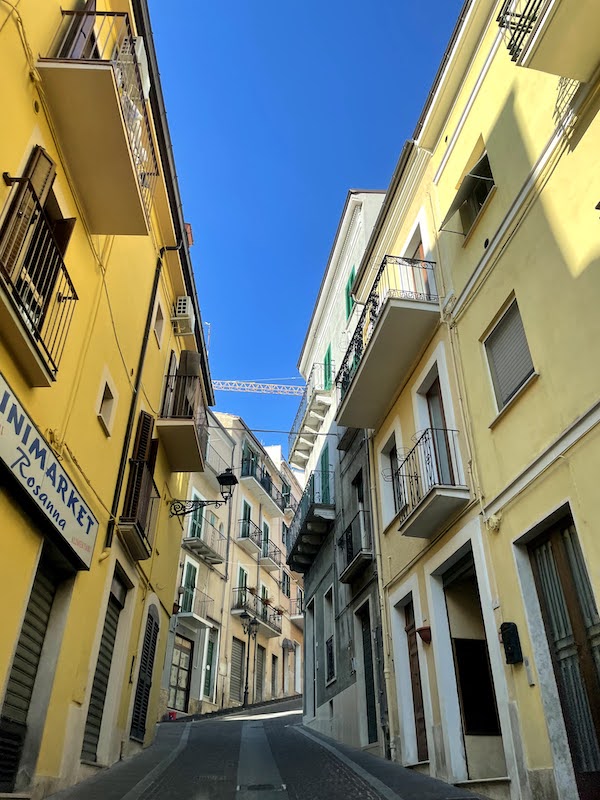 Here is our Palazzo! It will continue to be wrapped until more of the construction is completed.
I will be sharing more about the construction process later.
It is ahead of schedule!!
Read more about our Palazzo here and if you are interested in learning about fractional ownership you can go here.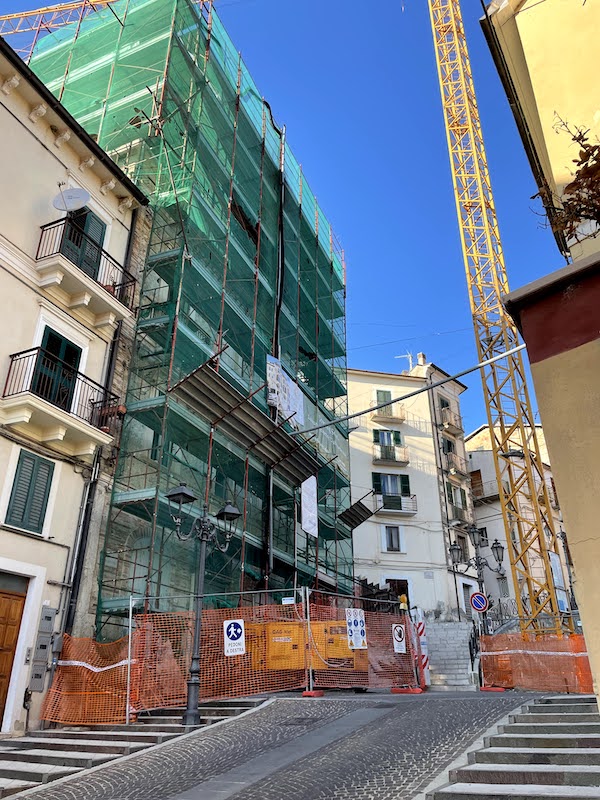 Ciao for now!