Fun Gourmet S'more party for the whole family! Think outside the box as to what to use for the "Graham", the chocolate and even marshmallows.
Setting up gourmet s'mores bar
To start with we used lots of different flavored graham crackers and some waffle crackers…yummmmy! We served them on a white tray so they are easy to pick them up.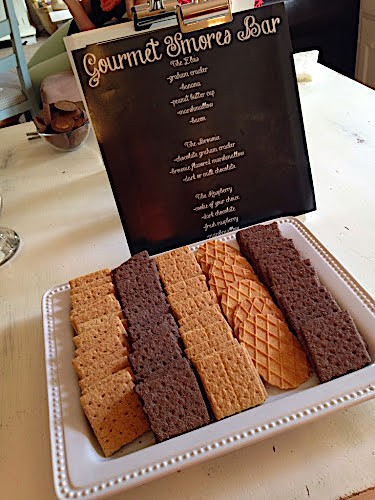 Small glass bowls were filled with different chocolate options. Peppermint patties, peanut butter cups, dark chocolate bars, milk chocolate bars, and of course Nutella!!
Marshmallow Flavors
My sister Tiffany used all kinds of flavored marshmallows like blueberry, ice cream cone, caramel, chocolate, strawberry and they were all purchased from Walmart.
My daughter Madeline figured out a way to display these mini chalkboards by using a clothes pins clipped to the bottom edge and laying it on its side…so stinkin cute!
A huge glass apothecary jar held giant marshmallows in the center of the table.
Decorations
Above the table we hung white paper lanterns and red white and blue paper lanterns.
I had forgotten that My daughter and I made these red white and blue crown type decorations for Tiffany a few years ago. When she brought out the box of them we decided to use them as little covers for her chandelier…pretty cute huh?! We saw these in a Country Living Magazine and made some of our own
Our cute mom munching on yummy s'mores
Menus
We reused these darling printed menus that my friend Kim had. Simply create them on an app like Canva. Then print them on photo paper! Write lots of different s'more recipes to give guests ideas on how to make a gourmet s'more!
At first we couldn't decide how to display these menus but then a lightbulb went off when I found a bunch of empty frames in my sisters house.
I was hoping they would fit inside the frames but they were too big, then my mom said hey what if we clip them onto the frames! Brilliant idea! Tiff had these huge silver clips and they worked like a charm!
Roasting the Mallows
We used sterno cans that we lit and used to roast the "mallows" These are the kind you use in a chaffing dish. They are perfect to use indoors.
A friend of Tiff's made these adorable 4th of July pinwheels that we used on the tables as well.
A mason jar holds all the wooden skewers in one place for guests to grab.
Lemonade stand
Using this navy fabric with white stars as a tablecloth. We set up a simple lemonade stand area outside on the deck to get the flow of traffic to move outdoors.
Out on Tiff's new backyard deck we continued with the red white blue theme and her red Adirondack chairs were perfect!
It was such a fun get together and such a fun way to celebrate a Missionary call to Washington D.C.
Elli loved how the party in her honor turned out!
Shop This Post

Pin For Later