Memorial Day Weekend is coming!! I have put together some fun Memorial Day table decorations that anyone can do. It is always fun this time of year to make it festive for your family and friends.
I love to create a patriotic tablescape in red white blue. It reminds me of how blessed I am to live in America and to enjoy the freedoms we have.
Easy Memorial day table mason jar centerpiece
I put this Memorial day table centerpiece together in about 20 min! It is so easy to do. You will find my mason jar centerpiece tutorial here.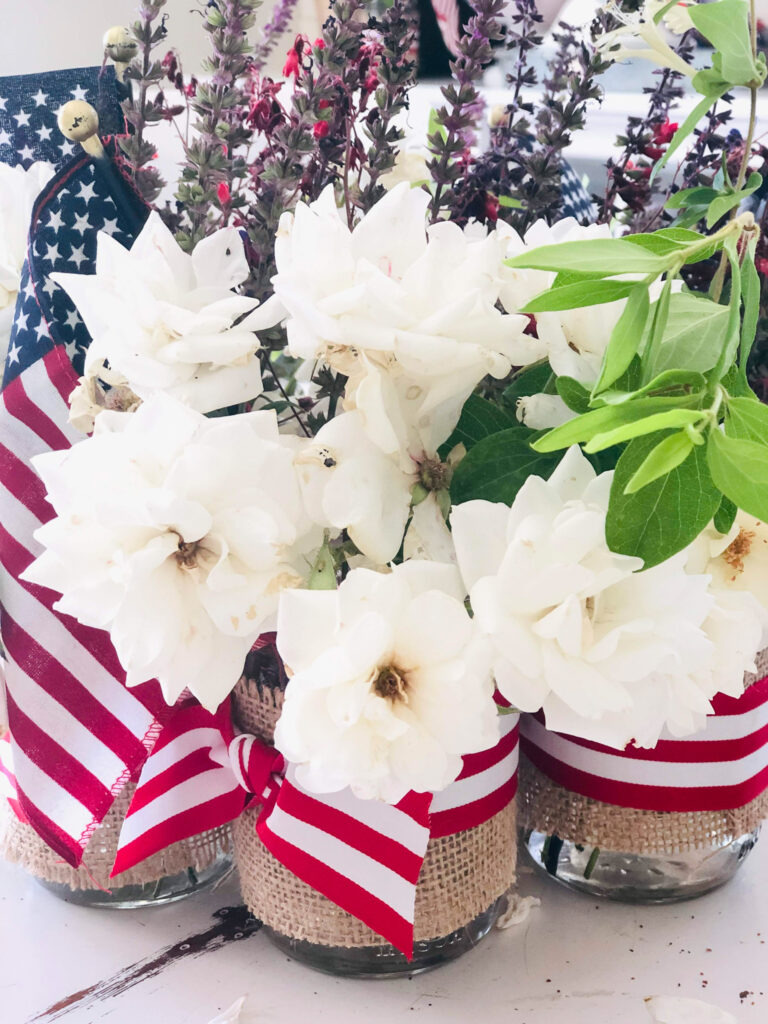 Elegant picnic crate
This is such an elegant fun idea! Using a an old wooden crate filled with blue and white willoware dishes, blue and white napkins and a collection of old silverware. I found this photo years ago but I don't remember where I found it.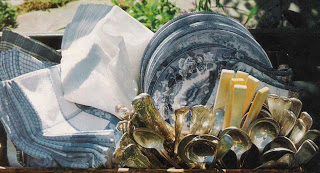 It just says something special is happening doesn't it!
Displaying your food
How you display your food says a lot too. It just looks more inviting when the fruit is cut and placed on a platter nicely, chips in a basket instead of out of the bag, a few votive candles and voila…it is a party!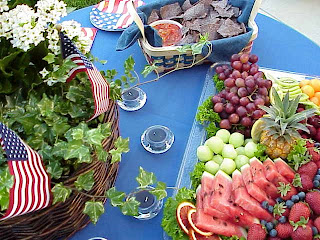 (I cannot find who to credit for this photo)
Love this idea…stacking white footed dishes one on top of the other and filling them red and blue fruit! Simple and yet stunning.
I did a similar look in a galvanized 3 tier serving tray that you can see here.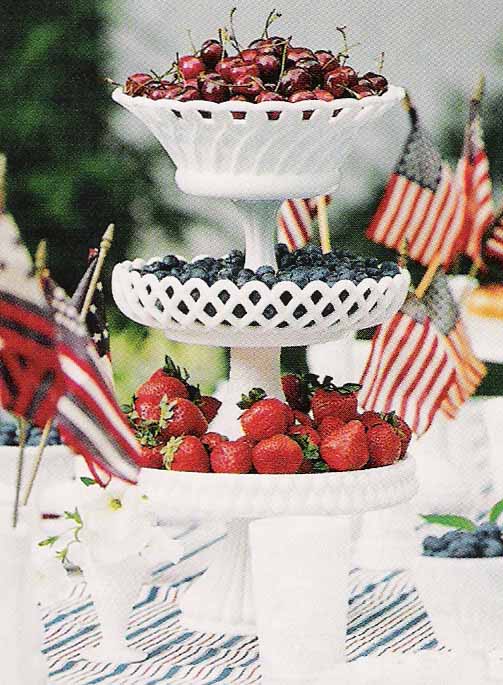 This is a mixed berry Clafouti and it looks perfect for Memorial or 4th of July. I found it on the BHG website.
My mouth is watering is yours?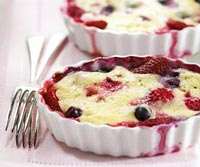 Red and white striped bowl with corn on the cob and flags stuck in amongst them.
Llobster and red and white dish towels ready for eating!
This is how I picture all of you on East Coast celebrating!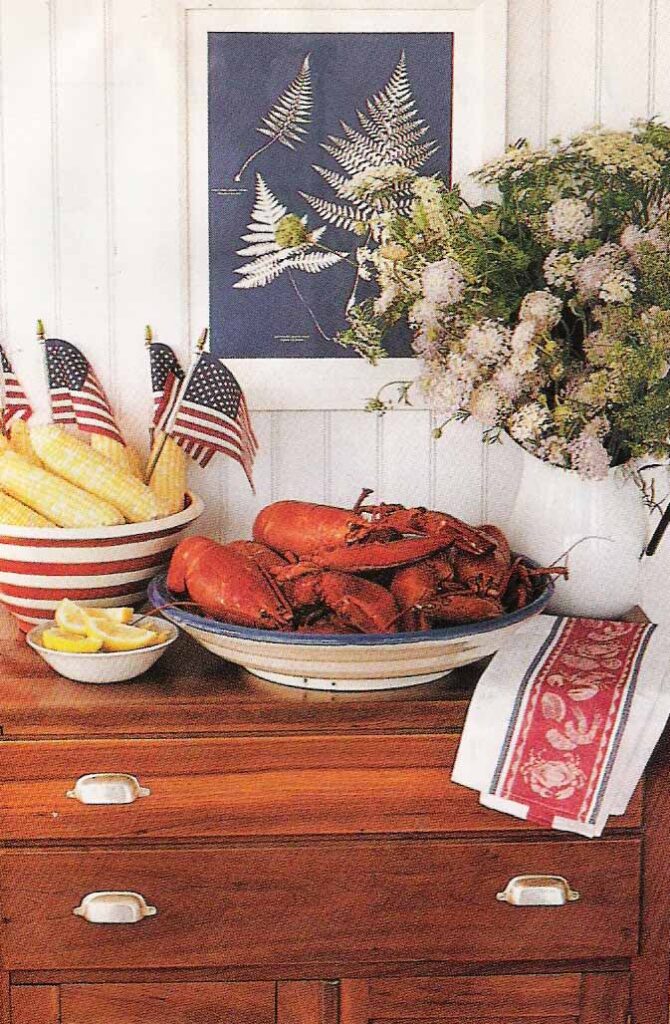 Love this Napoleon dessert.
Using frozen filo dough and baking the sheets sprinkled with sugar and once baked, layering them in between layers of whipped cream and vanilla pudding sprinkled with red and blue fruits!
For an easy 4th of July trifle try my recipe out here it is made with pound cake!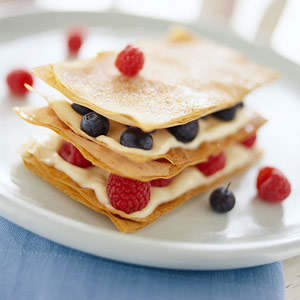 Memorial Day table centerpiece decorations
Look at this simple centerpiece…carnations, a few flags and star picks and a few greens and instant sparkle to your table.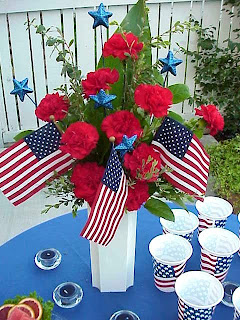 Or how about this centerpiece…I used silks mixed with real flowers, a few flags and stuck them in a white metal flower tin vase.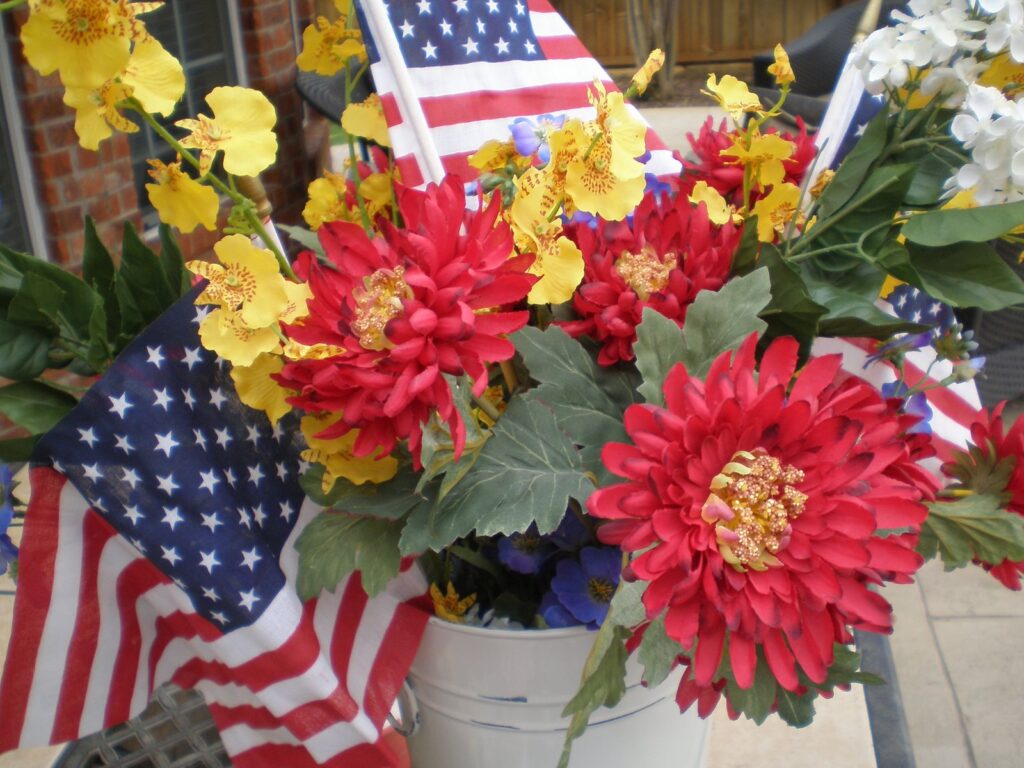 Memorial Day Table decor or 4th of July table decor
I absolutely love this bold idea!! I actually did a 4th of July tablescape using the tricycle after I saw this! You can see it here
So cool to use an old red tricycle or how about a cute old red wagon on your buffet table with flags and more flags, white daisies in old blue glass mason jars. Add in a clear glass vase filled with red white and blue poker chips.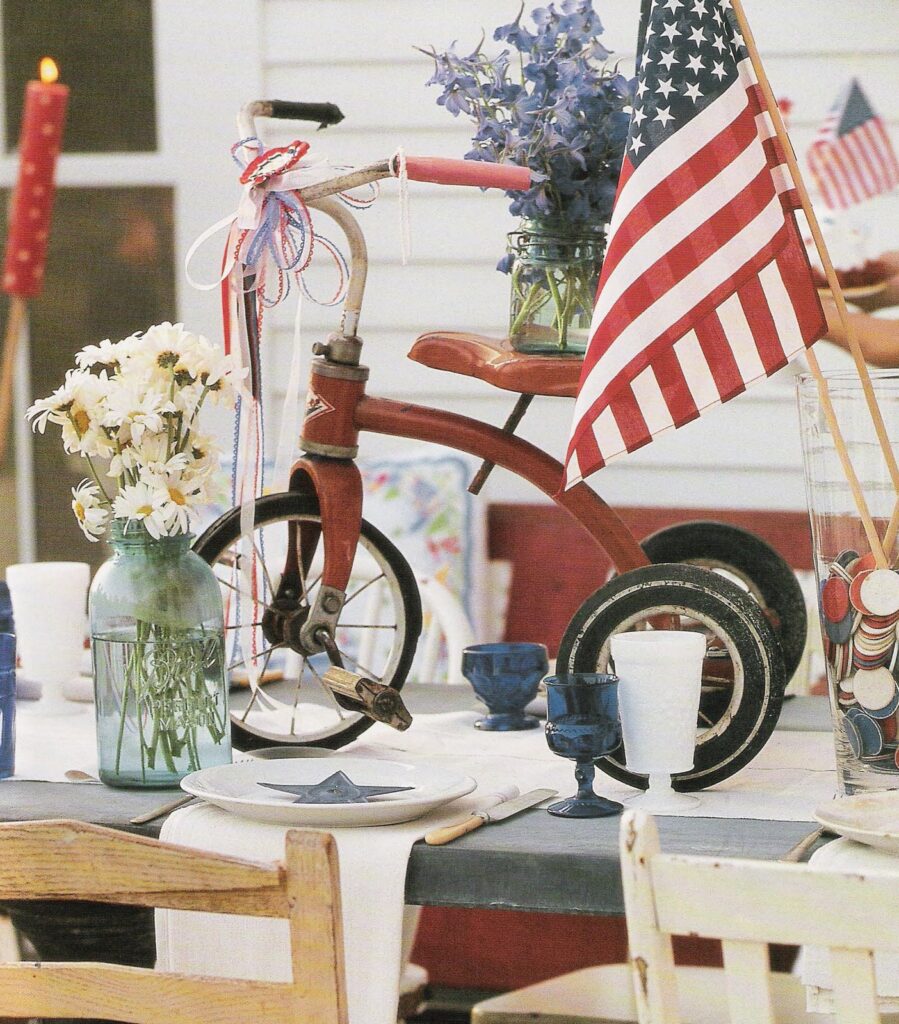 Love the idea of hanging a large American flag outside as a dramatic backdrop for your dining experience. Oh and can you see the stars hanging from ribbons in the window?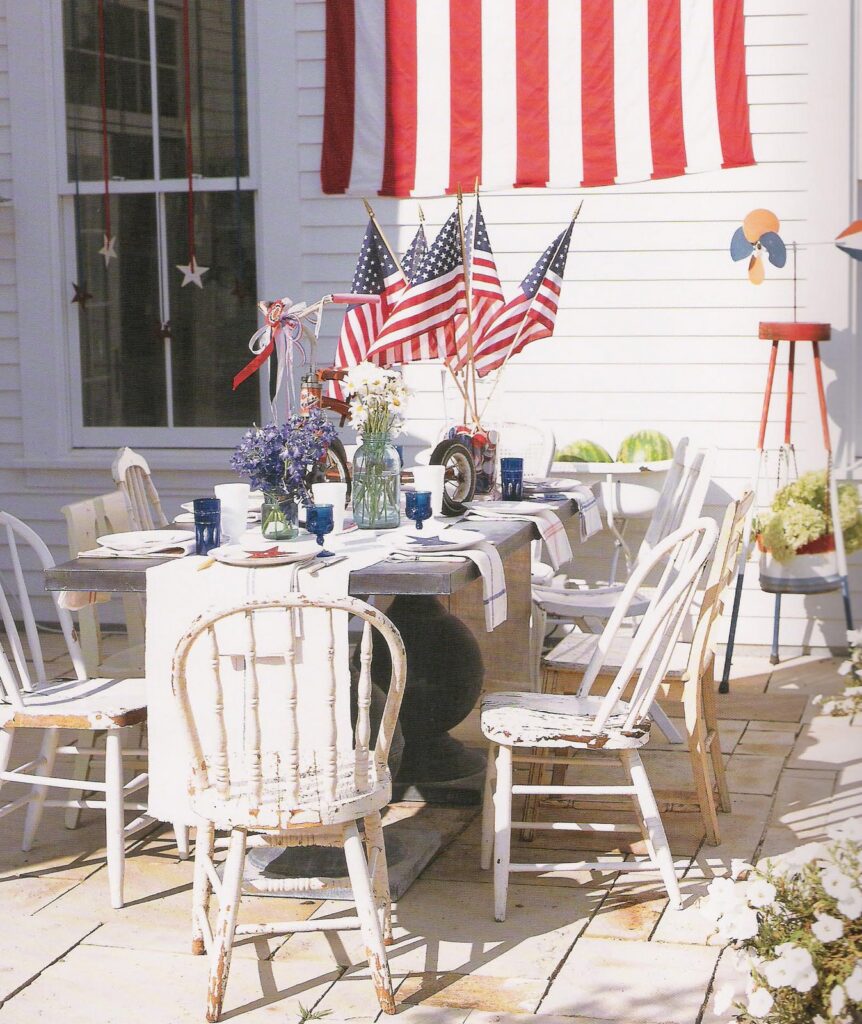 Cuteness factor going on! No Tablecloth? How about some old blue and white sheets! They can work wonders as a table cloth. And by all means set this up outside in the garden!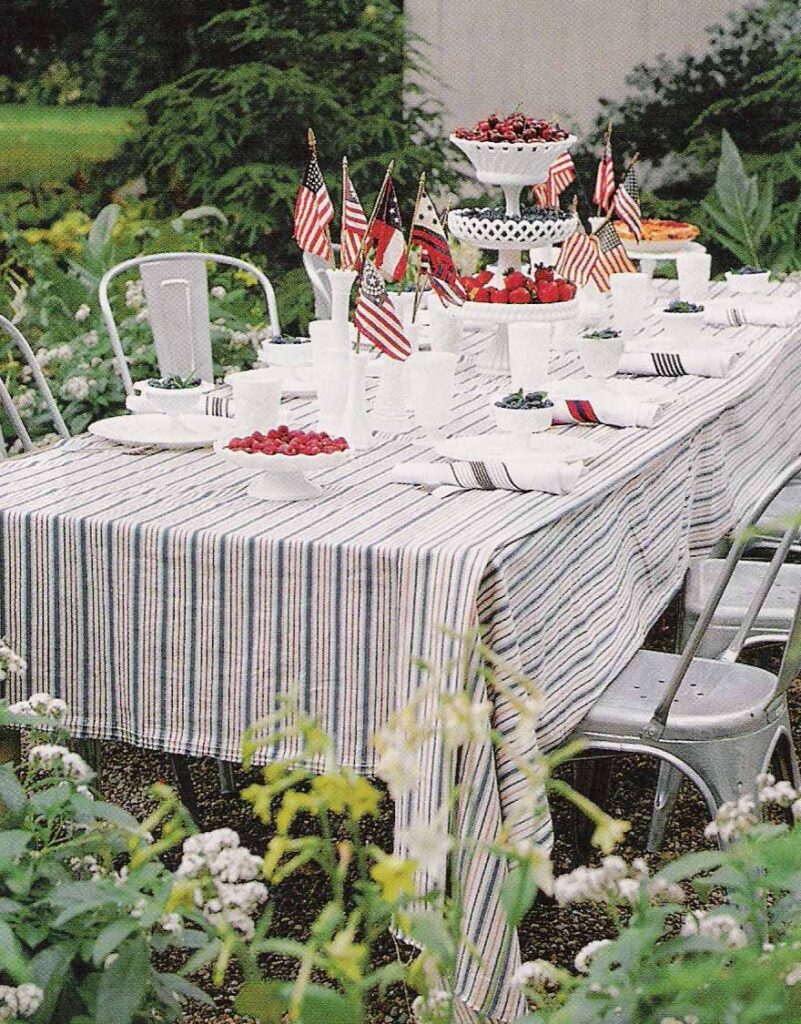 I put daisies in small vases and set them close to each other to make a long table decoration.
Tie a pretty red and white polka doted ribbon around a white napkin and tuck the silverware in for a new fun look.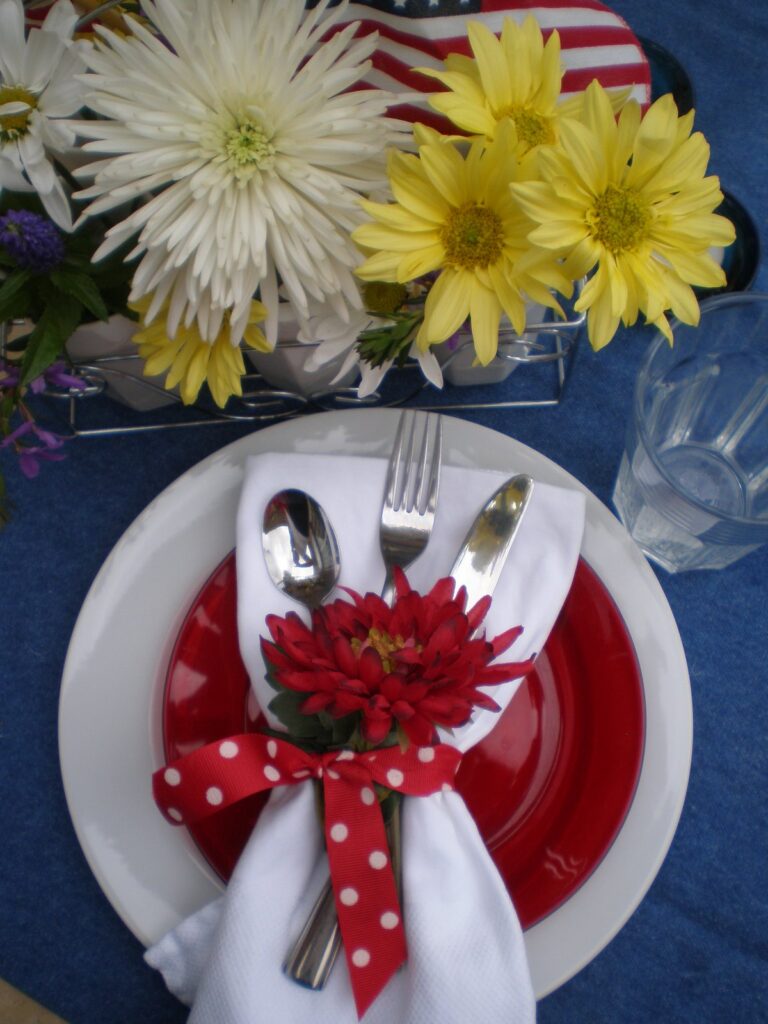 Did mention to use lots of flags in your decorations? haha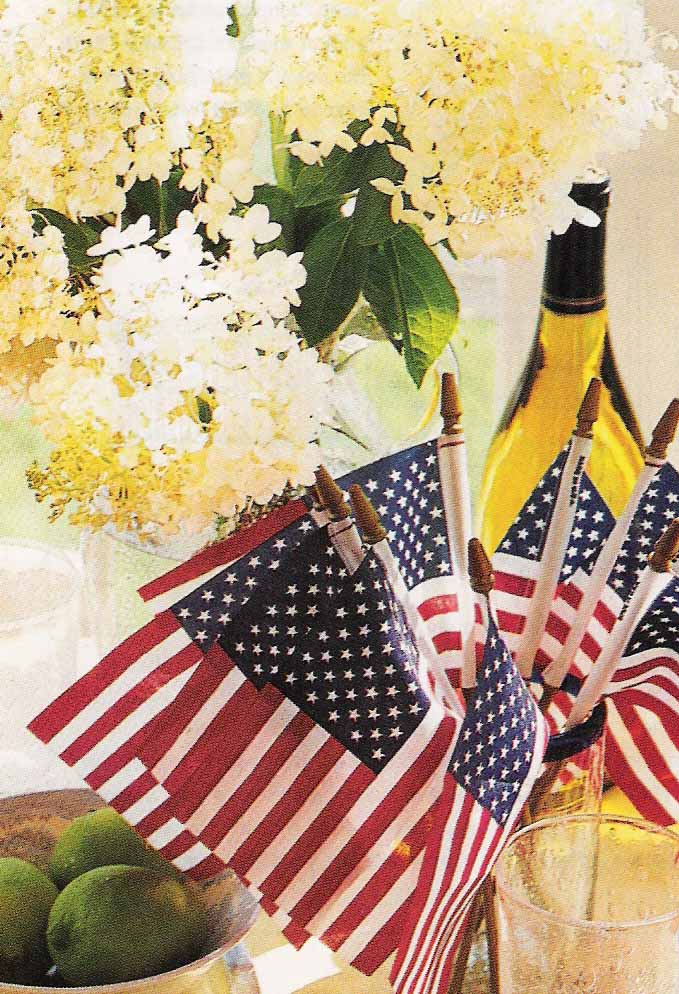 The kids will love to help make this masterpiece….Cookie Pizza in the shape of the American Flag. As they put it together you can share tid bits about the flag to help them remember important facts about it.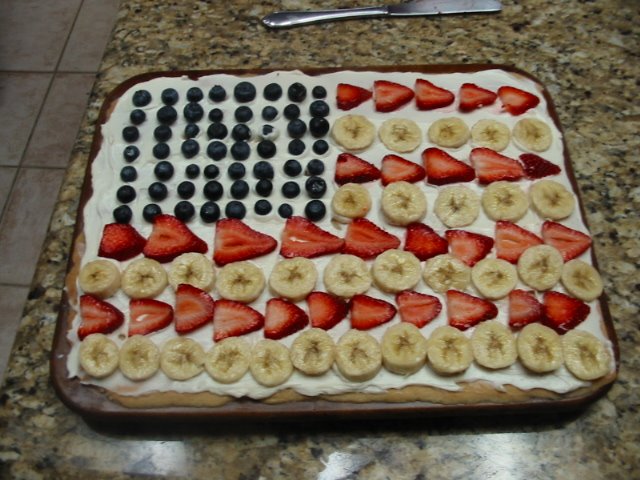 Like how many stars are there and what do they represent, how many stripes, what do the colors represent? etc…
Make it a fun learning experience American Flag dessert
So there you have it…Memorial Day and 4th of July Inspiration!
More Patriotic red white and blue posts
I have lots more Red white and blue ideas for you! Click here