Summer is here, and it's time to unleash the ultimate summer fun and make memories with your kids and or grandkids that will last a lifetime! Say goodbye to boredom and hello to an exciting world of outdoor activities, games, and delicious treats. My hubby and I had such a fun time with our grandkids. In this blog post, we're going to dive into a variety of creative and engaging summer fun ideas for kids.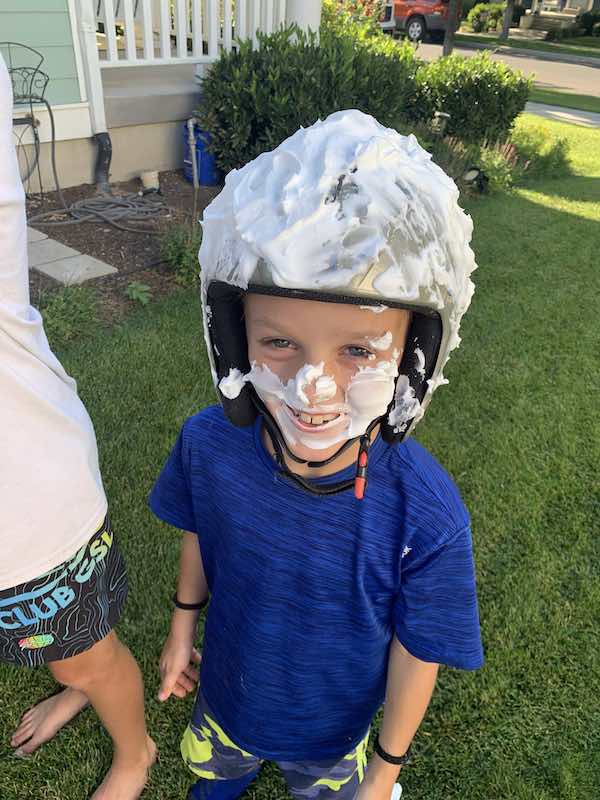 From messy shaving cream games to thrilling water balloon battles, creating glow-in-the-dark lanterns from mason jars and treasure hunts. Plus mouthwatering hot dog veggie kabobs and corn on the cob, your kids are in for a super fun summer adventure!
Shaving Cream and Cheetos Madness
What happens when you combine the squishy fun of shaving cream with the cheesy crunch of Cheetos? A sensory explosion of excitement! Divide the kids into two teams one with bike helmets or shower caps and the others without. Cover the helmets or shower caps with lots of shaving cream. Arm the team members without a helmet or shower cap with Cheetos.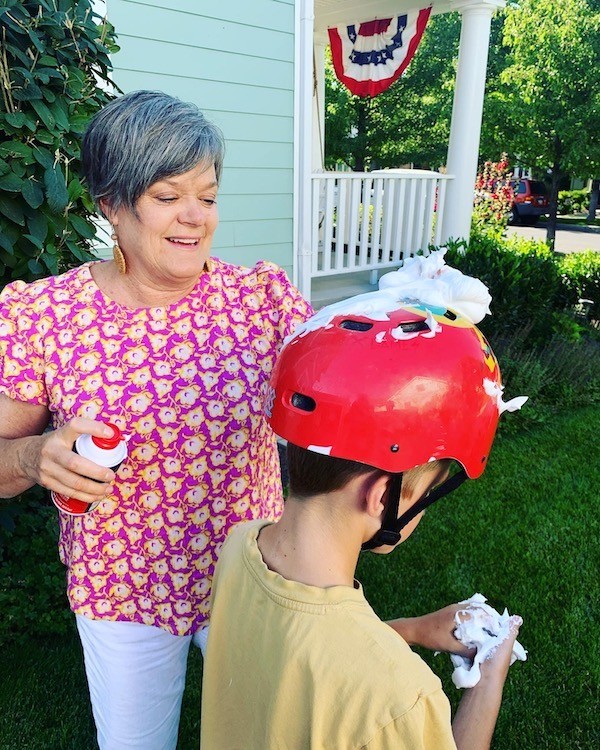 Each team has one minute to land as many Cheetos onto the shaving cream heads as possible. The team with the most Cheetos wins! If this doesn't unleash the ultimate summer fun I don't know what will.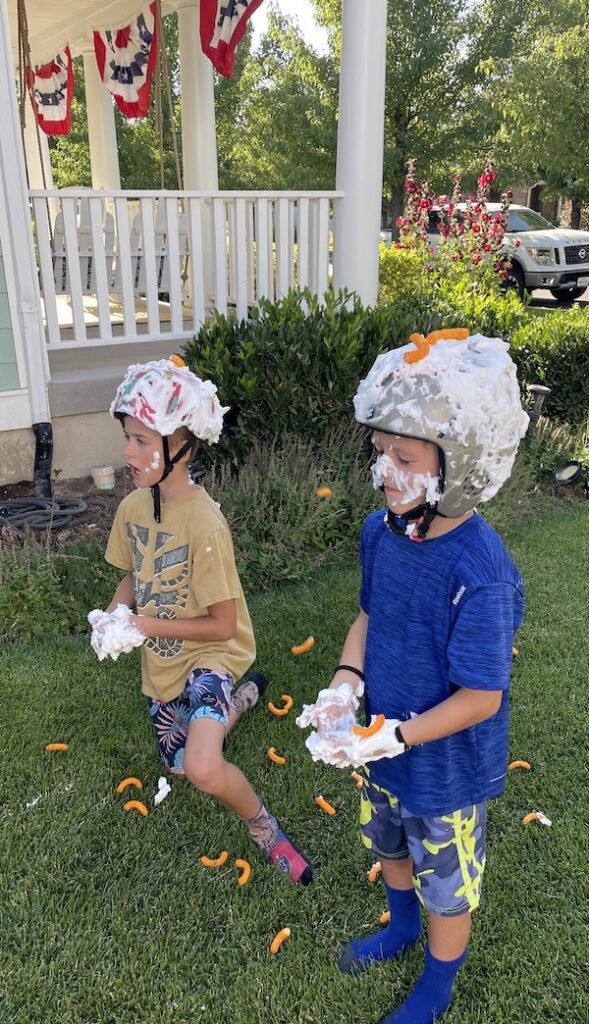 Just remember, this game is guaranteed to get messy, so make sure to have some old clothes and plenty of water on hand to wash them off.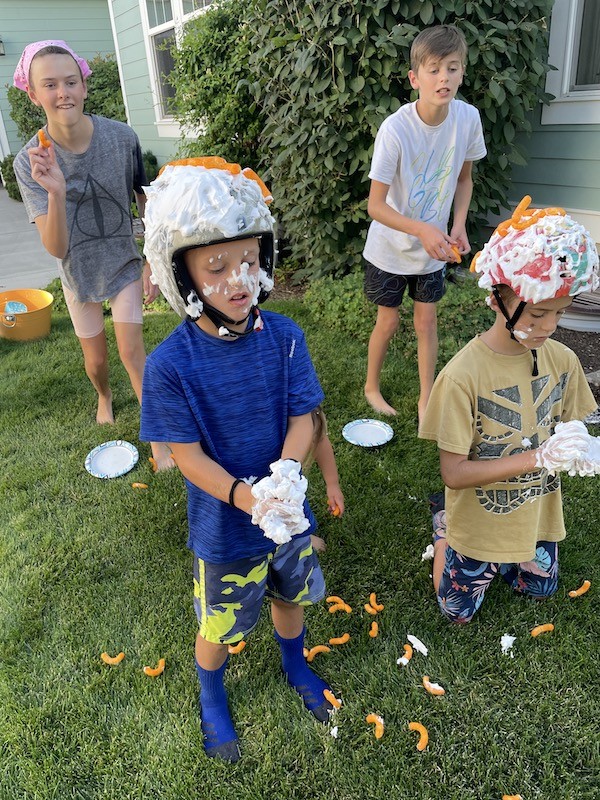 Pass the wet sponge game
This game promises lots of laughter and soaked fun. If you have enough kids you can divide the kids into teams and set up a relay race course. For this hysterical game you have to lay on your back and only use your feet to pass the wet sponges over your head to the next person!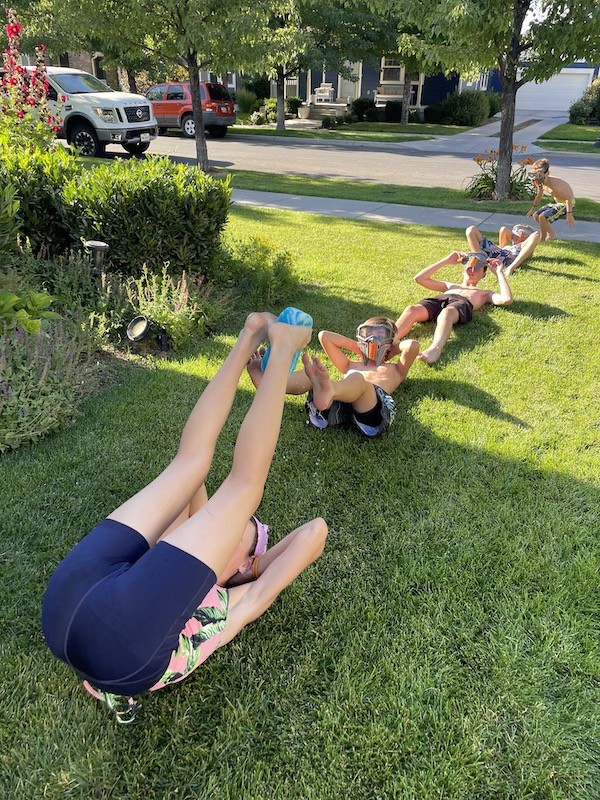 Place buckets of water at one end and submerge large sponges in the water. Have the kids use their feet to transport water logged sponges from person to person. The team that passes all their sponges first without dropping any sponges wins!
This game not only cools the kids down but also fosters teamwork and friendly competition.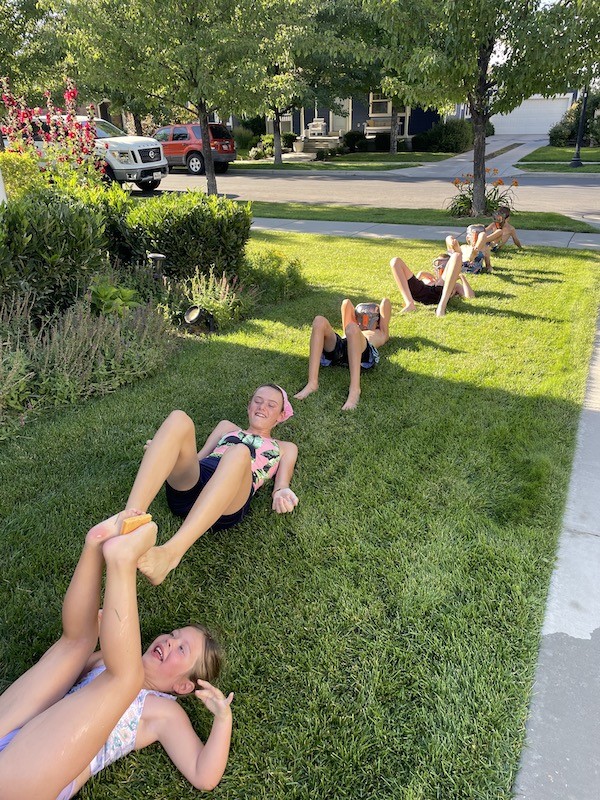 Water cup pass game
This game will cool off everyone and laughter will ensue. If you can, have two teams but we only had enough for one.
Have the kids stand in line mixing them up short and tall. Place a bucket of water at the front of the line. The first person in line fills their cup with water and then holds it over their head and pours it into the next persons cup and on and on until the last person. The last person then pours it into an empty bucket.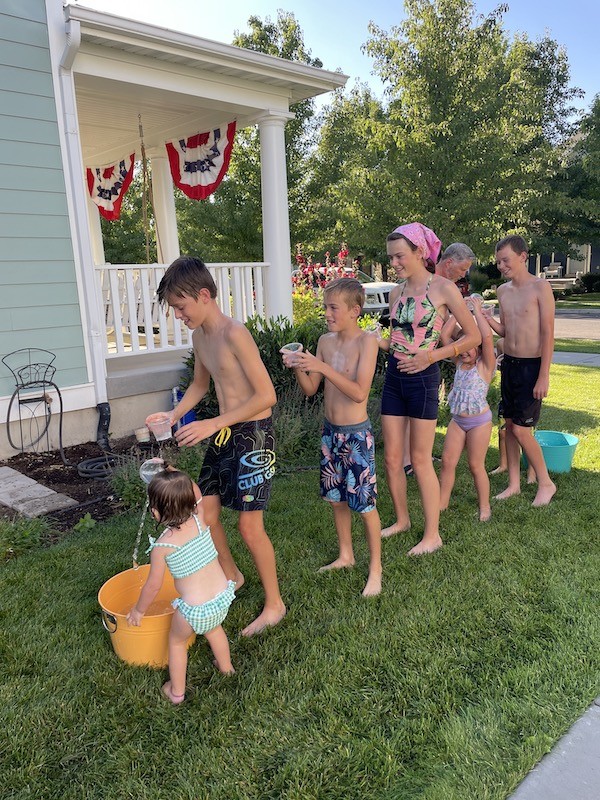 If two teams the team with the most water in the last bucket wins!
Epic Water Balloon Battles:
When it comes to classic summer fun, water balloons are a must-have. Water and kids is the ultimate way to unleash summer fun! Fill up dozens of water balloons in seconds with rapid fill water balloons and let the kids go wild in an epic water balloon battle.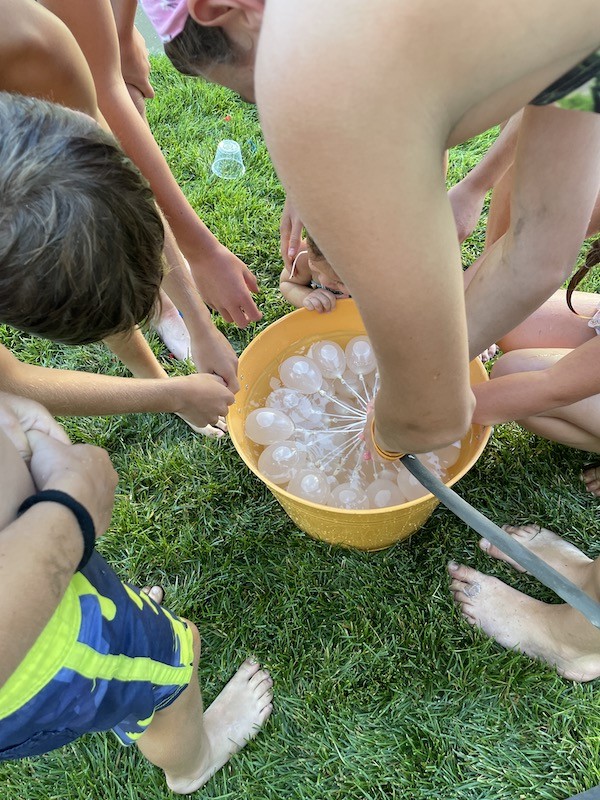 Create teams, designate base areas, and let the splashy showdown begin. We even had a water ballon toss. Remember to set some ground rules to ensure safe and respectful play.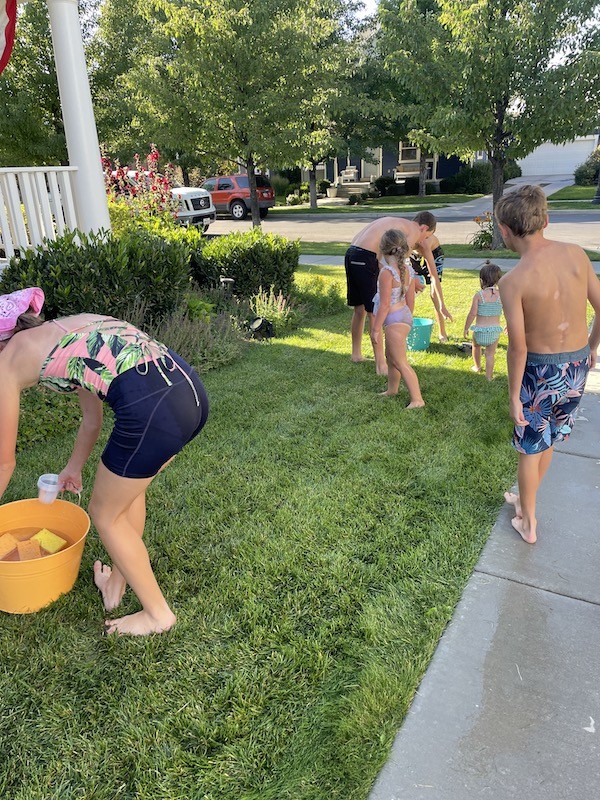 Treasure Hunt Adventure
Transform your backyard into a hidden treasure trove with a thrilling treasure hunt. Create a map or a series of clues that lead the kids on an exciting adventure to discover hidden treasures. We gave our grandkids clues that took the all over the house and yard. The older grandkids read the clues to the younger ones but they all had to move together to find the next clue.
Here is printable page of clues for a treasure hunt from Wonder Mom Wannabe. I used this to come up with some that would work for my house and yard.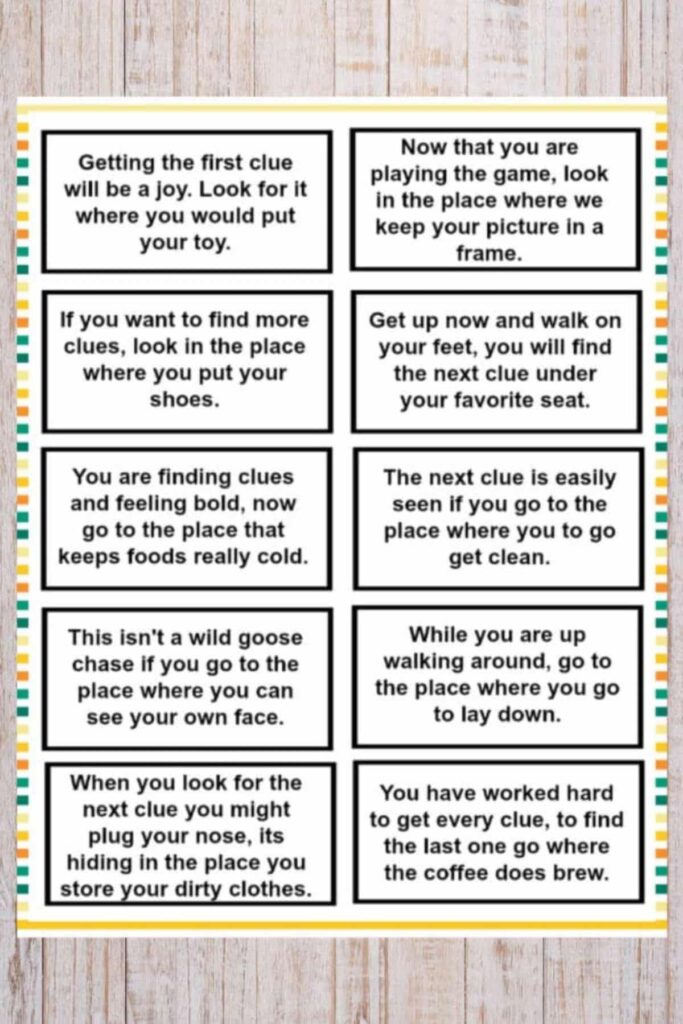 You can use simple prizes like stickers, small toys, or even candy. We used an ice chest and filled with all the things we were using for the party. Sponges, Water balloons, glow in the dark paints, paint brushes and a prize for each kid.
To take it up a notch, consider a glow-in-the-dark treasure hunt once the sun sets, using glow sticks and lanterns to light the way.
Glowing Mason Jar Art
Let creativity shine with a glow-in-the-dark mason jar painting activity. Provide the kids with clean mason jars and glow-in-the-dark paint.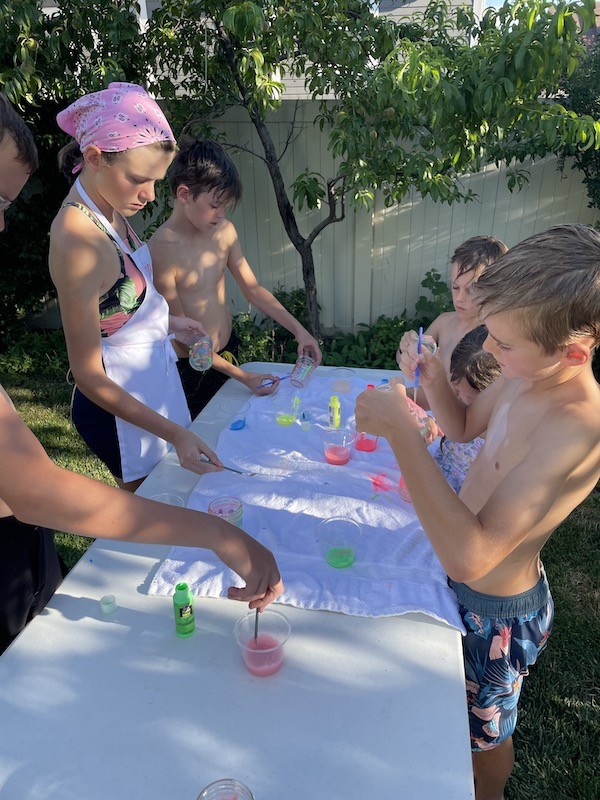 They can paint their own unique designs, patterns, or even their names on the jars. Once the sun sets, the jars will come to life with battery operated votive candles creating a magical ambiance in your outdoor space.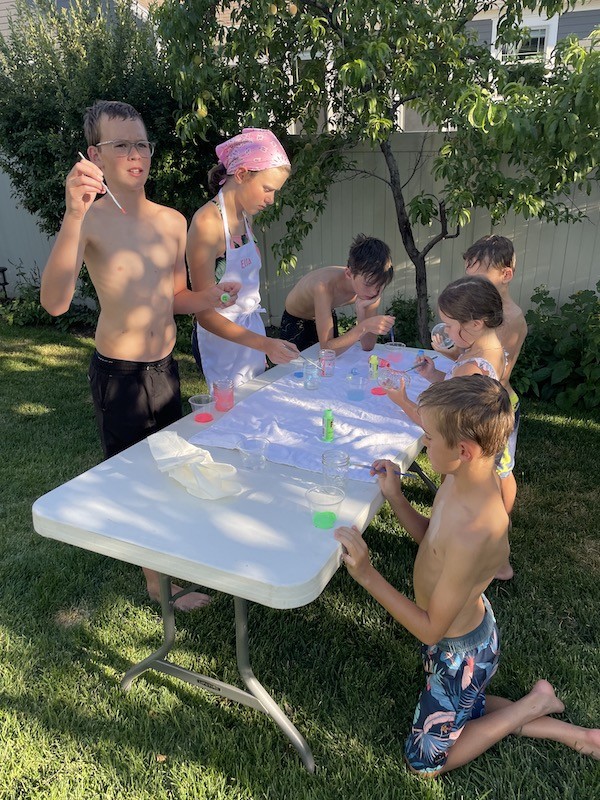 These were perfect for the kids to have in their tent as a night light.
Deliciously Fun Food Ideas
1. Hot Dog Veggie Kabobs: Mix up the traditional hot dog by threading colorful veggies like bell peppers, cherry tomatoes, and zucchini onto skewers with slices of hot dog. Brush the hot dogs and veggies with BBQ sauce and grill or roast them for a delightful and nutritious meal.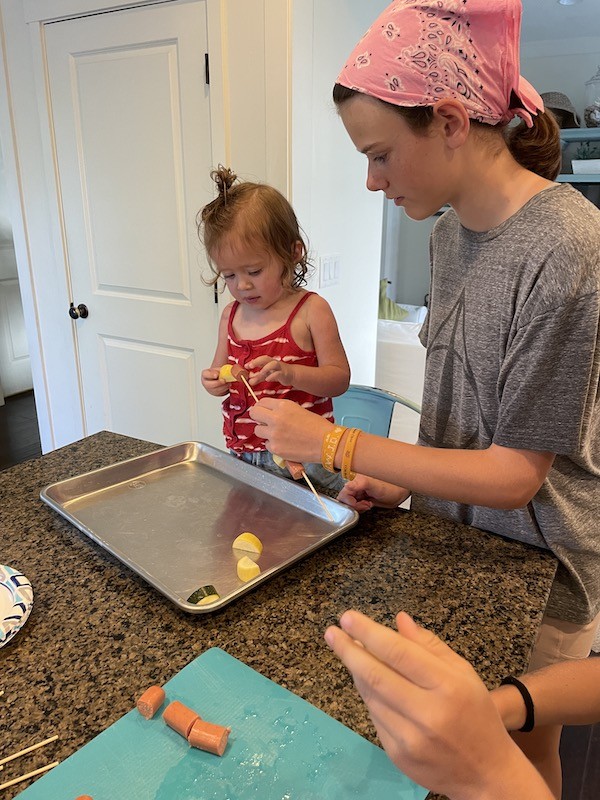 2. Elevate the classic corn on the cob by offering a variety of flavored butters and toppings like garlic herb butter, parmesan cheese, or even a spicy sriracha drizzle. Let the kids customize their own cobs for a tasty and interactive treat.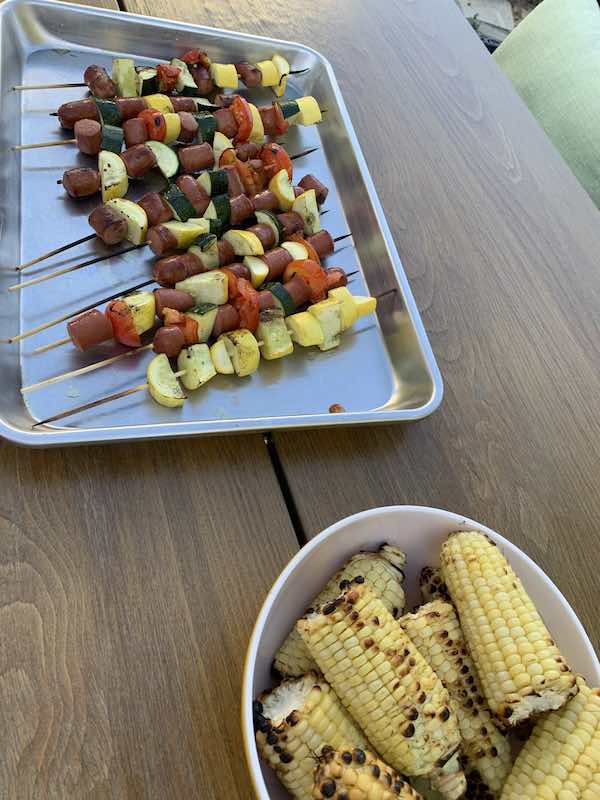 Make a splash with games and treats
This summer, make a splash with these exciting games and delectable treats that are sure to keep the kids entertained and their taste buds satisfied.
You might remember our backyard bash where we played more fun minute to win it games here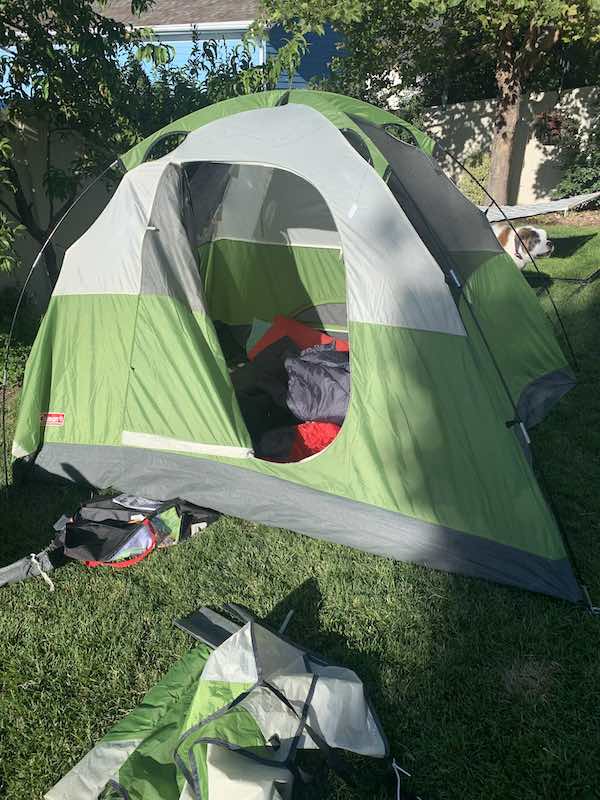 From messy shaving cream and Cheetos fun to glow-in-the-dark lanterns, treasure hunts and mouthwatering food creations, you have a recipe for an unforgettable summer full of laughter, creativity, and endless enjoyment. So, gather your supplies, round up the kids, and let the summer festivities begin!
Shop