Get ready to embark on a charming decor journey that brings the coastal delight calming vibes right into your home! In this guide, I am showing you how to create an absolutely adorable coastal and or nautical themed bunk room for under $300!
This room was originally our coastal guest room that you can see here. You can see what it looked like when we started 11 years ago with an all yellow room. A few years later we added shiplap and painted it white but left the other walls yellow. It has the perfect coastal color palette.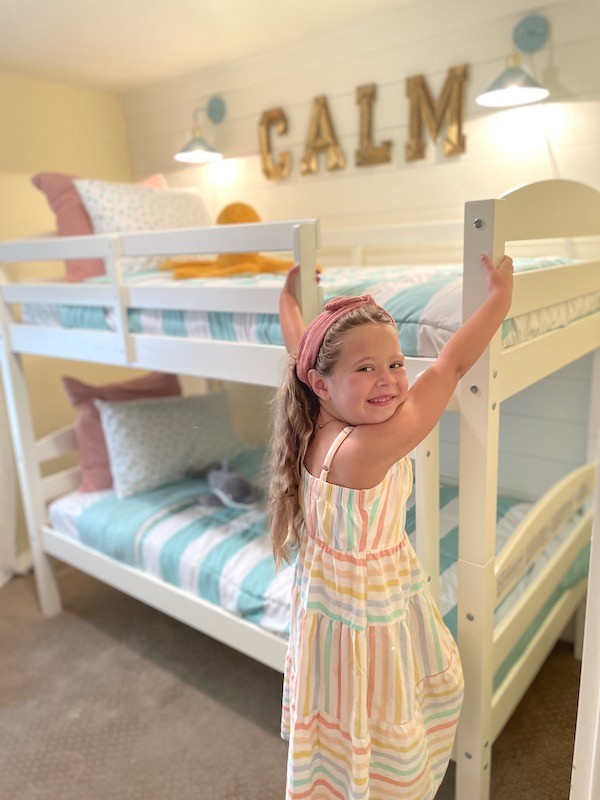 We began this coastal bunk bed room with a budget-friendly Walmart bunk bed and the cutest turquoise and white striped comforters and polka-dotted sheeting. For cute lighting we added in Amazon's delightful vintage blue wall sconces. Adding a sprinkle of golden glam with metal letters that spell "calm" – you'll be amazed at how easy it is to transform your space into a cute coastal haven.
Dreamy Coastal Bunk Bed Delight
Let's start with the heart of our coastal escape – the bunk bed! Walmart has your back with a very comfortable budget-friendly white wooden coastal looking bunk bed that feels high end! It only took about an hour and half to put it together with two people. The directions were super easy too!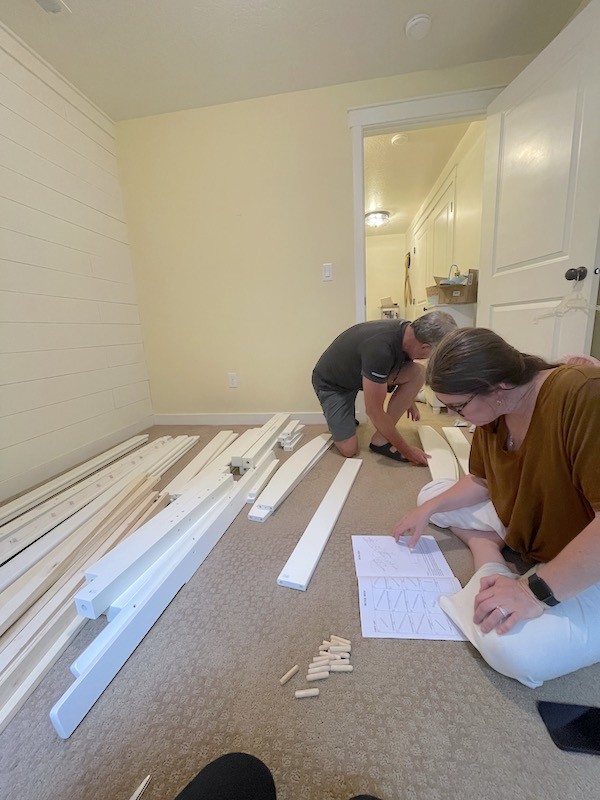 It is very sturdy, well styled and crafted. A bright white fresh design captures the freshness of coastal living. Not only does it provide a cozy sleeping spot, but it also sets the stage for your adorable coastal theme.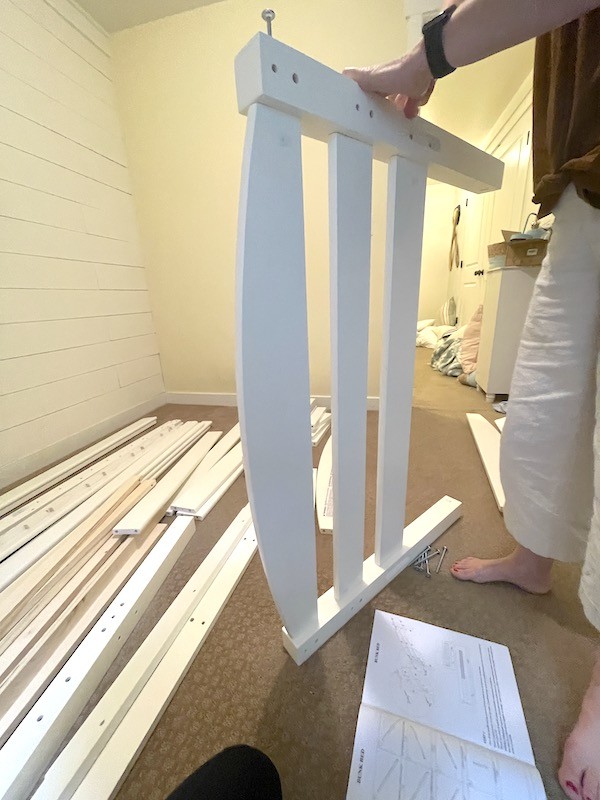 Bedding Bliss by the Sea
Now it's time to deck those bunks with the sweetest bedding imaginable. Think turquoise and white striped comforters that mimic beach umbrellas sitting on sandy beaches.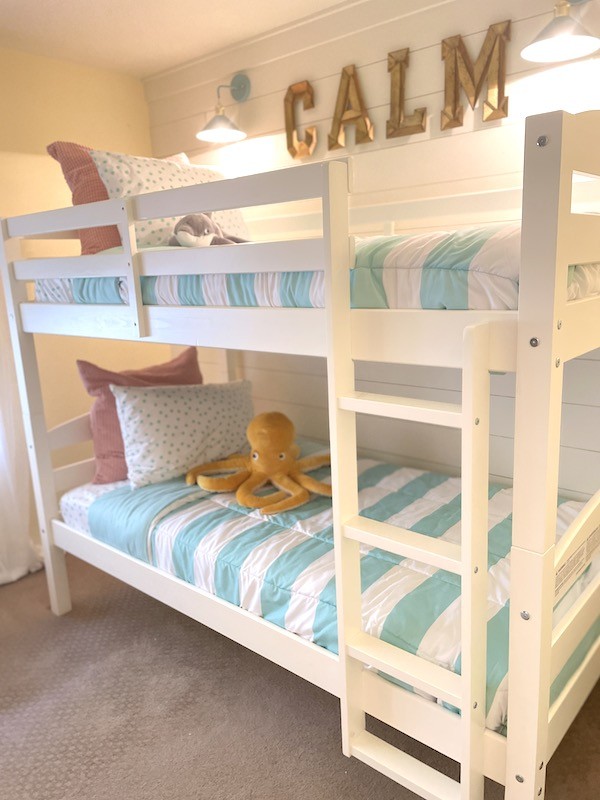 Add a touch of playful charm with matching polka-dotted sheets that remind you of sunny beach days. Walmart once again has you covered! Layer them up for an extra snuggly experience – perfect for dreamy nights filled with seaside adventures.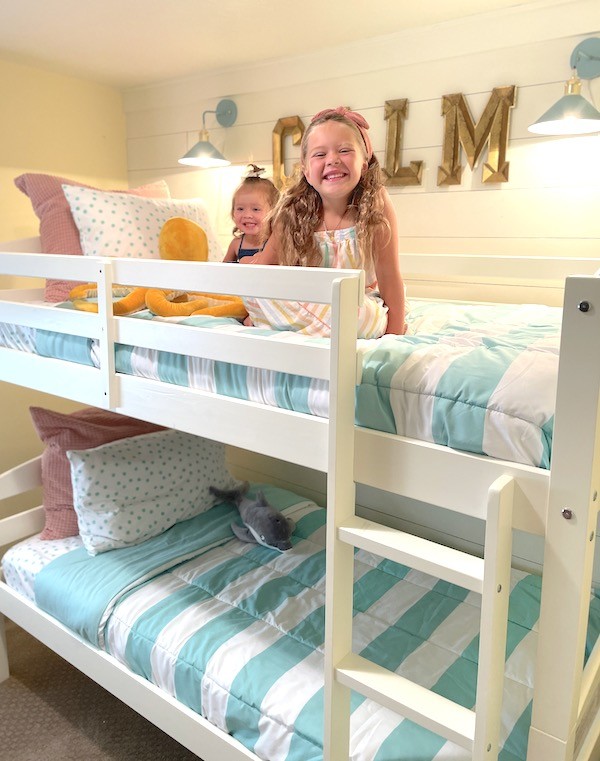 Amazon's Coastal Charm Lighting
Create a magical coastal ambiance with Amazon's vintage blue wall sconces. These cute sconces are like little pieces of the ocean, casting a soft and calming glow that's perfect for bedtime stories and relaxation.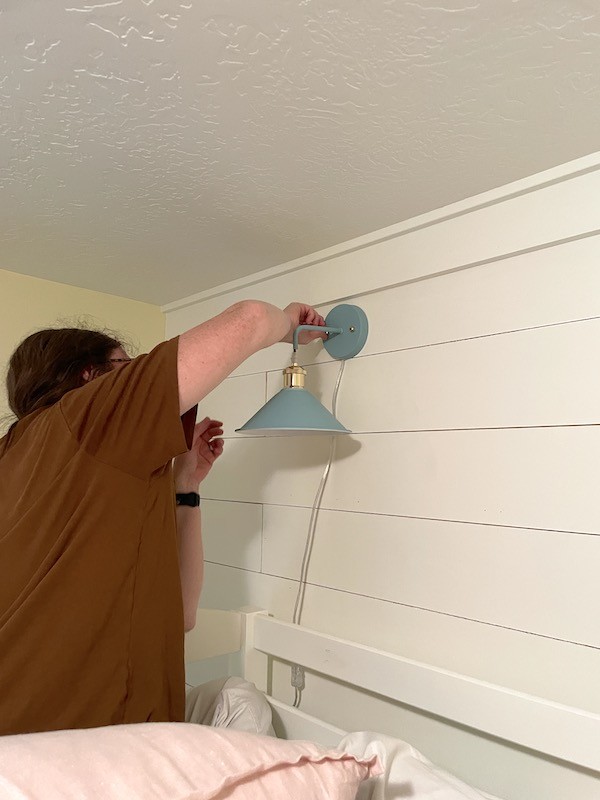 Mount them on the walls to create a cozy nook that feels like a beachside retreat – your kids will absolutely adore it! They also come in lots of colors like black, red, and silver too!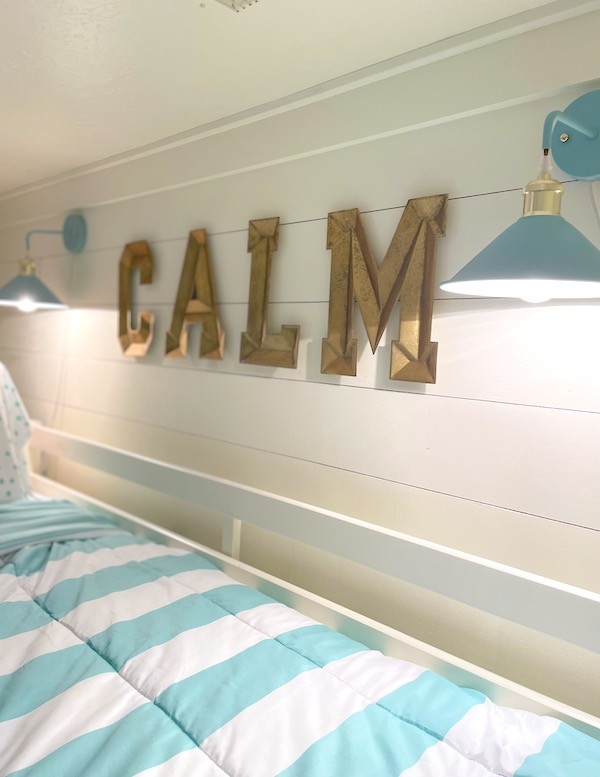 These sconces come with the option of a plug in cord or you can hard wire them into your walls! They are so darling and just make the room! Plus the best party is they are less than $30 for TWO!!
I KNOW! SUCH AN INCREDIBLE DEAL!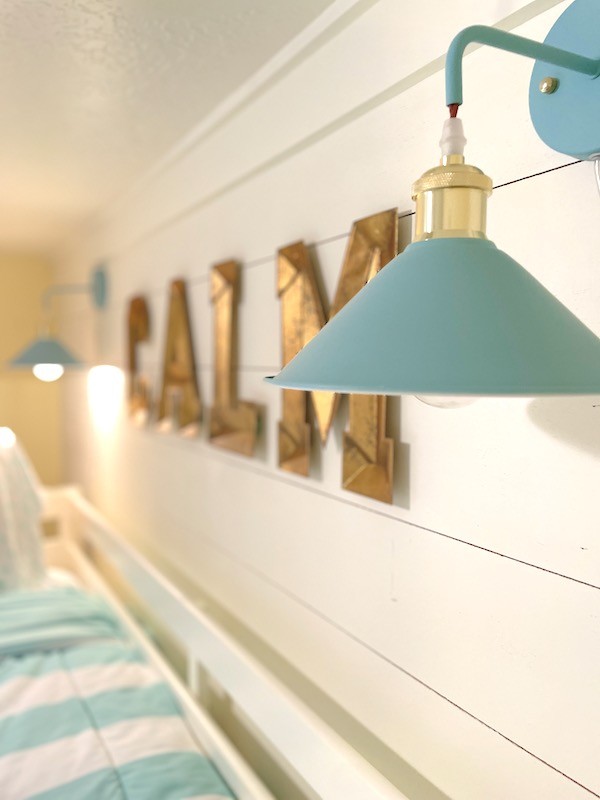 Shine with Golden Tranquility
Add a touch of sparkle and serenity with golden metal letters that spell "calm." These shiny accents bring a sense of tranquility to your coastal haven.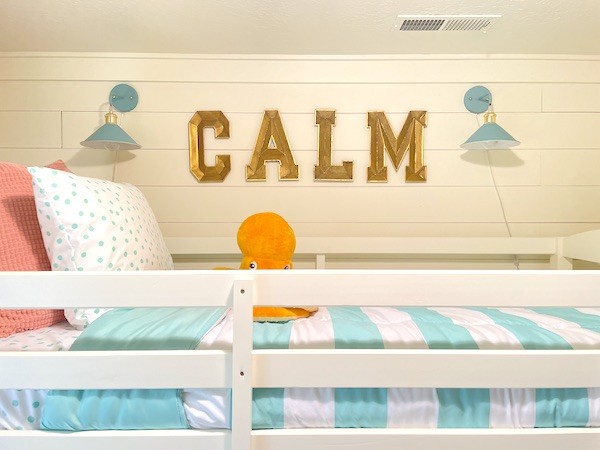 Originally I used this room as a guest room and decorated it with a coastal theme in white and salmon colors. The golden "Calm" letters word perfectly for either look. Don't you love it when you buy a decor item that can be used in multiple ways. #saving money!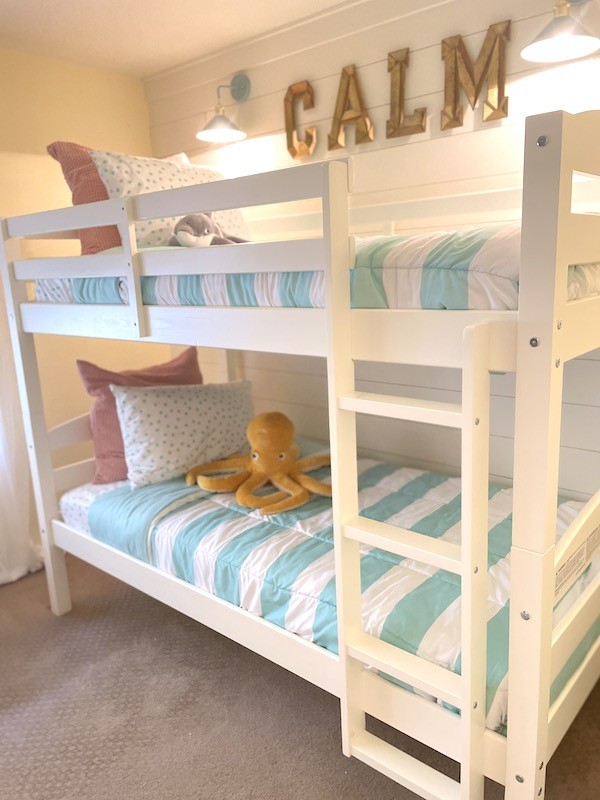 Hang them above the bunks or place them on the wall area above each bed for a chic touch that reminds you to relax and unwind – just like you would at the beach.
Coastal Cuteness Galore
Complete your adorable coastal bunk room with the cutest accents and accessories. Scatter maritime-inspired decor, like shells and mini anchors, on the shelves or walls.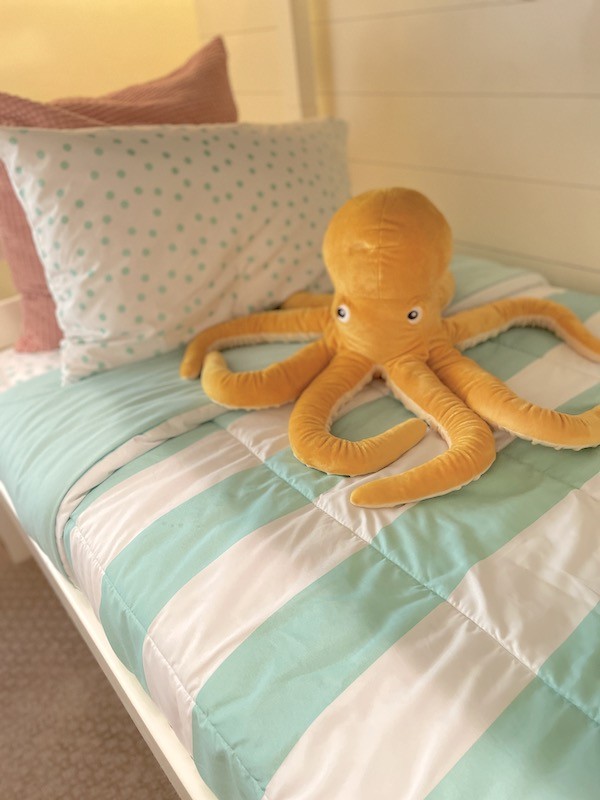 Introduce decorative pillows like a fun yellow octopus or a gray dolphin to make the bunks even cozier. One thing I want to find is a woven rug with lots of colors to add a touch of texture, like the feel of sand between your toes.
Create Your Own Coastal Haven
Creating a cute coastal bunk room on a budget is easier than you might think! With Walmart's dreamy bunk bed, the playful charm of turquoise and white striped plus polka-dotted bedding, Amazon's delightful vintage blue sconces, and the golden elegance of "calm" metal letters, you have all the tools you need to transform your space into a coastal wonderland.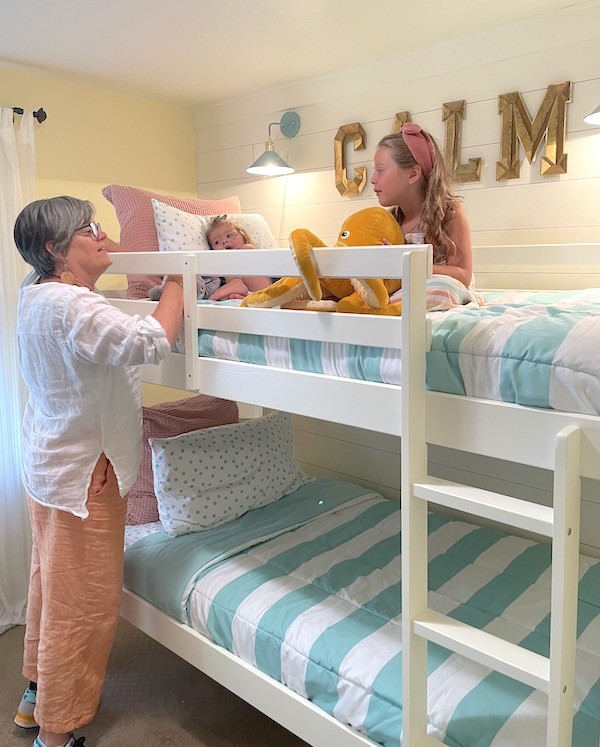 Dive into this budget-friendly adventure and watch as your bunk room blossoms into a cute and cozy retreat that captures the essence of coastal living. Don't miss out on the chance to surround yourself with adorable coastal vibes without breaking the bank – start your decorating journey today!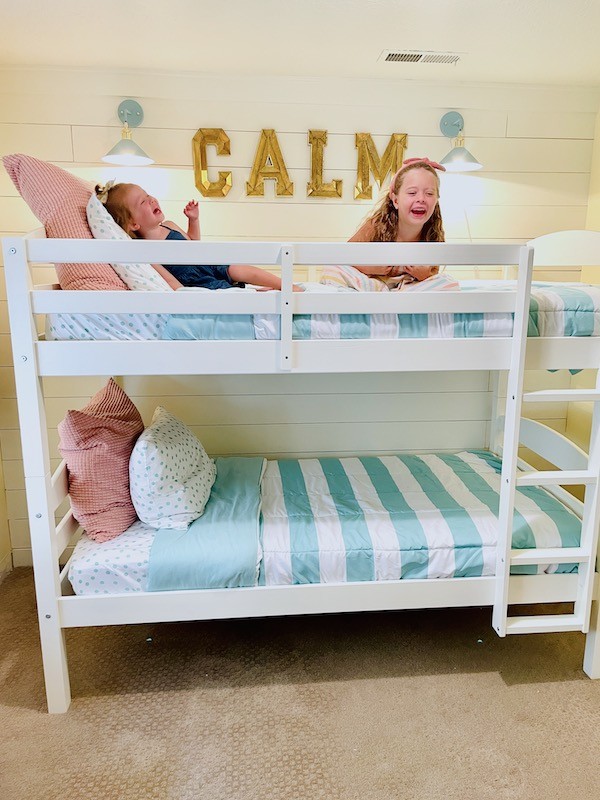 It has that perfect sunny bunk room feel I was going for. I hope this has inspired you to create a family-friendly retreat for your loved ones.
Shop Bunk Bed Items
These are affiliate links and I receive a small commission at no extra cost to you. This helps me keep this blog going and I really appreciate it.