Are you ready to get groovy? I am so happy to show you how to create this super cute and clever Two groovy birthday party. I will show you how to decorate, what food to serve and even how to make matching groovy t-shirts.
My daughter Emily put this together for Georgia her youngest daughter and our youngest grandchild. It turned out so adorable. This Two Groovy party is really easy and fun to do!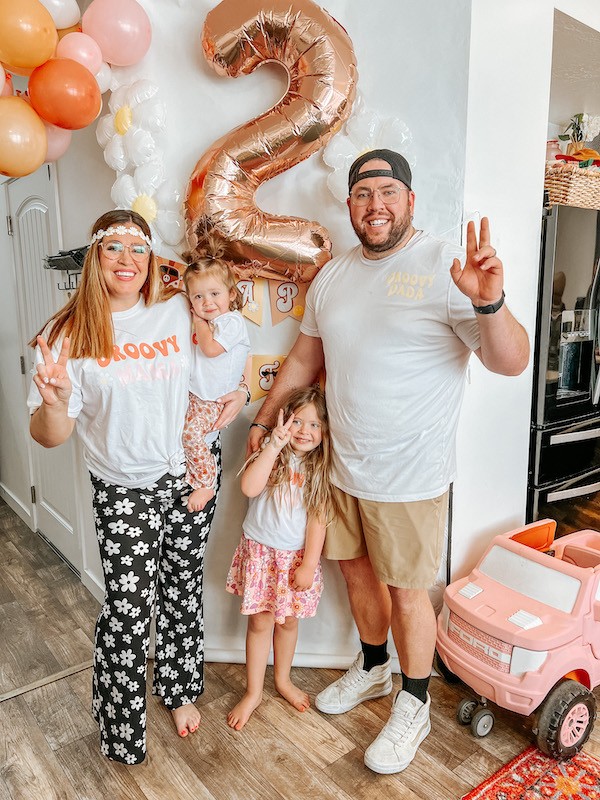 The plan for the flower power two groovy birthday party
Flower Power Extravaganza
Emily is a huge fan of the 60′ and 70's and wanted to do a fun theme for Georgia's 2nd birthday. Our family is always up for a party to celebrate a family member in a fun way.
Emily ordered some daisy balloons, pink and peach balloons and a darling Volkswagen bus photo booth backdrop.
To create a flower power extravaganza, start by decking out your party area with bright and colorful daisy balloons. These balloons will add a fun touch of whimsy to your party and create fun photo ops. Speaking of photos, create a photo backdrop by hanging this adorable VW van photo backdrop. Set up a camera on a tripod or ask a friend to be the designated photographer and snap away as your guests strike their best peace signs and flower power poses!
Big sister was all in too and she loved getting her photo taken. Links for all the party decor will be at the bottom of the post.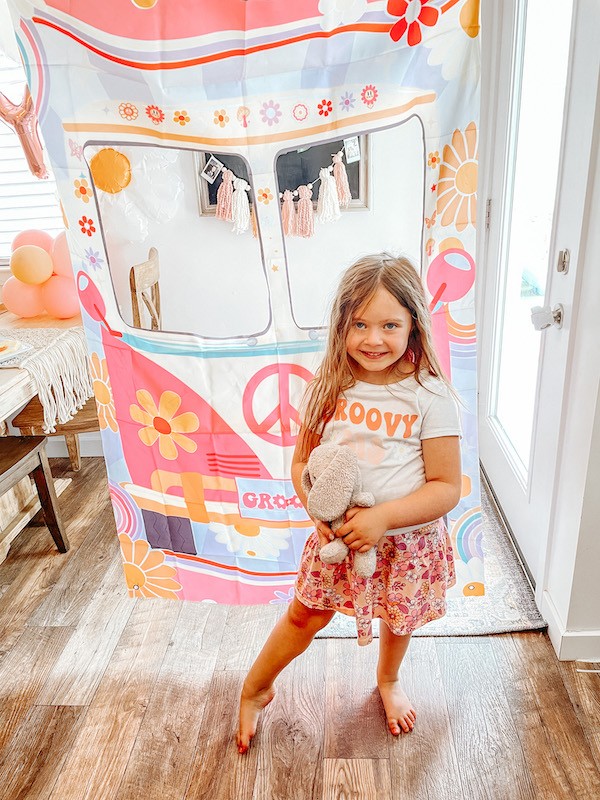 The daisy balloons are so cute! They come in different sizes and use a straw to blow them up. Adding in the balloons that spell out "Two Groovy" to go over the food table just created the perfect party backdrop.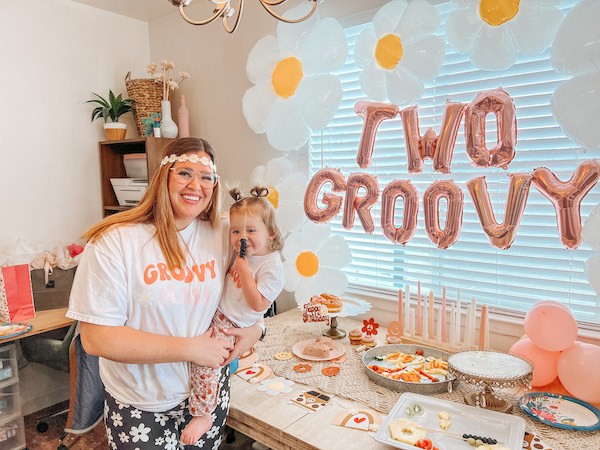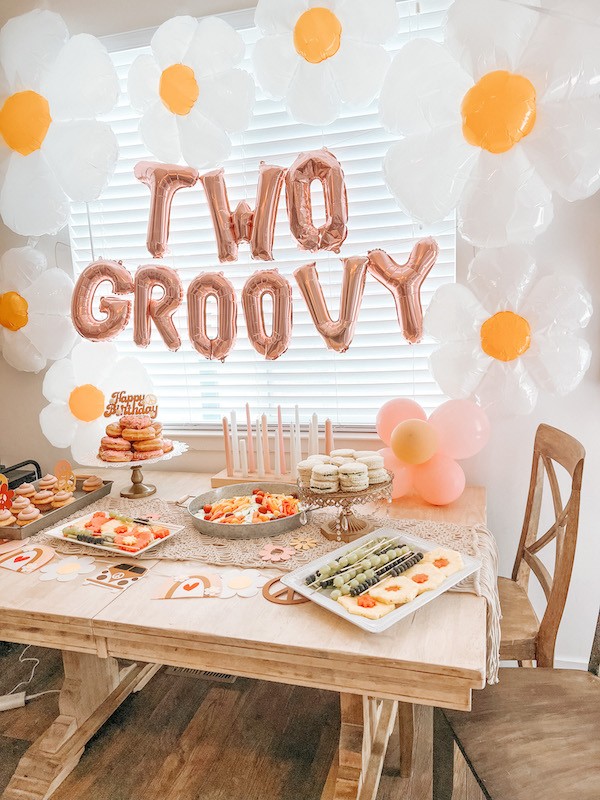 Getting into the clever Groovy birthday party spirit
On one wall in the kitchen area Emily added a peach and pink balloon arch that you can see when guests walk in. More daisy balloons and a huge number 2 balloon was hung on the wall as well. It was the perfect spot for the family photo.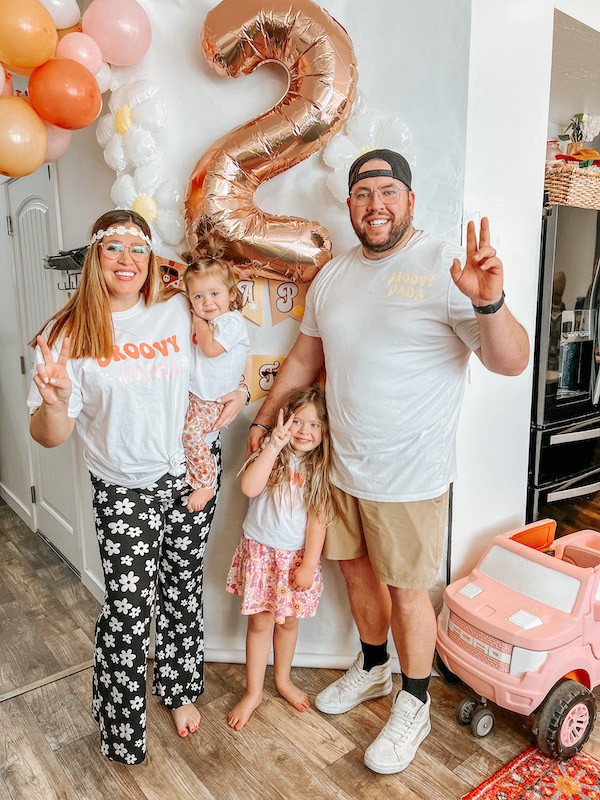 When it was time for the birthday to enjoy her birthday cake, Emily served it to her in her newly painted pink truck! Are you dying over this or what! Emily painted an old plastic truck pink for Georgia's birthday party!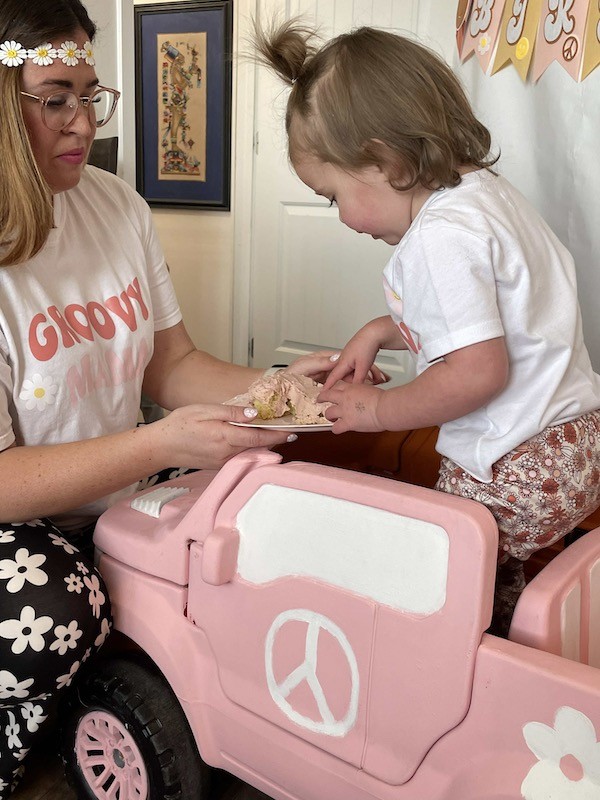 Adding the white painted peace sign and flowers were the perfect touch and Georgia loved it!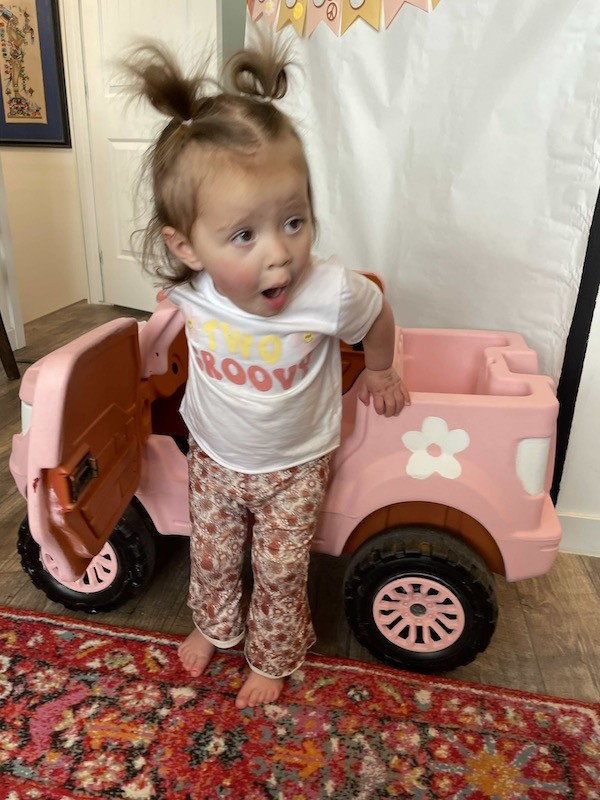 Groovy Food for the birthday
Emily found some cute food ideas on Pinterest and asked me to try and recreate it. I love to play around with my food so this was really fun for me.
I made some some 70's looking flowers out of fruit. They really turned out quite cute if I do say myself. I cut out watermelon and pineapple into hearts and circles. Then I cut out small flowers for the centers.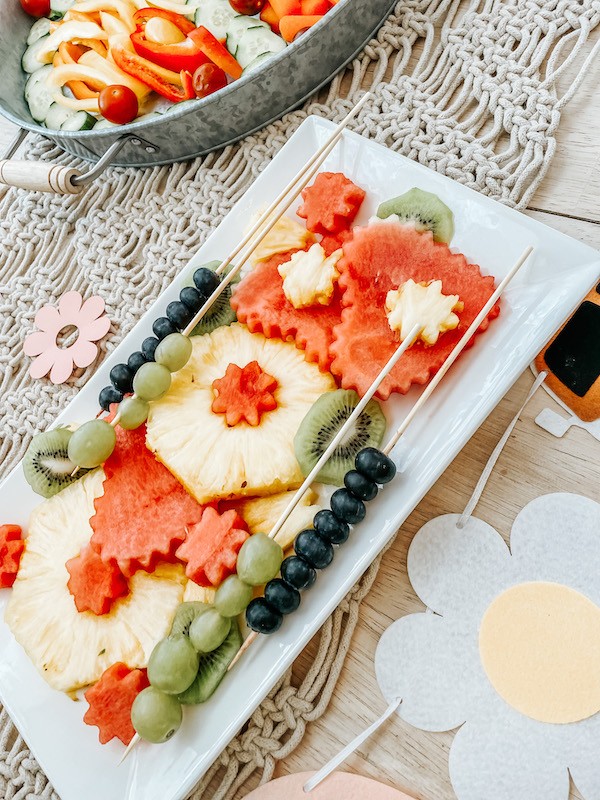 I used wooden skewers and threaded grapes and blueberries onto them.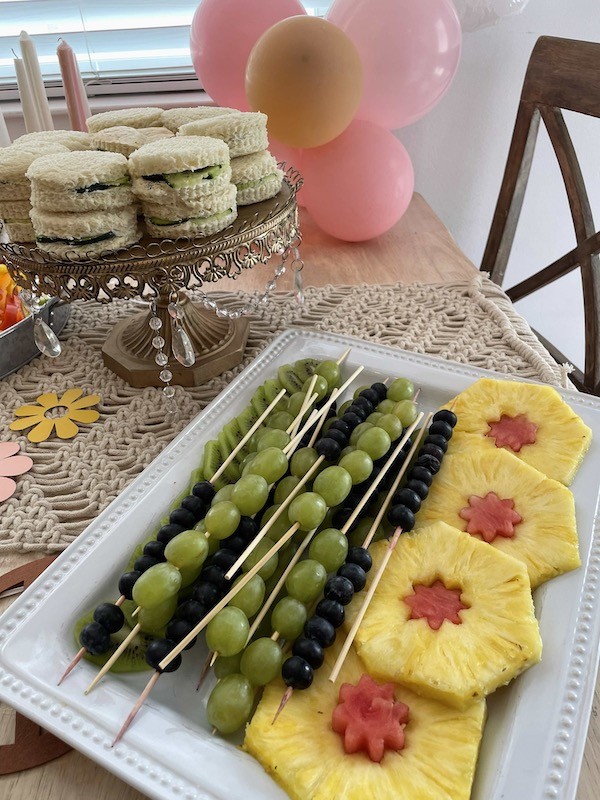 Emily made little cucumber and cream cheese sandwiches. Using a ruffled edge circle cookie cutter she cut them out and placed them on a gold cake stand.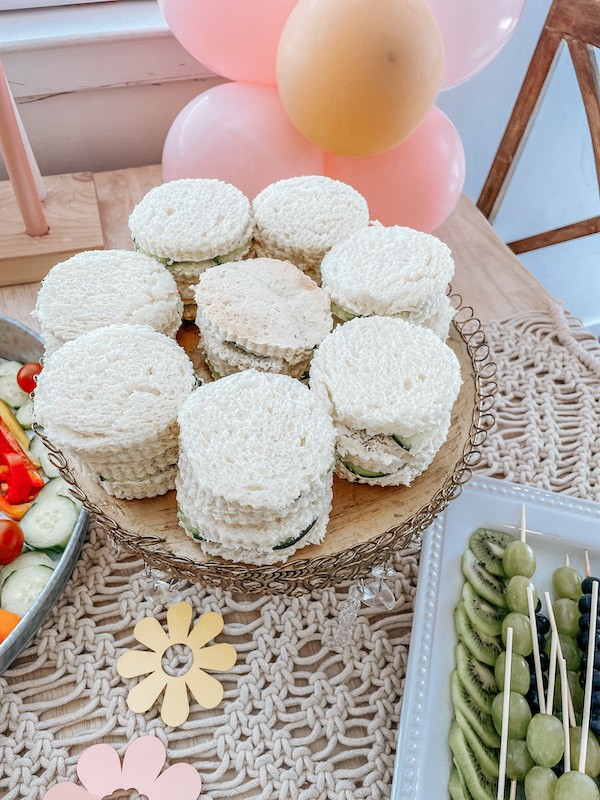 To serve veggies I used a round tray and created a peace sign out of the vegetables. How fun is that!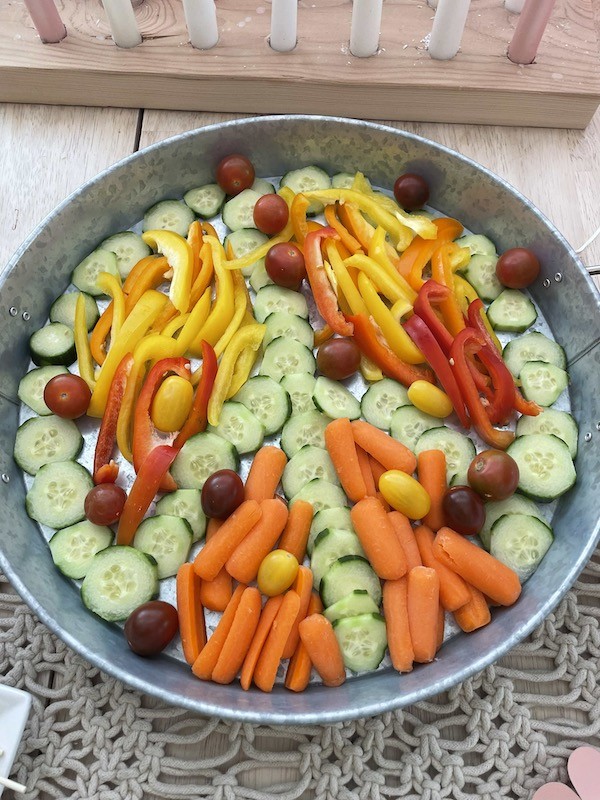 Matching groovy outfits
Little Georgia, mom, dad and big sister dressed alike with groovy 1960's pants and matching t-shirts. Emily even wore a daisy headband to match the party theme.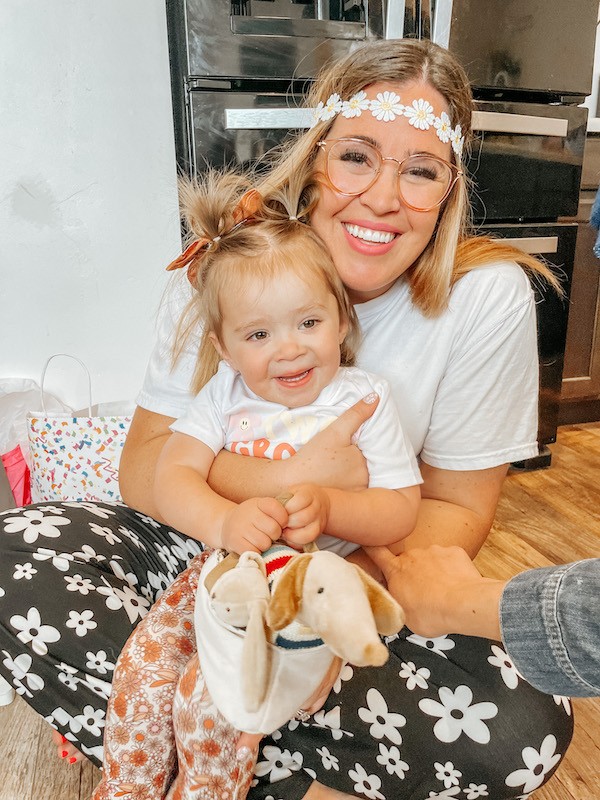 Emily made all the t-shirts using her Cricut machine and some white t-shirts. There are tons of designs on Canva that will allow you to make invitations or within Cricut itself.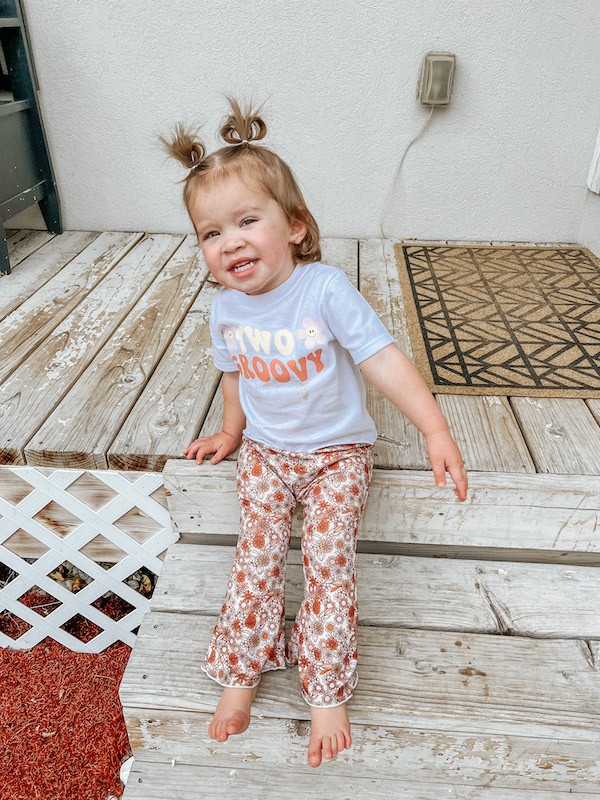 The whole family go into the Two Groovy party theme haha!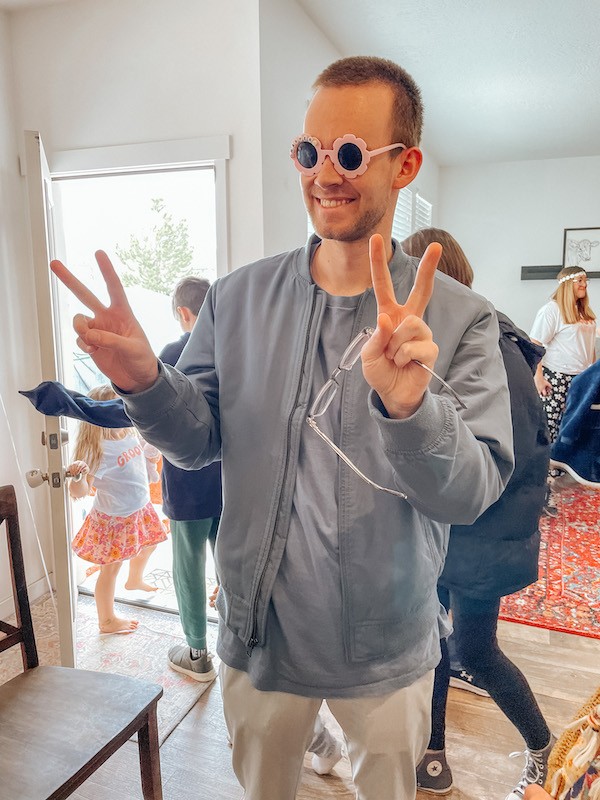 The birthday girl and her beautiful mom really enjoyed the entire and very clever Groovy birthday party experience as did we all.
Shopping Groovy Party Supplies