Chocolate waffle drop Christmas cookies
These are some of my favorite Christmas cookies! They are called chocolate waffle drop cookies but you don't have to make them in a waffle iron if you don't want to. They have cocoa powder in them that give them that yummy chocolate flavor. The secret ingredient is cinnamon that makes it almost like a Mexican hot chocolate cookie. Chopped pecans are so good in these cookies but you can use whatever nut you like.
When I was a teenager my mom would always go to a cookie exchange every year. I would get to stay home from school to bake all the cookies and then she would package them up in amazing ways. Yes she would always get chosen as the best cookie and packaging. This cookie was one of the favorites because these are really delicious cookies.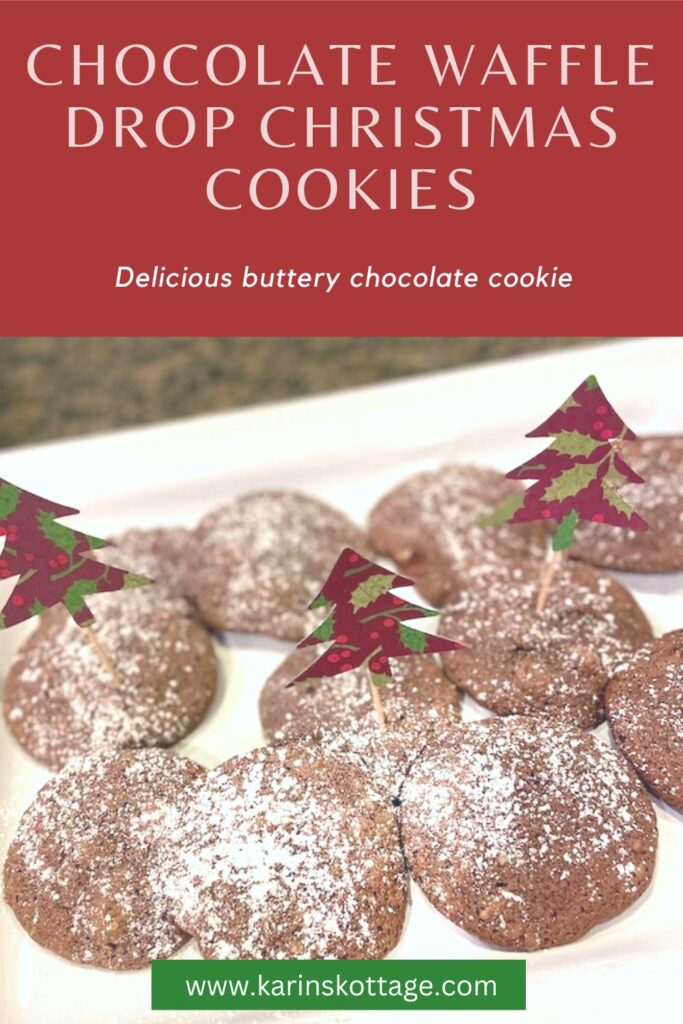 Chocolate waffle drop cookie ingredients
The dough is a delicious chocolatey buttery kind of stiff dough. A good tip is to make sure to use the best cocoa powder you can find because I think it tastes better with higher quality cocoa powder.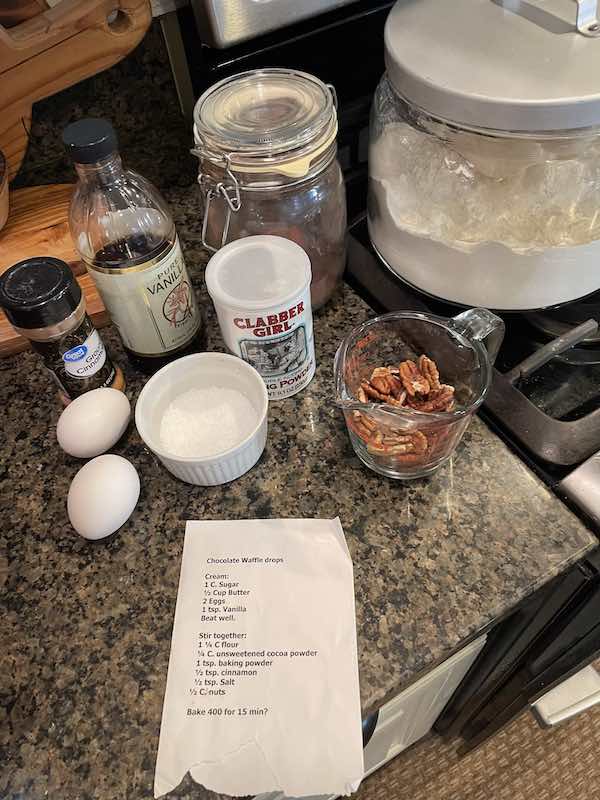 1/2 Cup butter room temperature
1 C sugar
2 eggs
1 tsp pure vanilla extract
1 1/4 C All purpose flour
1/4 C cocoa powder
1 tsp baking powder
1/2 tsp salt
1 tsp cinnamon
1/2 C chopped pecans or other nut
How to mix up the dough
Start mixing up the chocolate waffle drop cookie dough by starting with the sugar and butter in a mixer. Cream butter and sugar until well mixed.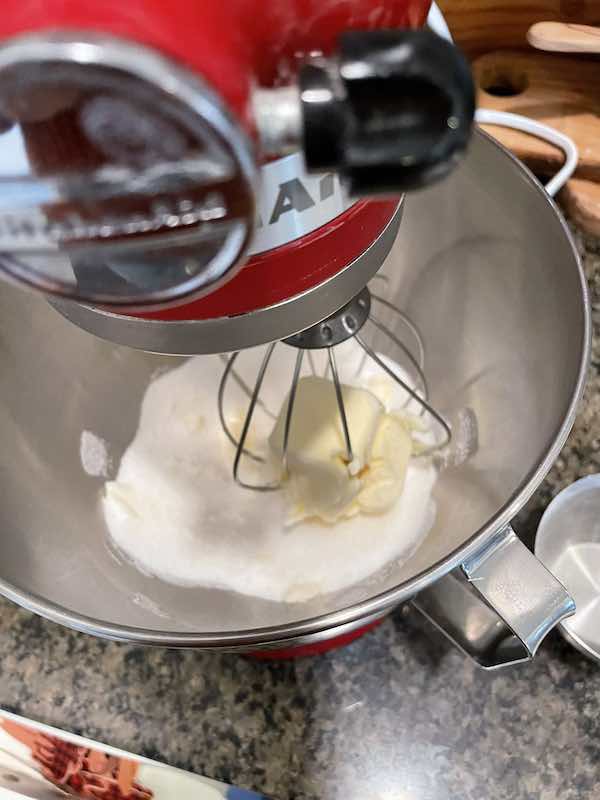 Add 2 eggs and the vanilla. Beat with your electric mixer until light and fluffy.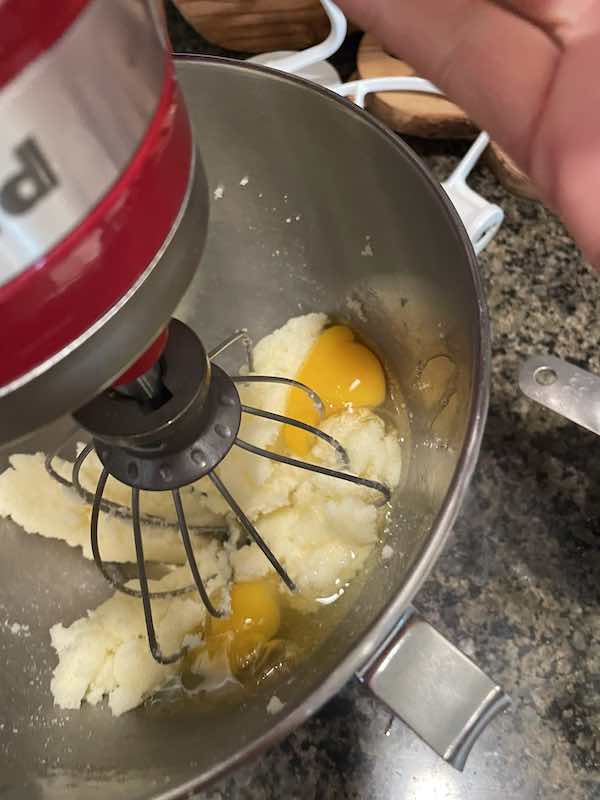 In a medium bowl add in the dry ingredients. Flour, cocoa powder, baking powder, salt and cinnamon. I used a whisk to mix up the dry ingredients.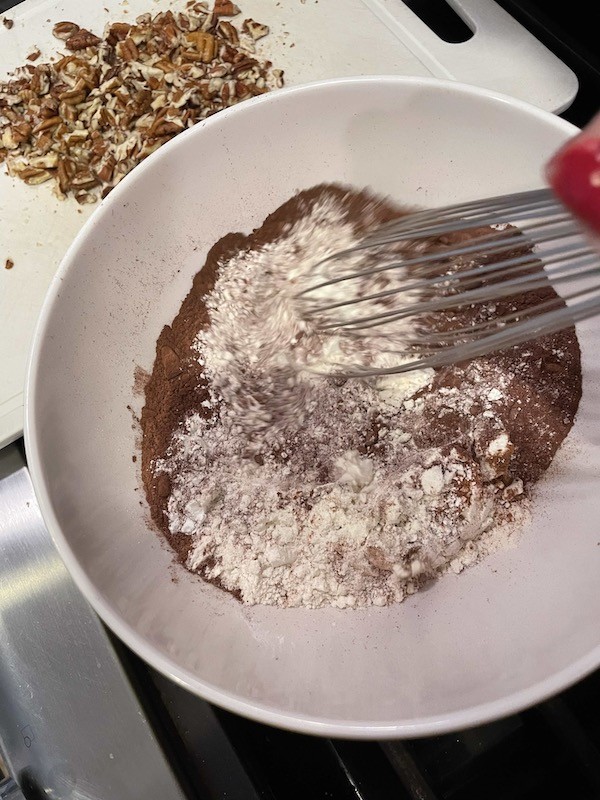 Add the dry ingredient to the wet ingredients and mix well.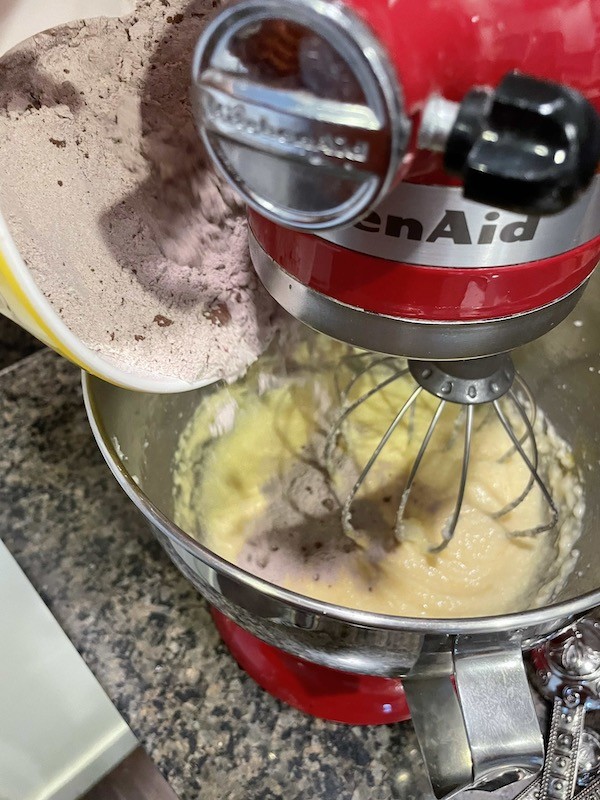 Add in the chopped nuts.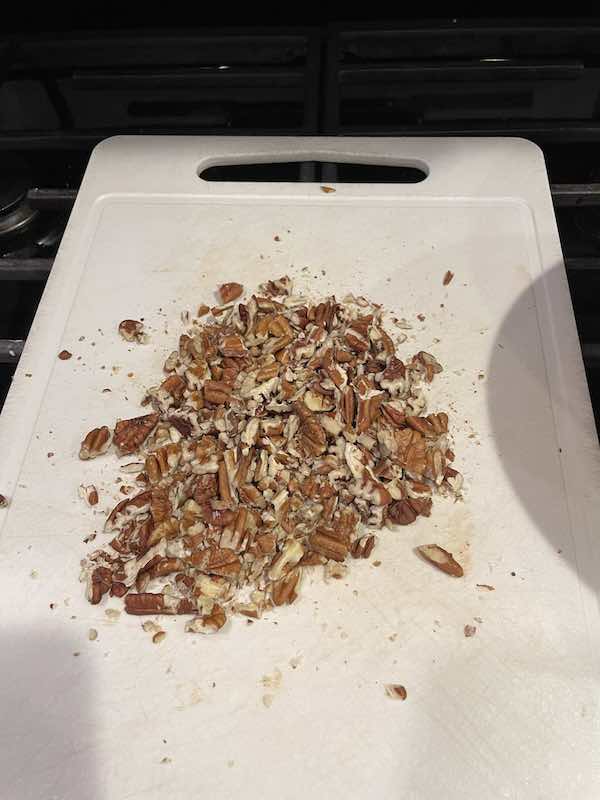 Use a Waffle maker or drop cookie method
Now that you have your chocolate waffle drop cookie batter you can decide how you want to bake them. You can use a basic waffle iron and make them into little waffle cookies. No need for special equipment like a Belgian waffle maker. Just make sure you spray waffle iron well with nonstick cooking spray to avoid batter sticking. This makes them really unique and special treats for your family and friends when made this way.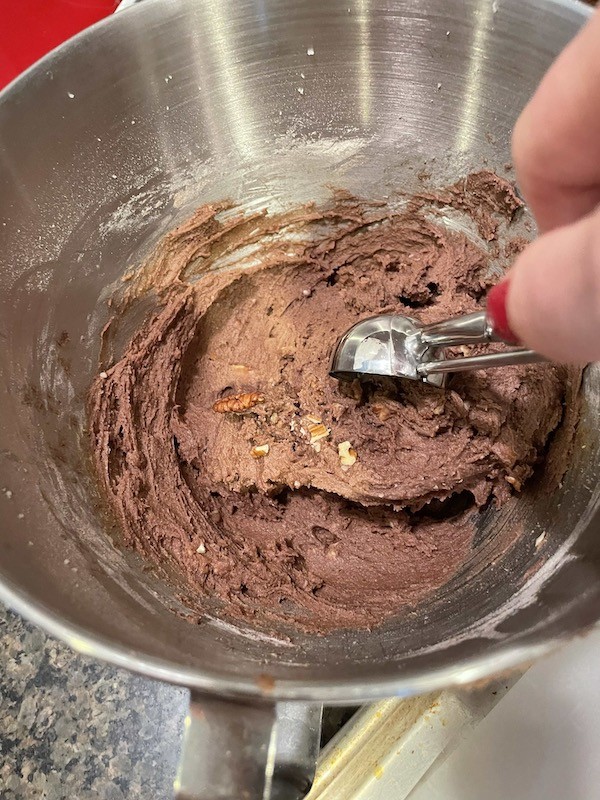 For the drop cookies, I just used my medium sized cookie scoop. I scooped the cookie dough onto a parchment lined cookie sheet.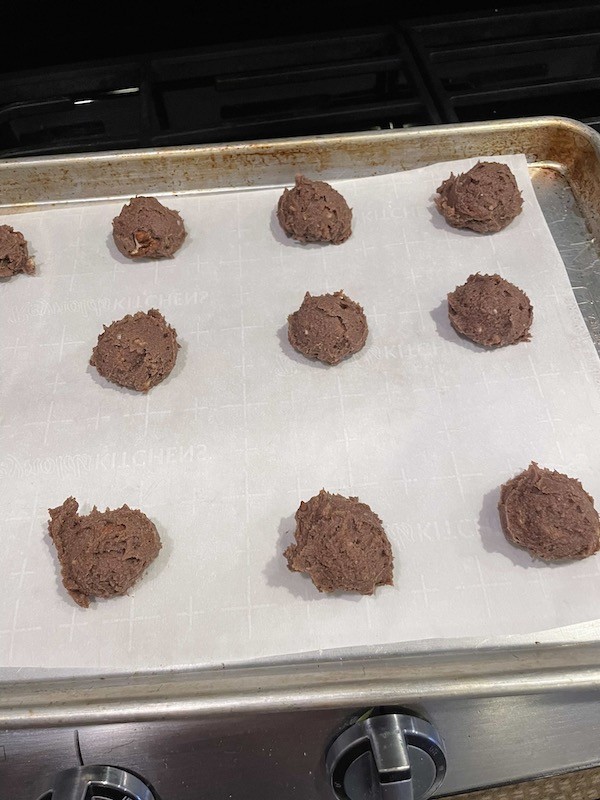 Bake them at 400 degrees for 10-12 minutes.
Cool the cookies on wire racks and then move them to a platter.
Serve the cookies
There are a couple of ways to finish off these chocolate waffle cookies. You could make some vanilla or chocolate frosting and frost them to make them extra special.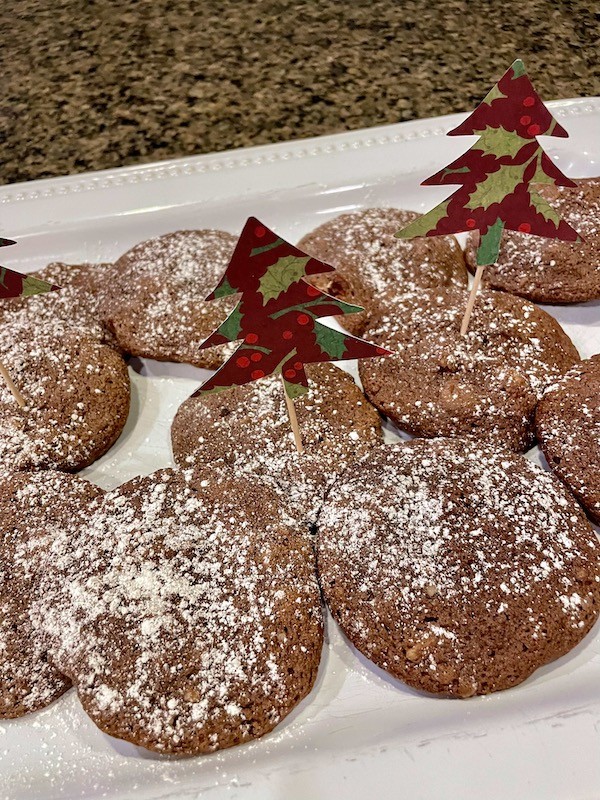 I didn't have time to make up some frosting so instead I opted for an easy festive way to decorate these chocolate cookies. Simply sprinkle some powdered sugar all over them.
If you have any left over cookies you can store them in an airtight container.
These are so much fun to make and perfect for the holiday season. You will want to keep this waffle cookie recipe on hand so make sure you pin it to your Christmas cookie Pinterest board.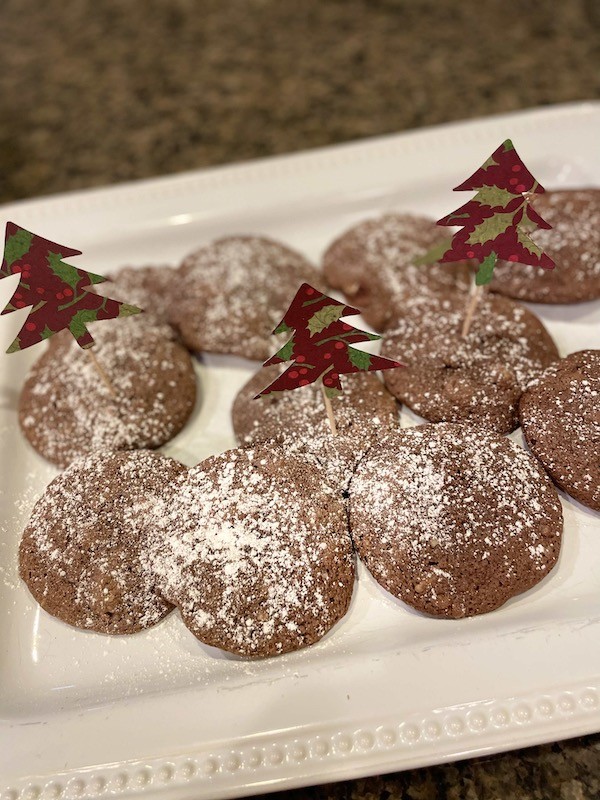 To serve add some Christmas cupcake toppers. I made these Christmas tree picks using my Cricut machine that you can see here.
Shop baking equipment
Below are affiliate links and if you purchase an item I make a small commission at no extra cost to you. This helps me keep my blog going and I really appreciate your support.

More Cookie recipes
Chocolate chip cookies with apple cider vinegar
Pumpkin chocolate chip cookies