Wow so much to share! This is our Italian Palace Palazzo Ricci restoration update!
Lots and lots of construction going on! They have surrounded the Palazzo with green mesh screening and scaffolding to help keep the dust and debri from falling.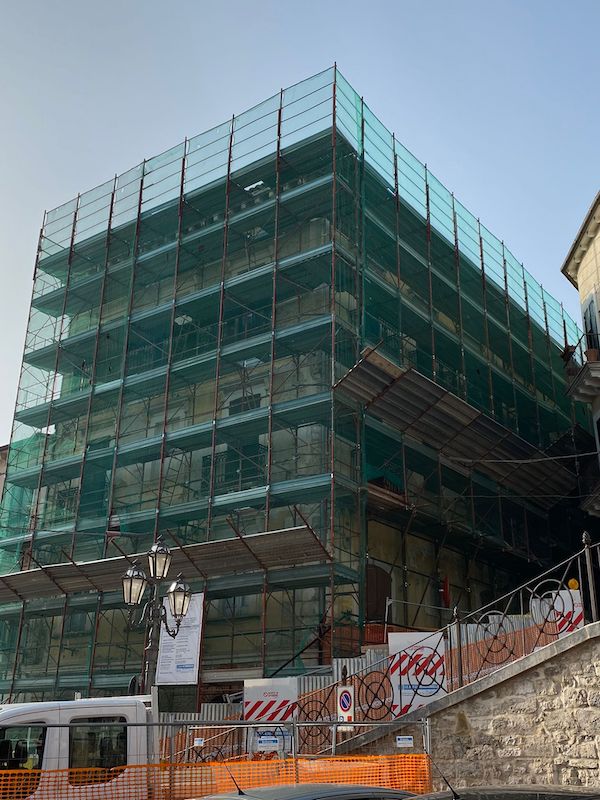 How it all began
The team we have hired to restore the palace is so talented and huge progress is happening. The town of Casolie is abuzz with all that is going on as well.
If you are new here you can read about how this renovation all began when we bought a 250 year old Italian palace fixer upper. This palazzo is in the quaint little town of Casoli which is in Abruzzo, Italy.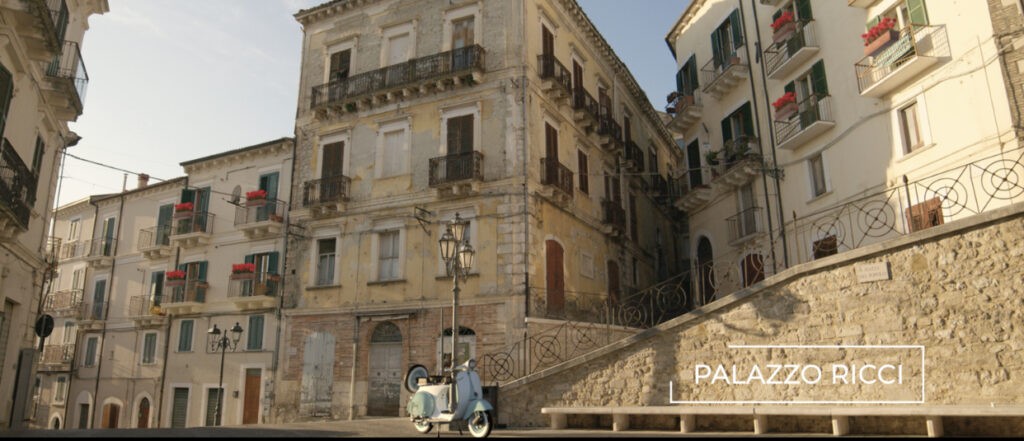 Italian Palazzo Ricci Construction
After digging an enormous hole in the ground right in the middle of the main street.
The construction company placed a huge metal structure into the hole that will allow the crane to stay sturdy.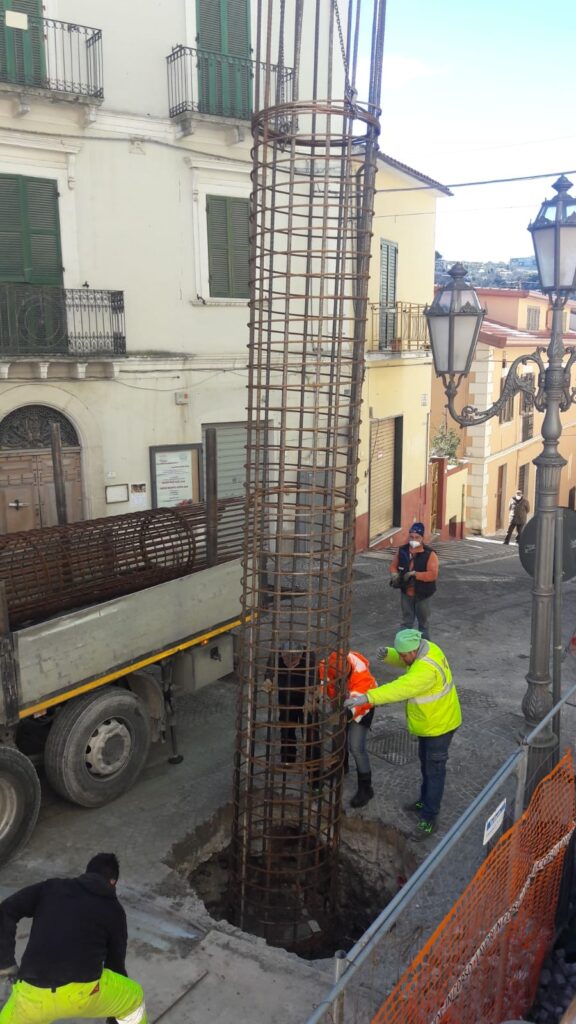 The crane will be used to lift heavy equipment and materials into the Plazzo and the surrounding grounds. AMAZING!!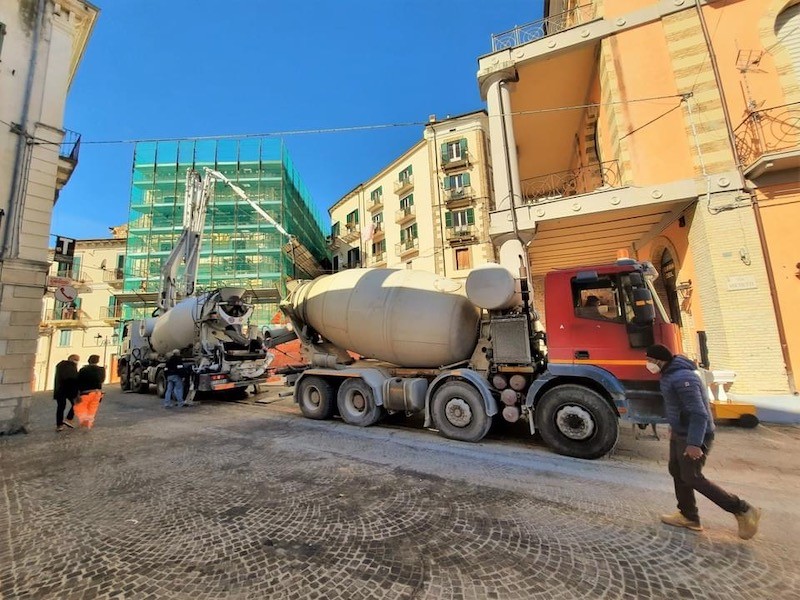 Isn't it amazing how they can figure things out like this? You would think that the street that goes up on right side of the Palazzo would be a better place to house this gigantic crane but it is not. That road is really only wide enough for one car to pass through and would completely block the entrance to other homes.
I am sure all our neighbors are getting excited about seeing this "grand dame" getting new life breathed into it. I know I am! 🙂
Construction inside the Palazzo
Our team is starting to restore all the masonry work now.
To support the ceiling areas in the lower level they have put up all these acrow props. Acrow props are steel posts used in the construction trades for temporary support of ceilings, walls and trenches.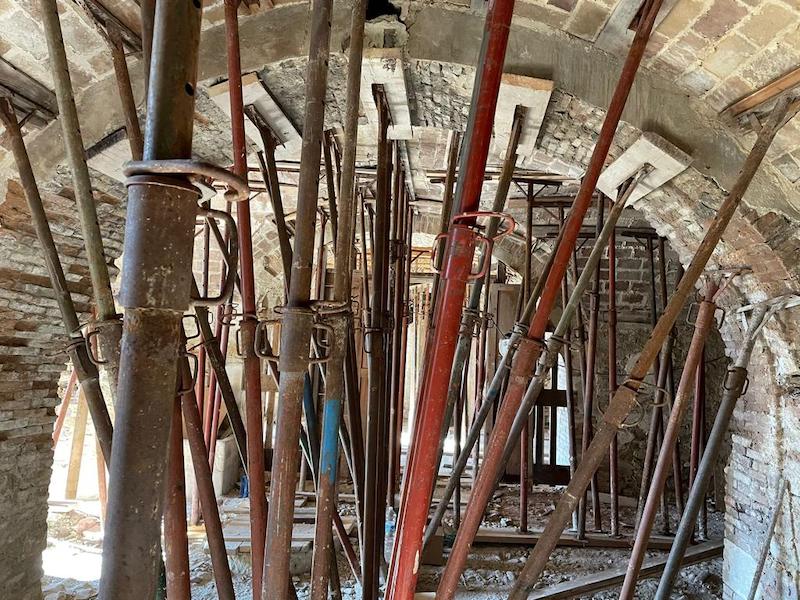 It looks like a maze of metal to me but also very exciting!
Restoring floor and arch walls areas
They are restoring the floors, the brick arches and the marble staircases. You can see the premiere film of Palazzo Ricci Reborn to see how many areas of the Palazzo will look when it is completed here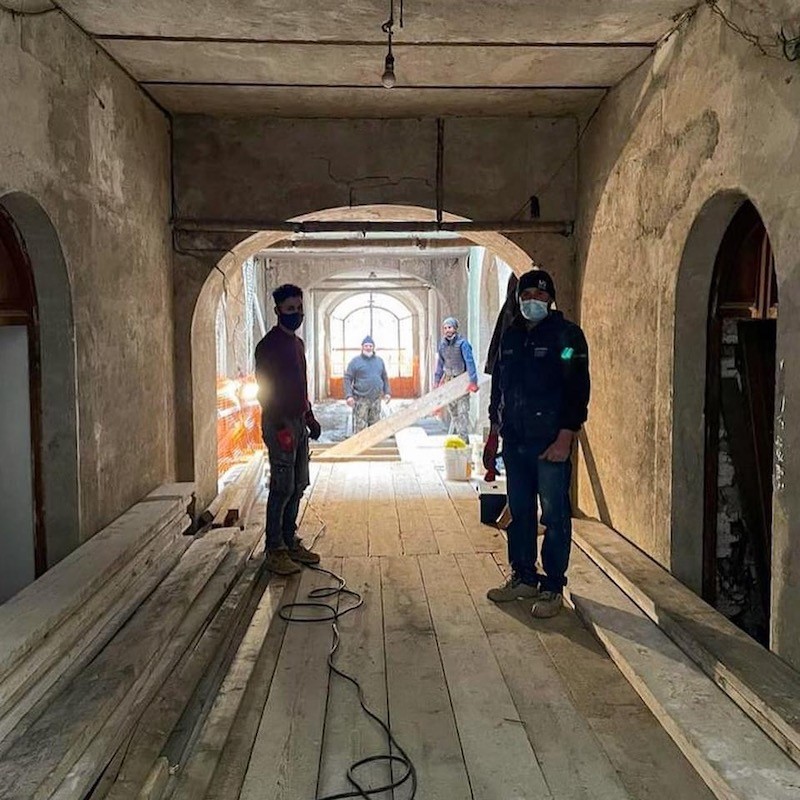 Look at how they support the brick wall areas by wrapping them and using wood supports as they begin the process.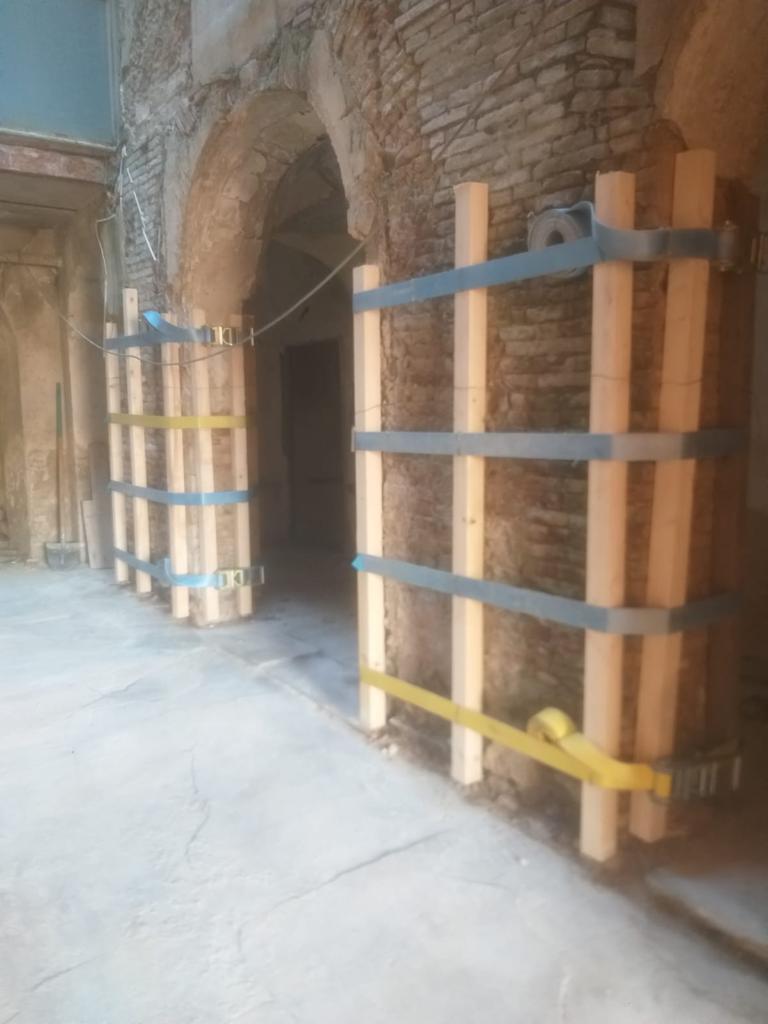 Below is one of the marble stairways they are restoring 🙂 So much work!
I just can't wait to get over there to see all of this myself!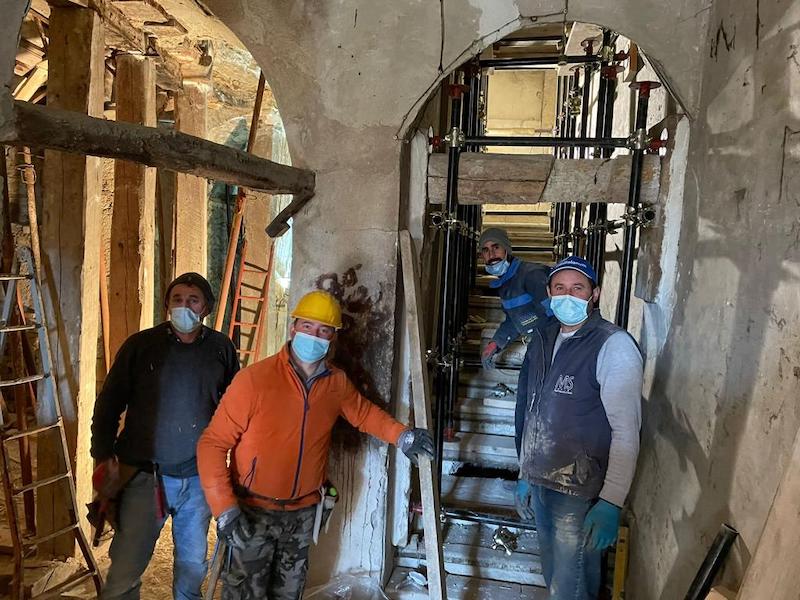 Cool things found in the Palazzo
Look what they found in some of the rubble in the basement! How cool is this!
An amazing discovery in our basement: an ancient "mascherone" fountain that will be used in our Italian landscaped garden..
We will for sure find the perfect place for this beautiful water fountain to shine again!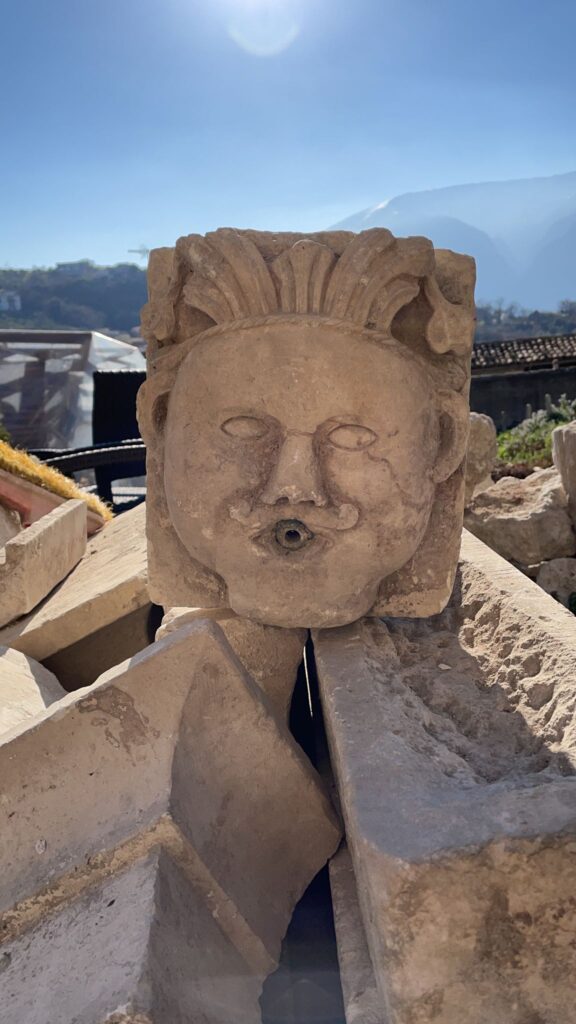 Also in the basement are some very very large wooden wine barrels that they used for wine making. Apparently these wine barrels are very sought after.
We are moving them to a warehouse and we will be restoring them.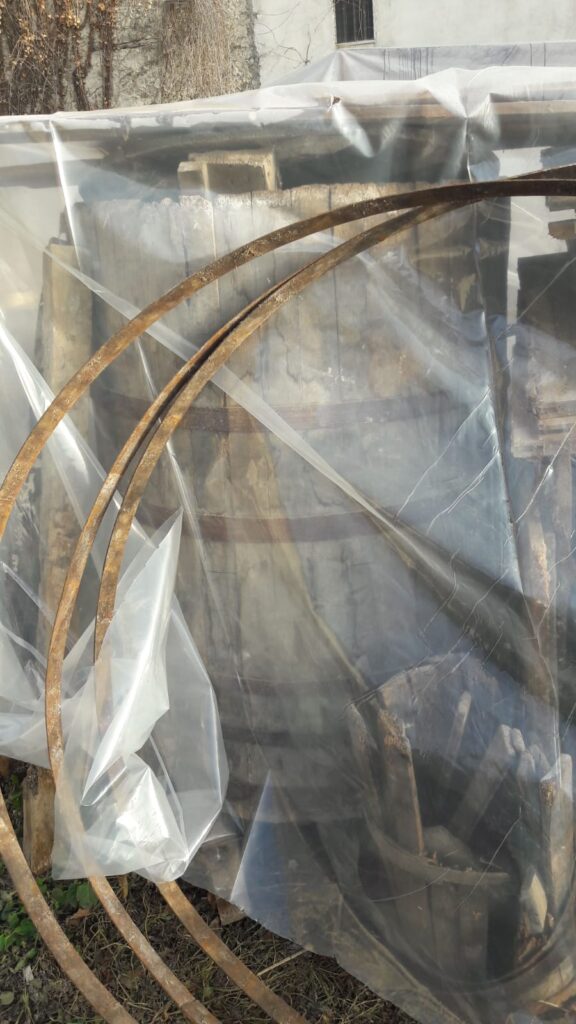 I believe we will use them in our decor or maybe we will put them in a small museum in the palazzo that will show all the historic things about Palazzo Ricci.
I just cannot wait for this restoration project to be finished!!
This is one incredible dream coming to life!