While in Abruzzo Italy we had the amazing opportunity to have a cooking lesson learning how to make pasta in Italy. It was totally a dream come true for me! I mean really who does not want to learn how to make pasta in Italy! Right?!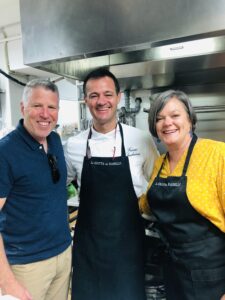 Our precious friends Bimbi and Spencer (who I told you all about here) told us we were going to this ristorante called La Grotta dei Raselli in Guardiagrele. Guardiagrele is a town in the province of Chieti, part of the Abruzzo region of central Italy. We had the pleasure of meeting chef Franco Spadaccini his wife Anna and his staff! He allowed us to have a hands on lesson in his kitchen to learn how to make pasta!
Making the pasta dough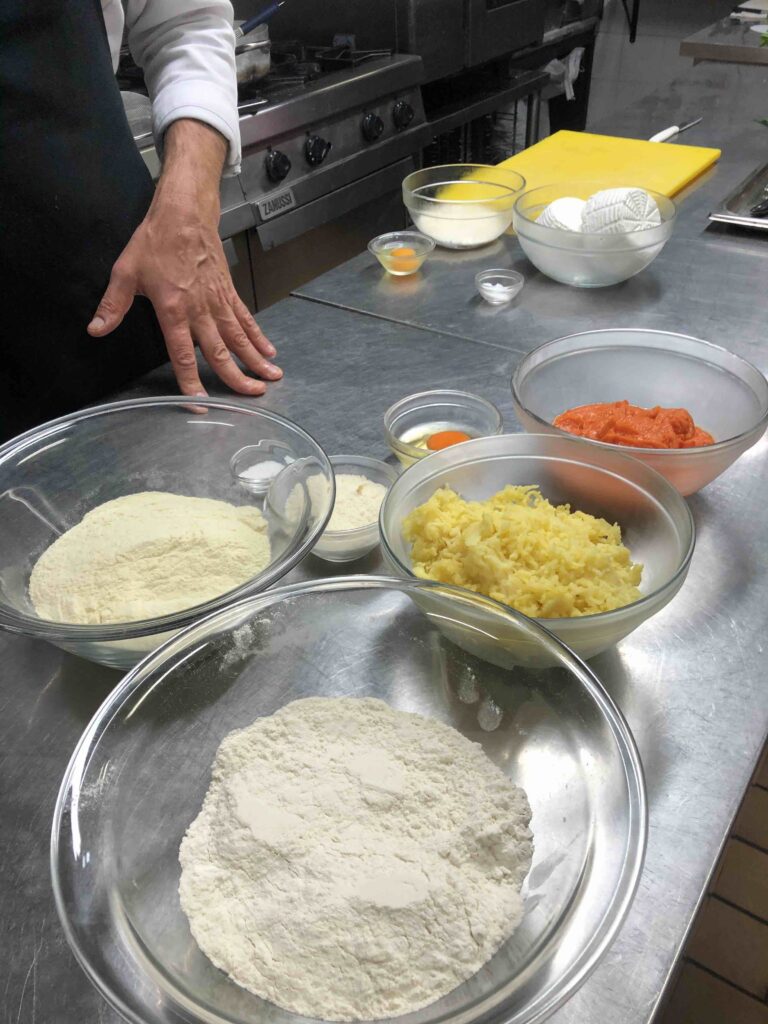 The first thing we did was to listen to chef Franco teach us about what ingredients he uses to make his pasta. We were able to make a delicious pumpkin pasta as well as a regular pasta. Truly it felt like I was in a dream learning how to make pasta in Italy!
Just being in Chef Franco's kitchen was so interesting and watching his team work so well together in a fairly small space especially with all of us in there was amazing. The staff was so accommodating to us and were so willing to teach us their skills.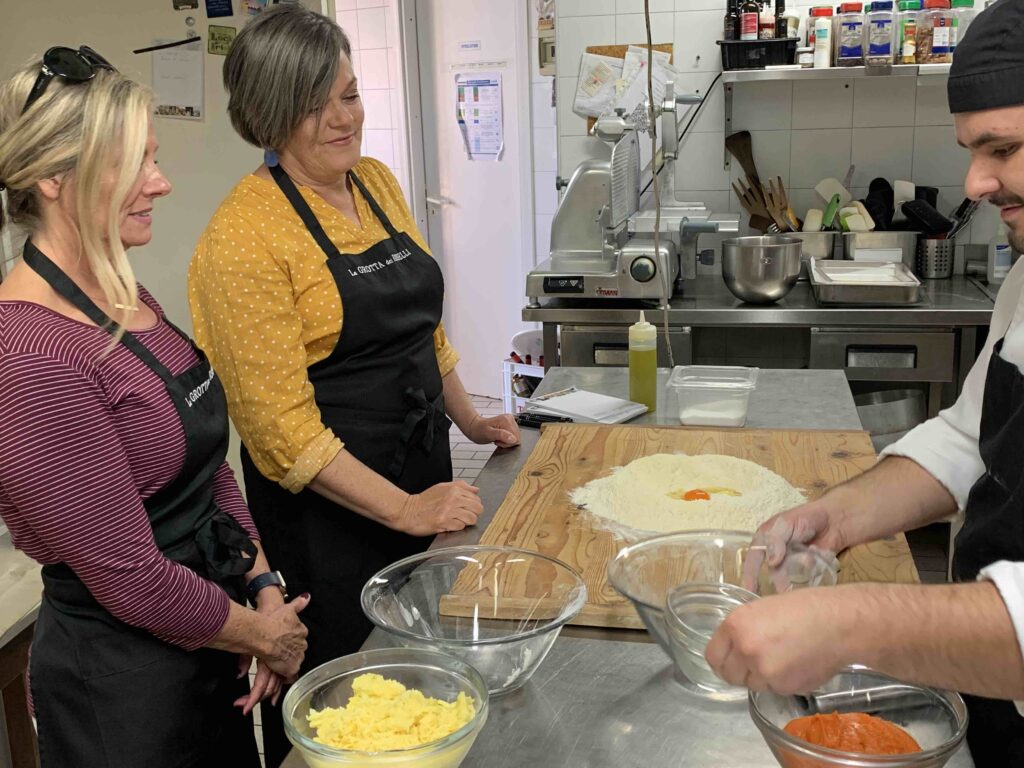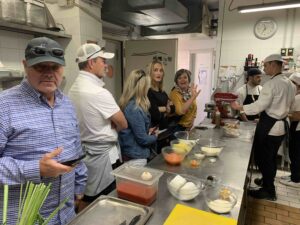 Learning how to make Gnocchi
After the pasta was made and refrigerated, chef Franco began to teach us how to make pumpkin Gnocchi. He would cut chunks of pasta and then roll it out into long skinny pieces. None of us had ever made gnocchi before so fun to learn how to do this.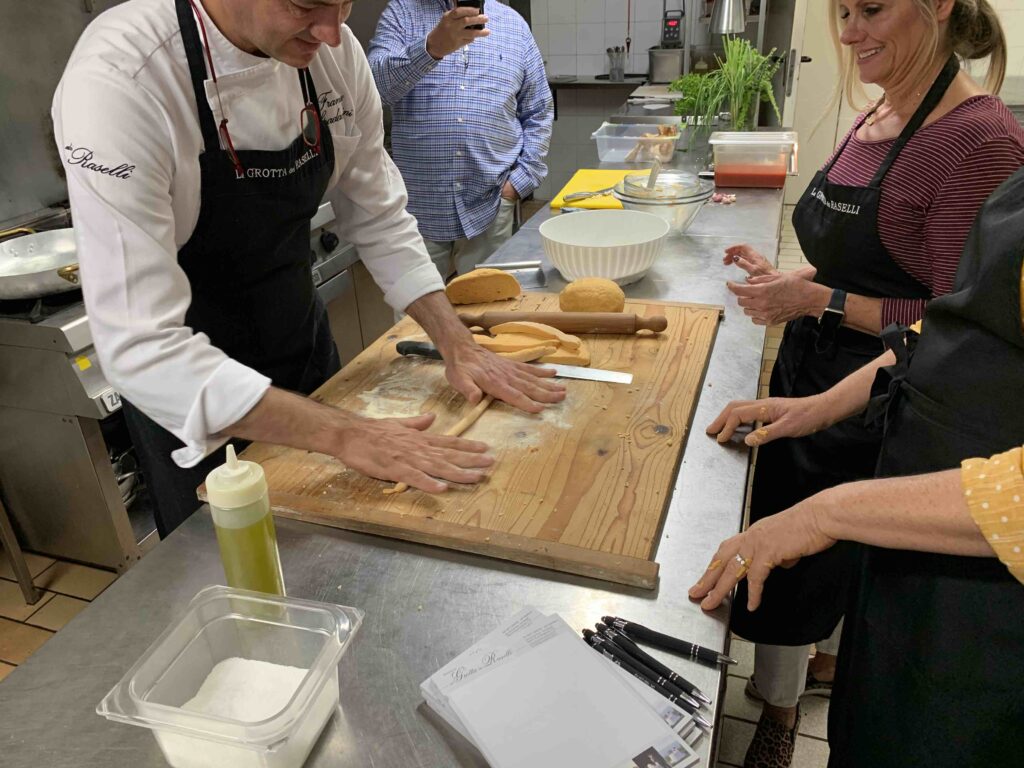 Once the pieces are rolled into long skinny pieces, we cut it into small 1 inch pieces. Each little piece is then rolled onto a wooden gnocchi maker. This allows each piece to have those little lines on it to hold the pasta sauce.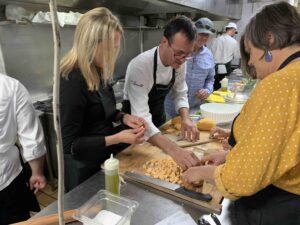 He also showed us another way, using a fork and gently rolling the little chunks with the edge of the fork to give it the little lines. It takes a bit of patience to get the hang of this but it was really fun to do especially with our friends. The gnocchi was so delicious once it was cooked and served with a mushroom sauce. You can see the final product in my video below.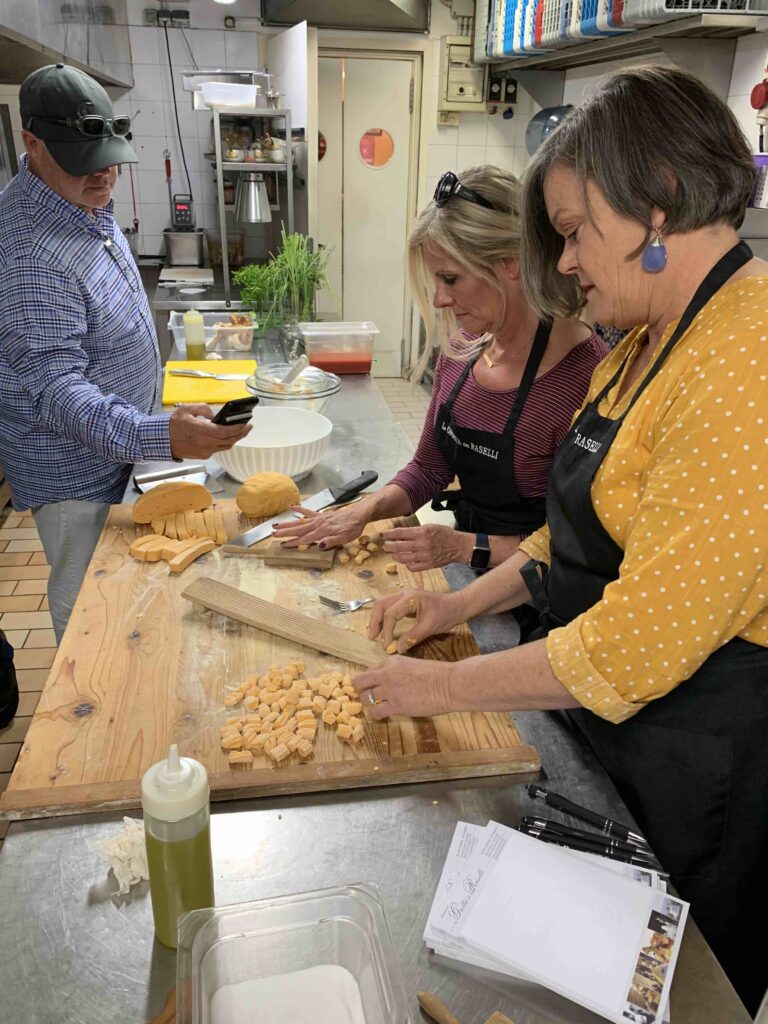 Anna who is Franco's wife (second from the left below) was so sweet to provide us non alcoholic drinks while we were cooking in the kitchen. This was a sparkling mango/papaya spritzer and I must say it was soooo delicious!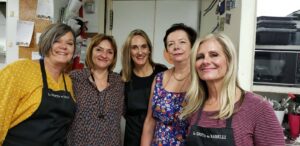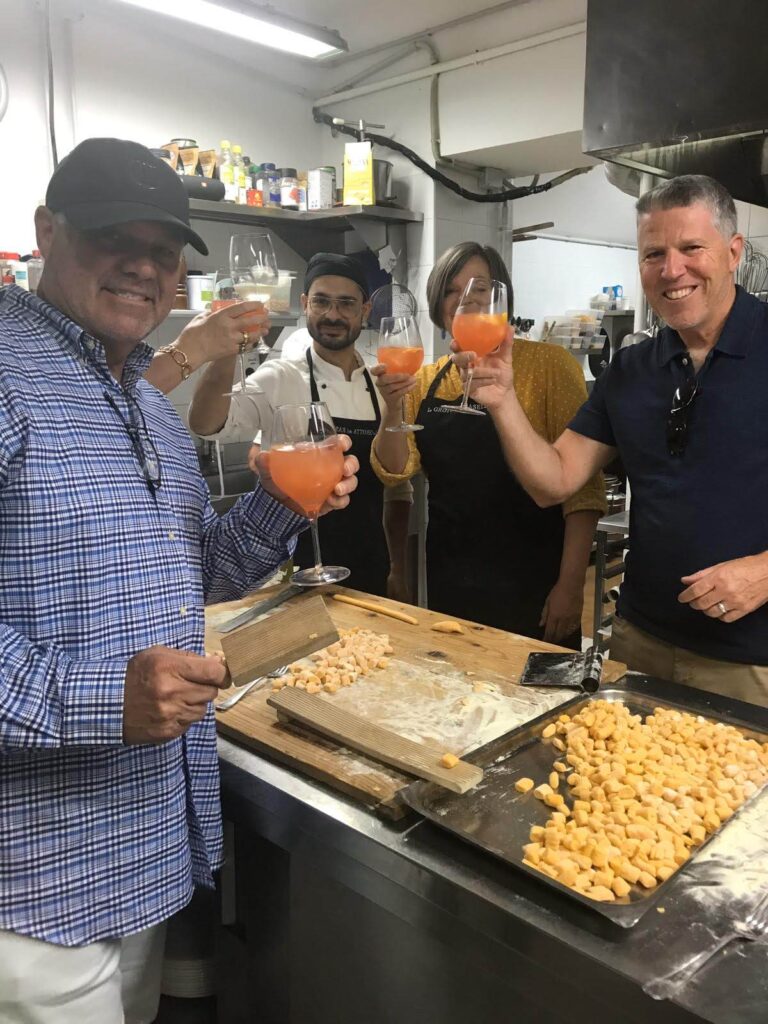 It was a blast working in the kitchen with my cute hubby 🙂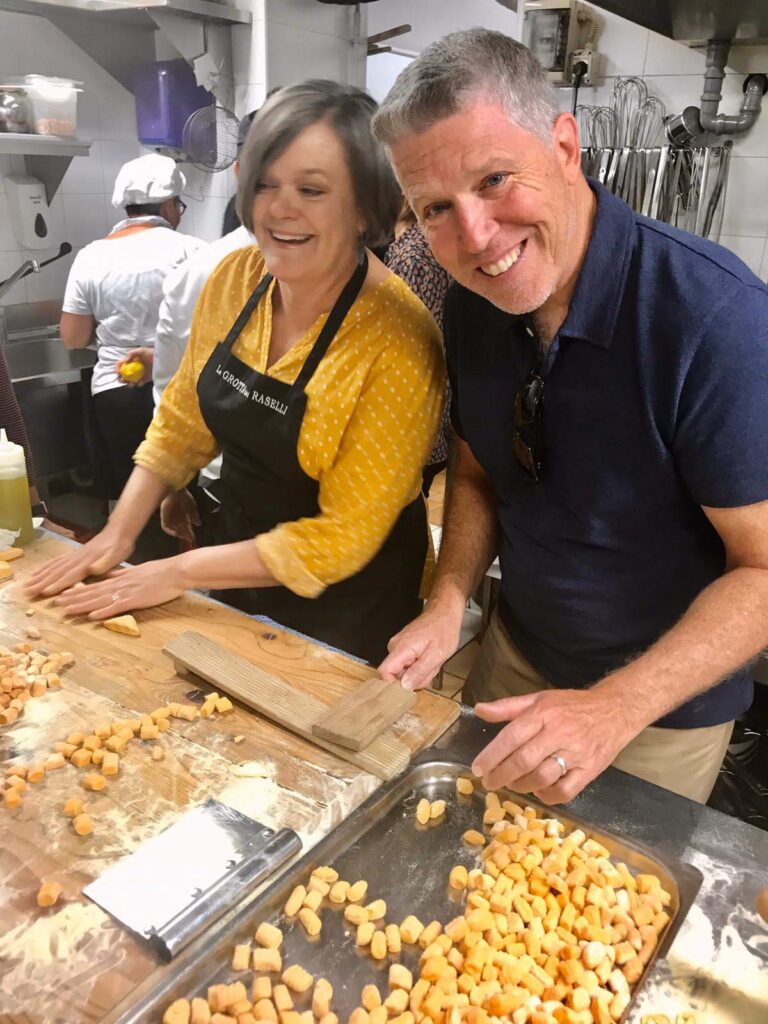 Learning how to make ravioli's in Italy
It was so fun to make ravioli's! They have a machine that rolls out the dough very thin and in long strips. In a pastry bag was a ricotta cheese mixture ready to be squeezed out. I had to squeeze the bag in small circular motions in little dollops all in a row. Then you fold over the dough to create a "pillow" and we used a cutter to cut out the ravioli's. You can watch me action in the video.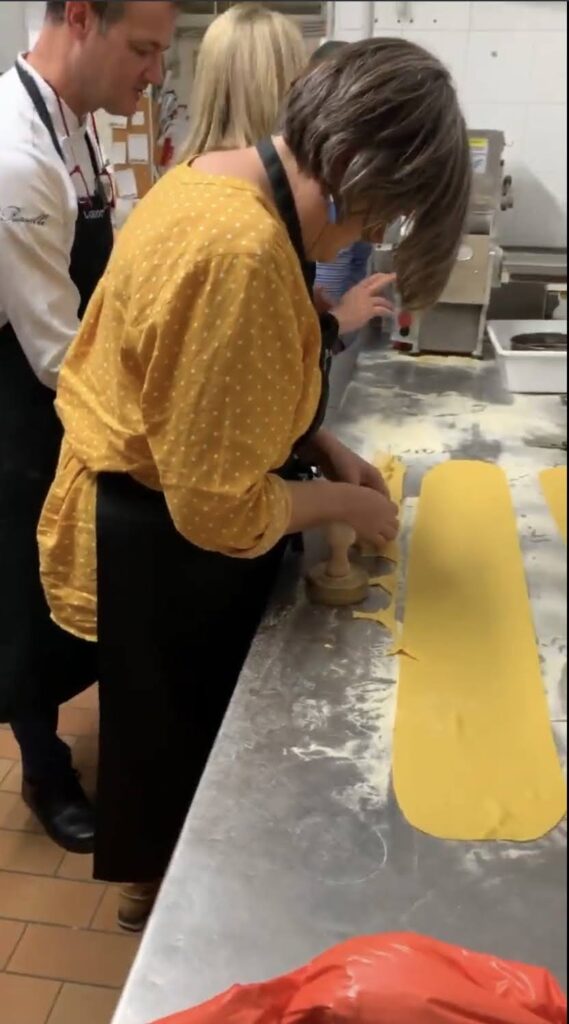 We all had such an incredible day learning how to make pasta in Italy and we can't wait to go back and do it all again!! Many thanks to Chef Franco, Anna and the staff!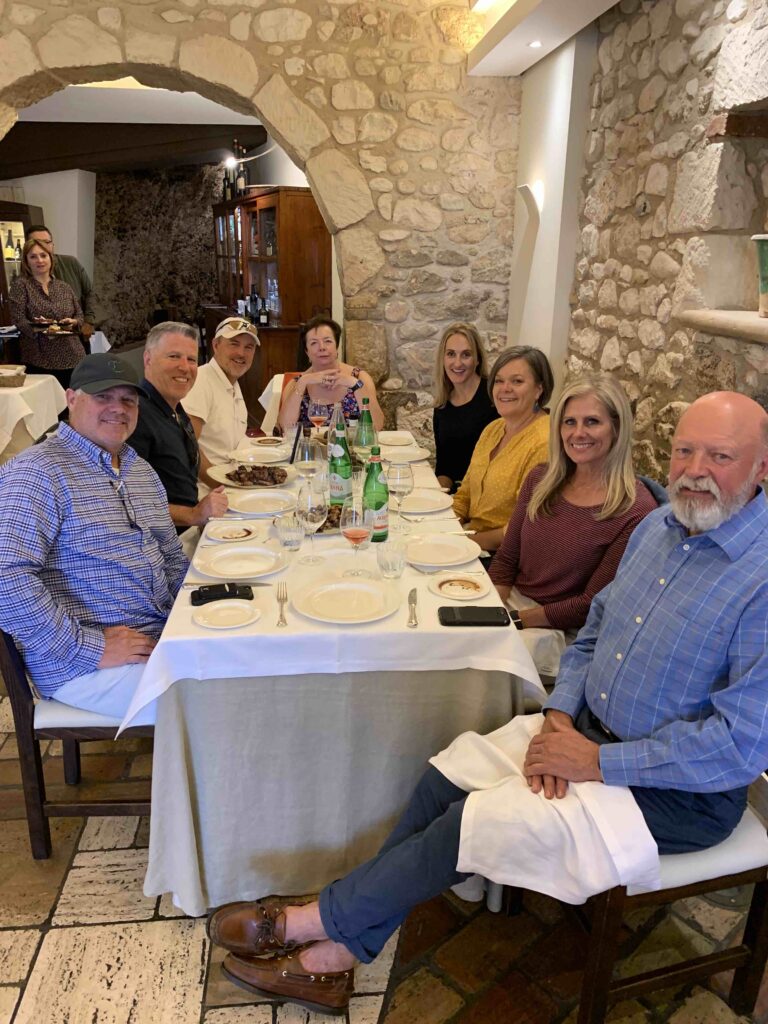 As we were leaving Chef Franco gave us a tour of his wine cellar in a cave! We also got to meet his father. I love how important family is to the Italians and that they often work together in the family business. Learn more about how we came to own a Palazzo in Casoli and follow along on our social media accounts Facebook and Instagram to see the design and progression of our fixer upper palace! There is a fabulous animated 3-D rendering of what it will look like when it is completed!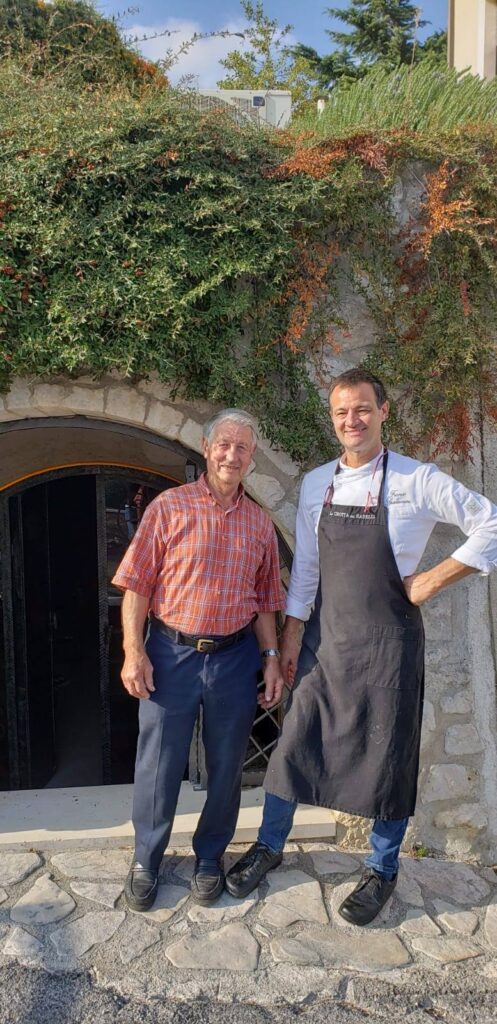 Shop this Post