A few years years back I was trying to come up with a fun way to display some American flags down the center of my table and realized I had some old Root Beer bottles laying around.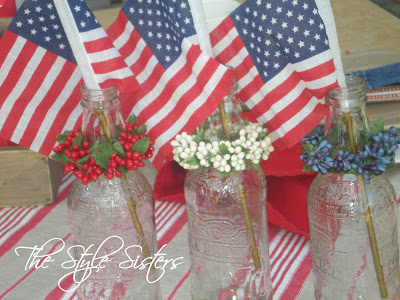 So I stuck the flags in them and added some red, white and blue napkin rings around the neck of each bottle. It just spoke AMERICANA to me and was sooo cheap!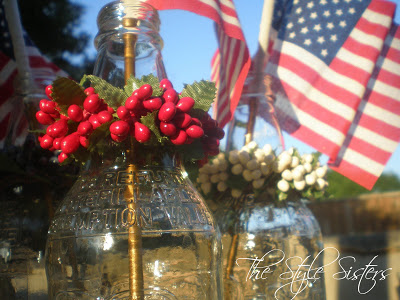 You can use Root Beer bottles or other similar type of soda bottle and add flowers to them and tie them altogether for another cute look too!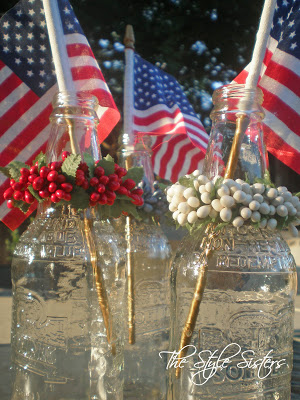 Popcorn Paper cups
Next I stole this idea from Pottery Barn..popcorn in rolled up paper to make a cup. I made the cute little paper cups from scrapbook paper and newspaper!
I just folded the paper into a cone shape and added a dab of hot glue to hold them in place and voila instant popcorn cups!
I found the wooden silverware caddy at Hobby Lobby a few years ago and knew it would be the perfect holder for my popcorn cups!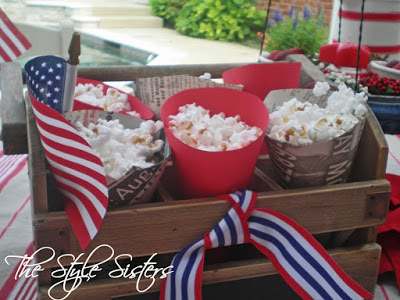 I added some red white and blue ribbon to the handle and tucked in some flags to add to the cuteness factor going on!
These are such a great idea for a birthday party, movie night in the backyard and can hold anything from French Fries to your favorite candies.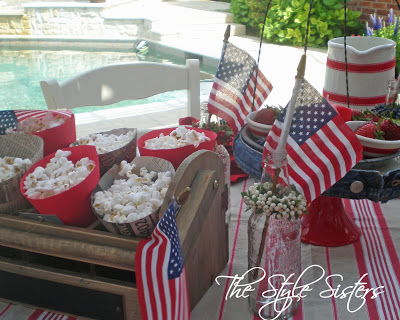 I love how the plain newspaper ones turned out but you can use some fun scrapbook paper too! So simple and CHEAP!