Can I tell you how much work moving is? Sheesh! We moved in about a week and half ago and it is work work work! I gotta say I do enjoy it. I just wish my back would cooperate more!
My sweet mom has been here helping me and when I say helping I mean HELPING like no other. Below you can see some gorgeous pillows she whipped up for my family room.
Don't you just love the floral fabric!
We bought it at Joann's during the memorial day sale so we were able to snag it for 50% off plus another 10% off our entire order!! Hello deally weally!
This fabric was originally 19.99 a yard! So yeah I have been doing a happy dance!
We found the striped fabric at the 2$ fabric store and I think it was 5.99 a yard.
We only needed a yard so that was perfect! I will show you more pictures as I complete the room….it is cute!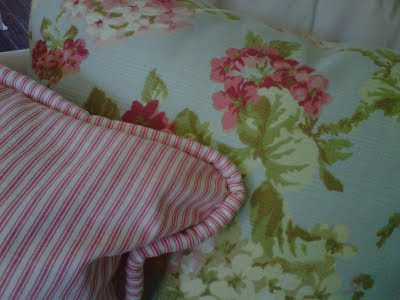 For my formal dining room we found these gorgeous white tab top with matching buttons, 108″ long drapes at JC Penny's over the memorial day weekend. Yes they were also on sale.
I purchased each panel for only $14.99 each! All done no sewing Hallelujua!!
Oh and the curtain rods I bought at Lowes (where most of my money seems to go these days) and yes they were 50% off too! I got them for $18.95 each!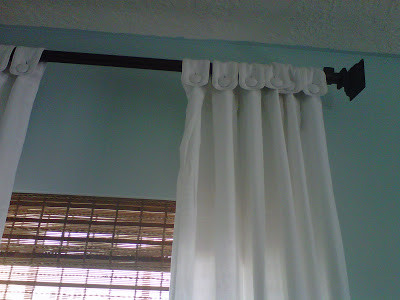 Do you see that cute bamboo blind peaking out between the white curtains? That is my biggest score!! I went to Lowe's looking for blinds knowing I would have to pay around $30 to $50 a window (I have 25 windows mind you) and what did I find but a large bin filled with blinds 75% off! I looked at these at first and thought those might do and went and looked at others. I came back and realized that some of these blinds would be $5.00 each!!! That's right $5.00 dollars a piece I was doing a jig right in the middle of Lowes! They did not have all I needed so I went to four other Lowes to find them all. Some had them on clearance and some did not. I showed them my receipt and they honored the prices!! I could not believe my luck! I will show more photos soon of my sweet bamboo blinds in my completed dining room soon.
Until next time……
Wait till I tell you what I found our local Deseret Industries thrift store!
Be on the hunt for deals they are out there!!
Karin