Our sweet brother passed away one year ago today from colon cancer.
We really miss him.
Tim was the kind of guy that was larger than life….he had that magnetic kind of personality that attracted people from all walks of life. Tim's smile alone could light up a room!
He had an amazing sense of humor that would make everyone laugh right out loud! Even during his funeral when friends and family shared stories about him all 800 people in attendance were laughing out loud. He was adored by so many people!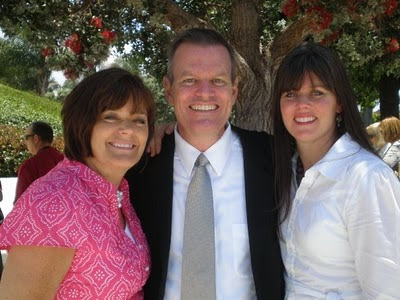 Tim had a heart as big as all outdoors and he not only cared about people..but he put his feelings into action and always helped people in any way he could whether it was to give them money when they were down on their luck and/or invite them to live in his home.
He loved music and we could sit around for hours in his office listening to the zillions of songs he had downloaded. Tim owned a kareokee system and would love to love to sing "Mac the knife" to any all who would listen. He did have a great voice and perfomed in a local community theatre group. He even landed the leading role…. scrooge…. in the musical production of "A Christmas story" His ability to express scrooges feelings were powerful!!
Tim lived and loved life to fullest.
Tim is the father of 8 beautiful children…7 boys and 1 girl and husband to Liz an absolute angel and truly amazing woman. One of his favorite places on earth to go was Disneyland and he and his family would frequently pack up their car and drive 6 to 7 hours to get there. Tim and Liz's relationship was heaven on earth…always there for one another and always showing affection.
As much fun as Tim always had in life he always had his priorities straight. He love the Lord and served his fellow man. Tim had a testimony of the restored gospel of Jesus Christ and he was an example of the savior…showing compassion and love to those around.
We feel so blessed to have had him in our lives for those 47 years.
Love and miss you Tim-Bob!
Karin and Tiff