Remember a few posts back my daughter told you that we had a big surprise to show you…well here it is…we took this lovely old settee and…..
decided to reupholster it!!
Neither of us had ever reupholstered anything of this magnitude before.
Madeline, her sweet husband Peter, my other daughter Emily, my sweet little granddaughter and I all worked like dogs!! Pulling out hundreds and hundreds of staples….Yanking off all the fabric….taking the entire settee apart and then……
We painted it and began the reupholstering by stapling the new fabric on the sofa and stapling and stapling even more!
Then we had to put the entire sofa back together again. Since this is the Style Sisters we did it in style! Check out the outfits we were wearing while reupholstering…see my cheetah scarf and those shoes!! (the shoes were Madeline's of course)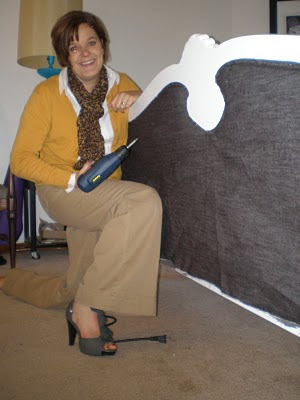 At one point we couldn't see where to staple in a few sections so Madeline strapped on her head light! But notice her gorgeous drop earrings!! and her beautiful draped green top! Style all the way!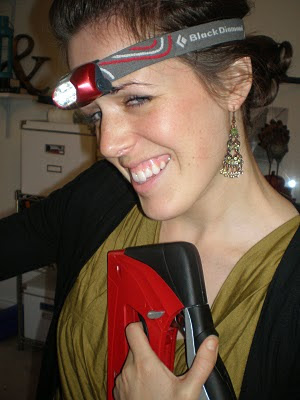 You can see all the photos of the complete transformation over on Madeline's blog
HERE
Oh and check out the beautiful trim she made too..there are many closeups over there.
Me and my sweet little grandbabies sitting on the sofa! and Yes we did all of this with two little kids in tow in a little apartment…even the painting!!….
Yes we are crazy! 🙂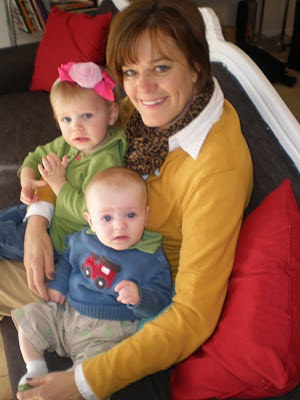 Hop on over and check out all the photos and say Hi to my sweet daughter.
It was so much work but also so much fun to work together on a big project like this with her.
I am participating in