Red Valentine's Day Tablescape
For those of you that know me…I love me some red!
I came up with this tablescape by gathering things from around the house that would work with this color scheme.
I started with the striped red white and tan fabric in the center all crumbled up. Added the large white lantern (Ikea $10.00 years ago) and then the brown bamboo placemats .25 each at Garden Ridge.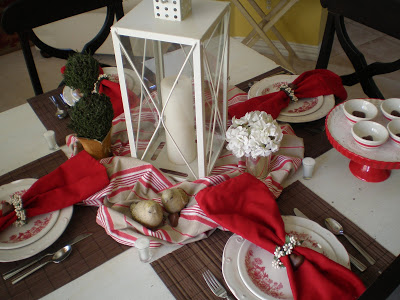 I used some of my dinner plates I bought from Tai Pain awhile back for $2.00 each and added the floral salad plate (free from my mom who got them from a used restaurant supply place), I used the bright red cloth napkins with one of my white napkin rings (My Etsy Store), I love how the red napkin really stands out when placed over the entire placesetting. I added a small chocolate heart candy to the mix.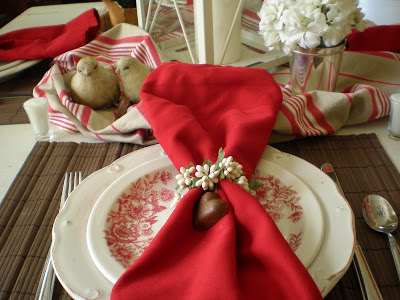 This cake stand is actually a Christmas cake stand and has Christmas trees in the center but who's to know when you cover it with a white doiley and my cute red and white striped bowlies each with a chocolate heart in it. (I would fill it with some creme brulee if I stopped playing around with dishes and cooked ha ha). I pulled the little birdies from off the shelf in the kitchen, the little green ivy from the bathroom and the little silver vase with white flowers from my daughters bedroom.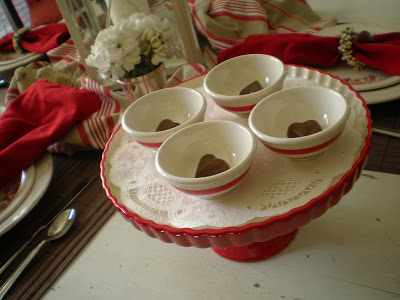 I love to set a pretty table with things from around the house.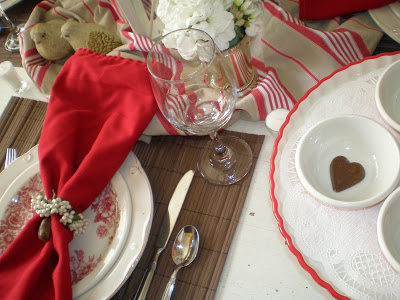 Take a tour of your own home and pull things from here and there to create a tablescape without spending any money!
mmmm what could I use…I must go shopping in my house now.