I spotted this armoire at the thrift store a few months ago and decided to get it and re-do the inside of it to hold all my extra glasses, dishes and linens. So the first thing we did was…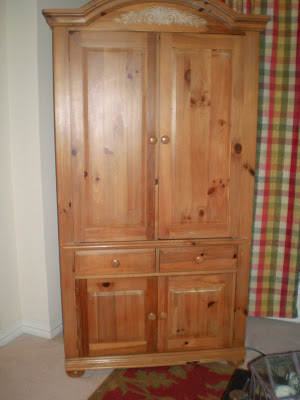 Rip out the shelf that use to hold a T.V.
We had to use a crowbar to get the dang thing out!
then we removed all the electrical plugs that were there for DVD players and such.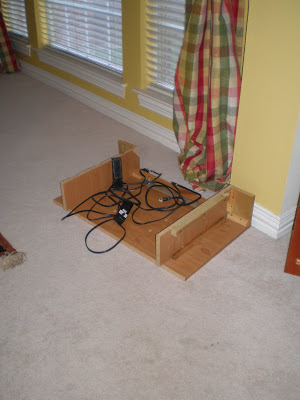 Where the large hole was in the back of the Armoire (For large T.V's.) I had some toile black and white fabric left over from some other project and used a staple gun to attach it all around to cover the hole and make a pretty background.
I think it turned out great!
I then had my cute hubby put in one shelf.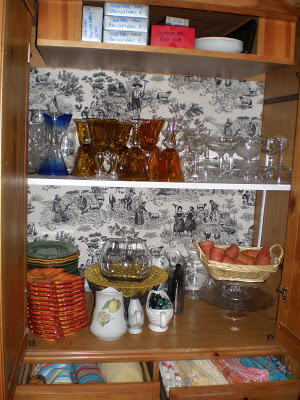 But then I decided that two shelves would be better… so he installed a second shelf.
It holds all my extra glasses, holiday dishes, odds and ends perfectly.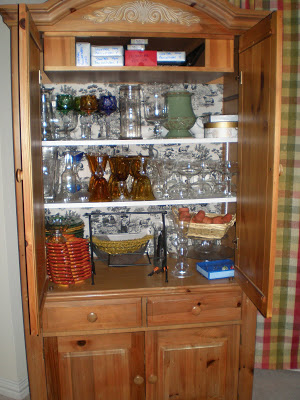 All the drawers and cupboards below hold my napkins, placemats, chargers and tablecloths.
With just a little bit of work I now have great storage for all my goodies.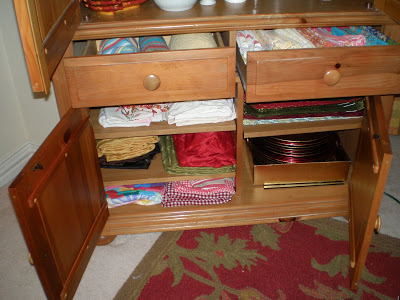 I am participating in Tablescapers Where do you keep it