Looking around on the internet I found more ideas for your Thanksgiving table place settings and napkin ideas. I absolutely loved this idea of using small amounts of pepperberries wound into a small wreath to hold the napkin, salad fork and dinner fork. So simple and yet adds a nice punch to the table.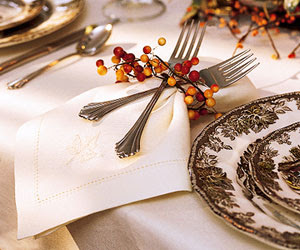 I really love the rusty orange table cloth going down the center of the table and the brown napkins with what looks like some fresh greenery.
Fun and unique.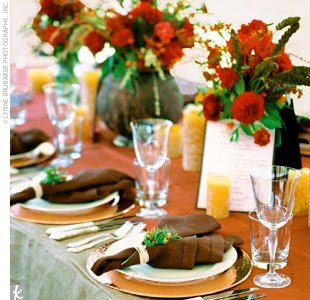 Photo from the
Knot
Even though the plates are blue and not a traditional color for fall…. I loved the idea of using one large bloom (sunflower) as a name holder. You could use fresh flowers or silks. Also the napkin is placed under the salad plate for a new look.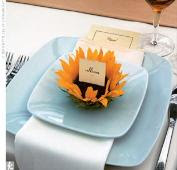 Cute idea of wrapping the napkin like a present using a dark brown ribbon and I also like the idea of using a minuature white pumpkin on the top as a favor. Notice the layering of plates in different colors on the dark red charger.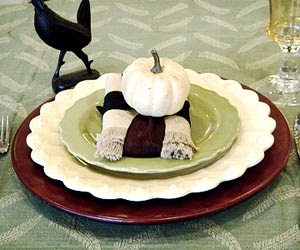 I just loved the small white pumpkins mixed with the texture of the pinecones and the white small berries. Very simple and zen-like.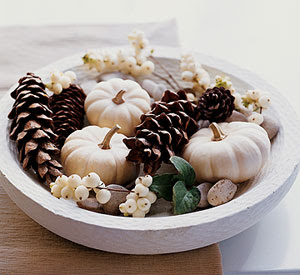 Photo From BHG
I love this napkin ring idea…using fresh rosemary to make a wreath. I have gobs of rosemary growing in my yard so I will definitely be trying this one out.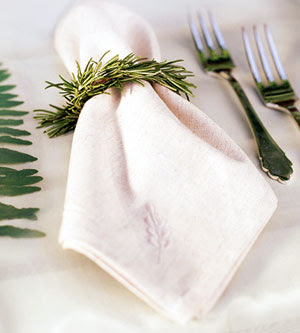 Photo below: from my own home.
I think this is a fun way to add some drama to your table by folding your napkin into what is called cockscomb and adding a flower.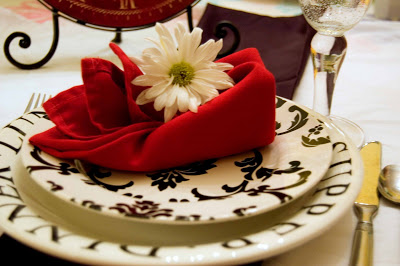 photo below: My own home
This is another way to show off your napkin by folding it the same way as the above photo but placing it in the goblet. Add some drama to your Thanksgiving table this year by using cloth napkins, folding them in creative ways or simply adding a fun napking ring holder.