Since we moved here to Texas we have noticed some strange traditions around here. At my daughters High School the kids either purchase or make each other Texas homecoming mums!. You may ask yourself as we did what in the heck is a homecoming mum?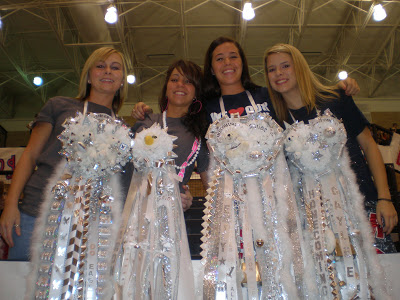 Texas Homecoming mums- Karins Kottage
Well I am here to tell you….. It started way back years ago to give the girl you go to homecoming with a mum.
A flower to wear to the game or dance to wear on her dress or shirt. Well the mum has grown to gigantic proportions!! A Texas Homecoming Mum Tradition in Large Proportions!
What is a Texas homecoming mum?
The mum now consists of large silk mums (that you can't even see) attached to a card board base.
You then can add small stuffed animals like teddy bears or your school mascot. Lots and lots of ribbons and sparkly trim, charms of all kinds, cow bells, whistles, ribbons with yours and your dates names on them. Ribbons embossed with glitter. Some of these mums have battery powered lights on them!!
Where do you wear the mums?
You may be also be asking yourself, do they wear these to the dance over their dresses? No they don't wear them to the dance. They only wear them to school and to the big game. We teased our daughter that we would have to make her mum like a backpack because it seemed to heavy to wear at school all day!
Emily made hers this year and did a really amazing job. It was huge, sparkly and fluffy…all the things she loves.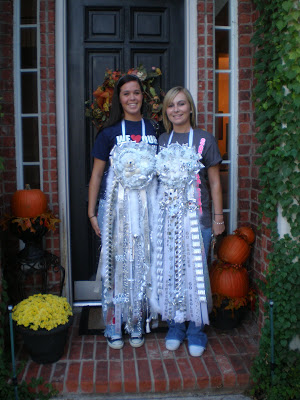 .
Cost of a Texas homecoming mum
Let me tell you they are not cheap either!! Last year my daughters date paid almost $200.00 for hers!! I personally think it is the craziest tradition I have ever seen but all the kids sure love making them. Wearing them to school is an absolute must! I must say that this year my daughter came home with a neck and headache because hers weighed so much! HA HA.
Another Texas Tradition Senior pants
Another wild tradition in Texas high school is making senior pants. These are jeans that the seniors make. Using a pair of jeans and using iron on letters to spell out things like senior royalty. Emily and her friends all got together and painted their jeans with puffy paint and cut out letters from fabric that had under wonder on it and ironed them onto their pants.
I don't know if you can see but there are some glitter and sparkles on these pants as well.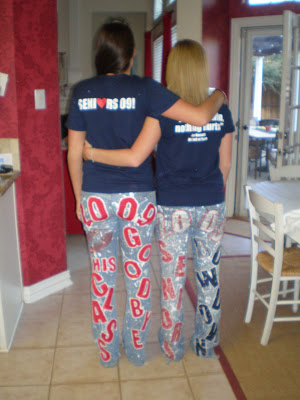 Emily's pants on the back say 2009 Kiss this class goodbye and on the front it says Senior Royalty.
Crazy but fun traditions and definitely school spirit!
The saying is is true everything is bigger in Texas even traditions!
Blue and White Graduation Party
Make sure you check out my blue and white graduation party too! Loads of ideas
Shop mum supplies