MAKING DO WITH THRIFT STORE FINDS!!
Rhoda at Southern Hospitality
is hosting a party and showing all our favorte thrifty finds. Here are a few of mine.
I recently found this photo of my living room before I added some color by sewing up some drapes in a plaid fabric of bright yellow, red and green. In this photo you can also see that there was some blue and white wallpaper in the dining room (I think it had some peacocks in the pattern) I painted right over the wallpaper!! It is funny to look at these two rooms and how they used to look…..don't get me wrong…..I really do like white rooms…… if there is also a lot of texture to go with it like…. wood floors, woven baskets, rugs and some other punch of color. I think the reason I did like this room is because this room has white carpet (who in their right mind would put white carpet in a room is a mystery to me. I did not do this!! it was already here when we moved in by the way).

You can see that I camoflaged the white carpet with this fun red, yellow and green wool rug from TJ MAXX. The sofa and club chair (in the forefront of the picture) were from a garage sale as well as the coffee table and side table. Those two tables were originally a pale yellow color and I painted them black.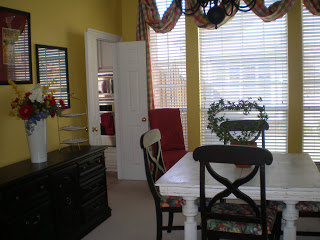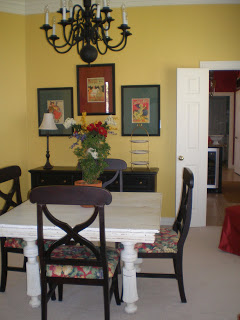 Here in the dining room I painted over the blue and white wallpaper with a yummy golden yellow and also added more drapes in the same plaid fabric. I just used some left over fabric to throw on the table. (I am trying to decide if I want to paint the table black) This is my favorite thrifty find!!The black piece of furniture in the back (the sideboard) was a yucky old dresser at a thrift store that I bought for $25.00 and painted it black.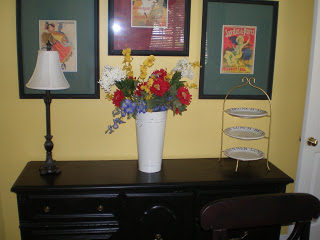 The photos above the sideboard are french pictures from a calendar framed in old oak frames that my sister had in her room when she was a little girl! The chandelier was orginally brass that came with the house and we took it down and spray painted it black. A whole new look for the cost of a couple of cans of spray paint.
But now….I am thinking I might want to change up all the colors…… Since I have recently painted our bedroom that yummy robin's egg blue color with black furniture… it is so refreshing. If I do change this all up it will be a major project and I just don't think I want to tackle it right now. But maybe I could change a few things up for now…..maybe new artwork, paint the table black, add a rug in the dining room, find another coordinating fabric to add some variety……hmmmm what do you think?