Okay all my blogger friends I need your advice….After looking at my photos of my living room and dining room and re examining them from a different perspective and checking some of the other awesome blogs that are out there….like nestingplace I have decided that I think I might need some toile! Look at nestingplace's family room/dining/kitchen photo below. I LOVE THIS ROOM NESTING PLACE!! We both are using similar colors…red, yellow, black and white.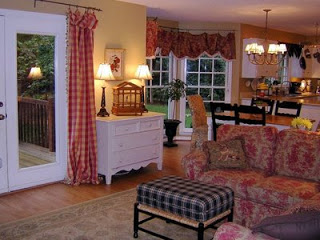 I love the combination of checks and toile and the black plaid. It looks so cozy and inviting.
Notice her black chairs around the white dining table (I have a similar look below) but my yellow walls looks yucky in the photos. It looks like it has some green in it!! It does not look like this in real life….I promise. Maybe I should repaint it a softer yellow tone? Won't my husband be thrilled to hear this…"another painting project?"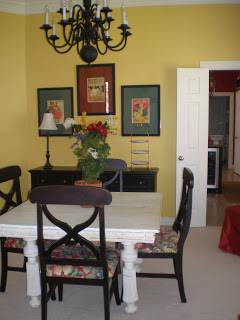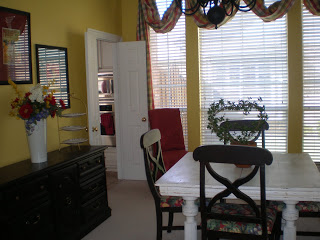 I also love Nesting place's white cupboards in her kitchen. Mine are kind of a creamy color…I don't think you can tell by the photo. I really want to paint the cupboards white white but I don't know how well it will look with the beige colored granite counter? I think it could really come alive with a toile fabric curtain treatment in the window to warm it up. The walls are wallpapered in the red color….if you look closely there is a pattern in it…red on red. It is actually quite fun….it was here when we moved in. Kind of like a toile pattern!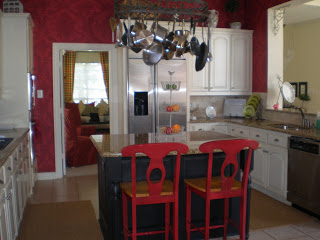 My wanna-have, wanna-be hutch look (the cheap way)….. Made with Ikea shleving and lots of black and white dishes. With a few extra accessories she came out looking pretty cute don't you think?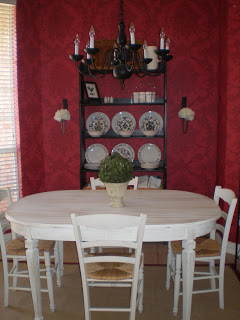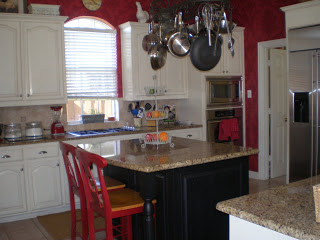 This is the (Ikea) family room which has the softer colored green sofa…since all these rooms look into each other I couldn't very well go with a different color scheme like robin's egg blue could I?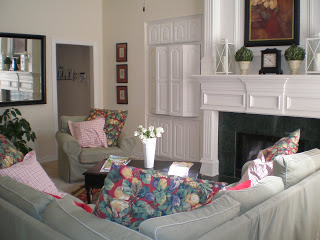 I think I am overdosing on the red but I don't what else to do. I was actually contemplating getting white slipcovers to go on this sofa and go for black and white only getting rid of the green…but I have a large chocolate brown labrador that likes to rub up against the sofa and so it would be dirty from the get go! So I decided to nix that idea right out of my head. I know what you are saying put the dog outside but she is just so sweet and loveable I just can't do it! We had another lab once upon a time ago and he drowned so we are now more attached to this one…long story.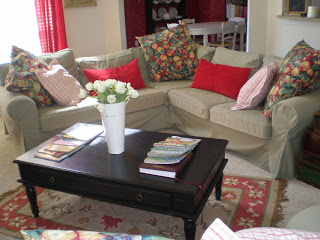 Lastly this is my office…black and white with one yellow pillow. I made the curtains with some black fabric and added the toile fabric chunk to the very top of the curtains. It added alittle sumpin sumpin to it. Of course I am not going to show the other side of the room which is a total wreck…you only get to see the pretty part. 🙂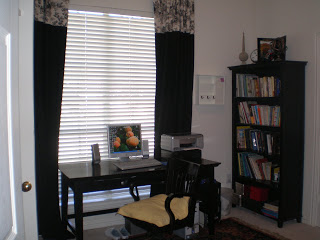 So there you have it gals…..what would you do if you were me? Would you add some toile? Scrap it all and start over?, Just enjoy it the way it is? Get rid of anything? I really want some advice and I know you are all just dying to give me some. 🙂