Okay
Pikes Pickles
you gave us a challenge to see if we could come up with some ideas for your dining room and this is the first installment of some ideas that we have come up with. Here is a mosaic of some photos that might help to give you ideas as to what might work.
Click on picture to enlarge it.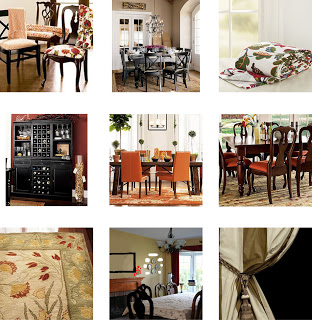 starting from left to right…First off we really like your dining room and the furniture. You can really make this room sparkle with just a few small adjustments or go bold with a lot of changes. picture #1 We thought your dining set looked similar to this one from Pottery Barn! (You are right in style!) But notice in the photo that these chairs are black and have a fun color fabric for the seat cover. We thought it might be fun for you to paint your table, chairs and hutch black!! (if you are not up for painting your set then recover your seats with a fun fabric that has some colors in it that also work with your wall color ) Changing a seat cover is very easy…especially with an electric staple gun, a screwdriver, new fabric and you are pretty much good to go on that.Picture #2 We picked this photo because we really liked the chandelier with the crystals. To add a little sparkle and frenchyness to your room! You can find chandeliers cheap at thrift stores and all you have to do is spray paint them and add some crystals to it for cheap!! Also take notice of the shudders in the background just leaning up against the wall. So simple and yet makes a nice statement. We liked the rug under the dining set as well as well as the iron decor above the doors.Picture #3 Yummy fabric …also from Pottery barn but…you can find deals at lots of other fabric stores. Have you heard of the $2 dollar fabric store? It is chock full of home dec fabric at really low prices! I am not sure where all they have their stores and you might look online. Even Joann Fabrics has a nice selection of home dec fabrics and they are always having sales. Find a fabric that has some color in it that will blend with your wall color but also has some other "POPs" of color in it.Picture #4 We put this in to show how a hutch type piece of furniture would look black. I know it doesn't really look like yours but it is just to give you an idea of how a large piece of furniture would look black. We love it!Picture #5 I know what you are thinking ORANGE! but I actually do really love the color and this whole set… but I was looking more at the centerpiece display. Tall skinny topiaries down the center of the table. Very unique and fun and also the rug underneath. Very nice. Have you looked at IKEA for rugs? They are quite reasonably priced and they have a large selection.Picture #6 I thought this set looked a lot like yours (although I couldn't really see the table). By the way does this table have a leaf in it? Take it out to make the space feel bigger. Also if you don't want your hutch in there is there another place you can put it? Like in your living room or kitchen? We picked this photo to show you how fun it looks with a "POP" of orange fabric on the seats with a nice neutral rug underneath. It really works! Even if you choose not to use the color orange it is to show you how a pop of color can really brighten a room up.Picture #7 A nice rug. I thought this rug had a similar color to your yellow walls.Picture #8 Okay this is a picture of your dining room and my sister put it into a drawing program to change things up a bit to show some ideas. This is just for fun. You will notice first off that she removed your paintings and replaced it with a large black frame..(you could put another print in it or a nice mirror) she also added your fleur de le on the mantel, some funky flowers that she drew in, and some books. Hopefully you can enlarge these photos to see it better. She also painted two of your chairs black so you can see that as well. Tiffany also changed up your plate display by adding more to it to make it have more of an impact. It is always better to go big with a plate collection otherwise it gets lost on a large wall. You can find white plates and platters at a myriad of places like TJMAXX, BIg Lots, Ikea etc… Cheap but can really make an impact. Picture #9 We would use a much fuller curtain for some ooompf. I love my curtains in the check fabric..but I also love stripes….big stripes! I like the tassle wrapped around the curtain for a nice tie back. My fabric is kind of a taffeta material so it does have a certain poof to it especially when you puddle them on the floor. I belive the curtains pictures are silk and would do the same thing. Also I think your paintings that you currently have in the room would probably work much better in your living room, office or Den. Make them more of a focal point in those rooms. What about a good sized beautiful urn with a real topiary in it for your bay window? That could be really nice.