Traveling through Italy is always magnificent but have you ever been to Carrara Italy? Carrara is a city and commune in Tuscany. This is where the Carrara marble mines are and we were able to go on a private tour! We stayed at a boutique hotel called Villabelverde and I only wished we could've stayed longer.

The town of Carrara
Before I show you the marble mine tour we went on I want to share a little bit about the town. It is quite beautiful. Lots of brightly colored Italian villas were every where.
It is very close to the sea and 20 min away from the southern point of Cinque terre.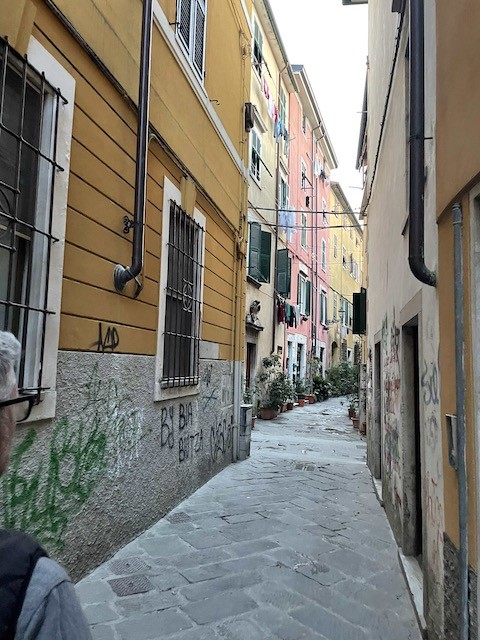 There is an old but very active Art Institute housed in a castle right in the middle of the town.
Carrara Academy of Fine Arts was founded in 1769 but its origins go back to 1757.
Lots of art students go there from all over the world to study all kinds of art mediums.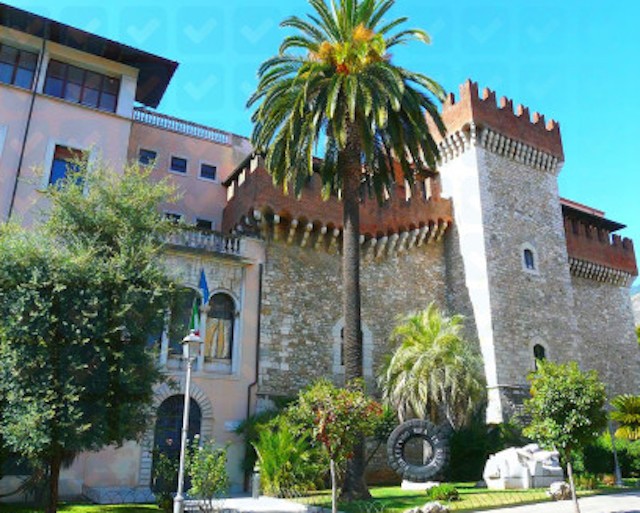 A very large library on campus houses beautiful old books all about art. If only I could read Italian I would still be sitting in this library!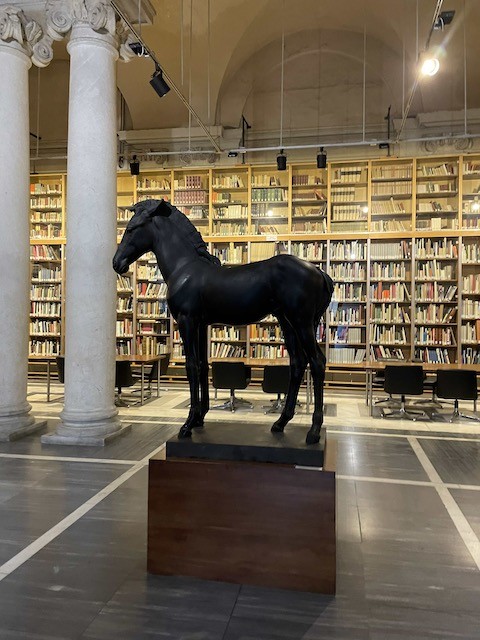 Michaelangelo and many of the masters would stay there when they would come to select their massive pieces of marble.
Just look at the ceiling and the walls inside the art institute!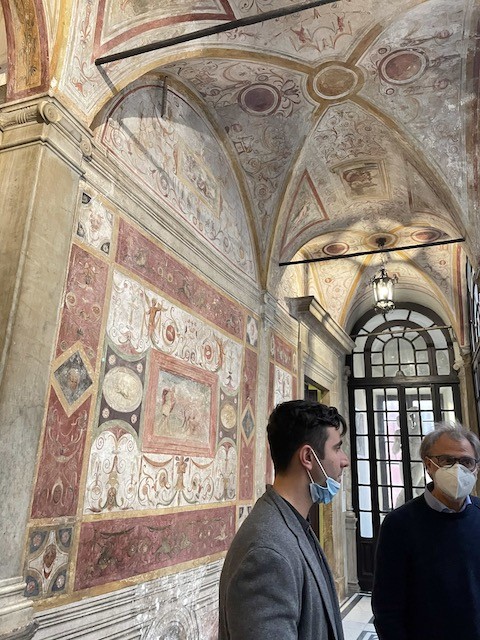 Carrara Marble Mine Tour
Through a good friend we were able to meet Giacomo. Giacomo owns part of one of the mines as well as one of the robotic marble cutting factories.
He gave us a personal tour of the mine and it blew our minds!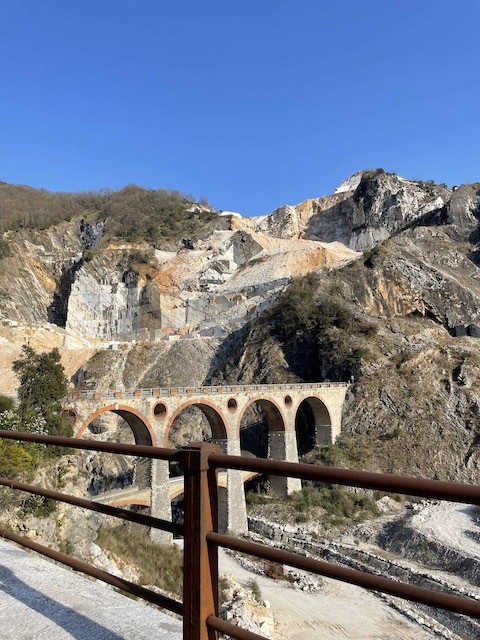 The first thing we did was get in a jeep and drive all the way to the top of the mine. The driver we had has been doing tours for many years.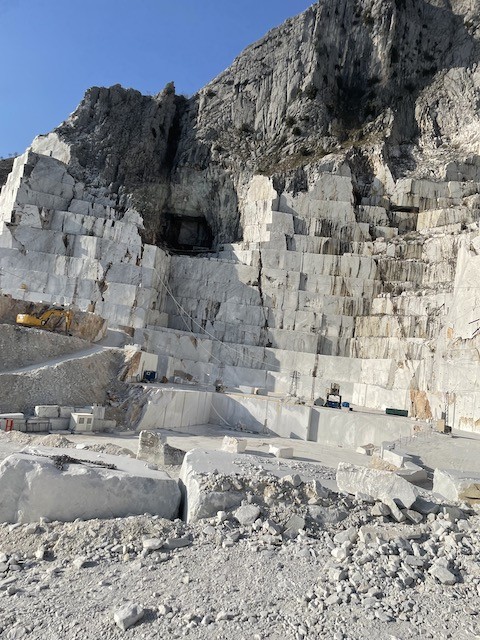 It was a little freaky as we would drive so close to the edge! If you are afraid of heights this would not have been fun for you.
It was spectacular to see all the marble. We learned the intricate way that they cut the marble. How they look for the perfect unblemished stone to cut. It was really fascinating.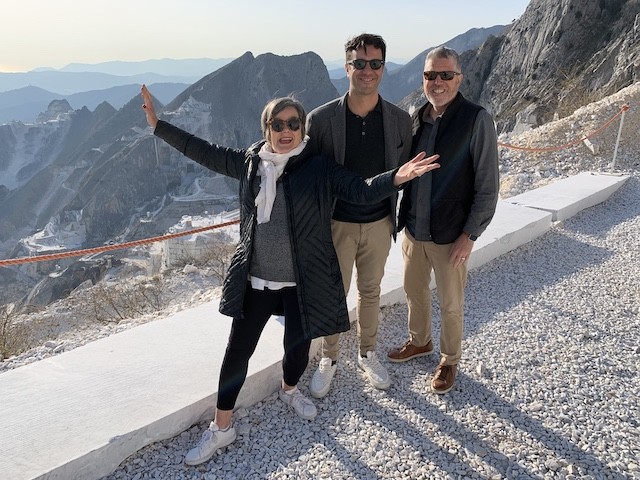 The views from the top of the mine out to the ocean were stunning. This is where Michelangelo found the marble to carve the statue of David.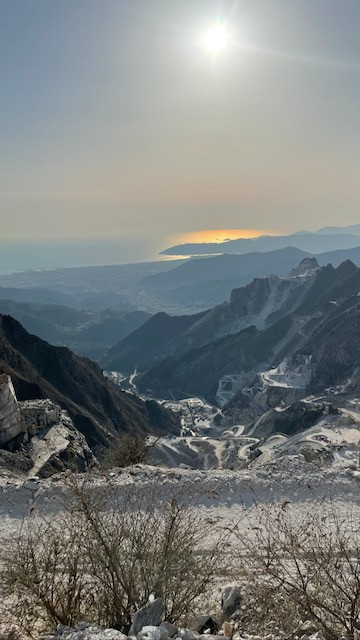 After our tour of the mines, Giacomo took us to the little ancient quarry-men's village and home of lardo (pork's cured back-fat) renown as a local delicacy.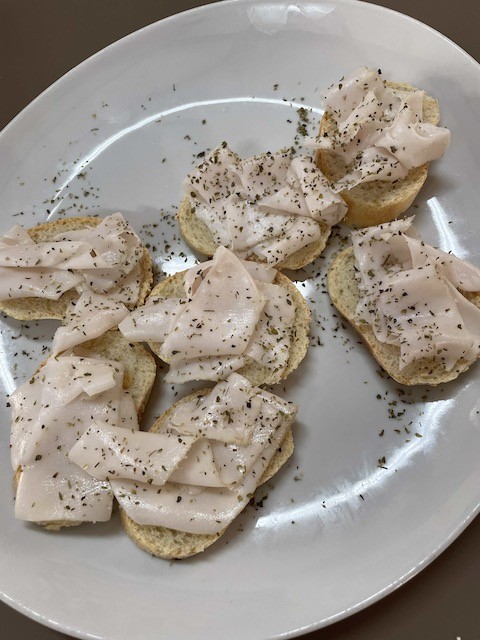 It looks and feels like a soft cheese. I took a bite and did not know it was only lard! It actually tasted very good but just the thought of eating lard kind of made my stomach tremble a little haha.
Robotic marble cutting machines
Next we were able to tour Giacamo's marble factory. He has these amazing robots that carve the enormous pieces of marble to the exact replica of any statue.
There are marble carving artists on staff that do all the hand finishing work.
Of course my hubby thought it was a exact replica of himself. hahaha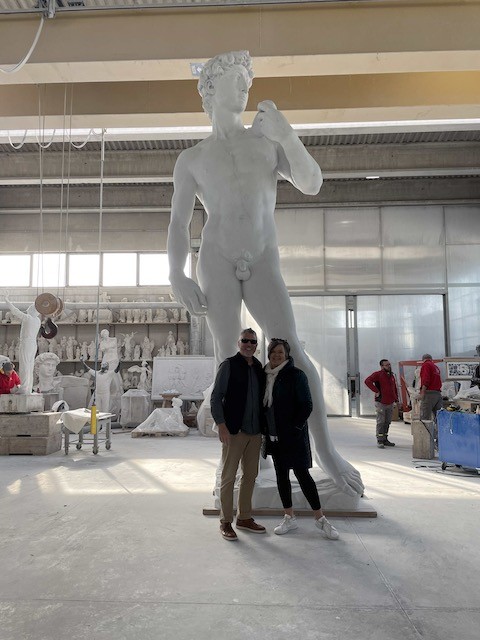 This was really the most interesting part of the tour. To see an exact replica of the statue of David was just incredible!
There was also a statue of the Christas. I think it is interesting to see this statue without Christ's arms in tact because we can be His arms as we love and serve one another 🙂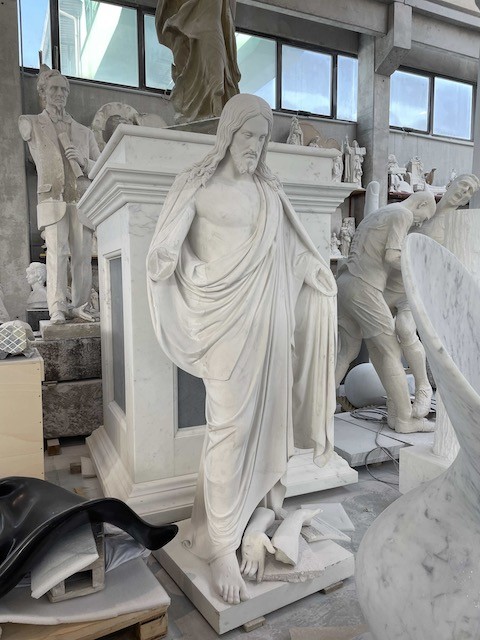 The original is in Denmark and our church (The church of Jesus Christ of latter day saints) has a copy of it in temple square in Salt Lake City as well as in our temple in Rome.
Hotel Villabelverde in Carrara
This boutique hotel in Carrara is so unique. B&B Villa Belverde offers six suites full of charm, inside a beautiful mansion which dates back to the beginning of 20th century, surrounded by a garden park of 3500 square meters in Carrara.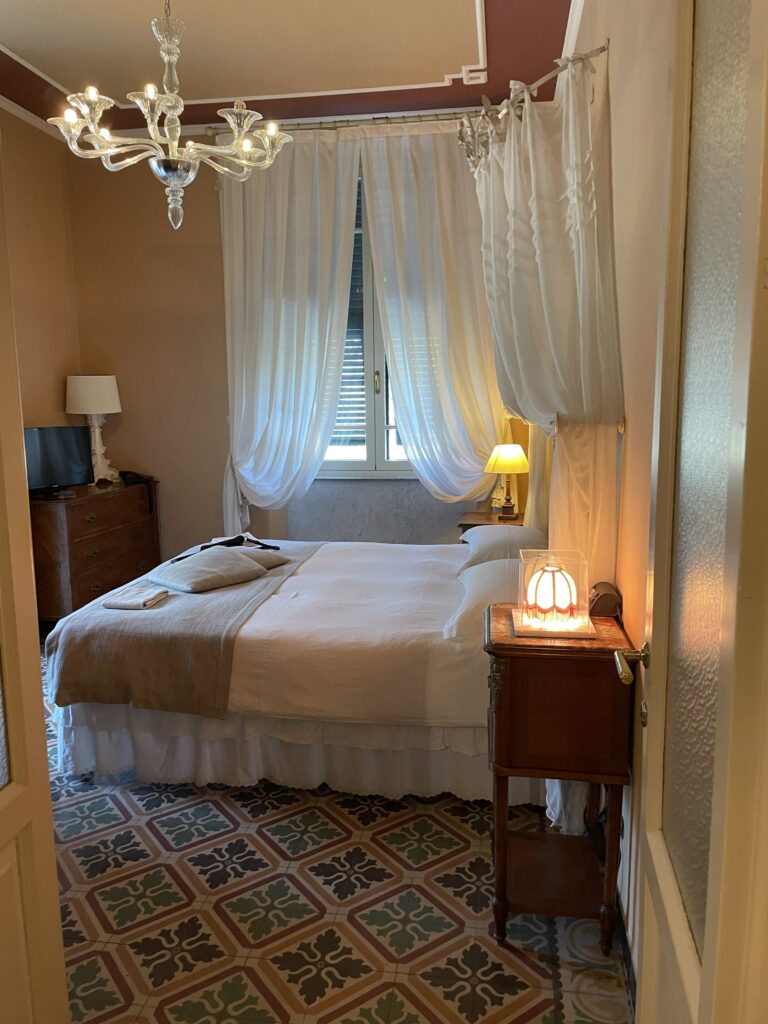 Our suite was so charming with antiques mixed with modern art hanging on the walls. A full kitchen and dining area that over looks the gardens.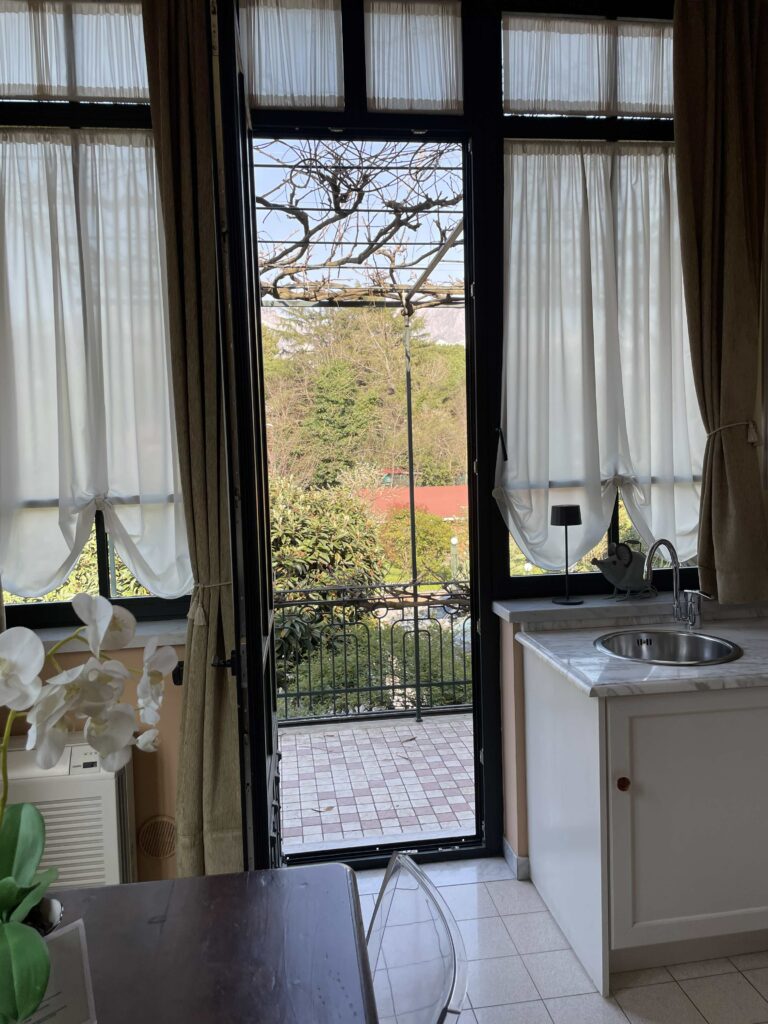 Door from the kitchen opens out onto a terrace with views of the Carrara mine.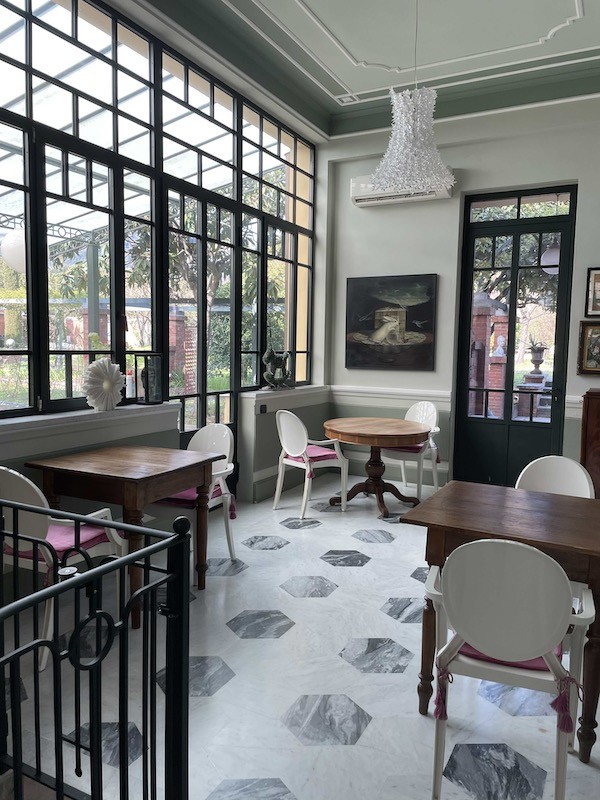 All types of artwork filled every room in Villabelverde.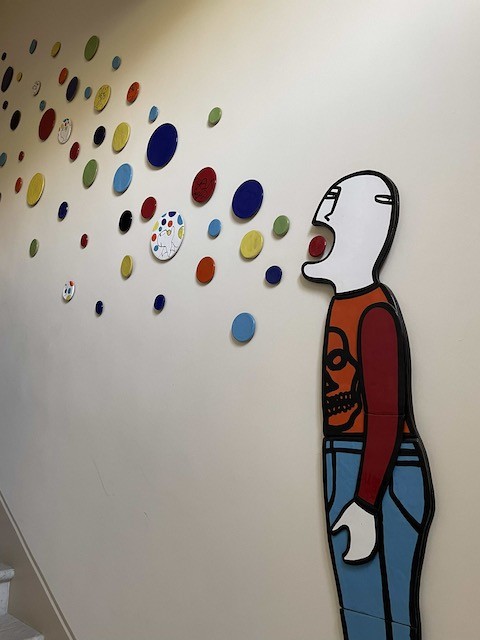 Including out in the garden.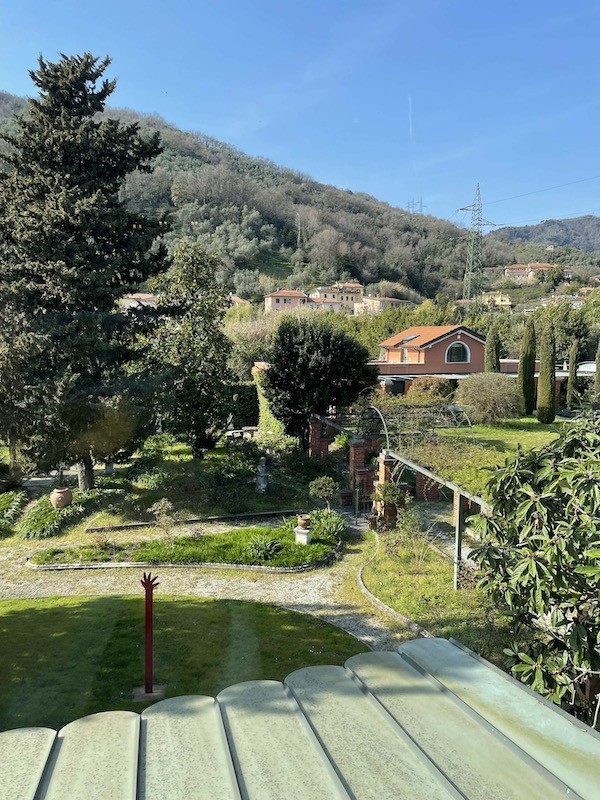 I snapped a picture of this large statue that sat in the middle of the garden.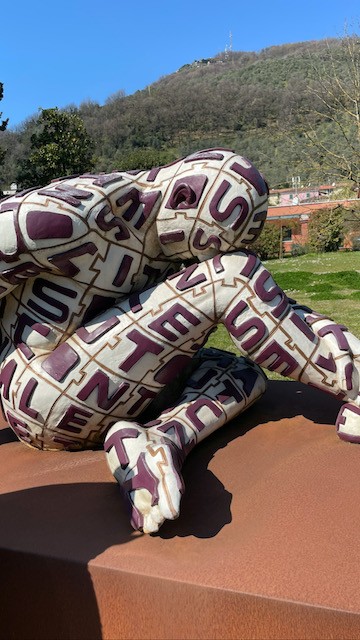 If you have never been to Carrara in Italy you really should plan a trip and make sure to tour the marble mines!
Here is a short video of our visit to Carrara in fast motion 🙂
More travel posts
Follow along on our travel adventures here!