Oh my gosh this bread is AHH MAZING And super easy to make! My daughter brought this over last Sunday for dinner and she made not one but two different flavors.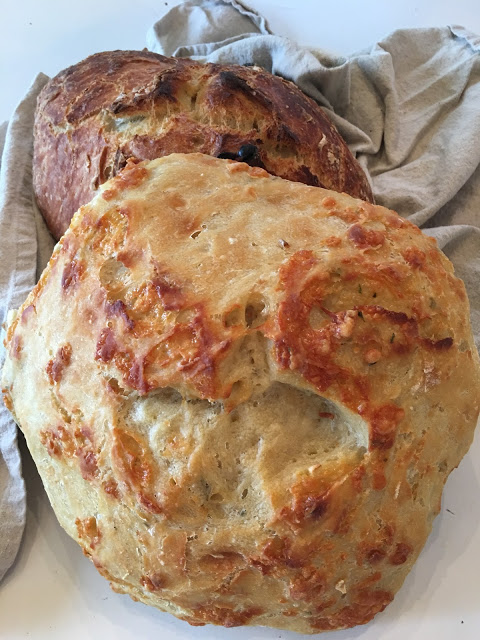 The recipe comes from
Simply So Good
and only has 4 ingredients but Madeline made one of the loaves with orange rind and craisins and the other one she added rosemary, garlic and a little asiago cheese to it…Oh yeah…uh huh amazing!!
Crusty Bread (Overnight Rise)
3 cups unbleached all purpose flour
1 3/4 teaspoons Kosher salt
1/2 teaspoon Instant or Rapid-rise yeast
1 1/2 cups water
In a large mixing bowl, whisk together flour, salt and yeast. Add water and mix until a shaggy mixture forms. Cover bowl with plastic wrap and
set aside for 12 – 18 hours
. Overnight works great. Heat oven to 450 degrees. When the oven has reached 450 degrees place a cast iron pot with a lid in the oven and heat the pot for 30 minutes. Meanwhile, pour dough onto a heavily floured surface and shape into a ball. Cover with plastic wrap and let set while the pot is heating. Remove hot pot from the oven and drop in the dough. Cover and return to oven for 30 minutes. After 30 minutes remove the lid and bake an additional 15 minutes. Remove bread from oven and place on a cooling rack to cool. Make sure you check out her tips if you don't have a enamel pot with a lid on her blog
Simply So Simple