Up first are the placesettings..these turquoise colored placemats are from TJMaxx
White dinner plates are from Ikea
Soft blue salad plates are from Tai Pan
The tan colored dessert plates are from Salvation Army
White Napkin rings I've had for a few years now.
Take a look at this darling French egg holder… a silver crown votive candle holders
I love using creative things to serve fruit kabobs in. Like this cute little metal French looking container. Or I could use it to place napkins or silverware in it for a buffet.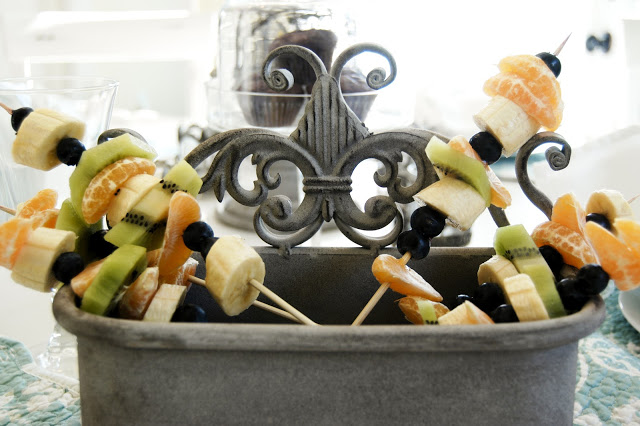 The fruit kabobs are made up of bananas, cutie oranges, kiwi and blueberries! My grand kids ate them up!
This tall wired cloche is filled with branches covered in moss and peeking out is a little love bird.
oh I just love using these little metal crown votive holders as mini vases…they really add that sparkle to the table.
The room just glows with my chandelier hanging above.
The wired cloche really makes a statement on the table don't you think? You could even fill it with flowers or a tall white candle.
Hope you enjoyed the tour!
I am participating in