Saturday was my birthday and I requested a watermelon birthday cake that I had seen on the
Pennywise blog.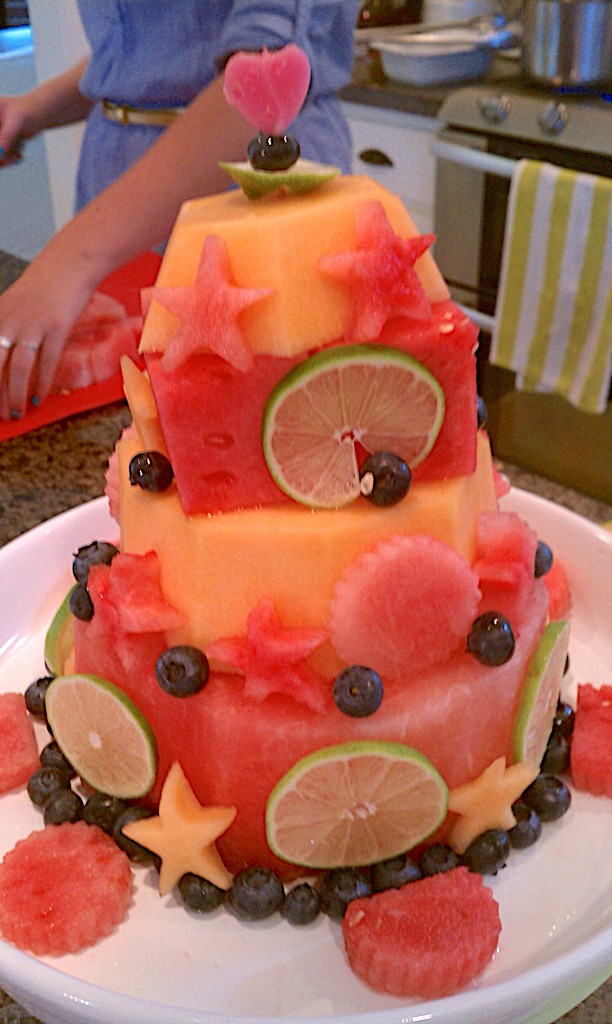 My cute daughter Emily and my cute mom created this for me!
Fruits needed to make watermelon birthday cake
They used watermelon, cantaloupe, blueberries and limes.
They started by cutting the rind off the watermelon and cutting it into a large circle for the base.
Then they did the same thing with the cantaloupe.
Make sure the watermelon size works well the cantaloupe…not too big or too small.
They repeated this process making each layer a little smaller than the one below.
Decorating the birthday cake
With leftover pieces from each fruit, they used a cookie cutters to make scalloped circles and stars.
Placing them all around the outside of the watermelon birthday cake.
Blueberries were used around the bottom of each layer to make it look like frosting dollops.
My cute mom and daughter….they are the best!!!
I could eat watermelon everyday couldn't you?
How to create the top of the cake
The top piece of cantaloupe was tuned upside down so there was not a dip in the center.
For the cake "topper" they used a slice of lime, one big fat blueberry and a heart shaped piece of watermelon all on a toothpick stuck into the center.
Then they decided to add slices of lime all around the edges to add some color to the cake.
I love how this turned out! So so cute…Yummy and made with love for Me 😉
Love you Mom and Emily so much!
Other fun watermelon carving recipes