For dinner last night I made a yummy frittata and added some yams to it. Oh it was so good! When you saute the yams it brings out their sweetness and adds a ton of flavor. I also added in a few fresh basil leaves snipped into skinny slices that really made this frittata come to life.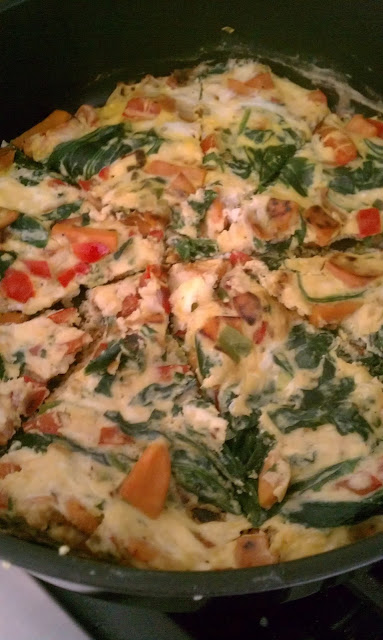 Paired with a simple fuit salad of pears, watermelon, canteloupe and strawberries…YUMMMO and easy!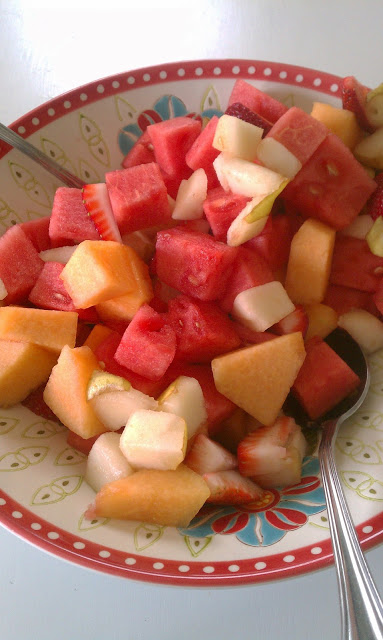 Here is the recipe for the Spinach Frittata and I added in half of a large yam cut into small cubes. I sauteed it in oil first an then followed the rest of the recipe.
INGREDIENTS:
2 tablespoons olive oil

1/2 cup red bell pepper, cut into thin

matchsticks

1/2 cup chopped onion

3 eggs

1/2 cup milk

1/2 bag fresh spinach

1/2 cup shredded mozzarella cheese

1/2 teaspoon salt

1/4 teaspoon ground black pepper

4 large leaves of fresh basil

1/2 of one large yam
DIRECTIONS:
1.
Heat olive oil in a skillet over medium heat. Cook 1/2 of 1 Yam cubed until browned and then and stir red pepper and onion in hot oil until tender, about 5 minutes.
2.
Beat eggs and milk together in a bowl until smooth; add spinach, mozzarella cheese, salt, and black pepper. Gently stir to mix evenly; pour into the skillet.
3.
Place a cover on the skillet and cook until the egg mixture is completely set in the center, 7 to 10 minutes. Cut into wedges to serve.

Linking to
Cuisine Kathleen Lets Dish