Here is our new home almost done!
We love the craftsman style of this home with all the architectural treatments of an older cottage home but everything about it is new. I always wanted a beach house or a lake house and guess what!! There is s a small lake in the neighborhood where you can use pedal boats or kayaks all surrounded by walking/bike paths…plus
there are a zillion parks every 1/4 mile with fun jungle gyms, basketball courts, volleyball courts and pools…. perfect for my grand kids!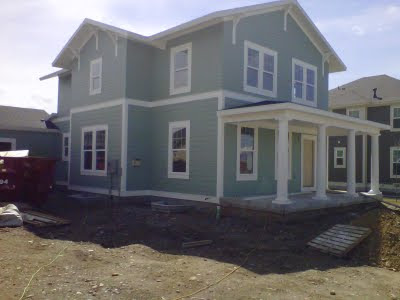 These photos were taken about 3 weeks ago…but now there is a driveway poured and they are getting ready to landscape and most of the inside is completed. It has been an adventure living out of a suitcase since December 15th! and traveling around staying with oh so supportive family members as we have been waiting for our house to be finished. I haven't seen it for a couple of weeks as I am still traveling around visiting family but we should be moving in by the middle of May.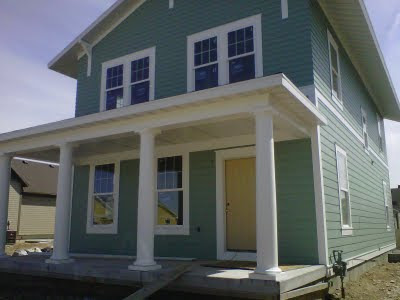 I can't wait to show you the inside! Picture this…. light bright airy colors…soft warm yellow painted walls throughout with some rooms painted turquoise blue. We didn't get to pick the cabinet colors but we are painting them out white. We did get to choose the wood floors….. hand scraped dark wood floors with white trim!
BUT some of the best things I can't wait to show you are the projects my amazing sweet talented husband has been working on! (My back has gone out…from sleeping on so many sofa beds and blow up mattresses so I have been down for the count!)
We have found furniture at thrift stores and consignment stores and he has been working like a dog re – doing them. Sanding, painting, more sanding etc.. oh my gosh they look amazing!! Picture this….large round table with six chairs…that were a wood finish are all now painted white with a weathered finish…so beach/cottage looking!!!
I can't stand it at how good they turned out.
I am so excited and can't wait to finally be in our house.
I just hope I am still not walking like a grandma because of my dumb back!
Stay tuned for more updates and pictures!!