Yes I am back!! BUT…no home yet
we are hoping to be in it by the middle of March!!
My hubby and I have been traveling gypsies!!
Zigging and zagging all over the western united states!
After we packed up the house and the moving trucks left. I say truck(s) because the moving company did not bring a big enough truck and had to come back a
second time to finish the job!) ..
We then packed or rather stuffed the car with all our luggage (winter clothes for 2 months or more) our dog (large chocolate lab that has bad breath) and our youngest daughter (who cameand helped her old mom and dad pack up the house)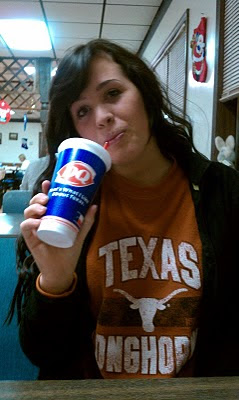 and left the great state of Texas and headed to Colorado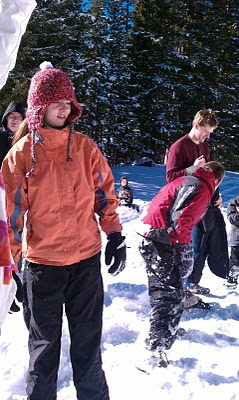 to stay at my sister's house (1 dog, 5 kids one of which is a brand new baby!)
right before Christmas!!
(Aren't we nice)
We always love staying with Tiff and her hubby and all our nephews and niece.
Then….. a few days before Christmas we re-packed the car and headed to our oldest daughter and son-in-laws apartment (2 bedroom, 2 kids, 4 adults and the dog!) in Salt Lake City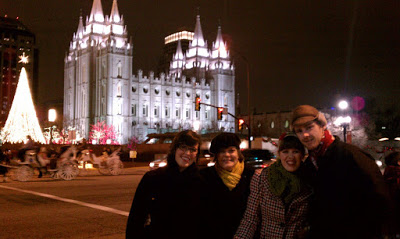 to be with our grandkiddies for Christmas morning! Oh and at this point and time….we had not been able to get any Christmas shopping done…so we crammed everyone into the car and trekked over to the mall (along with everyone else in Utah!) CRAZY!!
Bazillions of people, long lines, traffic beyond belief…after two days of that we finished it all.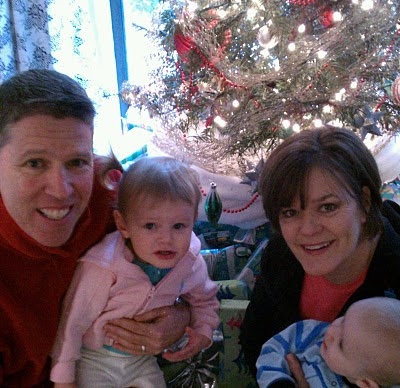 Christmas morning with the grandkids was AWESOME!!!
The day after Christmas we re- packed the car again with the bad breath dog and our youngest daughter and headed to Southern Utah to my mom's house where there was tons of snow!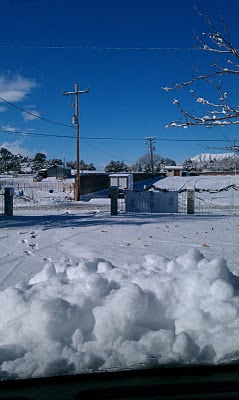 Mom had yummy food and chocolates for us everyday!!
We celebrated New Years Eve with tons of family and friends.
We played hysterical games and ate more amazing food and more chocolates!!
On New Years Day we drove (without the dog) to the Las Vegas airport and hopped on a plane and headed to San Francisco to go and visit my husband's parents and his siblings and meet our new niece Ava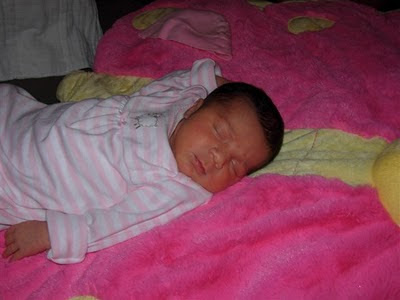 and nephew Kyle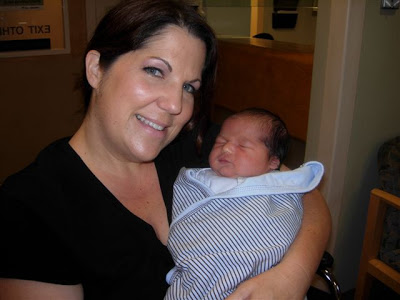 before my hubby flew to Asia for 3 weeks!
(while we were gone my bad breath dog was out by the hen house at my moms and got a hold of one of her chickens ….Poor mom was trying everything..screaming, kicking and yelling at our dog to get her to stop…she finally grabbed a bucket and hit the bad breath dog on the head to get her to let go…which she finally did…. but the chicken bit the dust..feathers were everywhere…so sad)
Poor mom yelled so much that she completely lost her voice for a few days!
Are any of you still reading this crazy travel log? There is much more….
After San Fran…..I flew back to Las Vegas… and then drove back to mom's house to stay with her while my hubby was gone. My cute mom continued to fill me with her chocolates everyday!! I have noticed for some reason my pants are a little tight around the waist.
(On a scary note: the day after I came home my husband's youngest brother had a heart attack at the age of 43. They had to shock his heart 30 times!! It was touch and go for over 2 hours! He came through it and is home now but it scared us to death!…My poor hubby was over on the other side of the world worried sick but all is well now)
A few days before my hubby returned from Asia (21 different cities)…I drove back to Salt Lake (with bad breath dog and youngest daughter) to stay at our other daughters
apartment again (2 bedroom, 2 kids, 4 adults and bad breath dog) Crazy!! My sweet
daughter and amazing son-in-law are sooo precious to let us come and stay!
It is always fun to be with them! My daughter and husband decided we needed to celebrate Chinese New Year. It is the year of the rabbit..Mike brought the kids back a Panda bear dressed as a rabbit from China.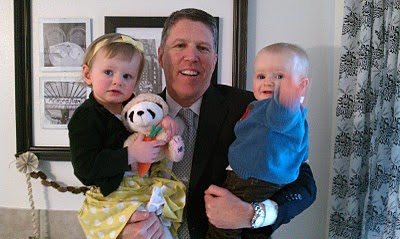 They cooked us some delicious Chinese food and Madeline set a gorgeous table.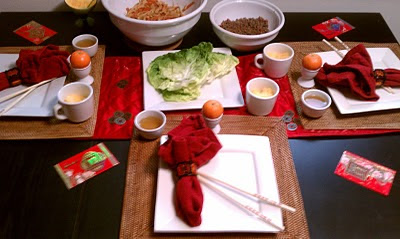 My tired hubby returns from Asia..only to hit the ground running… it is time to find a house!
For days and days we looked and looked and looked at houses…(drove our realtor nuts) we finally put an offer on one (short sale) but someone put in a bigger offer and bumped us out. Soooo we were back out looking again…we found another one and we are hoping it all goes well.
In between house hunting… my hubby, daughters, grandkids and I went to tons of amazing thrift stores, consignment shops, Ikea, and other great places and found some amazing things!
I can't wait to show them to you and put them in the new house!
So since we are in the wait mode we decided to go back Colorado to my sisters
(5 kids, 4 adults and 2 dogs) and mooch off of her for another week 🙂
We have been having a fabulous time scouring thrift stores in her area too
(can't wait to show you the deals)!
Next week we plan to go back to Southern Utah…then back to Salt Lake and then a quick trip to Arizona to visit my dad and his wife and then finally back to Salt Lake to hopefully move in to our new home!!
In the coming days and weeks I will be sharing with you some amazing transformations from my mom and sisters homes. All do it yourself ideas!
Centerpiece Wednesday will start up again later in the spring so be thinking Easter ideas!
Ta Ta For Now
Karin 🙂