I love lime green mixed with black and white! I know so many of you have commented on these dishes before…I got them from TJMaxx a few years ago…on the back it says
Quadrifoglio MADE IN ITALY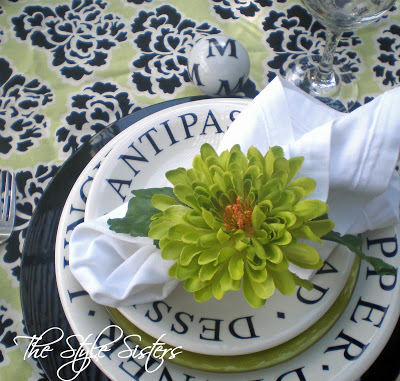 I made the lime green floral napkin rings myself! The tablecloth is made from fabric I bought at Hobby Lobby. So refreshing don't you think?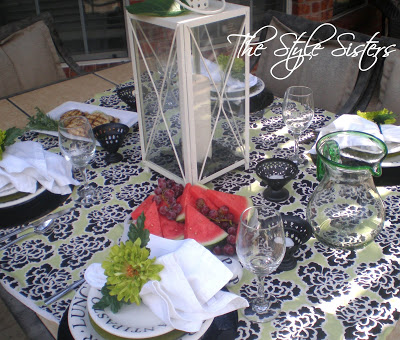 For the centerpiece I used my white lantern from IKEA and filled the bottom of it with some black smooth rocks and a white tall candle and placed a large hydrangea leaf on the top. I was going to do more but I had to hurry.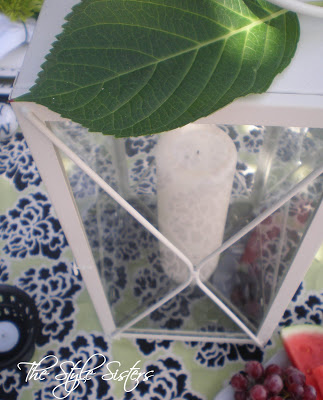 I just can't tell you how much I love Lime Green! Even as a kid I have always loved Lime Green and Fuchsia together. See the black underneath the plates that is my fun secret….it is a gold charger turned up side down! Ya gotta love that!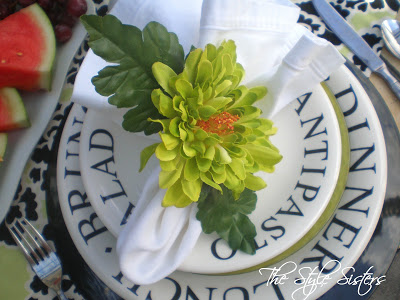 If only it were cooler outside! It looks amazing but it is hot and humid out here overlooking the pool!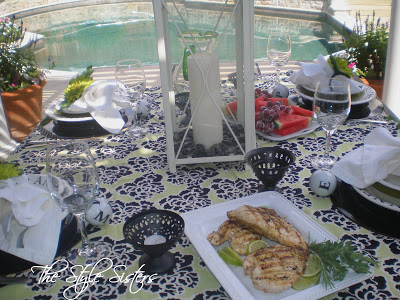 I grilled some yummy chicken for dinner! So easy…olive oil, Costco's all natural seasoning (oh my gosh we put this on everything!!), kosher salt and fresh herbs from the garden. It was moist and deeelish!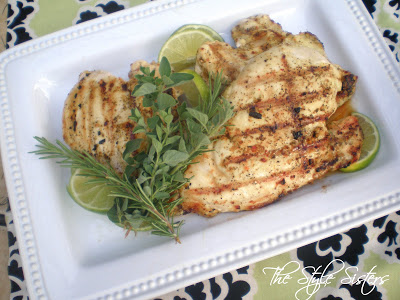 Of course some locally grown watermelon! It is sooo sweet and full of juicy goodness!
I placed the watermelon on this cute little white platter that I bought a while ago from Tai Pan trading in Utah. I have also used those little white porcelain balls with letters on them for placecards…You find your initial for where you are seated.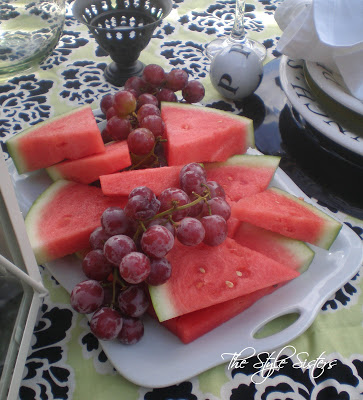 The strong bold colors just pop off the table…and you all know how much I love that!
I layered the plates as you can see….the white dinner plates with the black lettered words all around the edge followed by the lime green salad plate and then the dessert plate is the smallest sized plate….. white plates with black lettered words.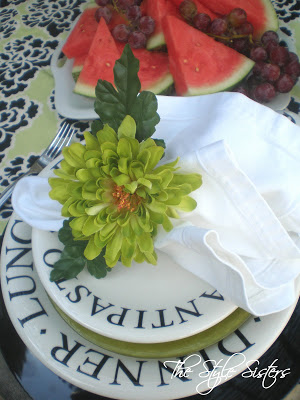 I played around with this photo in my adobe photoshop and made it look really cool for fun. If anyone is interested in purchasing my napkin rings please leave me a comment about them.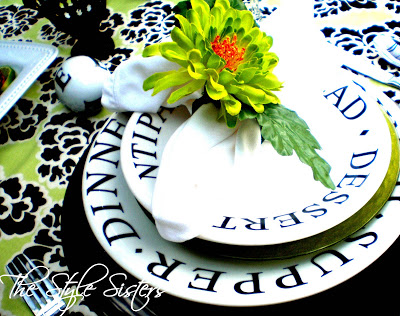 Hope you are all enjoying your summer.
Please link up with your centerpiece ideas below! I love to see all your creativity!
I am participating in